Two New Products I Want to Rave About – M10 Jacket & Knifeblade Pants
Here is a quick blog post that doesn't include any cool climbing stories or photos, and will only appeal to gear nerds, like myself. I want to take a minute to rave about two new Patagonia products, the updated M10 Jacket and the new Knifeblade Pants. No one at Patagonia has asked me to make this blog post, and in fact, as I type this out, I'm not sure if they'll even put it up on the Patagonia blog.

My motivation is simple and selfish. Often the very best Patagonia alpine products are discontinued after only one year on the market because they don't sell well enough. This is why some pieces which are now a cherished staple, such as the R1 Hoody, were once discontinued. I used the new M10 Jacket and the Knifeblade Pants on almost every climb I made this past season in Patagonia and they are the best alpine shell jacket and pants I've ever used – which leads me to worry that they won't sell well and will therefore be discontinued. Ironic, yes! So, I simply want to explain why I like these two products so much, in the hope that I'll be able to keep ordering them for years!
I know that people often view product testimonials with skepticism, and obviously for good reason. I can assure you that my endorsement of these two products is 100% honest, and that I wouldn't take part in a product testimonial of a product I didn't like, even if I were asked to do so. Even for a product that I do really like, like the new Encapsil Parka, I wouldn't yet write a product testimonial for it, simply because I haven't yet used it enough to be 100% sure of what I am writing.
So, here goes…
The new M10 Jacket
The M10 Jacket is an ultralight hard-shell jacket that originally came out a few years ago. The first version was nearly ideal: very minimal weight, windproof, waterproof, simple, and a good cut for climbing. However, the features on the original version were slightly flawed. It had pit zips, which never belong on a high-end alpine shell, and the pockets were difficult to use.
Why no pit zips? Pit-zips add bulk and weight to a jacket, with no advantage. The only scenario in which I can imagine pit zips being useful is hiking through the forest, at a slow pace, in a cool rain, with no wind. They don't belong on a climbing jacket, however. First of all, for ventilation purposes, opening the front of the jacket is much more effective for losing heat than zippers under your arm pits. Next, in an alpine scenario, when it is often windy, when there is often spindrift, and when your arms are often raised above your head, you wouldn't ever be able to have the pit zips open while it is precipitating. Lastly, unlike hiking, there are no types of climbing that are good to do in the rain (snow is a different story), so if it is actually raining on you, you are rappelling down or hiking out, and in that scenario who cares if you sweat a little bit because your jacket is zipped all the way up? Most designers know that pit zips are useless on an alpine shell jacket, and the pit zips end up on the jackets only because sales statistics show that the jacket won't sell otherwise.
So, not only did the original M10 have unnecessary weight and bulk because of the pit zips, but the pit zips were combined with the pockets in the interest of saving weight. The result, however, was that the pockets were in a poor location, difficult to access, and required two hands to open or close them.
The new M10 Jacket carries on the original dream – an ultra-lightweight, full-conditions hard shell – but with the flaws fixed. The pit zips have been removed, making the new M10 even lighter than the original. The new M10 has just a single Napoleon-style chest pocket, which is all that is needed. A pocket high on the chest is far superior to "handwarmer" pockets for two reasons: 1) Handwamer pockets interfere with a climbing harness; 2) Having weight in a handwarmer pocket causes it to swing around when you are exercising, but the same amount of weight in a chest pocket is much more stable.
Considering how lightweight the new M10 is, it is surprisingly durable. This past season in Patagonia, one in which there were many good weather windows, I used the new M10 Jacket on every climb and attempt in a four-and-a-half month period – except for three climbs when I took a Houdini Jacket as my only shell. That is a lot of abrasion on super-rough granite. However, I AM NOT claiming that the new M10 is a durable jacket. There is no doubt that the new M10 is less durable than an average hardshell jacket… and that is good! If it were durable I wouldn't like it at all!
There is a simple trade-off between lightweight and durability, and I will always choose lightweight, the higher-performance option. The best clothing for alpine climbing is always the lighter-weight option, never the more durable option. I'm sure that people will smirk that it is an easy choice when the jacket is free, but this has been my choice since long, long before I ever got any free climbing clothing or equipment. Alpine climbing is the overriding passion in my life, and I am a serious gear nerd, so using the highest performance equipment has always been worth it to me.
It surely sounds cheesy, but the new M10 Jacket is perfect, in my opinion, and definitely the best hard-shell jacket I've ever used.
The Knifeblade Pants
For most of my alpine career, I have used hard-shell pants, which were the standard when I started. Then, for several years, I switched to using soft-shell pants, which had some advantages. Last year, during the 2011-2012 Patagonia climbing season, I switched back to using hard-shell pants. Both systems, however, always had some flaws. Soft-shell pants are heavy, not waterproof, and strong wind cuts through them. Hard-shell pants don't breathe as well, don't allow for ease of movement unless the cut is perfect, and are easily sliced open by your crampons.
In the fall of 2010, I was at a Patagonia design meeting and saw the first samples of the Knifeblade Pullover. It is a nice jacket, but what I was really excited about is what I told the designers: "We should make pants out of this stuff!" (which, by the way, is the Polartec Power Shield Pro fabric). Two years later and the Knifeblade Pants have arrived. I got a sample pair and used them on every single climb and attempt this past season in Patagonia. Sorry to use cheesy superlatives twice in the same blog post, but these are definitely the best shell pants I've ever used for alpine climbing.
The Knifeblade Pants essentially combine all the advantages of hard-shell pants and soft-shell pants into one. Unlike soft-shell pants, they block the wind completely, and while they probably can't be advertised as "waterproof," I never had any wetness come through them, even when butt-sliding down slopes completely saturated with slushy snow. Unlike hard-shell pants, they are supple and "move" well, and stand up quite well to sloppy crampon use. While not as light as the ultralight M10 Pants (which existed for one year), the Knifeblade Pants are significantly lighter than a pair of (soft shell) Guide Pants.
Fortunately, the Knifeblade Pants come without full side zips, and instead just a short zipper on each side to allow for going poo (even with your harness on). Just like pit zips, side zips add weight and bulk with no advantage. In a climbing scenario, your harness prevents taking your pants on or off during the day, even if you have zippers on the sides of them. I would be curious to use a version of the Knifeblade Pants without suspenders, because suspenders can be slightly annoying, but overall I think the designers made the right call. Making them a low-cut bib with suspenders means less bulk under your harness waist-belt, and also a better seal for full-on windy conditions.
Some people might wonder: "If the Knifeblade Pants combine the advantages of soft shell and hard shell so well, why wouldn't you use them in combination with the Knifeblade Pullover jacket?" Well, the main reason is that the M10 Jacket is much lighter than the Knifeblade Pullover. On the bottom, Knifeblade Pants are important because your pants always receive more abrasion than your jacket (the M10 Pants wore out too quickly, for example). Also, because of your climbing harness, your shell pants need to remain on your body all day long, and for that reason the added breathability of the Polartec Power Shield Pro fabric is a boon. Up top, on the other hand, you can easily take your shell jacket on or off depending on the conditions, so a sightly less breathable but much lighter fabric, such as the M10, makes much more sense.
How Much Abuse, and the Whole Clothing System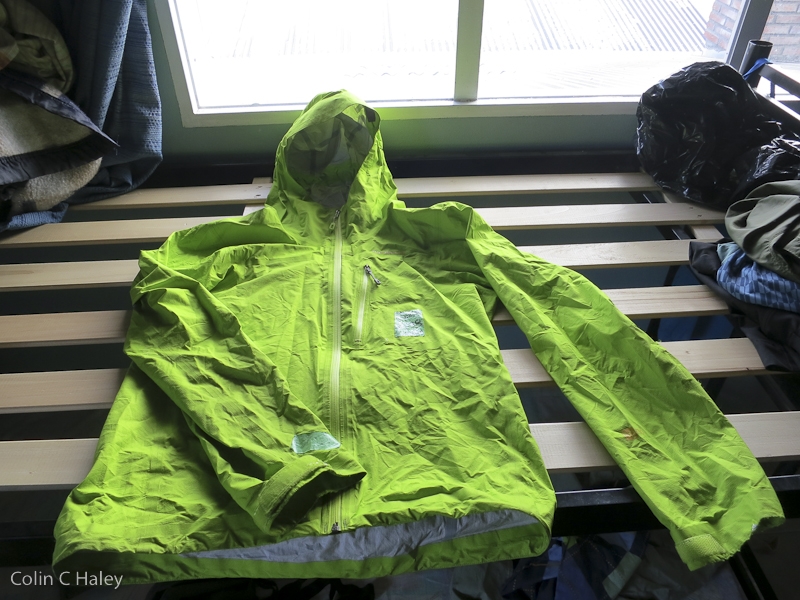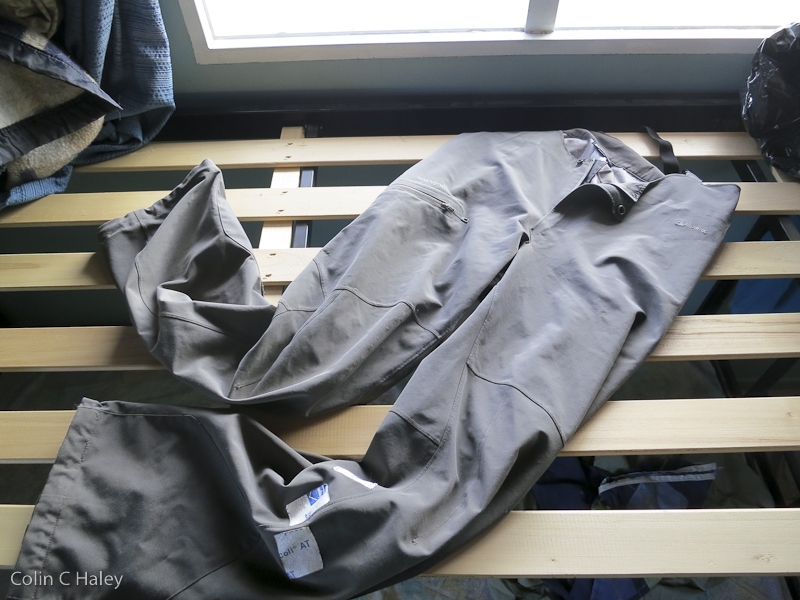 The two pictures here are the M10 Jacket and Knifeblade Pants that I used all of this past season in Patagonia, taken in my El Chalten apartment the day before departing. Yes, they have a few bits of repair tape on them, but still work just fine. To give you an idea of how much they were used, they came on all these climbs.
–Cerro Solo, "Insomnia" Route
–Cerro Torre, Ragni Route
–Aguja Guillaumet, Comesaña-Fonrouge Route
–Aguja Guillaumet, Guillot-Conqueugniot Route
–Col dei Sogni, Tobogan Route
–Cerro Torre, Ragni Route
–Torre Egger, attempt on "Venas Azules" within 2 pitches of the summit
–Cerro Standhardt, "Festerville" Route
–Fitz Roy, North Pillar
–Cerro Torre, Corkscrew Route
–Fitz Roy, California Route
–Aguja Mermoz, Red Pillar
–Cerro Mojon Rojo, West Face
–El Mocho, East Buttress
–Aguja Bifida, attempt on NE Face to 2/3 height
–Cerro Adela, South Ridge
–Cerro El Nato, North Ridge
–Cerro El Doblado, North Ridge
–Cerro Grande, North Ridge
Lastly, I know that people are often interested in the total clothing system, and in this case I figured I would share it, because I felt that this season my clothing system was perfect.
On bottom:
-Capilene 2 boxer briefs
–Capilene 4 bottoms
–Knifeblade pants
On top:
–Capilene 2 Lightweight Crew
-Capinene 4 Balaclava (the best balaclava I've ever used) [Coming fall 2013]
–Piton Hybrid Hoody (lighter than the R1 Hoody, and blocks more wind)
–Nano Puff Vest (adds a lot of warmth for very little weight, and doesn't obstruct your arms for hard climbing)
–M10 Jacket
–Nano Puff Pullover / Down Sweater Full-Zip Hoody / Fitz Roy Down Parka / Encapsil Down Belay Parka, depending on objective, temperatures and conditions.