Road Trip to an Unfamiliar Place
Brittany Leavitt
/
July 10, 2020
/
23 Min Read
/
Climbing
A climber interviews five women on a climbing trip to Bishop and Las Vegas.
The sport of climbing has rapidly expanded over the past 10 years. Documentaries about climbers have won Oscars, indoor climbing gyms have taken off, and the 2020 Olympics would have featured climbing if they had been held. But have you heard of Sabrina Chapman? She is well on her way to becoming the first Black woman to climb 5.14. Or Lhakpa Sherpa? She has climbed Everest nine times—more than any female climber in the world. If you're thinking to yourself, "Who are these women?", take some time to read up.
Speaking of things you might not have heard of, here are a few numbers. In 2019, The American Alpine Club came out with their first-ever State of Climbing report. This report looks at the climbing community in the US as a whole, breaking down politics, accidents, who identifies as a climber, salaries of climbers and more. Some of the numbers aren't surprising. In terms of who identified as a climber, for non-AAC members the number was 58% for men, while women were not far behind at 41%. Those who did not state how they identified were around 1%. These numbers suggest that, while yes, there has been some progress, we still have a lot more work to do regarding representation. For example, the lowest numbers represented are among Black and Indigenous communities at about 1%. Representation increases slightly among other marginalized groups. The Latino community makes up about 5%, Asian/Pacific Islanders about 7%, and the obvious White climbers make up 82%. Furthermore, the average salary of a climber is $50,000 or more. What's so important about these numbers? For me as a climber, it puts into perspective who has access to the experience and knowledge of climbing, and perhaps more subtly, who can actually fit this sport into their daily budget.
I personally don't make $50,000. As a Black woman, I am in the lowest bracket of representation in the sport. Even though I hold it down as an outdoor instructor, advocate and early educator, I still work hard to gain these privileges and experiences as a climber and outdoor enthusiast.
But it has always been one of my personal dreams to hit the open road and travel around the country and climb and find a deeper connection to the country's land and people. Taking almost two weeks off work would not be easy for me, but I was determined to figure out a way. I decided to use my holiday break to take the trip.  My idea of just traveling around and exploring national parks turned into something deeper. I wanted to help continue breaking down the narrative of who travels, who climbs and who connects to mountains, waterways and land. I wanted to meet with other women who self-identify as Black, Indigenous and/or a Person of Color (BIPOC) and who felt a similar connection and passion for climbing. I did a callout via social media and five women reached out to me, four strangers and a good friend who trusted me to create a story using their words.
The trip began in San Francisco, where I picked up my living space for the next week. I chose an Escapevan for the weather and all-terrain capabilities. I'd also be able to camp in different locations, and gas would be more affordable. My route took me around Washoe territory (Lake Tahoe), where I drove through the Tahoe National Forest. The park was beautiful, blanketed in white after a recent snowfall. My first big stop was Payahuunadu, Land of Flowing Water, an area also known as Bishop and the Eastern Sierra. I spent the next couple of days climbing and met up with three of the climbers I'd reached out to before leaving on the trip. A snowstorm prevented me from climbing in the Buttermilks, but on Christmas Eve I decided to visit the area, just to take in the environment. When I first stepped out of my van, there was an unfamiliar sweet smell in the air, which I later found came from a plant called rabbitbrush. As the cloud cover disappeared, I was able to see the peak of Basin Mountain. I took a deep breath and felt a powerful sense of peace. I headed back into town and stopped by the Owens Valley Paiute Shoshone Cultural Center. As climbers, when we say that we want to help protect these areas, it's essential we think about more than just being mindful at the crag or joining local crag clean-ups. I believe we should also take the time to learn about the areas we impact and understand who still holds deep connections to these mountain ranges.
On Christmas Day, I woke to 20-degree temperatures, but was excited to finally get out to the crag. The Buttermilks were still filled with snow but I was able to connect with Danielle, one of the climbers who agreed to be interviewed. We headed to The Happies and the Sads bouldering areas in the Volcanic Tablelands.
When exploring new climbing areas, I try not to put the pressure on what grades I climb, and instead stick with styles that interest me. On climbing trips, I prefer to spend the first day at a crag hopping on and off climbs, which really just means learning about the rock and style in the area. I spend the second day diving into climbs I want to go back to. While Danielle and I waited for the second climber, Fumie, to arrive, we had a late-morning snack and I made us some coffee. We chatted about our personal experiences as climbers but also as instructors. Danielle works for Outward Bound in North Carolina. While waiting, we admired the views. Cattle roamed around with snow-covered peaks as a backdrop. It felt unreal, like staring at photo I would find in a nature magazine. Once Fumie arrived, we headed into the canyon, seeing and feeling the texture of the different volcanic boulders. There were highballs, roofs and traverses. I felt so overwhelmed I didn't even know where to start. I stopped at a boulder called Heavenly Path, which has a slabby, 25-foot climb called Celestial Trail (V0-, PG-13). I do not know if it was the height or just how the boulder was formed that really drew me to it, but I had to give it a go. It was a super fun flash.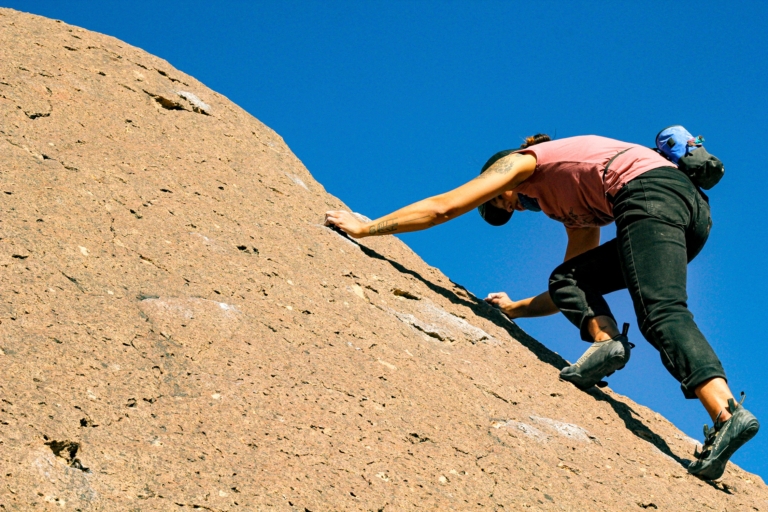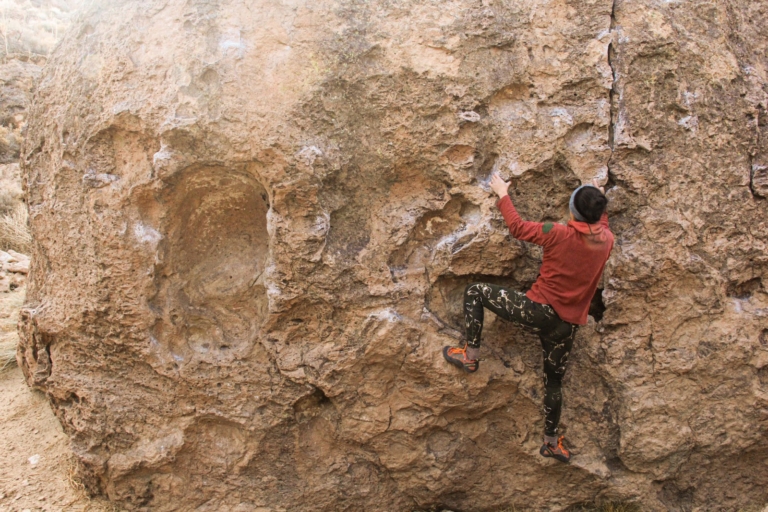 After a few hours of climbing, the three of us hiked up to the canyon rim to take in the Sierra and White Mountains in either direction. Just being outside gives me a sense of happiness that I cannot describe. In new landscapes, this happiness grows ten-times bigger. I felt as though this location was meant to be. This was a space where we could let thoughts flow. We created a space together to be able to express as climbers what we love about this sport, the frustrations we deal with as a women of color, and what we hope to see in the future. Afterwards, we took a minute to just sit and listen to the wind. That moment set the tone of what the rest of the week would entail.
The next day, I was able to relive this same experience with another climber named Audrey. As I was waiting to meet her, I went back to the Heavenly Path boulder and tried out another highball problem which I did not end up flashing or finishing after two goes. As I waited, I kept thinking to myself how surprisingly safe I actually felt in this space. Before heading out on my travels, I kept hyping myself up over how I would most likely I had to create a safety plan. I was worried about potentially running into problems or getting questioned about what I was doing here. Or my least favorite question, the sidelong, "you climb?" But I was lucky enough not to deal with that. It was nice to actually drive down mountain roads alone and feel okay if my van broke down. I would more than likely be able to reach out for help. It was so nice, for once, to not have to drive through an area where I see signs that I am clearly not welcome. For me, these signs are Confederate flags and Trump posters, which I see all the time in mountain ranges in Virginia and West Virginia and working in the DC area. For me, Bishop felt like a safer small town to navigate on my own.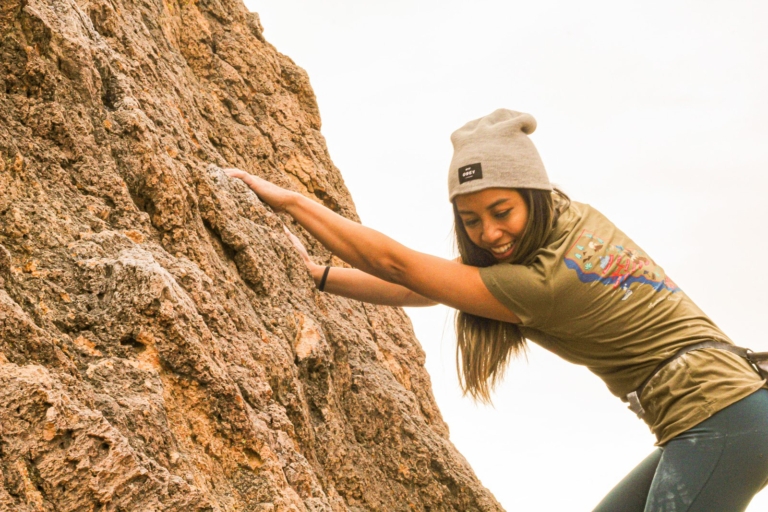 After holding my last interview in Bishop, I hit the road again, this time for Las Vegas. But I made sure to add a day so I could stop a few places along the way. My first morning stop was at the National Historic site Manzanar—one of ten US relocation camps where more than 120,000 Japanese Americans were incarcerated during World War II. I also stopped in California's Alabama Hills, which is southern Paiute Territory. A good friend suggested the Mobius Arch Loop Trail hike. It's a place surrounded by oddly shaped rock formations and mountains, with a view of Mount Whitney. I wanted to spend the whole day there, but I was starting to feel uneasy. The vibe had changed from welcoming to 'why are you here?' I tried to find some comfort in taking photos and taking in the overwhelming views. All of the mountains were dusted in snow. But the moment didn't last as long as I wanted it to, and I decided to get back on the road.
The second leg of the trip took me through the winding views of Death Valley National Park. I passed awe-inspiring rock formations and performed a lot of car-karaoke before I finally arrived in Las Vegas. I hoped to spend the next two days climbing, but my body had other plans. I came down with a fever and checked into a hotel instead. This ended up being a lucky detour, because Red Rock Canyon got a lot of snow that night. I also somehow hit a Vegas cold front, which made the rock dry more slowly. Still, I decided to meet up with Thao and DaShell, the two climbers I planned to connect with here. DaShell is a local and shared beta about a few other sports crags in the area she knew would be dry, but we still decided to stop and see Red Rock Canyon.
When we arrived at the park, we noticed a lot of people climbing on the wet sandstone. Most of them were from out of state. We all agreed that as women of color, if we tried to climb, we would very likely be called out, told that we did not know what we were doing and be made to feel ashamed. Instead, we reminded a few of the climbers that the rock was still damp due to the cold temperatures, but received only looks and shrugs. We admired the beautiful rock formations then headed off to Lone Mountain. With little daylight left, we spent the time at Suburban Crag. We all got on Erik's Arete. I felt like I was in my jam. As much bouldering as I do outside, I love sport climbing.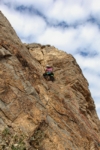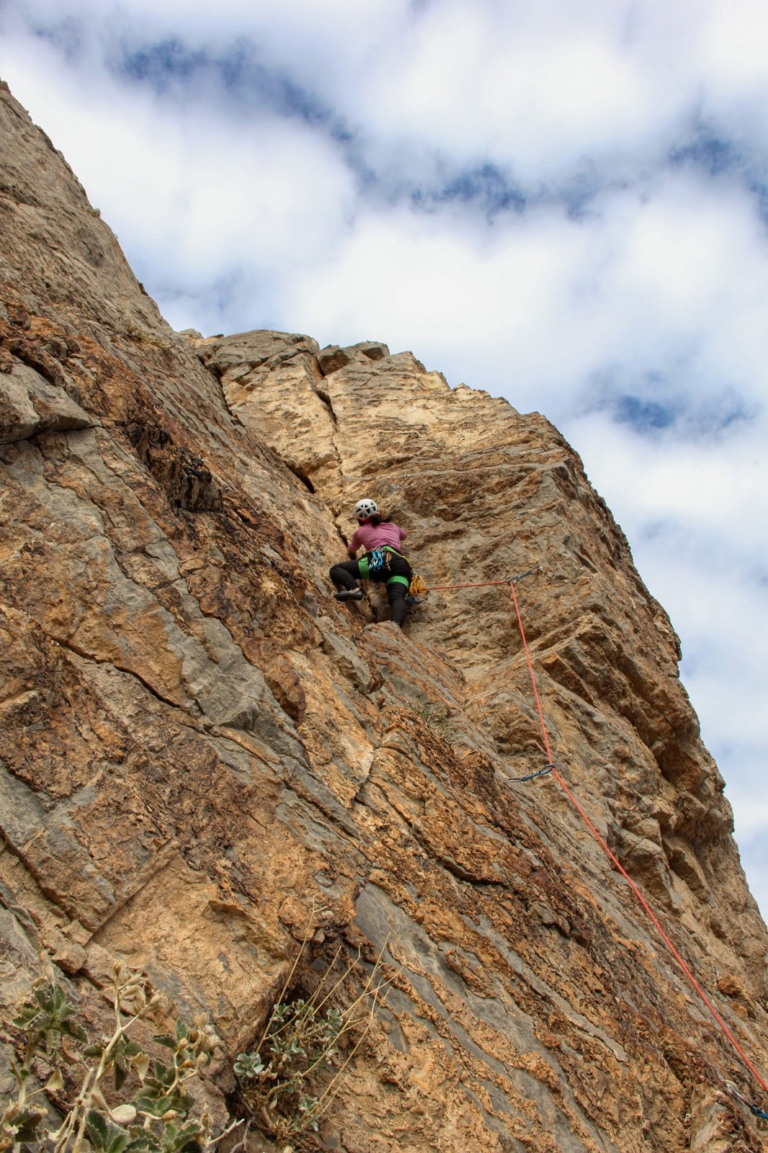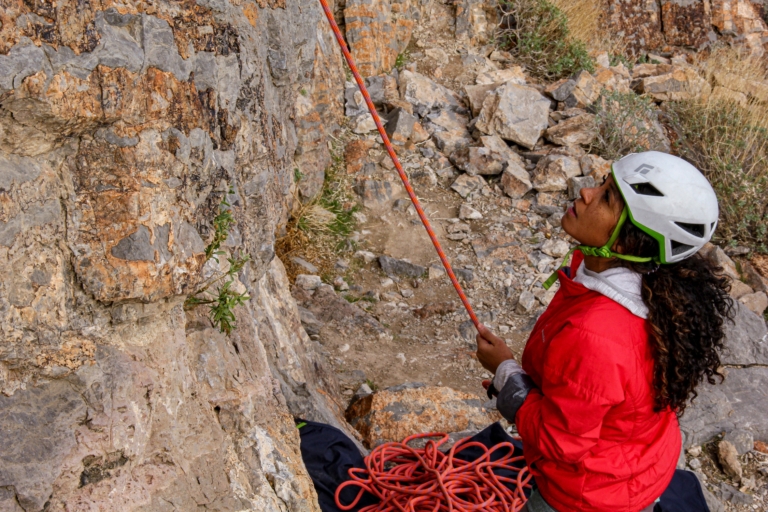 I was overcome with a lot of emotions as the end of my trip neared. Maybe it was because I knew it was coming to the end, or maybe it was because of the powerful spaces we created for each other. From the moment I met up with each of the people I climbed with, there was an automatic space of trust, a place of being ourselves—five strangers willing to share what they dealt with in the climbing community.
This was my goal: I wanted to create a space for women to be honest, and not feel like that had to circumvent their frustrations. I wanted Black women to see themselves in the climbing community. Despite personal and minor setbacks on this trip, I had the chance to drive over 475 miles, climb at three different locations, visit historic sites, state parks, national parks and more.  I lived the van life for a little bit, which was exciting and also a little scary. I was able to meet up with women who may not see climbing as their full-time job, who are not sponsored, but climb hard whether they've been at it for two years or 13. This trip reclaimed and re-calibrated my love for climbing. I climb to connect with my body, to push my mental strengths. I climb to spend time outdoors and connect with people.
During each of the interviews I conducted, I had a set of questions I wanted to ask: What passion do you have outside of climbing and what is your connection to climbing? What frustrations do you see or deal with in climbing? What do you see in the future of climbing for yourself and the community?
Check out each of their responses below. But first, here are mine:
My passions outside of climbing and what is my connection to climbing: I am an educator and an outdoor instructor. I love art, museums, movies, music, roller derby, reading and photography. I found climbing through friends over 10 years ago. I started climbing in 2014 and haven't stopped loving the sport. There were times I had to step back due to financial constraints or frustrating experiences. But I decided I would not let anything or anyone get in the way of a sport that has help me find myself. I love the way climbing makes me think and feel. I love teaching others the foundations. I also just love learning. Climbing is a sport where you are forever learning something new.
The frustration I see within climbing: Important voices tend to get buried in conversations when it comes to protecting the lands where we climb. We tend to worry more about saving the crags for our enjoyment than figuring out ways we can save and protect these lands for Indigenous communities. My frustrations with climbing is that I tend to hold myself back. I often feel that my voice may not fit here, or that I could be listening better to the ways I can help change existing stereotypes. That covert action of white supremacy still exists. When planning trips, many of us have to deal with the racist and homophobic names of routes and problems. We still have and absorb the fact that our pain is someone else's joke in a name of a first ascent. I'm frustrated that as a Black woman, I have to prove my worth in order to be seen. My frustration in climbing is that though we know we are out there crushing; we are not recognized for the strides we have made in our community. Black people have been climbing for a few decades.
What I see in the future of climbing: We will take time to recognize that the dirtbag lifestyle isn't the only way to be a climber. You can be a baker, a hair stylist, someone who works in tech, an app developer, an instructor, an educator, and many other things, and still find value and passion in connecting to climbing outside or even indoors. That we really take the time to want to spread knowledge, and that we're willing to teach those who are transitioning from the gym to the outdoors. Let's learn to educate instead of police—which means introducing new climbers to their local climbing coalition, explaining why it's better to pack out versus digging catholes in certain areas. Taking the time to learn and share with others about whose land we are climbing on. And this is the biggest thing I tell everyone: "We were all new to climbing at some point and time."
I hope we will see more stories from our community. I hope people will understand that as there are still barriers and racism in the outdoors. I want to hear stories of adventures and accomplishments. I want to see our faces on the covers of outdoor magazines. I want to see us have roles with outdoor brands where we have a say in the direction and production of gear and marketing. Our voices are getting louder, and people are noticing. I hope we will keep this momentum going.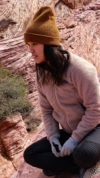 Thao
What passion do you have outside of climbing and what is your connection with climbing?
I am a Vietnamese American residing in California's Bay Area. My pronouns are she/her. To fuel my climbing adventures, I work as a Solutions Engineer at Apollo GraphQL. You can find me training at Mission Cliffs, San Francisco. My priorities outside of climbing include paddleboarding, snowboarding, and hiking with my dog, Athena. I am passionate about recreation in the outdoors. I am the epitome of a weekend warrior, splitting my time between the Sierra and the Pacific.
I found climbing when I attended a show at El Bar in Atlanta, Georgia with some friends. I met this random British girl who was stoked to find a like-minded adventure friend, and she invited me to join her for a climbing session at Stone Summit Atlanta. Our friendship fizzled, but that experience ignited a passion for rock climbing.
I spent the first year climbing all over the Southeast, United States from Foster Falls to the Red River Gorge. I have been climbing for a decade.
What frustrations do you see or deal with in climbing?
My frustrations within the climbing community are around how we treat the environment. Climbing areas are now highly trafficked due to the sport's rising popularity—pollution is rising, as is environmental degradation, and people often disrespect the local communities by doing things like climbing on wet rock and ignoring cultural history.
We are not taking the time to understand the land we are on. I know there has been a huge push to return place names and give credence to the Indigenous communities who lived here long before we arrived, but we have to do more. We have to contribute to the native land tax. We have to contribute to conservation practices. We have to contribute to conservation days. Joining your local climbing coalition is a good way to start.
Individually, I struggle with balancing my professional pursuits and climbing. I love this sport so much. I work 50-60 hours a week, but I also climb 20 hours a week in the gym and outdoors. I often ask myself, "How do I make this work? I don't want to grow up."
This interview was conducted while watching a group climb on wet sandstone. Here are Thao's thought on dealing with respecting areas when they are unusable due to weather:
This was a prime example of rock climbers not respecting the environment and not protecting what they love. Often people will travel with a laissez-faire attitude, that they are just on vacation, and do not consider the environmental impact they have.
What do you see in the future of climbing for yourself and the community?
I envision myself meeting my goals for this year, of spending 50-75 days outside climbing, consistently sending 5.11 sport and leading my first trad climb. As for the community, I foresee a band of inclusive, climate-first, diverse climbers working together to protect the environment, their home crags and each other.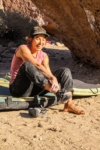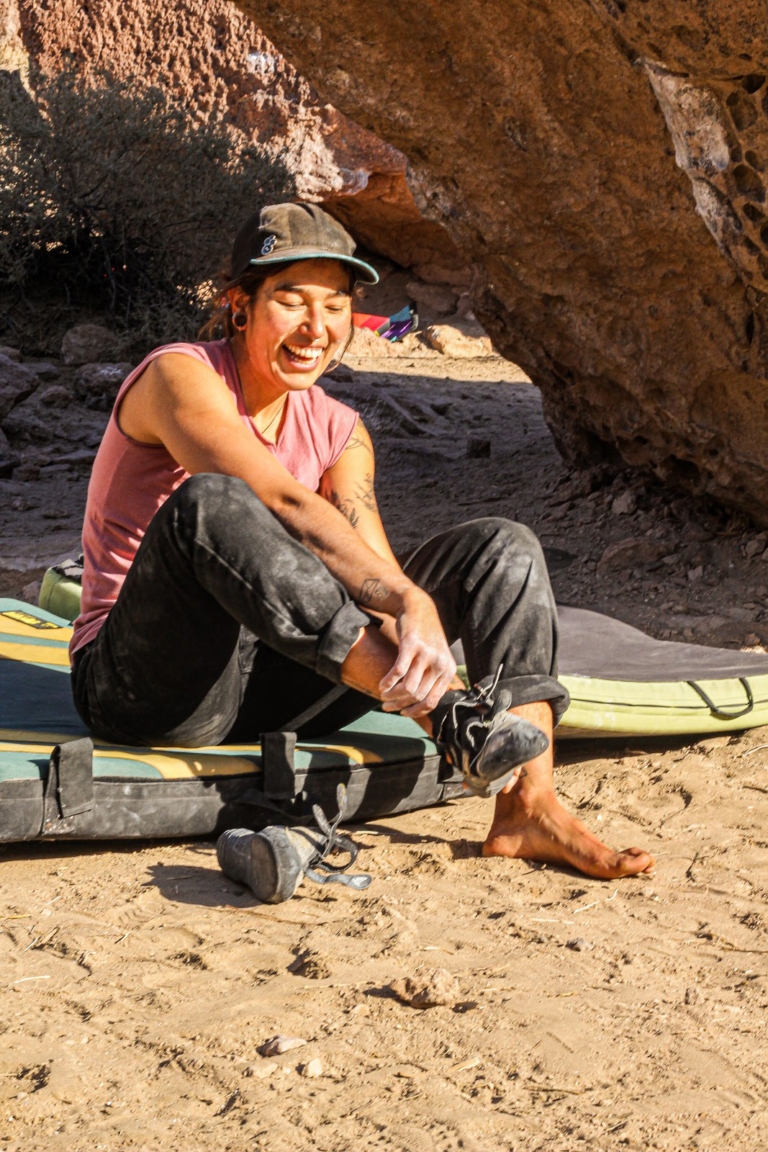 Fumie
What passion do you have outside of climbing and what is your connection with climbing?
Hi, my name is Fumie. I identify as she/her. I have been climbing for about 13 years now, with some pretty big gaps in between. I like to read books and I like dance parties. I just learned how to play chess. I also like donuts. I work at a bakery; it's pretty cool. But climbing is actually the thing I have held onto the longest over the past decade. It's the one thing that makes me feel like a complete person. And within the sport of climbing, trad climbing is definitely the happiest of my happy places. I really like plugging gear. I enjoy bringing up a second, and, I guess, following too. It's been interesting to see the progression and explosion in popularity of climbing since I first started.
What frustrations do you see or deal with in climbing?
Accessibility and diversity. These spaces that we as climbers identify with and feel really attached to—are they really safe [for BIPOC and Queer folks]? And accessible to everyone? It's exciting to see that conversation happening within the climbing community. When I first started climbing, I felt really lucky that a lot of the people around me were supportive women. I always felt encouraged to try harder. [But, I know] that hasn't been the case for others I have spoken with. Recently, I have really had to face the fact that I'm a woman of color in climbing. I know that's really different for me, as a mixed-race East Asian and a white person. I still can move through white spaces really easily. Even so, I do not see a lot of folks like me out climbing. I definitely don't see as many Indigenous or Black climbers, either. What does that mean for spaces like here [in Bishop], a sacred place for first nation tribes? That's true of a lot of our wilderness areas, as well.
What do you see in the future of climbing for yourself and the community?
That's why I'm super psyched this conversation is happening. I think it's really hard for a lot of climbers to have this conversation, because a lot of white climbers do have privilege and access. A lot of them have worked hard to get to where they are and may have overcome their own obstacles. But, you know, when we start talking about privilege it's really easy to get defensive. I know I can, and I have learned how to try to have these conversations without getting too emotionally defensive. But these are hard conversations.
You know, this world is … there's a lot happening around human rights and justice, not just in the US but globally, so to pretend climbing is a bubble away from that is really naive and really privileged. I think because climbing is becoming more popular, we have to face these conversations in order for people [who are new to climbing] to find refuge, for people to find connections to themselves and find connections to the land while taking time to build stewardship and community and become better people. I think I've become a better person because of climbing. So hopefully that's the way we're going. I think projects like this and the conversations around them, like with Brown Girls Climb, Brothers of Climbing, and Melanin Base Camp, [are shaping this sport in a positive way] . It's refreshing to have those voices out there. And I'm psyched.

DaShell
What passion do you have outside of climbing? What is your connection with climbing?
My name is DaShell. I identify as a woman and I live in Las Vegas. I'm a hairdresser who specializes in curly hair. The whole world of curly hair just makes me so excited and knowing that people can wear their hair in their personal and professional lives is so rewarding. I love spending time with my puppies at Red Rock. I take them outside all the time and hang out at the dog park. I own a home in the center of town. I also love to dance. Put on some music and I can't sit still. I would say those are probably my top three passions in life.
I was first introduced to climbing by one of my clients, who was heading on a girls' trip to Spain. I was looking forward to hearing all about it when she came back and to learn about this "sleeping on the side of a mountain!" Her two-week vacation in Spain turned into her whole summer, and I couldn't believe she had made so many new friends from across the globe. She got me excited to learn more about climbing, and when I discovered there is world class climbing in Las Vegas, it sounded like something I should really get into. I was looking forward to learning how to surf but we don't have an ocean in Vegas, so climbing was the next best thing. And I really haven't looked back.
Climbing opened up a whole new backyard to me, something I could spend time doing every weekend and be outside. I was totally blown away learning this was something women do, something women do as a group, something that just makes women feel so POWERFUL AND STRONG! I am really thankful for that client who has become such a good resource of information for me. Since then, I've made a Facebook group for women who want to climb, and we meet just about every Sunday.
Meeting different people from all around the world, here in Vegas, away from strip, just to climb, is way cool. I've been climbing for almost two years, and I favor sport climbing. Tall, vertical walls with technical and static moves are the best. I want the climb to be as methodical and fluid as possible. "Climb pretty," I heard one local guy say. I've really done most of my climbing in Red Rock, which is beautiful, but I love the variety and concentration of routes in New Jack City, right outside of Barstow. Lots of grades and on BLM land, so you can camp and make a fun weekend trip out of it.
What frustrations do you see or deal with in climbing?
I think the mental game of climbing above your grade and really pushing yourself is probably my biggest frustration, as with most people, I'm sure. You're dealing with the physical aspect of climbing hard, but you've also got to use your brain. Mental strain, in my opinion, is more tiresome than physical. We're firing off reactions in our brains that we don't do on a regular basis and finding the ability to stay calm and focused through all that is something I also need to work on.
I think it's also hard for me with work, because I stand all day and I work with my hands. I can't afford to miss out on work, and with harder routes comes cuts, bruises and sprained fingers. So, the possibility of injuring myself and not being able to work really kind of scares me sometimes.
What boggles my brain is why men and women are doing different routes. Can't we all climb the same thing? The rock doesn't know who you are: male, female, white, Black … etc. Every route is possible once you create your own beta.
And you know what else frustrates me? The people behind me that are climbing on wet rock, which is totally not cool! It's been raining and snowing for a week straight in Red Rock, and there are still puddles on the ground as we speak. This is where I live, so I always just say, "Hey, I'll come back next weekend when the rock is dry. No big deal." However, there are people who climb anyway, people who travel, people that just genuinely don't know, or people that just don't care. It's just not safe when the rock is wet and that should deter everyone.
What do you see in the future of climbing for yourself and the community?
We are seeing lots of excitement about climbing, especially with it being in the Olympics this summer (Editor's note: these interviews took place before the Olympics were postponed). It's going to open a lot of people's eyes aboutwhat goes into the sport itself. So many of my friends have no clue that a lot of climbers use ropes or that there can be a specific sequence to move up the wall. Their mental image is Alex Honnold.
I read something about the Boys and Girls Club putting on some programs to bring access to climbing in low income and underrepresented communities, building bouldering and top-rope walls inside their gyms and providing gear. That's a great example of expanding the sport outside of the traditional "privileged white male" climber, and I think that is really cool. For the most part, anyone can climb with a good pair of shoes and some stoke. It's cheap, a good workout, and a great way to make new friends. To me, climbing is universal, much like dance.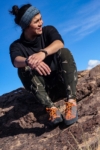 Danielle
What passion do you have outside of climbing/ What is your connection with climbing?
Climbing is almost like meditation. This is also how I would describe my connection to music. I grew up playing the piano and singing, eventually teaching myself the ukulele and other instruments. When I started climbing, I found a similar connection. You could maybe call it a sense of peace … where there's just an energy of balancing and understanding what my body and mind are doing. It's kind of this beautiful passion that I found quite recently. I just keep finding myself showing up.
What frustrations do you see or deal with in climbing?
When I started climbing, a year ago officially, there were mental battles, just in terms of getting on the wall and dealing with the fear of heights and trusting systems when someone was lowering me on a belay. But I feel the bigger battle for me was definitely just this sense of uncertainty. "Do I belong here? Can I be here?" Finishing up the climb and wanting to go and hide just because no one else looked like me in the gym.
I think that, in spite of the struggle to get into climbing, I have always been active and passionate about trying all kinds of things. This has been true since I was a kid, when I represented one of the few people of color that live in a very exclusive and wealthy community in Southern California. 
What do you see in the future of climbing for yourself and the community?
I am finding more connections with many others who are becoming more vocal about these same exact feelings. It's really beautiful to be able to connect on this level and to talk about it. It's a movement within climbing, within the outdoor community, and within just our culture at large. And it's not going to stop. It also requires people continuing to put themselves out there and use their voices, even if it has been tough. Since these community spaces are growing and forming all across the country, I'm finding a lot more support. I think that is the future of climbing. It's changing. I'm really excited to see that happen. Yet I also think people have to continue to speak up and support one another and use their voices and just be present. As an instructor, that is the core of why I want to climb: to support and to empower, not only for myself, but also for others.

Audrey
What passion do you have outside of climbing/ What is your connection with climbing?
I work as a User Experience Designer, creating digital experiences that are easy to use and meaningful to users. Climbing and designing are intertwined with my identity, and there are so many parallels between the two. In order to solve a problem, both require an open-mindedness to experimentation.
When I was younger, I would have never considered climbing because I didn't see people like me represented in the media and I wouldn't have pursued a career in tech because I was never exposed to the opportunities. Now I feel empowered to be part of both supportive communities that are creating dialogue and safe spaces around accessibility. I am a member of the organization Brown Girls Climb, whose mission is to create a safe space where members can climb, share and discuss topics related to our community. I'm also a co-lead of the Hexagon UX LA chapter, an organization for women and non-binary persons in User Experience. My passion for climbing and designing helped me get through some hard times, and I want to give back to these communities so more people can feel like they belong.
What frustrations you see or deal with in climbing? 
I've heard the remark, "Since you are a girl you must like crimps, because of your small fingers." It can be frustrating to have someone assume that I like crimps because of my gender. (But yes … I do like crimps, and pinches and big dynamic moves!) At times, people will spray me down with beta and they probably just want to connect, but it can make me feel like my autonomy is taken away. Maybe the other person doesn't know what they said has affected me. It's still a learning process to deal with some remarks here and there, so I try my best to speak up.
What do you see in the future of climbing for yourself and the community? 
I'm really excited about the future of climbing! Climbing has grown more popular in recent years with the number of gyms opening up and I don't anticipate it will slow down, especially with climbing's debut in the 2020 Olympics in Japan (Editor's note: This interview took place before the Olympics were postponed.)
I think we have an even greater responsibility to minimize our impact on the outdoors, and to recognize who these lands are native to. It's awesome to see how the community is taking action at scale and implementing change. Local gyms are hosting sessions to educate people about climbing ethics and best practices. Pro climbers have foundations to reduce environmental impact and are involved in environmental policies.
I love to climb rocks, but I'm also really grateful to contribute to these causes and be a part of a community that cares.