Climbing in Algeria: Part 2
Jonathan Thesenga
/
February 15, 2011
/
4 Min Read
/
Climbing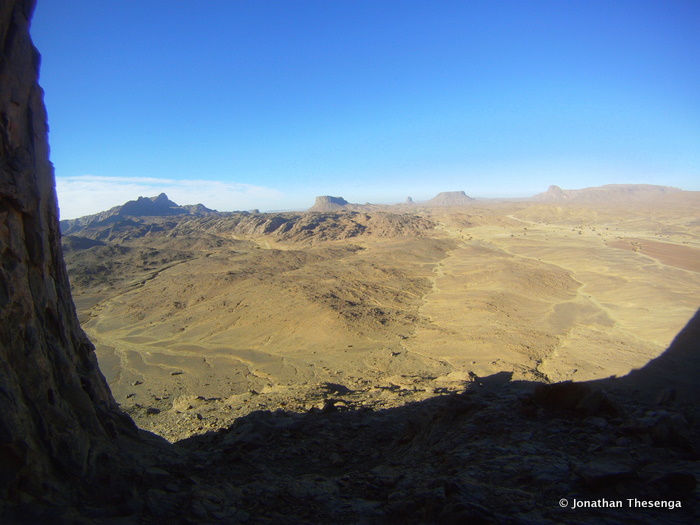 End of Day Three here in Algeria and it's safe to say we've already had an amazing adventure. Brittany and I have traveled and climbed in Mali, Morroco and Oman, so we are no strangers to the desert terrain of northern Africa and the Arabian Peninsula, but southern Algeria is a whole other level of endless, shoe-eating Mars-'scape. We arrived in the middle of the pitch-black night and in the morning we were stunned to realize how insane the terrain was all around us—endless hard-scrabble desert interrupted only by these crazy basalt towers. It was real. We were finally here: the Hoggar Mountains of southern Algeria.
[Looking out at the southern Algeria desert. All photos: Jonathan Thesenga]
We are a team of five: Brittany, myself, Mustapha (our guide), Aziz (our driver) and Zaoui (our cook). They are awesome travel companions, always laughing and joking with each other in Arabic (a fast, clipped language that to our Western ears sounds hilariously like they are constantly pissed off at each other). They speak to us in French… well, actually mostly just to Brittany, since she's fluent and I only know 10 words.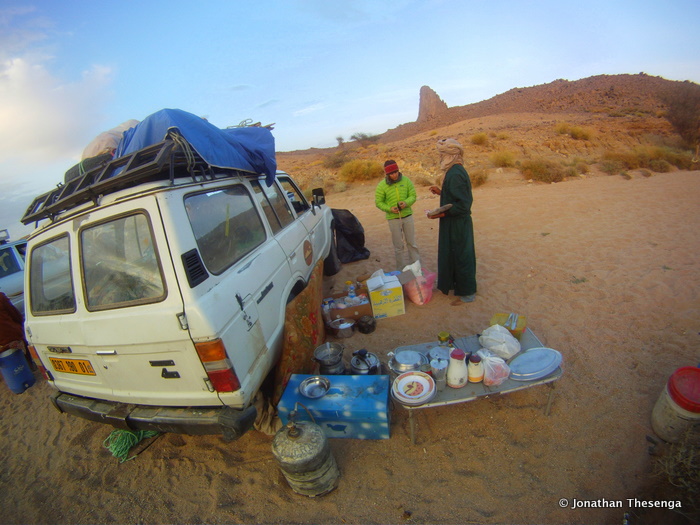 [Brittany and Zaoui at the wadi camp, Adouda in the background]
For the last two days we've been camped below a stunning 600-foot tower called Adouda (which means "thumb" in Tamachek, the Tuareg's most common dialect). Our first day, as Mustapha, Aziz and Zaoui set up camp in a sandy wash (also called a wadi), Brittany and I shook off the jet lag and climbed a five-pitch 5.11 route on Adouda's shady north face (first climbed in 1951!). 40 degrees and chilly in the shade to 90 degrees and unholy hot in the sun, we had a full value day and got a feel for the rock (clean corners down low but the final 150 feet was horrifying choss).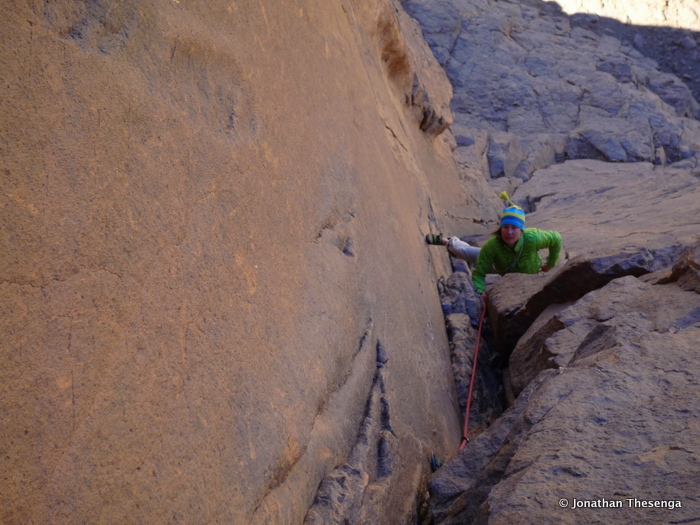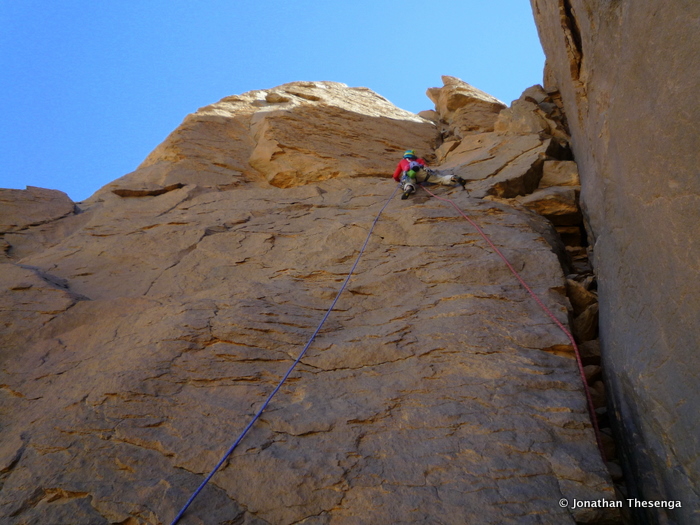 [Brittany climbing in the chilly shade of Adouda's north face.]
The first night in the wadi our crew swelled from five to 10, as Achour (the guy who helped us arrange the logistics of the trip) camp to visit us with a few of his friends. For five hours everyone sat around the small fire and drank cup after cup after cup of sweet mint tea and chain-smoking cigs (I swear there are tobacco execs sailing the Mediterranean on yachts bought from the proceeds of Algeria's cigarette consumption). Zaoui somehow manages to perfectly cook bread directly in the coals and puts together a massive meal for us all to enjoy.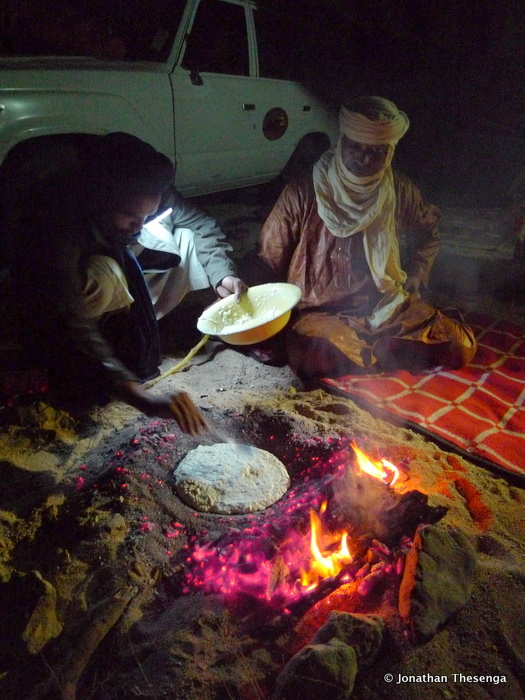 [Zaoui pouring the bread batter into the coals as Mustapha looks on.]
Today, we began a new route on Adouada's 500-foot west face, a sweet line of cracks through roofs and corners. We dropped in a couple of bolts to protect a blank stemming section and tomorrow we are going to go for the redpoint. The key is that we have to be done with the route by the time the sun rolls around at 1pm, otherwise we will be fried like bacon by the blistering sun.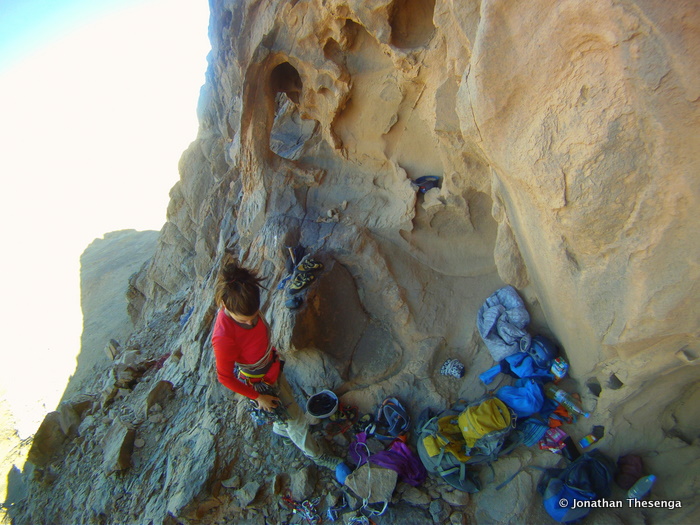 [Brittany gearing up below Adouada's west face.]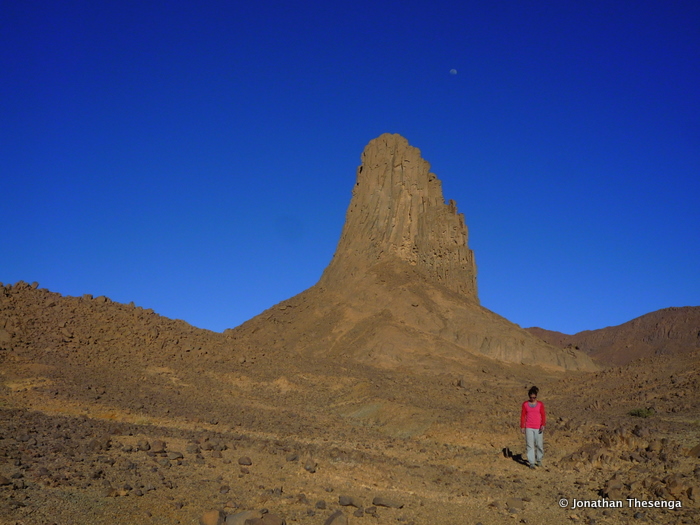 [Brittany walking below the west face of Adouada]
——————————————————————-
If you're new to the Operation Algeria series, catch up with Part One here. We'll post the next installment as soon as we receive it from JT. This one was only delayed about three hours from sending to posting so we're pretty close to real-time. More to come…