Steve House, Vince Anderson and Marko Prezelj, Makalu 2008: Is that Red Light Supposed to be On?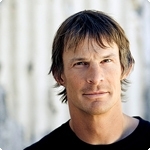 What do you do when the helicopter you booked is suddenly grounded with engine failure? You repack everything, get as close to the mountain as possible and haul ass on foot.
In today's sat phone update from Nepal, Steve House describes how the Makalu trip almost ended in disaster, and he shares some tips on how to be successful at this game called expedition climbing.
Listen to Makalu Update 3 (mp3 – 7:27 – right-click to download)
Previous posts from the series:
A Day at the Desk
Update One
Trekking, Snakes and Snow Monkeys