The Complicated Gift of Inclement Weather
Weather has a way of complicating—and enriching—everything.
By the time I top out, it's snowing and it's dark. I walk back as far as the rope will let me, and in the flattest spot I can find, I dig a hole and sit, bracing myself. I yell, "Rope-fixed!" repeatedly, but my partners can't hear me over the wind, so I wait. Below they struggle for nearly an hour to decide whether they can weight the rope or not. In the meantime, snow piles up on my jacket. I should be worried, but the absurdity of our predicament makes me laugh. Eventually Ermanno appears, followed soon after by Alessandro. The weather worsens as we walk the last few meters to the summit. We can't see a thing. We are on the top of a jagged Patagonia spire, in the middle of the night in the kind of weather that one usually avoids. We sit down below an alcove, brew and wait for dawn. When it finally arrives, the clouds lift and we're treated to one of the most beautiful sights any of us have seen. The crisp morning light glitters every which way, reflecting off the fresh snow covering the surrounding peaks.
We tend to avoid bad weather, for good reason, but Patagonia's renowned conditions—incessant bursting winds and harsh, often horizontal precipitation— have for ages provided the framework that gives success meaning here. The challenges the peaks present are seldom grappled at face value, but rather through a weather prism.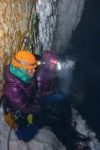 Climbing in Patagonia in the late 1970s, Jim Bridwell wrote that "good weather is as precious and rare as water in the Sahara." He described the quick changes of weather, the length of the storms and the brutal wind, observing that for climbers, the "line between [audacity and] stupidity is razor-thin" and that "in Patagonia perhaps there is no distinction." He likened this truth to a game of Russian roulette with four loaded chambers. Earlier, in 1952, Lionel Terray had made similar observations, describing the "terrible winds which make climbing on it mortally dangerous" as being more hazardous than anything he had encountered before.
The ferocious winds knock you to the ground during approaches, dictate when you can climb and shape the surrounding environment in the most unexpected ways. One finds trees that grow parallel to the ground, growing downwind in gravity-defying shapes. During particularly strong bursts you may hear explosive noises—the sound of air being channeled around peak edges and pillars in a form of the Venturi effect that accelerates air to the point of breaking the sound barrier. Other times you hear what Greg Crouch aptly called "the Patagonian Organs," pulsating tones that sound like an out-of-tune church organ.
However, without this "bad," we would not have the "good" that makes Patagonia so unique. For example, without the wind and the moisture, we would have no rime mushrooms, the large formations that build up on the upwind side of mountain summits and ridges and windward rock faces, often overhanging on all aspects. They form when the terrain is engulfed in clouds and strong winds blow supercooled cloud droplets onto subfreezing surfaces. Rime mushrooms are particularly scary to climb—they have the consistency of cotton candy, so not only is it hard to get any purchase to move upward, but it's also hard to protect yourself adequately.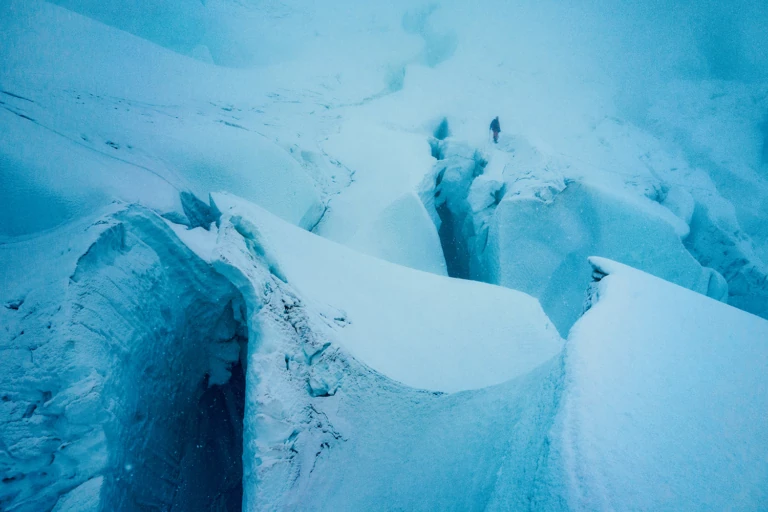 In addition, one often forgets that without a good dose of bad weather these peaks "fall apart," literally. During particularly warm, dry summers, more of which are forecasted as a result of climate change, rockfall becomes a grave concern and large portions of the Chaltén Massif become off-limits. Ice and low temperature are what keep the permafrost depth close to the surface, preventing the peaks from exfoliating.
I've been enamored with this place, in all its moods, since I was a child. My second-ever bivy in Patagonia was up on Aguja Guillaumet at age 15. A raging storm caught my partner and me while we were descending. The wind stole one of our ropes and when night fell, just four rappels from the glacier, we decided to stop. It snowed all night, but thankfully by morning the wind had died down so we could descend to safety. From the chin area of my balaclava hung an icicle. I still recall how proud I was of it, as a symbol of the harsh conditions we had encountered, as if surviving particularly bad weather was a badge I could wear. In spite of my best efforts on the long walk down to base camp, it melted out.
In the ensuing years, as I became more conscious of my own fragility and less enamored with unexpected adversity, I learned to avoid bad weather as much as I could, to step in when it swirled out, and to spiral away before it picked up too much again. Still, for all the strategizing to avoid it, weather continues to provide the necessary counterbalance to make experiences meaningful. Play isn't quite the same without a friend at the other end of the teeter-totter.
This story is featured in the November 2018 Patagonia Catalog.