Shifting Seasonal Gears w/ Mikey Wier & Friends
Mikey Wier
/
May 6, 2009
/
3 Min Read
/
Snow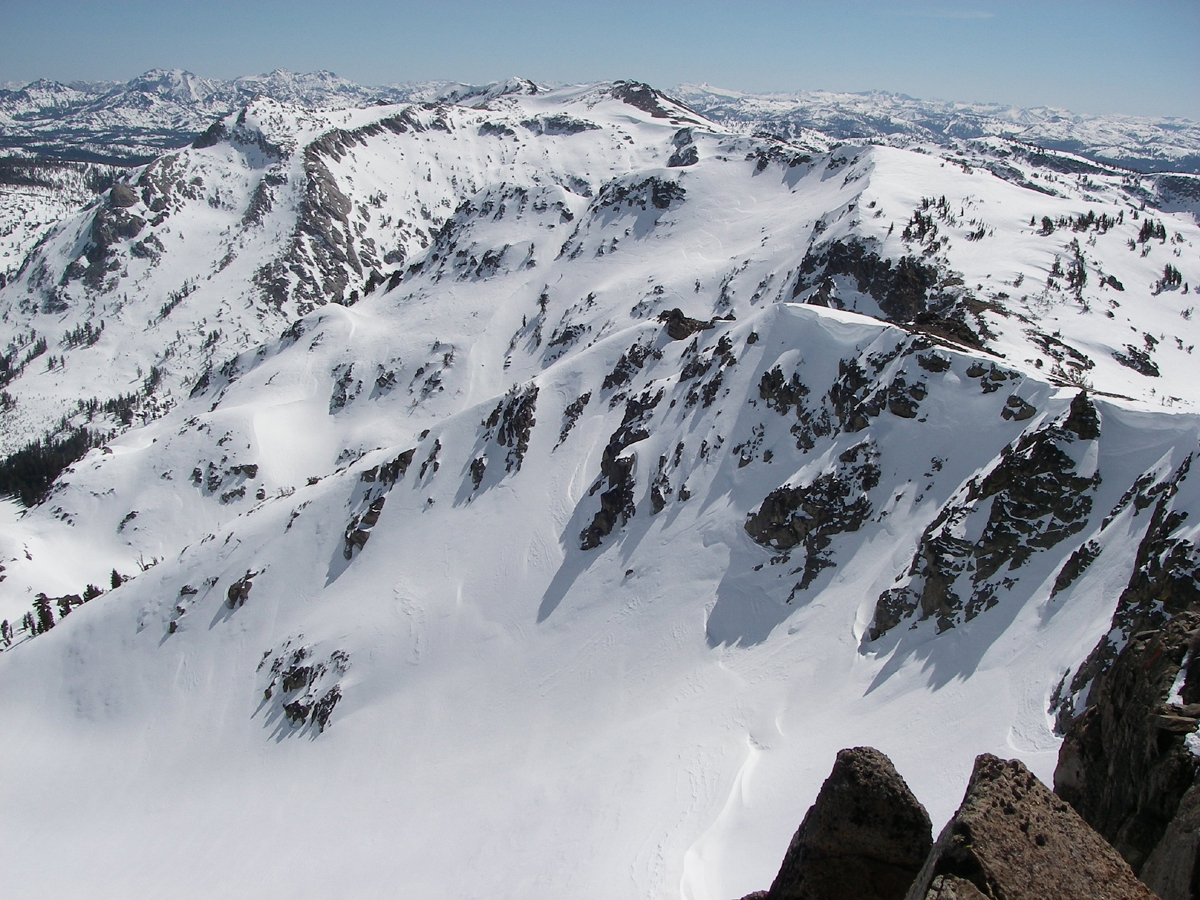 What looks to be the last winter storm of the season has just pulled out of the area and winter seems to be drawing to a close in the Sierra. It's time to shift gears. No doubt we'll eat those words with a final flurry of crop-crushing cold, but still, now's the time to reflect on a season that's been epic for many (ahem, Colorado) and surprisingly not-so-bad for others (uh, yeah, that'd be us).
So here's one for all the pow-hounds out there. Pour yourself a barley-pop and enjoy some images of tasty Sierra lines. They come to us courtesy of Patagonia Ambassador Mikey Wier, who has every bit as much fun hitting the water when it's frozen as he does when it's flowing. When he's not earning his living as a professional fishing guide and filmmaker, Mikey (who's also a pro snowboarer) turns his keen eye toward some of Tahoe's choice pickings. Mikey actually sent us these shots earlier in the season, but the mostly rider-less images seemed like a perfect way to cap off the season. After all, sometimes the best part of a run is looking back the turns you've carved. Feel free to share your reflections on the season in our comments section.
Oh! And to help complete the transition, stay tuned for an upcoming story about Mikey's adventures taimen hunting in Mongolia. For now, here's Mikey on those Tahoe lines:
__________________________________________________________________________
Hey guys,
Just wanted to share a few photos of some lines. If I find a fun one, I like to sometimes take a photo. These are some of my favorite places around where I grew up off HWY 88. Bro Bowl, Wier Bowl, Lost Lakes, Mini AK, 4th of July . . . Some are hike spots, some require a snow mo shuttle. I haven't been able to ride as much this season as I usually do, been busy being responsible and getting stuff done. But that doesn't mean I haven't made it out for the best days. With limited time I head to my favorite lines and just try to ride them with precision. Been riding some of them for years.
Most of our hills around this part of the Sierra are pretty short. You get a couple steep turns then a drop or shoot and run out. My favorite lines are the ones you can ride like a wave. Like the first shot: Air drop, set up turn, barrel (chute), shoulder slash, then exit. Nothing beats the feel of Lib-Tech's skate banana in the pow and nothing keeps me more comfortable and dry then my Patagonia Rubicon Rider Jacket. Good times!!
Also wanted to share this shot that Corey Rich took last season. He posted it on his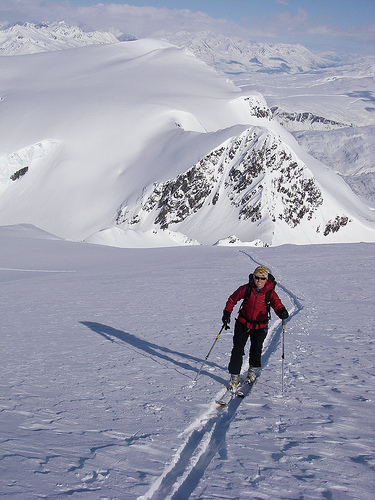 Photo: Gregor Finke Skier: Erica Olsen
Still skinning at 7 pm on Hogback Glacier, Chugach, AK. Backcountry heli-drop in perfect blue-bird, did not see a single person all day and skied 9k of powder all the way back to Valdez. Got to the car at dusk at 9:30 pm. Arguably one of, if not the best, ski day of our lives…