A Farm Grows In the Jungle
Birgit Cameron
/
March 27, 2020
/
4 Min Read
/
Food
The path to more fruitful farming.
Sol Simple in San Marcos, Nicaragua, works with about 77 small farms that produce the fruit for Patagonia Provisions' mango products, including our Organic Chile Mango and Organic Cacao + Mango Bar. Many of the farms are pioneers in agroforestry—the term for growing food in the forest more in harmony with the natural environment. We're partnering with Sol Simple as part of our broader effort to support and champion Regenerative Organic (RO) agriculture, both by creating a market for regenerative goods and by developing and enforcing a Regenerative Organic Certification.
From the outside, many of these farms, some as small as a quarter-acre, can resemble a mini-rainforest. Its upper canopy creates a reprieve from the sun and protects the ground below, which is covered with a thick layer of leaves and piles of mulch. But what seems unkept is, in fact, a thriving agricultural system, with high yields and more crop diversity than you could imagine within an area as small as a square foot. Coffee, avocados, mangoes, plantains, bananas, cacao, starfruit, plumeria and citrus all grow together here. Chickens and pigs roam among the trees. A mother hen and her chicks scurry by as bugs buzz, birds chirp and pollinators move from flower to flower. Even in the driest season, life is attracted to these farms and their shade, moisture and staggered canopies.
Everything in this system serves a purpose. The jack bean that grows along the fences is both food for the chickens and a nitrogen fixer, as it improves soil fertility and builds symbiosis between soil and plant. The Madera negra trees all around us are insecticides as well as wood fuel for the farmers' kitchens.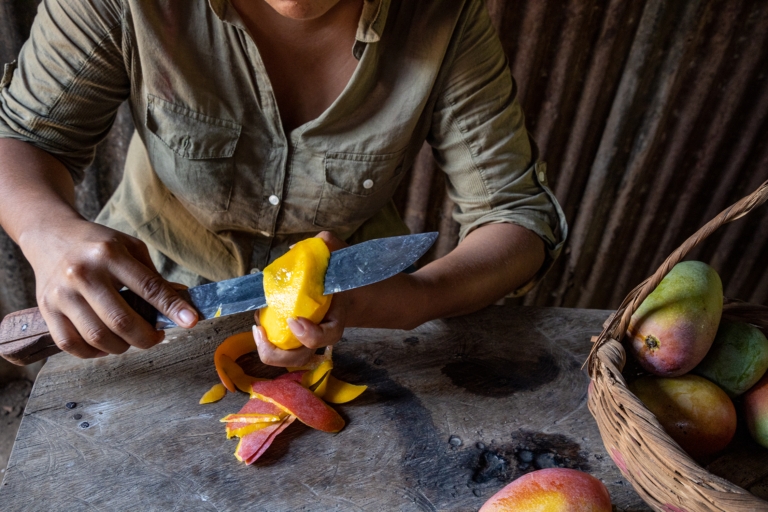 "It's some of the hardest work we've ever done. But we intend to keep moving forward because if we can show that Regenerative Organic works, we just might save the planet."
The abundance and diversity visible on agroforestry farms today is a stark contrast to what farmers used to grow in Nicaragua and still do in much of the United States: conventional corn and beans. In fact, about 50 percent of the habitable land in the world is used for agriculture, and the vast majority of food crops are grown conventionally, often in single-​variety plantings. It is because of this that agriculture accounts for almost a quarter of the global greenhouse emissions driving climate change. These immense, annually planted acreages dosed with harmful chemical fertilizers, pesticides and fungicides are destroying biological diversity, increasing soil erosion, polluting our waterways with runoff and sickening us.
But commodity monocrop farms don't have to be our future, and we take the potential to transform farmland through food production very seriously. That's a big part of why we created Patagonia Provisions back in 2012. From soups made with beans and lentils that can restore depleted soil to beer brewed with Kernza, a wheat-like grass whose massive, beard-like roots help draw down carbon and preserve topsoil, we've launched nearly 30 different products to support alternative ways of growing and making our food.
Each of these steps might seem small. And they do represent modest, incremental improvements. But taken together, they point to a safer, healthier future. Regenerative Organic folds in the long-established benefits of certified organic agriculture—freeing land, workers and animals from harmful chemical fertilizers, pesticides and fungicides—but takes things even further to incorporate low to no-till farming methods, cover crops, composting and other practices to improve soil health and carbon sequestration potential. Besides, Regenerative Organic farms just make for better eating.
"We have a way to go with all of our projects," says our founder, Yvon Chouinard. That includes the mango bars—the almonds in them are organic but not yet Regenerative Organic. "It's some of the hardest work we've ever done," he adds. "But we intend to keep moving forward because if we can show that Regenerative Organic works, we just might save the planet."