With All Apologies to Krissy Moehl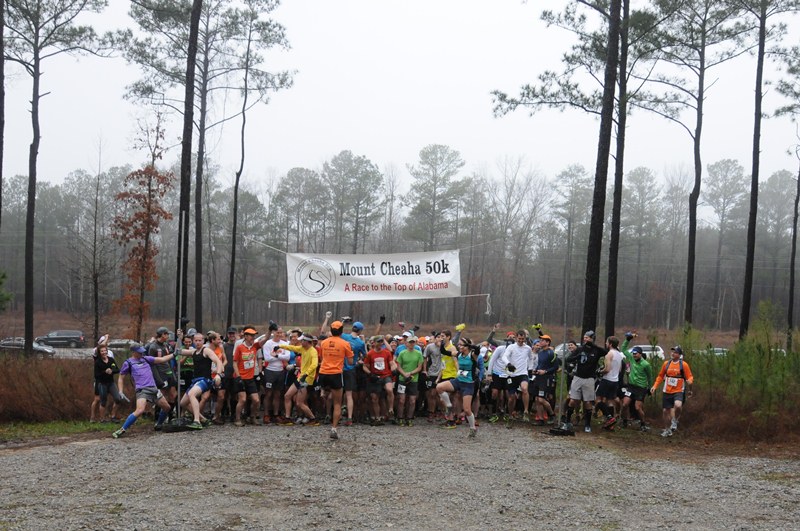 I AM NOT A CROSSDRESSER! Okay, so running 50 kilometers in a skirt technically makes a man a crossdresser but I'm not compulsively one, the act was more spontaneous or, perhaps, situational.
Robert and I had been discussing the upcoming Mt. Cheaha 50K – "The Race to The Top of Alabama" – and we'd arrived at a goal of 5:30. This would be a PR for each of us in this race, his eighth and my third. A week before the race, in an exchange of emails, Robert described his status as perhaps less than what would be required for a sub-5 1/2 hour Cheaha performance. I cryptically emailed him back and advised that that I'd arrive in Birmingham with a strategy. "Good," he replied, "I need all the help I can get."
[Above: The field gets funky prior to the start. All photos: Brooke
Nelson]
"Thirty miles through Alabama woods…" asked Mindy, my wife, rhetorically, "…in a skirt? Haven't you seen Deliverance?"
Still no reaction from me.
"Come on, surely you remember Ned Beatty's love scene?"
"Thirty one," I finally replied.
"What?" frowned Mindy.
"Thirty one. 50 kilometers is 31 miles, not 30."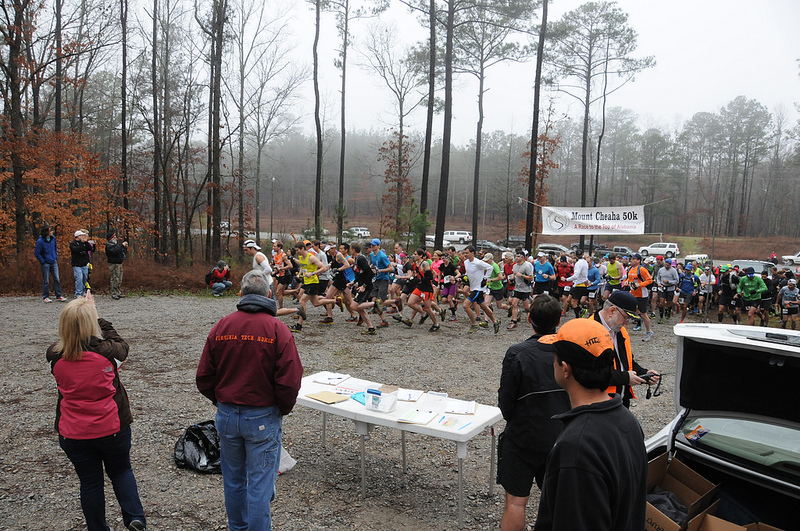 On the drive to Robert's house from the airport on Thursday evening we were discussing the race.
"So what's the strategy?" he asked.
"I'm running the race in a skirt", I replied. Robert laughed.
"I'm feeling good. I think I can do it in five and a half and YOU don't want to have your butt kicked by your buddy from the flatlands wearing a skirt."
"Well, aside from the fact that that's a tactic not a strategy, you don't have the balls to wear a skirt."
Not exactly certain how to take that one, I replied, "Oh yeah?"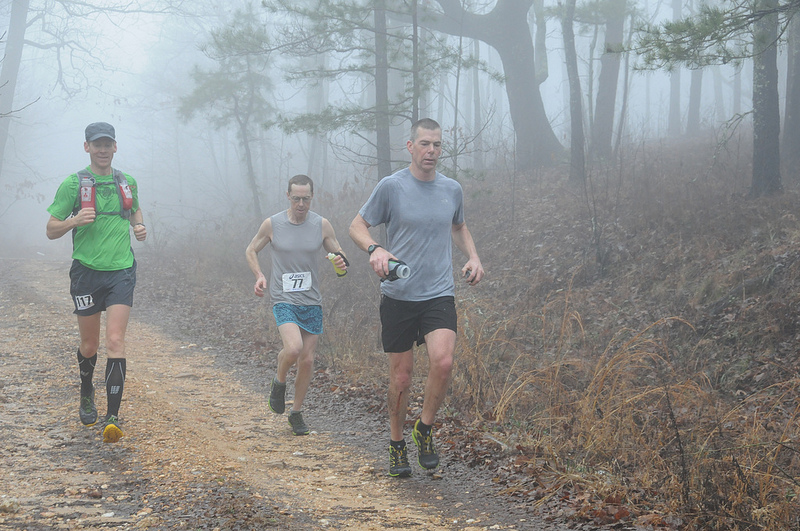 Saturday morning brought 50°F temps. At 4:30am it was still dark out, but we could pretty much tell that the day would be wet and overcast. Considering that a few days prior, for my last training run in St. Paul, the temperature was around 20 below zero with the windchill factored in, this weather was perfect. Robert looked at me sporting my flower-patterned Patagonia Multi Use Skirt.
"Couldn't you have chosen black?" he asked.
"Hey…in for a penny, in for a pound."
"Why don't you call it a running kilt?" he suggested.
"Semantics, huh? Well, feel free to call my skirt anything you want."
I was downing a plate of Robert's tasty pancakes when our friend Jim arrived. This weekend, Jim's resume would include chef, crew chief, trail groupie auditioner /procurer and wheelman extraordinaire. (Okay, so Jim wouldn't agree to manage the groupies, but he's still one of the coolest hombres I know.)
Even though the rain stopped just before the race, the eighth running of the Cheaha 50K was indeed wet. The trail was sloppy and the water crossings frequent, and Blue Hell was a beast getting up, just as ever. All in all, it was a fantastic day in Alabama's beautiful Talladega National Forest. And the skirt? It wasn't just an incentive to avoid posting a sub-mediocre performance; it's actually extremely comfortable and functional, especially on the uphills. (Note to Patagonia Trail Running designers: might you consider a men's version with a roomier compression liner?) And in the true nature of trail running, the comments, especially from the women, made the trail a fun place to be. "Sir, excuse me, but in your haste this morning you inadvertently put on your wife's skirt."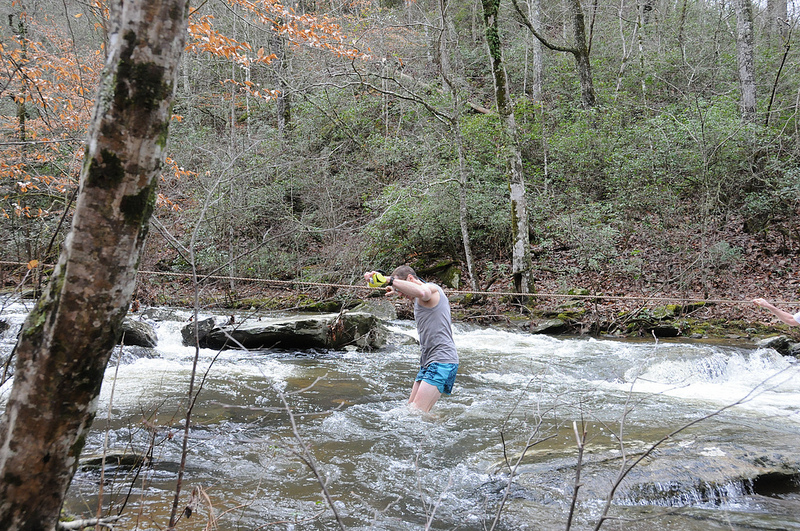 Mindy suggested I owe Robert an apology… you know, for being a jackass. Yeah, okay, how about this: Sorry, dude, for making you look at my ass for 20 miles. Actually, my sincerest apologies go to the great trail runner Krissy Moehl, who originally put her stamp of approval on the Patagonia Multi Use Skirt. Krissy trademarked this skirt with her inimitable grace, style and professionalism. I am indeed sorry, Krissy, for defiling the Multi Use, sorry if this vision activates your gag reflex. If imitation is the sincerest form of flattery, I suspect that Krissy will not be terribly impressed. Mea culpa.
On the positive side, though, I did achieve a PR for this race, and I must attribute at least a portion of the success to the Multi Use Skirt. Nonetheless, I'll probably retire it from my trail running wardrobe while I'm ahead. Then again, Patagonia did name it the Multi Use Skirt and so far I've used it for only one purpose. The Minnesota summer is here and I have a lawn that will need to be mown, a garage that needs some paintwork and maintenance, backyard parties to attend and on and on. The possibilities are endless. See you in July for the Vermont 100, Robert, and just wait 'til you see the chic summer ensemble I've lined up.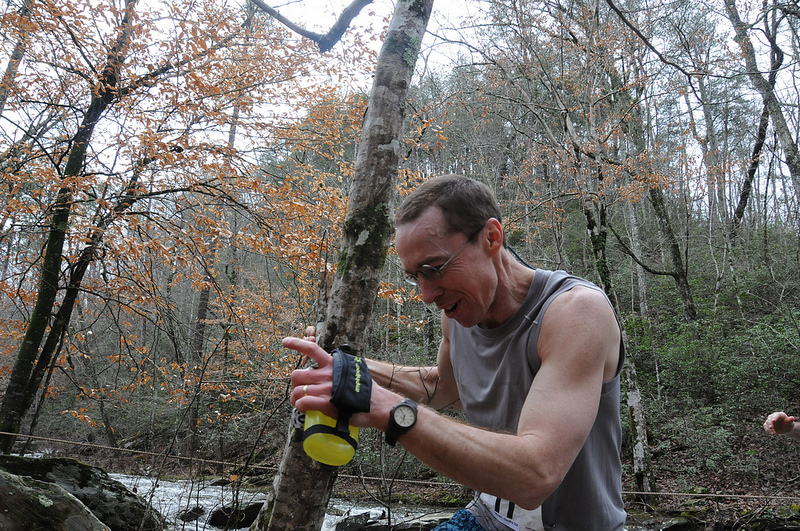 Kevin Alldredge is an eight-year veteran of the Patagonia St. Paul store. He's been running seriously for six years and will attempt his first century later this month at the Vermont 100. His wife Mindy and two kids, Ansel and Muriel, are fully supportive of his training schedule.
Editor's note: The girls know this already, but any guys who want to follow Kevin's lead should check out the Nine Trails Skirt, our current trail running skirt inspired and tested by Krissy Moehl.