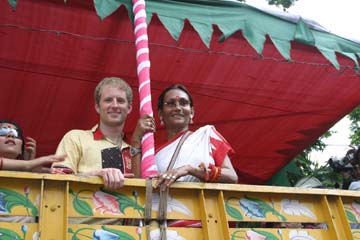 Another great contribution from a former employee of one of our many Independent Patagonia Dealers.
The Cleanest Line Crew,

Patagonia is about getting to the source. The source of where materials come from. The outdoors, the source of the passion and commitment by the enthusiasts that Patagonia's products are designed by and for.

I worked at Townsend, Bertram, and Company in Carrboro, North Carolina, for two years. Patagonia's dedication to their products and customers made it the best brand in the store to sell. I was able to tell the customers that every Patagonia product had been relentlessly tested and guaranteed to perform.

When Walt our rep would visit, he would discuss the source of the cotton, down, and other materials. How there were places where the production of these materials were done with the environment and the laborer in mind. And there were places that weren't.

Walt got me thinking: Where am I wearing?
I started checking the tags on all of my clothes. I read the tags. My mind wondered. A quest was born.

Months later I stood at the gate of an export processing zone (EPZ)near San Pedro Sula, Honduras. The shirt I was wearing, a funny onewith Tattoo from Fantasy Island on it, was stitched at a factory withinthe EPZ. I talked with Amilcar, a worker who may have made my shirt,and a tight-lipped company representative who wouldn't allow me insidethe factory.

With a simple handshake, Amilcar and I bridgedthe ever-widening gap between producer and consumer. It was a moment Iremember each time I put on a T-shirt, a moment that I hope to repeatthis spring as I continue my search for the source.

A pile of unfolded laundry has set my course:

T-shirt: MADE IN HONDURAS (completed)
Blue Jeans: MADE IN CAMBODIA
Boxers: MADE IN BANGLADESH
Lucky shorts MADE IN USA

And no list of where I wear could be complete if I didn't include the staple of my wardrobe:

Flip-Flops: MADE IN CHINA

[Note: None of these products are from Patagonia. — Free]

I will visit these countries seeing what there is to see; doing whatthere is to do. Once I have a feel for the country, I'll seek thefactory where the item of clothing was made and, ultimately, the peoplewho made it.

And then I'll tell their story.

Patagonia inspired this quest and I would like to invite you tofollow along. I will be reporting on this adventure to the WorldVision Report radio program and the BootsnAll Travel Network. You canfollow along at www.WhereAmIWearing.com.

Thanks for the inspiration,
[K.T. in Bangladesh. Photo courtesy of whereamiwearing.com. Thanks Kelsey. Good luck on the rest of your trip.]