Vermont's First Inaugural TU Trout Camp 2011
Warren Coleman
/
August 19, 2011
/
5 Min Read
/
Activism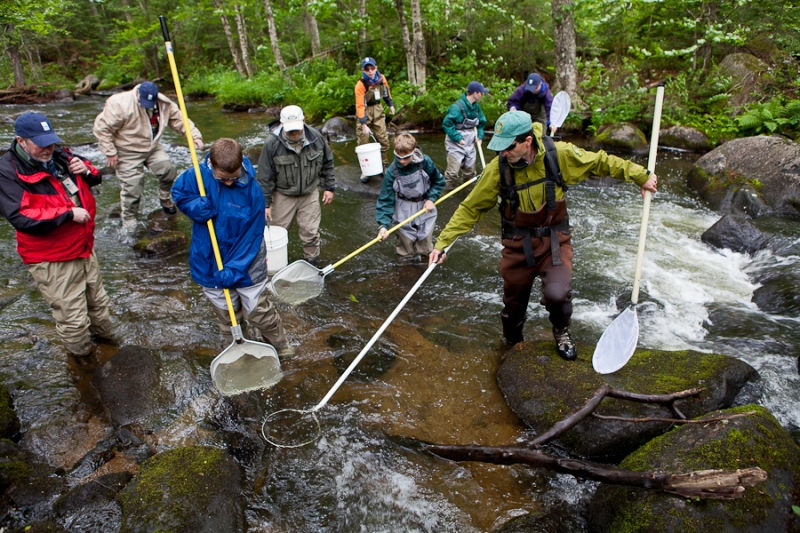 Today's post is from Warren Coleman, a lawyer whose work focuses on protection of the waterways throughout the northeastern U.S. Warren's also a certified New Hampshire fishing guide, in other words, the perfect person to help host Trout Unlimited's inaugural Vermont Trout Camp. Here's Warren with a recap of the kind of fishing that can be found up in the Northeast Kingdom:

I'm still not sure who had more fun at the Vermont TU Trout Camp – the campers or the counselors. I guess when it comes to fly fishing, the line that defines a kid and an adult easily blurs if you measure it on a scale of fun: zero (0) indicating that you were skunked and the river was blown out from torrential rain storms; ten (10) being a hurting arm from all the fish you've landed on dry flies and raccoon eyes from having polarized shades permanently affixed to your head for days on end.
I'd have to say that our first inaugural Vermont Trout Camp rated about an 8, which is pretty darn good considering that we had lousy weather (except when it really counted and the sun came out) and the fishing was challenging (again, except when it really counted).
[Vermont Fisheries Biologist, Jud Kratzer, leads Trout Unlimited's Vermont Trout Camp participants a few counselors on an electroshocking exercise on a nearby stream. Photos courtesy, Kurt Budlinger.]
To take a step back and explain the birth of our Trout Camp: You may or may not know that the national coldwater conservation organization,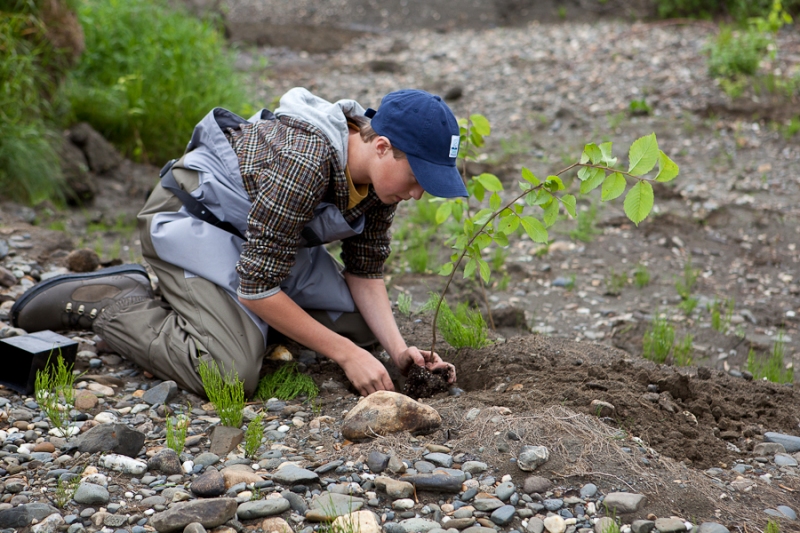 [Camper Silas Pohlman planting a tree along Leach Stream, a tributary of the Connecticut River impacted by our spring flooding, as part of a Trout Unlimited's Home Waters Project on the Upper Connecticut River. Photo courtesy, Kurt Budlinger.]
– Meet up with TU's CT River "Home Waters" director and his staff to plant trees to repair a riparian area hit hard by spring floods. Also talk about radio tagging brook trout in the CT River to learn about their movement patterns through the year.
– Learn from the Jerry Garcia of fly fishing (Alan) how to present a dry fly, nymph and a streamer and watch the brook trout trying to catch his fly as he's conducting his demonstration, then try to catch fish under the watchful eye of the staff on said undisclosed river.
– Fish the Hex hatch on Forrest lake (the Hex – short for Hexagenia is North America's largest mayfly).
– After stuffing your face with tacos, burritos, and homemade chocolate chip ice-cream cookie sandwiches for dinner, learn to tie a wooly bugger (a do-it-all streamer fly that no fly fisherman would be without).
– Try to beat one of the counselors in ping-pong (unsuccessfully).
– Spend the afternoon on the CT River when the sun finally emerged, along with the caddis flies, bringing the trout to the surface and the end of the campers lines – some, their first trout on a fly rod.
– Try again in the morning and discover a counselor who has wandered off on his own just upstream and out of sight (shirking his photography assignment for Trout Camp) catching fish after fish after fish on dry flies (he estimates he caught 25 trout – we've since named it Kurt's pool or the "hog" pool) only to be discovered by the rest of us, who put an end to his solitude.
– Send the campers home with a new fly rod and reel, fly boxes full of flies and a chest pack to hold it all (thank you LL Bean), and other assorted goodies. 
Again, this is just a peek into our experience, but you get the gist of it….good times had by both young and old and immediate chatter and commitments about next year's Trout Camp at Quimby's.
As one of the five-committee members in charge of organizing our Trout Camp, one of my main duties was to gather the equipment needed to outfit everyone. LL Bean generously assisted with equipment (chest packs, flies and fly boxes, and some wading boots) and TU's National Office, in conjunction with the Sierra Club, provided us with brand new fly rods and reels that we'll use each year, but our biggest hurdle was finding waders and wading boots. Why? Well first, you can't expect anything that keeps you dry while actually standing in water day after day to be inexpensive. Next, even 13-15 year olds come in a great variety of sizes. If our Trout Camp was south of the Mason Dixon line then we could do without waders, but in June the weather in Vermont can resemble what passes for winter in many other parts of the country. You just never know if you'll need to light the woodstove and don a fleece in the evening or sleep on top of the sheets with a fan blowing on you. Obviously the water can still be quite cool in June – too cool to wade in your shorts and sneakers unless you're a polar bear.
Sure we solicited other manufactures (who will remain nameless – you know who you are) but in the end a guide and shop manager in Middlebury Vermont (Jesse Haller at the Middlebury Mountaineer) found out about our Trout Camp and mentioned it to his Patagonia sales rep (Peter Whitney) who mentioned it to the head honcho of Patagonia fly fishing (Bill Klyn) who after an epic game of email and phone tag with me listened to my pitch about Trout Camp and without hesitation offered to provide us with the equipment we needed to launch Vermont's Trout Camp.  Bill and Patagonia share our love of cool, clear trout streams and our Trout Camp mission to connect with our next generation of fly fisherman and teach them what makes a trout stream something worth spending time wading around in and something worth protecting.
Thanks Bill and thanks Patagonia – we couldn't have done it without your support!
Find photos and a video about our Trout Camp on our Facebook page.
Warren Coleman is an attorney and lobbyist in Montpelier, Vermont and an environmental law professor at the University of Vermont. He is the President of the Board of Directors of Quimby Country Inc. and a licensed NH Fishing Guide. Warren was formerly General Counsel for the VT Agency of Natural Resources and most importantly has been fishing since he was about three years old. He grew up in Miami, Florida, but has been living in the Green Mountain State since 1996 with his wife Roni and their birddogs and resides in East Calais, Vermont.