Krissy Moehl and Ellen Parker at the TransRockies Run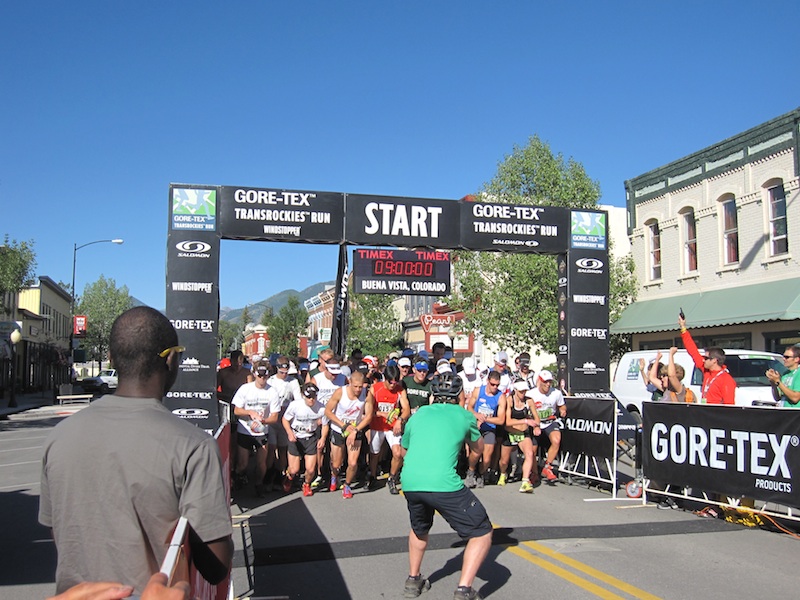 There's a great saying that goes, "If you don't travel, you stagnate." I think the idea also applies to engaging ourselves with people beyond our usual crowd. We can so easily get stuck in our own little circles, which also breeds stagnation and ignorance.
And so two weekends ago I went with my ultraunner friends Krissy Moehl and Ellen Parker to Buena Vista, Colorado, where they were competing in a six-day mountain-running stage race called the TransRockies Run. It's a team race, and Krissy ran in the Open Mixed division with Bryan Dayton, and Ellen in the Open Women's division with Melody Fairchild. I'd asked them how they thought they'd do. Might they win? Did they have expectations? Did it matter if they placed? Coming from a climbing background, I readied for the spraydown, but both women pretty much just said that they wanted to do their best. Boooooring.
The famous Leadville 100 (Krissy took second in the women's division in 2005 – yeah, running 100 miles…what is wrong with these people?) was the same weekend, starting the day before TransRockies, so we figured we'd watch some of it. Sure, watching people run rivals only climbing on the excitement scale, but it's real and anyone who can run 100 miles, or even give it an honest go, is a superstar in my book. Makes me wonder, what makes someone a badass? Anybody can coast by on natural talent – it's easy to do well when things go your way. But what about when they don't? Can anyone feel good for 100 miles of running? No freakin' way.
The ultra crowd fascinates me; I'm a big fan. Their attention to training, nutrition and hydration gets me thinking.
[Starting gun at the TransRockies Run. Photo: Kelly Cordes]
They also seem the coolest of all athletes – little spray, zero attitude, and amazing camaraderie and support of one another. Maybe something about running a six-day mountain course or going 100 miles at a clip humbles a person, strips away all posturing and pretense.
More than anything, I admire their mental toughness. On a serious alpine climb, a tall boulder problem, or a run-out rock climb, you don't have much of a choice. You often have to do it correctly, or you wreck yourself. In a way, that makes things easier. Seems that on some of my best climbs, I've climbed myself into positions where retreating would be at least as difficult and dangerous as continuing. But in a 100-mile run? Hell, you can just quit. Seriously, why not? Because your own desire and drive, the promises you made to yourself, forces you to keep going when, most surely, every physical part of your being wants to stop. It's an incredible showing of the human spirit, from the frontrunners to the very last finisher, who, in some ways, have it even tougher.
Ultra runners don't set a blistering pace by shorter-distance standards, but it's apples and oranges, like comparing how quickly you sent the blue tape route at the gym to taking six days on the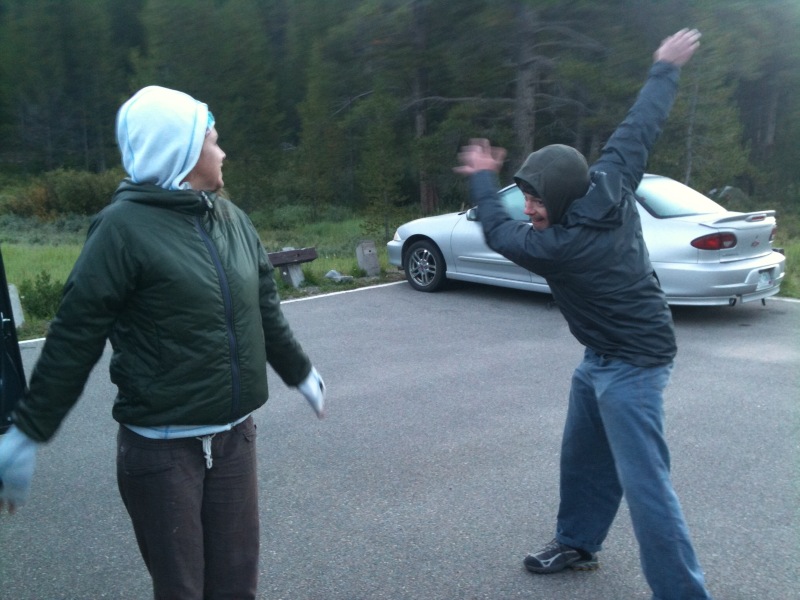 I made my way home thinking not about first or last, but about mental toughness, and it hit me that the only things stagnating around those tiny towns and trails of Central Colorado might have been some sweaty running socks.
[Above, right – Krissy Moehl (left) and Ellen Parker, unaware they were part of the photo-match game. Photo: Kelly Cordes. Above, left – Kelly demonstrates proper Penguin technique (including the crucial facial expression) to Krissy Moehl. Photo: Ellen Parker. Right – Young grasshopper Ellen Parker absorbs the finer points of the Speedskater technique. Photo: Krissy Moehl.]