Backyard Adventures: Backpacking the Yoiyabe Crest Trails, Part 1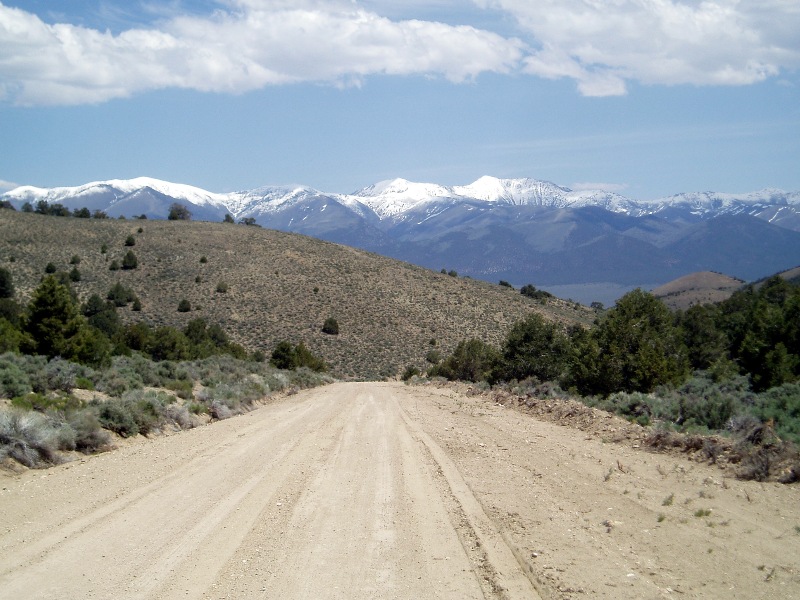 Mention Nevada to mostfolks and what comes to mind is LasVegas glam and desert heat. Truth be told, manyNevadans are more than willing to let you think that but for the record, with313 named mountain ranges, Nevada has moremountains than any state except Alaska.Since moving here five years ago, I have been trying to wean myself away fromthe Sierra Nevada by exploring some of Nevada'smore remote ranges. The Toiyabe Range, which is nearly in the middle of the state, more than fits that definition. So when my friend Chris called me up asking for ideas for a good late spring backpacking trip Inot only suggested the Toiyabe Crest Trail, I invited myself along as well.
[At 10,000' for a stretch of nearly 50 miles, the crest of Central Nevada's Toiyabe Range is well-situated to catch snows that would otherwise miss the arid valleys of the Basin and Range territory. Photo: OldSchool]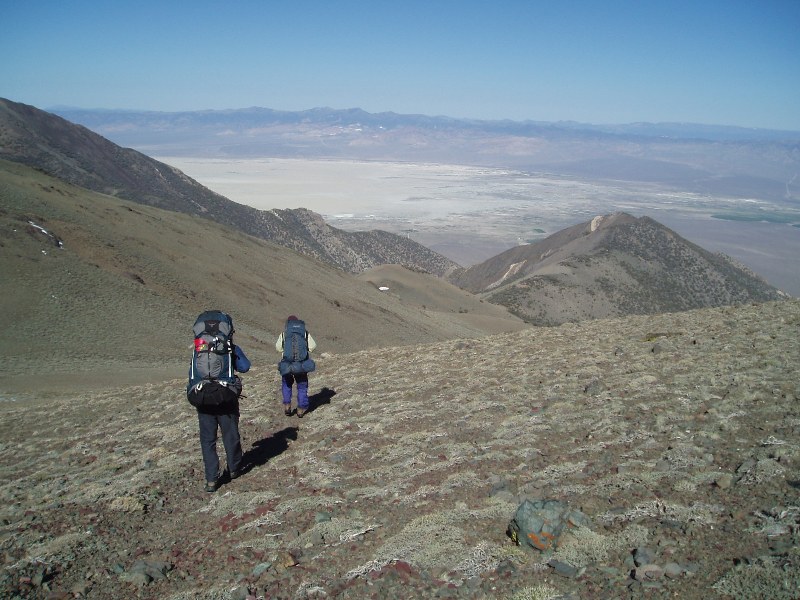 At 65 miles,  the TCT is Nevada's longest trail, but it's also one ofthose middle-of-nowhere trails that you wonder whose idea it was to build it atall. Turns out it's an all-but-forgotten legacy of the CCC (CivilianConservation Corps) work from the 1930s and even thoughit's part of the National Recreation Trail System it has suffered someserious neglect ever since.
The trail follows the headwaters of two central Nevada 'rivers' before climbing up to traverse the Toiyabe Crest in its northern section. Nevada lore has it that misnaming these small creeks 'rivers' was part of a 19th-century scheme to persuade gullible east coasters into investing in the "Reese River Navigation Company," ostensibly to finance the barging of gold and silver ore down the Reese River from the tiny (then, and now) town of Austin, NV to the railroad in Battle Mountain, NV. Promoters conveniently failed to mention that for most of the year the river doesn't even have enough water to float a kayak, and never enough to float a barge. The scheme apparently attracted thousands of investors but no barge ever plied the waters of the mighty Reese River and no one but the scammers ever made a dime from the venture (author note: I'm never one to let the truth get in the way of a good story but after writing the above, I stumbled upon this).
 . . . tune in next time for Part 2, and keep on hiking the Toiyabe Trail with Old School.
[Hikers following the Toiyabe Crest Trail are afforded sweeping views. On exceptionally clear days, it's sometimes still possible to take in a vista that spans the Great Basin from California's White Mountains, clear to the Utah state line, a distance of over 300 miles. Photo: OldSchool]

Ed Note: Longtime readers of The Cleanest Line know we're big fans of the Risky Biscuit Hayseed Hoot and have been enjoying DJ Don Darue's mountain music inspired goodness for years. New shows air every Saturday and are available for download weekly. The Hoot was born somewhere deep in the heart of wild Nevada, somewhere in the back of beyond, out along a dusty trail. Or was it while waist deep in some secret Great Basin powder stash . . . historians have lost track. But they know this – nothing beats the Hoot for trailside tunage. So without further ado, bend your ear right here and enjoy some western-style mountain music straight outta the Hoot studios at the Salvation Truck Stop in Earthquake Faults, NV.