The Slab Hunter: Ben Wilkinson Woodwork
It didn't take long for Ben Wilkinson to figure out that there was freedom to be had in working for himself—and that freedom was the first requirement if he wanted to go surfing whenever the waves got huge.
"I left home when I was 16," he remembers, "which was old enough in my eyes. But I needed a job, so I started a carpentry apprenticeship with a local surfer and builder in my hometown of North Narrabeen in Australia. I was washing dishes at his wife's café, and he offered me a job and taught me well. I've used those skills all around the world—working cattle ranches, building homes and doing commercial construction."
With trade work paying the bills, Ben could fund his dream of riding the biggest waves in the world—a dream that led him to settle on the North Shore of O'ahu, a few miles from the hallowed waters of Waimea Bay. Big Ben—as he's known to friends— became a fixture in the big-wave community, competing on the professional circuit and wrangling set waves on gigantic days at Mavericks, Waimea and the Hawaiian outer reefs.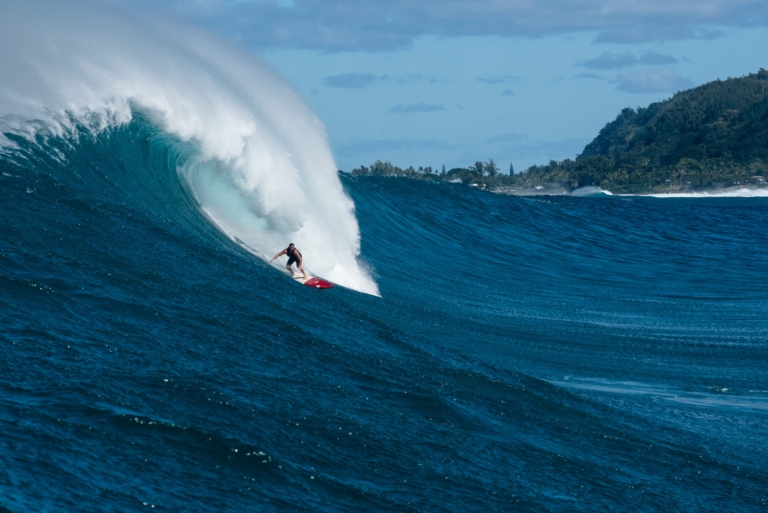 "When I was on the Big Wave Tour," he says, "I'd always be upfront with my bosses that I might have to leave for a swell. But if I had to go for a week to compete, my job usually wasn't there when I got back. So I found a way to work just as hard, but for myself."
That meant shifting from construction to salvaging and milling wood that was bound for the burn pile or the landfill.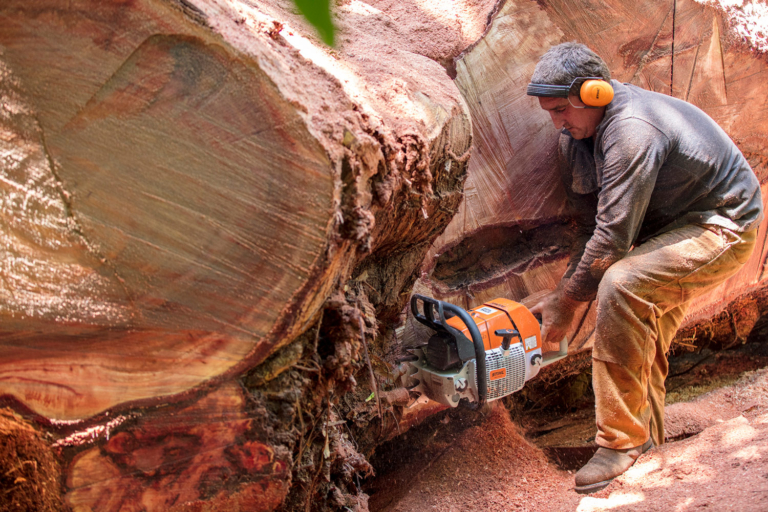 "I'd always wanted to work with big slabs like I do now," he continues. "I got a first taste of it from working with jarrah and river red gum back in Australia. Here in Hawai'i, I provide a service for arborists by removing usable trees they're taking down—the bigger the better. It's a lot of labor for the tree guys to process them, so if they're not reclaimed by someone, they're usually chipped, cut up into small chunks or thrown away. This is a way that we can help each other out."
After salvaging the wood, Ben hauls it to his open-air workshop, where he eventually crafts it into fine furniture, sculptures and surfboards. In an island ecosystem that has lost much of its native forest, turning throwaway wood into beautiful and worthwhile products carries a tangible message about the mindful use of limited natural resources.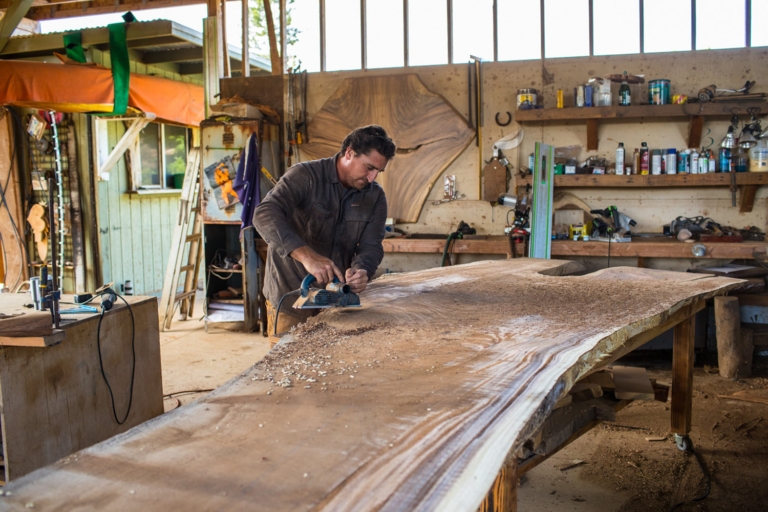 "Most of the trees I work with are invasive species," he says. "There are some great reforestation projects that are starting to happen here, and clearing the invasives is part of that. There's an abundance of resources if we're creative in how we salvage and recycle. And repurposing the invasives gives native trees like koa a better chance."
WORKWEAR
Workwear is not a new thing for us, but we're excited to be reimagining the work-specific side of Patagonia. To stand up to the toughest tasks, we've developed a utilitarian line of jackets, shirts and pants built with super-durable, long-wearing fabrics like Iron Forge Hemp™ canvas—an innovative, heavy-duty blend of industrial hemp, recycled polyester and organic cotton. It's 25% more abrasion resistant than conventional cotton duck canvas and needs no break-in; and our hemp-blend workwear clothing is also Fair Trade Certified™ for sewing. See the collection at patagonia.com/workwear.
BEN WILKINSON DESIGNS
To see a gallery of Ben's incredible woodwork or commission a piece for your home, visit benwilkinsondesigns.com.
This story first appeared in the 2017 Patagonia Workwear Catalog.