The creation of Bears Ears National Monument was something that seemed more inevitable in the summer of 2016. It seems like now it's one of those things where you're on one side or the other because after all, I'm writing this book in the Trump years, and no one is getting along or in the spirit of compromise—at least, not on the Internet. In my circle, there's no debate about Bears Ears; we all just assume it's for the best for climbers, and in my heart, I do believe that.
The present is getting in my way because I'm trying to write about 2016, those glory days that weren't really. Ignorance is bliss.
That summer was the summer Trump began his rise to the presidency, and there's some nausea that comes along with thinking of that—the reality that the civility of Obama was going to give way to a human who just wasn't my kinda guy, to put it lightly. But that was still down the road, and we didn't know what was going to happen just yet.
However, it seemed like this Bears Ears National Monument would be a good thing. Obama was getting his Teddy Roosevelt on: preserving an important environment using Roosevelt's Antiquities Act. His team was working with the Bears Ears Inter-Tribal Coalition, and when it was said and done, climbing ended up being included in the proclamation, the first time that had ever happened for a national monument.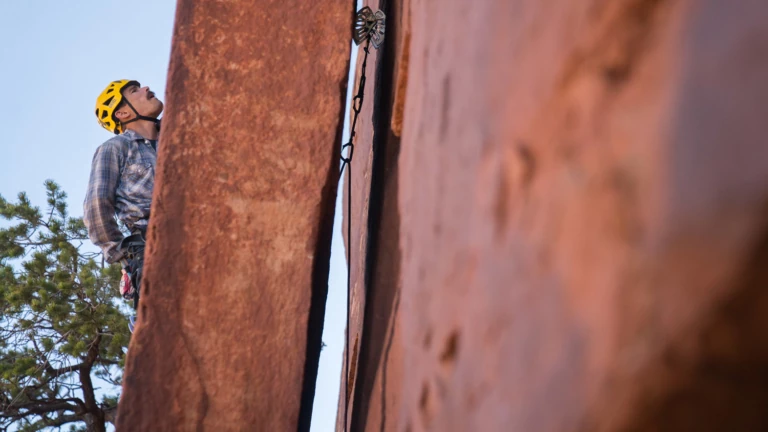 Thinking of that time when we were moving from the Obama era to the Trump era feels like loss, reminds me that I probably failed in my vision of what "college me" expected of me and reminds me of one of the greatest eras in my climbing life.
In America, so much is possible, and given my positioning in the world, I had reason to dream. The older I got though, the more I realized my impact would be small, but I could create change and inspire. That was my mission, the reason I was here. There was a sense of relief in my smallness, of the fleeting existence that we call life. I needed to see the fruits of my labor; climbing first ascents was perfect for that. So was writing books.
Summer used to be the ultimate when we were kids, but now I find the greatest joys in the spring and the fall. So, when Indian Creek season rolled back around, there I was, back home in the Utah desert.
It's crazy to think that this place that seemed like such a wasteland of sorts was being thought of at the highest levels of government. I won't bother glorifying Obama too much here; after all, he's a politician, but to me he got it—the people who wanted to see this land protected reached out, and they got what would later become Bears Ears National Monument.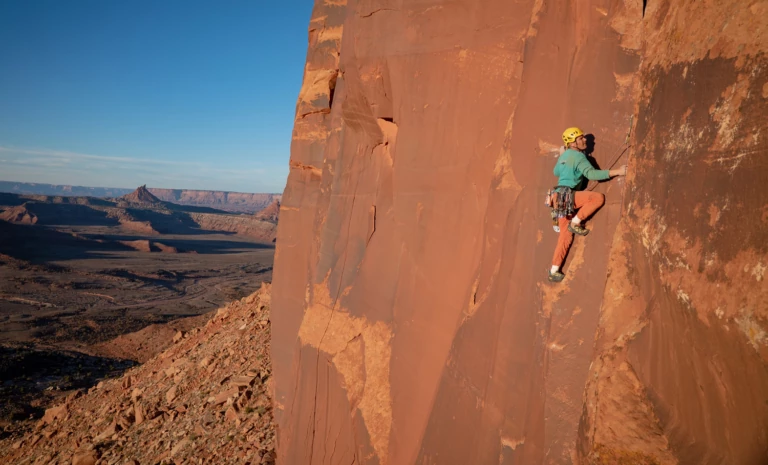 In my years of plateau, I'd been ignorant to the gems that were here, but again, perhaps I just didn't have the right eyes, ears or heart yet. There was a moment though, not long ago, when I feel like I got something or at least felt something.
Dave and I had climbed some 400 feet, repeating a first ascent that I'd helped establish a year prior, a climb that stitched together some perfect hand cracks with some other delicate cracks and pillars. It was probably as close as we'd ever come to painting a masterpiece, though in reality, it was all already there—we just dusted it off.
This climb took us to the top of a magnificent butte, a place so high and remote we wondered if we were the first people to stand there, to search around this island in the sky. The entirety of Indian Creek was below us as we marveled at our surroundings.
As I looked to the dirt, I noticed a piece of pottery—could it be? It couldn't be. I looked closer and saw black and white stripes. I looked around to find more and quickly did. This place that, moments ago, seemed so distant and foreign was a place where humans had stood a thousand years ago.
Still, to this day, I haven't discovered the route that these Ancestral Puebloans took to reach this point. It was improbable and seemingly unreachable. It was the magic of the desert.
Months later, while speaking to an elder Native American man, I told him about my experience, and he suggested that the next time I go back, I leave an offering of some tobacco—something that would biodegrade—for the spirits. I told him I never touch the stuff anymore—what about cannabis? Sure, he said, that would be fine, too.
Since this particular climb—I'm being vague about its location on purpose—I've come across more pottery and ruins. I never remove anything and always take precautions to leave it as it was, marveling at a society that functioned here and had a harmony that was at a higher level than we are existing in now. And most of all, even above protecting the climbing, that is why the Bears Ears National Monument is important.
I was traveling home to Colorado after the holiday season when I got the news. Obama had used the power of the Antiquities Act to create Bears Ears National Monument. That man had a way of putting my heart at ease, and he made me believe in the possibilities of America. We all knew what kind of storm was coming with Trump, and I felt like the moment when Obama protected this area would be the last of the things I would be happy about from the federal government for a while. It was a peaceful feeling, a victory for protecting sacred land and an agreement between the tribes and the recreationists. But it wouldn't last. Or would it?
This article is an excerpt from Luke Mehall's fifth book, The Desert, which chronicles his relationship to climbing, Bears Ears National Monument and, of course, the desert.