Tales from Winter Tour – Skiing with moe. Guitarist Al Schnier
Al Schnier
/
July 1, 2011
/
13 Min Read
/
Snow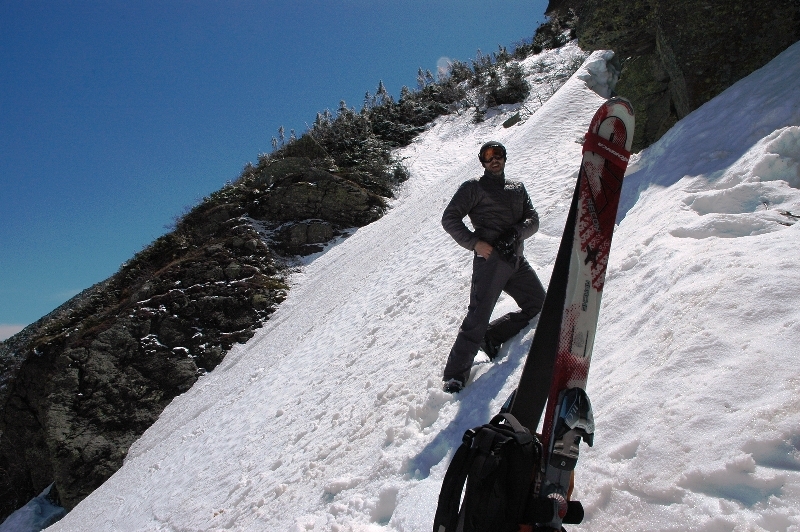 When I graduated from college in 1990 (SUNY Oneonta), I always thought I'd end up moving out west to ski. I'd already had plenty of years of experience in both pizza making and delivery so I was primed for a life of scraping by and dawn patrols in a town like Alta or Jackson Hole. I also figured, at some point, I'd end up taking the requisite post-graduate cross-country trek with some of my buddies — likely coinciding with Dead tour — and see the country before "settling down."
Editor's note: We're grateful to the band and management of moe. for being one of the first artists to join the Patagonia Music Collective. Not only are they fantastic musicians but they have a long history of philanthropy, they're always up for trying new things (check out the All Good Challenge) and … they love to ski. Today, guitarist and singer, Al Schnier, gives us a peak into life on the road during moe's 2011 winter tour. Photo: Jim Shaw

I'd always been passionate about music. I've played music since I was a little kid and settled on guitar when I was in my teens. I've played in bands ever since I could play a few chords. Almost immediately after college I met Rob Derhak and Chuck Garvey, who'd already started the band moe. in Buffalo, NY. I joined the band a mere few weeks after moving to Buffalo and we've been together for over 20 years.
While I never got to take that initial cross-country trek I'd set my sights on, I've crossed the country probably a hundred times or more with these guys and it's been nothing short of awesome. I never got to settle down out west and do the ski bum thing either, but my "job" allows us to tour some of the finest skiing in the country. This year was a banner year for skiing, and I was lucky enough to ride some of the finest vertical in the USA.
This particular tour found us winding through the Sierras as well as the Rockies and hitting some of the best resorts known to skiers around the world. While the tour launched in Seattle and the great Pacific Northwest, we didn't get any skiing in until we hit Tahoe.
Day 1: Homewood – Lake Tahoe, CA
Day 2: Squaw – Lake Tahoe, CA
Day 3: Deer Valley – Park City, UT
Day 4: Canyons – Park City, UT
Day 5: Aspen Mountain – Aspen, CO
Day 6: Eldora – Nederland, CO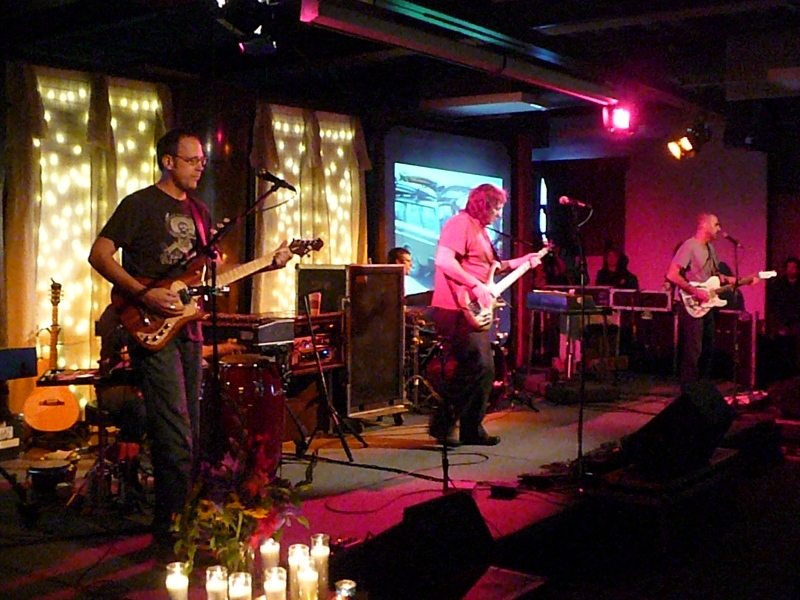 [Just before heading off on winter tour, moe. stopped by Patagonia to help us celebrate the launch of Patagonia Music. This is our all-company meeting room tranformed into a night club (well, early afternoon club). Getting off early to see these guys play an epic show at work made this the best Monday ever. Photo: Free]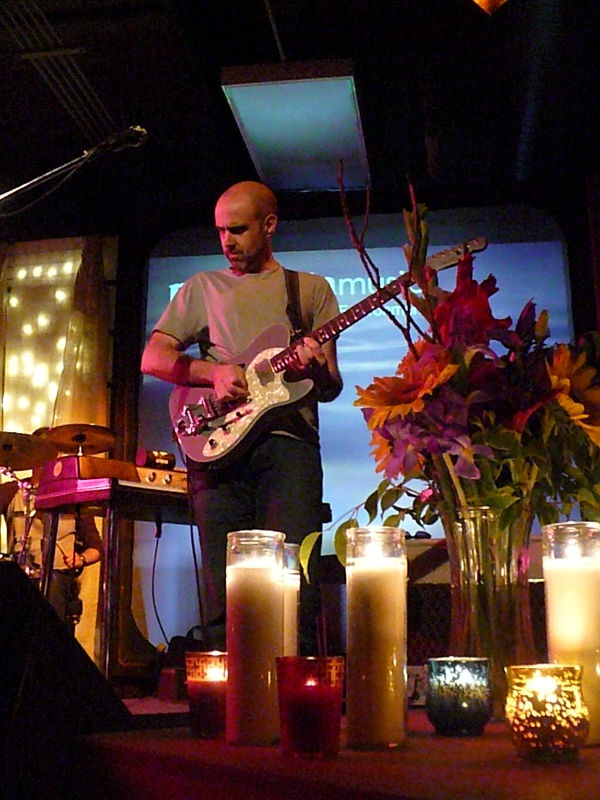 [Musician, climber, skier and the author of this post, Al Schnier. Patagonia HQ, Ventura, CA. Photo: Free]
Tahoe had some record snowfalls early in the year, but it had been a few weeks since they'd seen any fresh snow. This was good news for us. This meant the locals would be staying home and we'd have the lifts (and mountains) to ourselves. We're still east-coast kids at heart. We grew up skiing on boilerplate, frozen granular – the kind of stuff where you point 'em and just don't make any turns or stops and you'll be fine.
Our first day was a beautiful, sunny California day that reached the mid 40s. Skies were a deep blue and nearly indiscernible from the Lake at times. We skied Homewood on the North Shore on Day 1. This is a local's favorite and I can see why. There's a lot of great terrain here and you can literally park next to the lift. From the top, the views of the lake are the best in Tahoe and at times it seems like you could huck straight down to the blue.
We rode the triple chair (about 30 yards from where we parked) and skied over to the Homewood Express, giving us access to the far right boundary of the ski area known as Lake Louise. Here, we found some great snow (a slurry of corn and loose crud) that really was nice and forgiving, especially for a first day out. There's a nice mix of terrain as well (blues and black diamonds) to warm up and get the blood flowing. We were skiing with two friends – locals who knew the mountain well and preferred it to the larger resorts in the area. It was easy to see why. We lapped the same lift over and over, never growing tired of the California sun, great views and nice carving we could do on these groomers – really made for a great day with big grins all around. I'd love to get to Alpine Meadows someday – Homewood's other side – which offers a bit steeper backcountry skiing.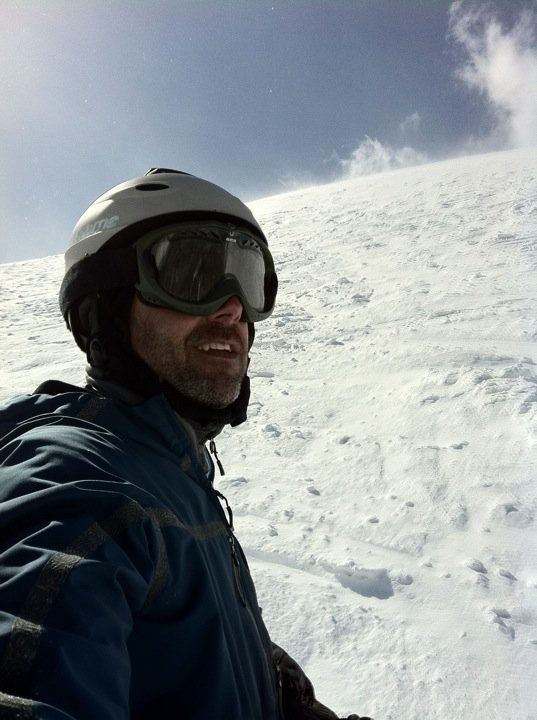 [Photo: Al Schnier Collection]
Day 2: another bluebird day in Tahoe. This time we were heading out to Squaw for another day of fun in the sun. In addition to skiing with the same friends, we had the added bonus of skiing with Guy Tomlinson, one the Squaw race coaches who has coached kids there for many years. His dad, Stan, was integral in bringing Olympic racing to Squaw in the '60s. In fact, one of our runs even included a maiden voyage down the recently named Tomlinson's, a steep, fast-paced groomer on Emigrant Peak, in an area known as Shirley's. There are five chutes in this area, all served by the Shirley Express, and again, there were no lines, no waiting and we took as many laps as we wanted, soaking up that fine Cali sun on an unseasonably warm day.
We spent the better part of our day at Shirley's, although we did make it over to the famed KT-22 late in the day to hit the West Face. Unfortunately, we were about an hour too late and that nice corn goodness had already set up in the shade, which made the West Face seem a lot more like some of the runs at Whiteface in Lake Placid – which we were no strangers to! It was still a shocking wake up call, especially on this steeper (and colder) terrain. Some of our party called it a day and headed down for a few beers while the rest of us headed over to Squaw Creek for a few more runs to close out the day. Après-ski was at Mama Sake in Squaw Village, a killer Asian fusion hangout with great food, drinks and live Grateful Dead videos shown on the projection screen.
Day 3: Deer Valley was getting prepped for the World Freestyle event later in the week. A major cold front had moved in and temps dropped into the single digits before wind chill factor. We were seriously on the fence about going this day, but it only took one of us to rally. Once I committed, everyone was on board. The bonus was that Park City had just received about 6-9" of fresh snow and no one was skiing – so even though we didn't get out until 2:00pm, there was still plenty of fresh snow out there.
It was a real treat to watch the freestyle trials, as well as the aerial practice runs on Bald Eagle Mountain as we rode the Carpenter Express lift right over the jumps and skier-x courses. We hung in this area for a while, just trying to get warmed up – total bluebird day but subzero with the wind chill. Any exposed skin just hurt. Even with hand warmers in our gloves and boots and we still had to go in after an hour. It was brutal, but fun. Just one of those days when you could commiserate with your bros and revel in the fact that you had a multibillion-dollar resort all to yourselves because you were nuts. The snow was awesome; the skiing ditto; the cold, not so much.
We headed over to the backside and on up to Bald Mountain summit (9,400 ft) for a few runs. Being lowlanders from the northeast, we were not quite acclimated, and it was definitely noticeable. The runs back here were pretty awesome, especially those on the lee side of the mountain, but we did not have the time (or core heat) to really explore it. All in all, an awesome day – capped off with a Thai dinner in town and viewing of True Grit (*****).
Day 4: Temps rose slightly in Park City (a balmy 10˚), but the key thing was no wind and the sun was big and bright again, and we were headed to the Canyons. This resort has grown a lot over the last few years, and is always an enjoyable place to make turns. The snow never disappoints, there are rarely any lines and the terrain is stellar. Like many great resorts, one could spend an entire season on any one of the peaks and be pretty psyched.
We started off the day taking the "cabriolet" lift from the lot up to the main lodge – this is a basic service lift that features small baskets you stand in with your gear, so you don't have to hoof it all the way from your car. Nice. We then hopped the new Orange Bubble Express, an express quad with heated therma-rest seats plus an orange transparent sunroof/hood you can pull down for extra warmth – very awesome way to start out on an otherwise cold day (and a nice alternative to the gondola). We made our way over to the Super Condor Express and skied a bunch of the runs on Murdock Peak. Once again, the snow was great – mostly groomed at this point, although still plenty of fresh stuff off piste (although it tended to be a bit cruddy about a foot down, as we found out when we took the double diamond run "Yard Sale" – aptly named for it's big bumps, steep fall line and deep snow).
After about two hours of pretty steady work, we needed to get inside and get some heat on our toes. We ate a quick lunch and made our way over to the new Iron Mountain to check it out. We really enjoyed the nice, sweeping, long double-blue runs like "Pipe Dream" – they reminded me a bit of some of the summit-to-base runs at other resorts, but these are more like GS courses with some heat to them. You could really pick up speed on some of these runs. We had to wrap things up shortly after that, as we still had a show that night in Salt Lake (at the Depot) and needed to get back for soundcheck!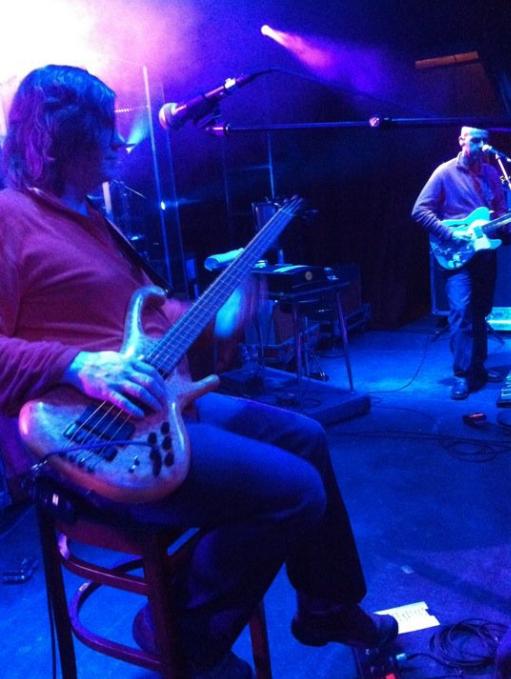 [Rob Derhak and Al Schnier, soundcheck at The Depot, Salt Lake City, Utah. Photo: moe. on Facebook]
Day 5: We were so psyched to pull into Aspen Village. The cold front was on its way out of town and Aspen had received some of that same snow from Utah. It was also nice to step off the tour bus and grab a killer (and cheap) breakfast nearby then walk a mere two blocks to the gondola after gearing up.
We were up on the summit by noon (11,200 ft.) and proceeded to ride the Ajax express quad all day (10,000). We lapped that same 1,200 feet of vertical about 15 times over the course of the next four hours. The skiing had a lot to offer in the intermediate to advanced range. There are no greens at all on Aspen Mountain (but plenty offered at their other peaks: Snowmass, Highlands, etc.). One thing I noted right away was the prevalence of bumps here versus what we'd seen in the last four days. Aspen was covered with them! Still plenty of freshly groomed corduroy to carve down the middle, but also plenty of bumps – in all sizes.
My favorite area of the day was right under the gondola, to the left of Ajax, called Bell Mountain. There are a bunch of double diamond chutes and glades coming off both sides of the ridge, and one could spend the whole day here, exploring them all. I happened upon it late in the day and only got to check out a few, but the snow was plenty deep and the bumps and trees came in a wide variety making the lines really interesting on runs like "Hanging Tree" and "Bell Meadow." For our final run of the day, we rode from the summit to the base (a 3,000-foot descent!), down Copper to the Copper Bowl. It was a great ride. No cat walks here. Carved some nice turns along the way and even hit more bumps in the bowl section. It was a great ride down and really capped off the day nicely.
Once again, it was a show day and time for soundcheck. This time we were working out a few tunes with local legend John Oates (yes, that Oates). I tried to get him out to make some turns earlier in the day (as he is a tele legend in these parts), but he'd just flown in from Jackson Hole.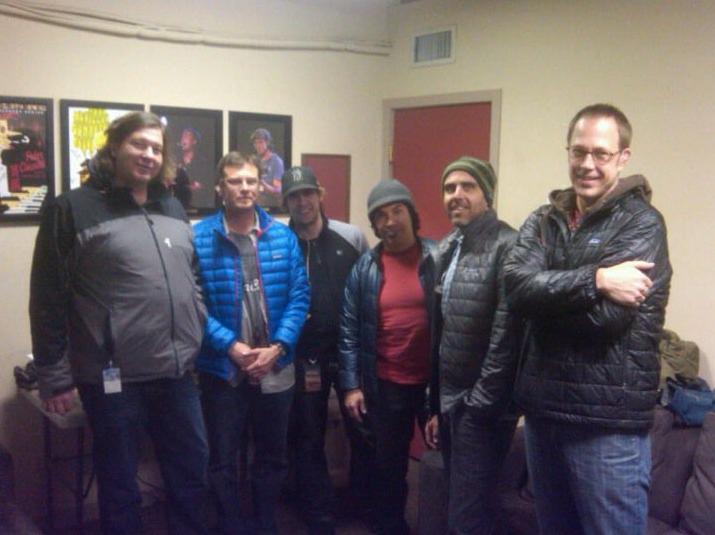 [moe. backstage with John Oats. Belly Up Tavern, Aspen, Colorado. Photo: moe. on Facebook]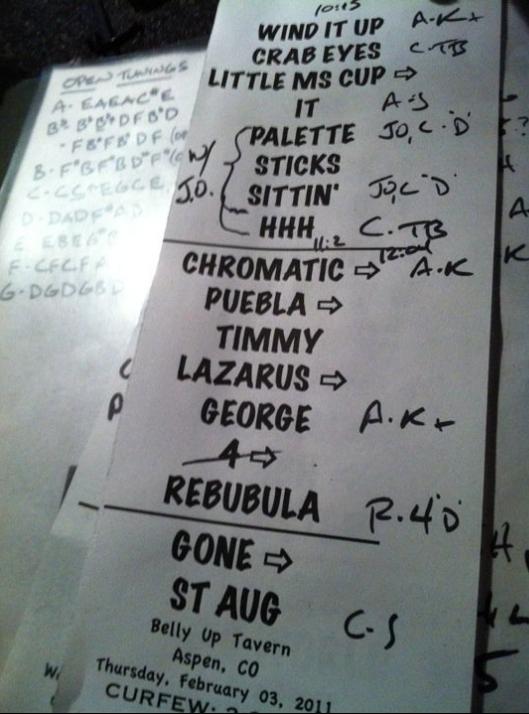 [Aspen setlist. Photo: moe. on Facebook]
Day 6: total bust (first try). We were in Denver for a two-night run at the Ogden Theatre and I'd been trying to make plans with a few buddies there for a while. The big challenge: how to get out of Dodge. Leaving Denver on I-70 to head out to the Front Range on the weekends is a total clusterf!@k, not unlike that punch out to the Hamptons in NYC in the summer. Traffic starts at 6:00am and it turns into a parking lot. We opted to leave on the backside of it (after 9) and still never made it. Heavy snow meant closed passes, and even heavier traffic. We bailed off I-70 and headed up towards Winter Park but realized the snow was so heavy that the pass would close and I'd miss the gig (it did, and reopened the following day at 3:00pm – good call). I-70 never cleared up. Loveland pass closed. It was a mess. I'm a big fan of Loveland, especially with its lift-served ridgeline on the Continental Divide, but it was not to be.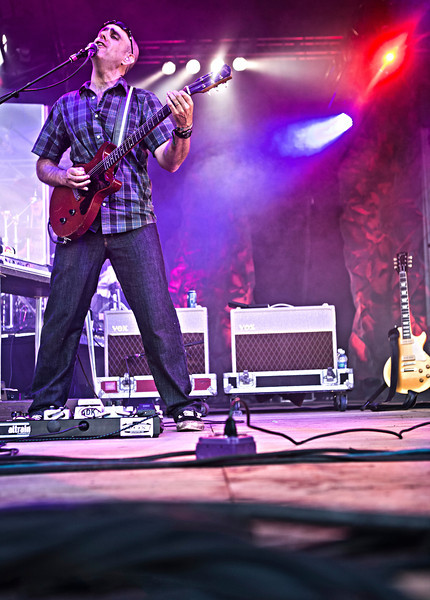 [Photo: Adam John Miszewski]
The good news was that all that snow meant a killer day on Super Bowl Sunday. We opted to head up to the local favorite, Eldora. No traffic. No lines. All skiing. Awesome call. It may not feature some of the glory of the bigger resorts I enjoyed on the run, but it was some of the best skiing I did all week. The snow was amazing: 9" of fresh snow overnight, 20" that weekend! We made our way over to Indian Peak first, and it was still quite crowded. I love the local spirit. It was Super Bowl Sunday but the skiing was killer, the locals knew it and they were out in full force. We kept making our way across the mountain towards Lookout Peak / West Ridge and the Corona chair and this is where we stayed for the rest of the day. Once again, there was plenty of great snow and no lines. I was skiing with three locals today and it was a real treat for me to get out and just ski – no other band members, no soundcheck. These guys are good skiers (and old friends) and it was nice to finally get out, especially after our previous day on I-70. Favorite run of the day was probably West Ridge. It's wicked steep and peppered with glades. It's a beautiful sight to behold and a lot of fun to ski.
–Al Schnier
As part of the Patagonia Music Collective, moe.'s exclusive song "One Life" (studio version) benefits the Rainforest Action Network. To help raise more money for the cause, moe. has issued a simple challenge to their fans, Patagonia Music lovers and potential attendees of the All Good Music Festival in Masontown, West Viginia. If "One Life" is downloaded 1,000 times from Patagonia Music, the band will play and extra set at the festival. Even if you're not going to the festival this is a great opportunity to get some good music and support a good cause … for only 99 cents. Here's a taste of the song.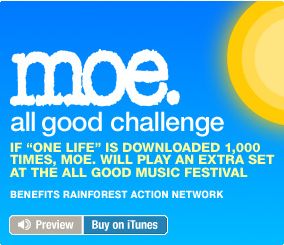 Happy Fourth of July weekend to all the American readers out there and cheers to the rest of you around the world. Hope the weather and waves (and snow?) treat you well.
[With thanks to Jon, Jim, Geoff and Theo for all your help and support.]