Lynn Hill on Taking Power Back, in Boulder and Beyond
Lynn Hill
/
November 8, 2011
/
4 Min Read
/
Activism
by Lynn Hill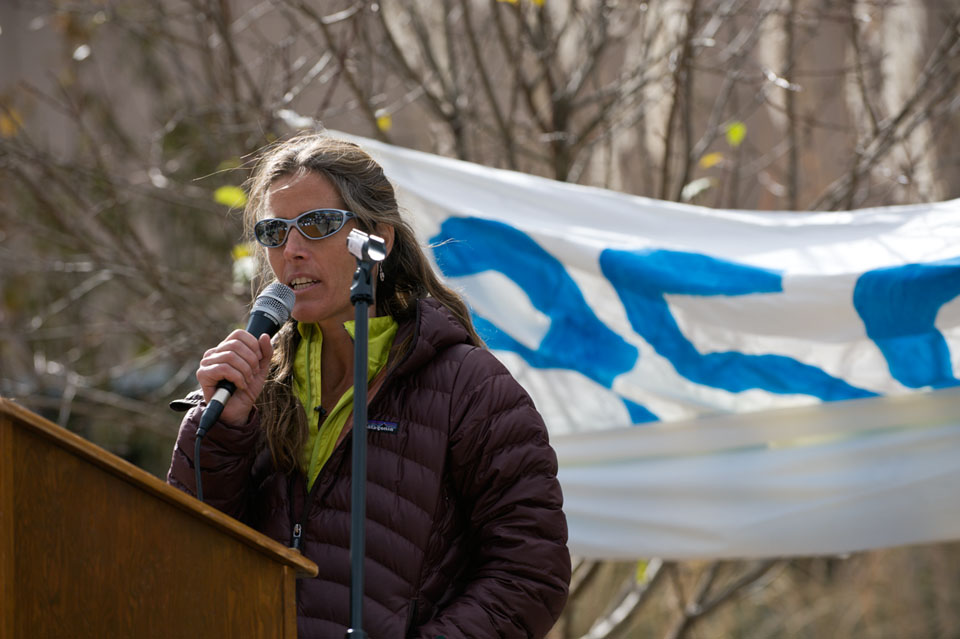 When I first started climbing, I took advantage of any opportunity to escape the city and go climbing in beautiful places with my friends. I still do. But over the years, this freedom and beauty has eroded as the world has become more populated, more polluted, and more corrupt than ever. Though I continue to find peace through climbing, I can no longer escape my sense of responsibility to help protect life and harmony on this planet.
Today was election day in many parts of the United States. Patagonia ambassador Lynn Hill shares her thoughts on why it's important to stay involved in the democratic process and not get discouraged. -Ed

[Above: Lynn Hill speaks in front of Boulder City Hall, Colorado. All photos: Beth Wald]
As pollution and corruption has increased, the root cause is clear: Our government has become increasingly controlled by money. Oil and coal corporations, utilities, and weapons manufacturers, among others, are exacting a huge price on the environment to extract their riches and using their wealth to influence government. Many people call this arrangement a "corporatocracy."  From the development of tar sands oil (the world's dirtiest oil) to the Pebble Mine and other coal and mining atrocities that have taken place in the Alaskan wilderness, to the exploitation of the oceans, rivers and seas of the world, injustices to the environment abound. I believe it is well past time that we stand up to corruption and greed and put an end to their attack on our future and our planet!
Many people in the world oppose corporatocracy, but many of us have given up hope that it can be defeated. But I figure that the lessons I've learned through climbing may be of value in this fight for justice. No matter how hard the climb or how tired I may feel during those crucial moments of difficulty, I never give up the effort. With the right motivation and vision, I believe that even the most improbable goals can be achieved!
It's not surprising that my network of climbing friends and connections has been instrumental in planting the seed of environmental activism. (For example, Patagonia was one of the first outdoor companies to advocate and support numerous environmental non-profit groups).
A few years ago, one of my dear climbing friends, who has a common interest in both social and environmental change, told me about the work of Bill McKibben, an environmental leader who had started the nonprofit organization 350.org. (The number 350 refers to the parts per million of carbon in the atmosphere that is considered safe for the health of the planet. At this time, this number has increased to 392. Visit 350.org for more on its missions and activities). When I heard that Bill McKibben was going to be speaking at the Telluride Mountain Film Festival, I went there to meet him in person and to see what I could do to help. Bill was more than happy to welcome me in spreading awareness about global warming, and I agreed to be involved in the 350.org International Day of Climate Change Awareness event in Boulder that year. Since then, awareness and support have grown tremendously – as evidenced by the number of people from all over the country who showed up in Washington DC this August (and more recently this past weekend) to protest the proposed Keystone XL tar sands pipeline. It was the largest nonviolent protest in over a generation!
While momentum is building across the globe, I've continued to take part in a number of other actions in my hometown of Boulder, Colorado, where unity in my local community is helping move our city toward increased sustainability.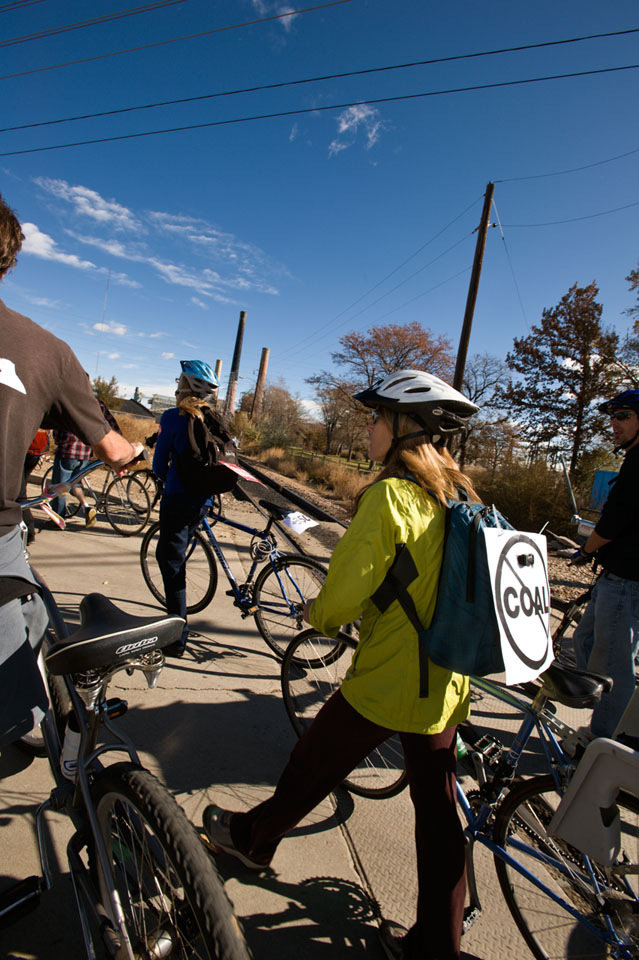 From my involvement as a clean water advocate, to demonstrations at our local coal plant, to public speeches in front of the County Commissioners and City Council, to appearing in ad campaigns by the Boulder Clean Energy Action group and at environmental rallies, I – along with my community – am getting louder and more involved.
Boulder pushes for a cleaner environment at the local level, but comes up against significant resistance due to its franchise agreement with Xcel Energy. The franchise agreement is a 20-year contract that has kept Boulder tied to Xcel's electricity (roughly 90% fossil fuel-based). This agreement expired in 2010: this was a golden opportunity for Boulder citizens to forge a new, clean energy future controlled by the community.
In this November's election, Boulder stands ready to municipalize its electric supply so that it can create its own utility,  one with competitive rates, cleaner energy and, most important, accountability. [Editor's note: Boulder's election was held on November 1 and the ballot measure passed by a couple hundred votes.]
It's a long road to bring power back to the people who are concerned about their environment and their community, and away from corporations who answer to the bottom line. I believe that we are showing through action and deed that we are ready to realize a new vision of clean energy and sustainability. We can no longer allow greed and corruption to destroy our planet and our future. As in rock climbing, when the going gets tough, we need to do everything possible to rise to the challenge.