Ride Flat Pow
/
March 11, 2020
3 Min Read
/
Snow
Changing our dynamics with the mountains can help us be in them longer, and appreciate them more.
There's a reason why only the most evolved riders in the world can make the smallest, unassuming terrain look lovely. It's difficult, requiring a maestro's muscle memory and holy intuition. It's easier by far to go and chuck yourself down something steep and hope for the best.
Taro Tamai has been called a snow-surf guru, a master; his riding style magical, and presumed unattainable for the rest of us. But one of his friends, Osamu Okada, a Japanese snowboarder from Hokkaido also known as "Om," has translated his own version of Taro's spiritual approach to mountain riding and grounded it in reality. Every winter Om teaches hundreds of Japanese snowboarders from Tokyo and other large metropolitan areas in Japan to understand the connection between rider and mountain—and these lessons permeate his personal time in the mountains too.
Conquer the Flats
Om's work depends on his "infinity audience," clients that will keep coming back year after year, a relationship that requires folks to have a damn good time and not get injured. His inspiration to use Taro's philosophy stems from his workload. His clients are coming back season after season, so Om must ride in a way that protects his own body and keeps him motivated. He thinks of his role in the mountains as teaching people how to play and keeping them safe, and to do that he takes them to the gentlest playgrounds—the mountain flats. To beautifully ride a slope with minimal incline, Om asks his students, "How low can you go?" To conquer the flats, it's all about being low to the ground and making bigger, deeper, more light-footed turns. Like driving a truck on an icy road, quick, small turns are catastrophic. Om shows them how to focus their eyes, and turns, wider. When they go wider, he shows them how to get lower. And with that he transforms their narrow expectations of riding big mountain lines into big, flat, expansive visions. He shows them how to slow their roll and enjoy the most approachable terrain on the mountain. "Riding the steep 'n' deep is easy," says Om. "It's almost abusing the connection between rider and the mountain."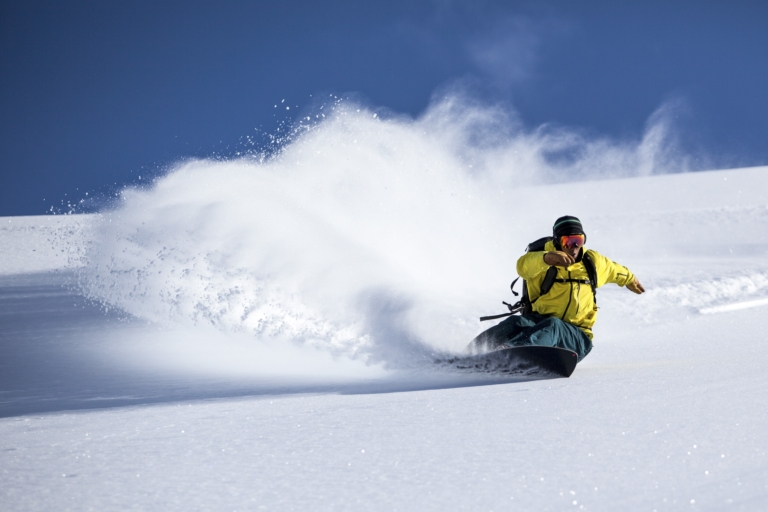 Surrender to the Line 
Flat-cambered snowboards are made for three-dimensional riding, for riding the wave of the mountain—up, down and across the snow. When ocean surfing, the energy of the wave has you; there's no stopping it. Snowboards, like Taro's Gentemsticks, are meant to ride one fluid line, connected by turns, simulating the energy of a wave on a static mountain. For that to happen, the rider must surrender to the line and as Om says, "ride out the consequences." This means not powering through, conquering the mountain or chasing adrenaline; it's more about observing the mountain and reacting to the snow under your feet. Om says, "Riding is mental. One must really train their brain to harness an observing mindset." He doesn't consider himself a snowboarder, but rather a nature observer with a snowboard as his tool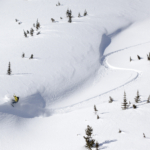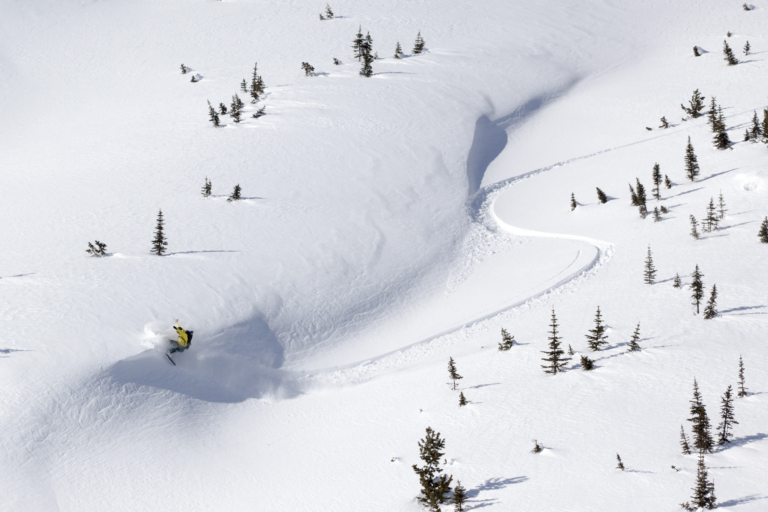 Up and Down Observing
Instead of deeper and farther, Om champions a safer and closer approach to backcountry riding, with the uphill philosophy mirroring the downhill. "How you hike up complements how you ride down," says Om. He encourages his students to look up when they're hiking, keeping themselves in an observing mindset. Just like riding, it's better to move slow and steady without using unnecessary energy. Pass through the environment, don't power through it. Observe, don't conquer. It's a philosophy that helps people fall in love with winter, to keep them on the snow.