Backyard Adventures: A Father's Pioneer Range Trifecta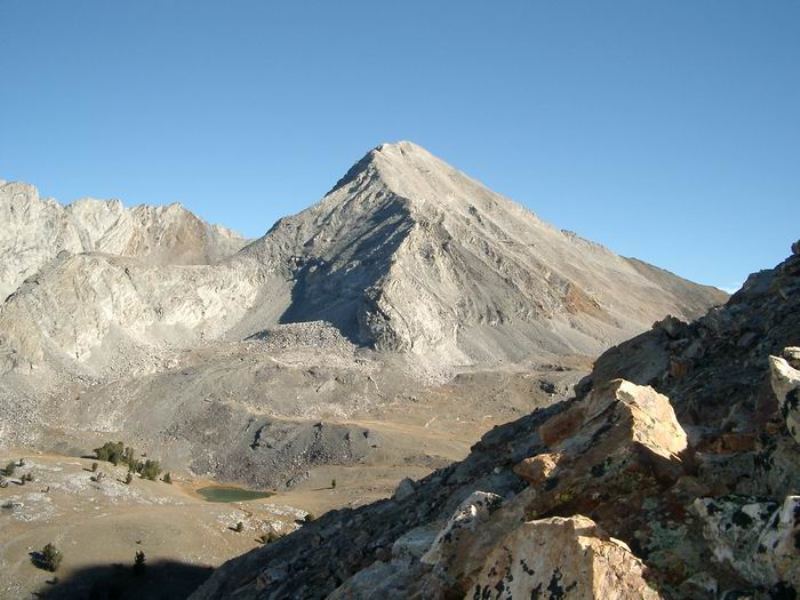 A little over a year ago, we invited readers to submit stories of their own Backyard Adventures and announced a deadline of January 9th, 2009. Here we are in 2010, and still (happily) receiving submissions. Today's post is from previous Backyard Adventure contributor Steve Graepel, author of an earlier piece about traversing central Idaho's Sawtooth Range. Steve's been working hard on his plan to thread a 900+ mile route through Idaho's wilderness by foot, raft and mountain bike. This installment of Steve's Backyard Adventures could be considered a recon-mission for his big trip, but with a new baby on the way, Steve had something different in mind . . .
__________________________
After ten years of marriage, life finds a comfortable rhythm; it's a well-tuned circuit of work, exercise and leisure.
And then along comes your first child…
"It will change your life…your life will never be the same…parenthood gives back so much more than you put into it…". Growing wary of the overabundance of encouragement, or perhaps out of sheer panic, I jumped at the chance to get lost during the baby shower. There aren't many problems you can't solve after an 8.5 hour push.
I wanted to knock out a trip I'd heard rumors of. Nestled in Sun Valley's backyard, three hours from Boise, the "Pios" court those with a zest for adventure. . . .
[Above: The view of Hyndman Peak from Cobb's south face. Photo: James Just]
You can catch a glimpse of three peaks in the south end of the Pioneer Range from Highway 75: Cobb, Old Hyndman and, crowning the triumvirate at just over 12,000 feet, Hyndman Peak. The hat-trick is to traverse all three in one day.
* * *
I have no topo map, few details and an obscure memory of the terrain. Undaunted, I throw an assortment of gear in the truck. Bike, camping gear, a small climbing rack and a grab-bag of calories. I've packed less on week-long trips.
I pull past Triumph at 9 p.m., check the highway atlas to confirm I'm on the right road, and consider the route as I drive into the moon-shadows of the Pioneers. Banking on assumed beta and water-cooler conversations, I figure I can ride my bike to Cobb, cache it, and traverse the ridgeline counter-clockwise. Old Hyndman's north face is an impressive, Matterhorn-like spire rising 3,000 feet out of Wildhorse Canyon. Other than the east ridge, it's an imposing horn from every side. The crux will be linking Old Hyndman west to Hyndman.
I pull up to the trailhead around 10 p.m., crack a beer and begin whittling gear. I pack a 70-meter 8 mil rope, two slings, two locking carabiners, one nano carabiner and my harness. Instead of trekking poles, I bring an ice-axe. I toss in a windbreaker, cap, 6 bars, a few GUs for good measure, and an extra tube for the bike.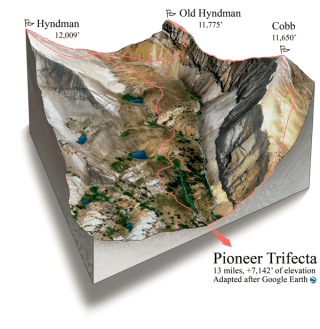 5 a.m.
Bar wedged between my teeth, I cross the creek and then eat while I pedal. The trail starts broad but eventually cuts its way into soft soil. My pedals catch every few feet. Instead of riding, I resort to hike-a-biking my way to the base of Cobb. After an hour of lugging my 25-pound dumbbell-bike, I pull off trail to drop the bike, swap shoes, and head up Cobb's broad southwest face.
7 a.m.
I hit the summit of Cobb, sip some water, strip off a few layers and look north at the ridge toward Old Hyndman. This connecting ridge is the most technical crap-pile of scree one friend told me he's ever 'climbed' (using the word loosely), leaving me with memories of phrases like "never again." Aesthetically, it's a beautiful line, and as I get on the ridge, the rock is sound. I find myself grinning. "That's it?"
The other shoe drops squarely between my butt cheeks. A saddling ridge connects two peaks — and in this case, connects two different kinds of rock. As I begin climbing up Old Hyndman's south ridge, I channel my friend's departing words, sprinkling in a liberal dose of full-throated expletives for good measure. Every other hand placement pulls off portions of the ridge.
I begin scrutinizing every foot placement. After 50 to 100 feet, I look down to my left and see a 300-foot drop, and below the drop, a much more desirable snow field. I cautiously pick my way down the east side of the ridge and hit the snowfield. I move quickly over the crusted surface and quickly pick a line back up to Old Hyndman's (now stable) southeast ridge.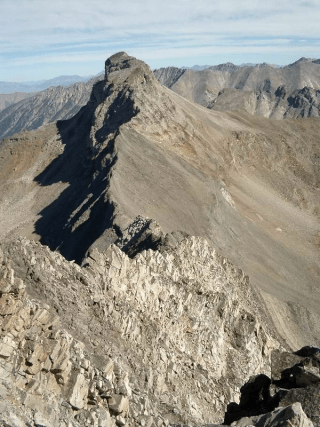 9 a.m.
I stop at Old Hyndman's summit to refuel, place a call home, and survey my options. The northwest ridge is rumored to be the traditional traverse to Hyndman, but it falls precipitously away and has no obvious anchors to rap off, at least with my minimal protection. I'm not going all the way back to Cobb.
So I look down the west face. There is nothing written in any of the publications about a route on the west face, and I recall it as a long, steep wall. My eyes trace the gradual drop several hundred feet before it rolls into a void.
I pick my way down granite slabs covered in a substrate of pebbles until I find myself pinched between vertical walls on both sides. At this point I can either go up, or pull out the rope.
Optimistic, I reach inside my pack and uncoil the rope. I set up an anchor around a large boulder that appears solidly positioned on the 45-degree slope. I give the anchor a good tug. Not completely certain that this jenga-like stone will hold a fall, I gingerly down climb 35 meters of choss on a skillet, which gradually boxes into vertical walls with a 50-foot overhanging drop at the end.
Now fully committed, I set up a second anchor using the last of my slings, toss the rope, and hold my breath until I see the rope spill over the snowy runoff below. Relieved, I belay myself  down toward the overhang and lower off the lip, fully loading the anchor. Though it's early June, the chasm is an unforgiving place, cold, wet, and icy, with water dripping on all sides.
Once on the snow field, I walk out to the side of the gully for the rope, hoping not to pull any debris off the ledge with it. The rope comes down without drama, and I pack my gear and jog over to the Hyndman/Old Hyndman Col. At the saddle, I strip my pack of weight, mark my cache with my GPS and make a quick run up to the summit. From the saddle, I make it to the summit and back in 20 minutes.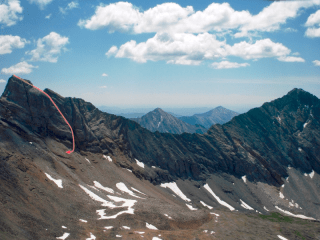 Though a 12-mile round trip, the southeast ridge of Hyndman is a popular hike, so I wasn't surprised to see people on the route.
"Where did you come from" they ask.
Their eyes strained to follow my finger as I described my roundabout way to Hyndman. I smile, collect my gear and run down to the bike, coast down to the car and make it home in time for dinner, reenergized to face my next big adventure – parenthood.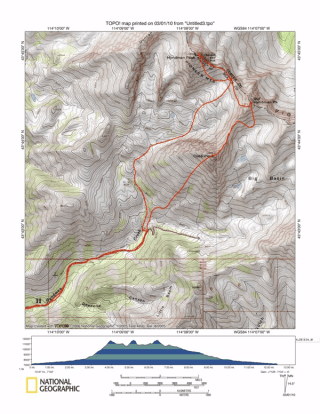 [Top – A 3D view of the region with the route outlined; Above left – Looking toward Old Hyndman from the summit of Cobb. Photo: Hank Dart; Above, right – the aforementioned ridge, as viewed from Hyndman with Steve's rappel route highlighted. Photo: James Just; and Bottom – A topo map of the area. Maps courtesy Steve Graepel.]