On Injustice
Naomi Hollard
/
February 4, 2020
/
8 Min Read
/
Activism
Mustafa Santiago Ali talks with Naomi Hollard of Sunrise Movement about the power of cross-class and multiracial movements and the mandate for environmental justice.
In September, millions of young people rocked global news cycles with the largest wave of climate strikes the world has ever seen. From the hills and hollers of Kentucky to the cities of the Rust Belt to the winding streets of San Francisco, young people walked out of class and work to demand bold action to combat the climate crisis.
For me, the strike was a chance to demand political action. We're striking to ensure that in the richest country in the world all of us are guaranteed a good, meaningful job; fresh and healthy food at our tables; and clean, safe drinking water running from our taps—no matter what skin color you have, where you were born or how much money you make. Striking is a chance to learn from leaders who have come before us and continue to do this work.
One of those leaders is Mustafa Santiago Ali, the former senior advisor for environmental justice and community revitalization at the Environmental Protection Agency and former senior vice president of the Hip Hop Caucus and now a vice president at the National Wildlife Federation. Mustafa has spent the past three decades advocating for and working with members of frontline communities—Indigenous, Black, Brown, low-income and working-class people—to craft policy solutions to correct for centuries of environmental injustice. These days, Mustafa is the founder of Revitalization Strategies, a business focused on moving our most vulnerable communities from "surviving to thriving."
I had the opportunity to talk to Mustafa about the power of a truly cross-class and multiracial environmental movement, our visions for the next ten years and the mandate for environmental justice. Our conversation has been edited and condensed for clarity.
Naomi Hollard: A study by NAACP found that more than one million African-Americans across the U.S. live within a half mile of natural gas facilities, with many communities facing a higher risk of cancer linked to emissions from the plants. Yet, some people have never heard of environmental racism, or environmental justice. How would you define those terms?
Mustafa Ali: Whether it's through air pollution or water pollution or disinvestment in our communities, environmental injustice is the process of making a community into a sacrifice zone for the toxic stuff that nobody else wants.
The environmental justice side means flipping the coin and revitalizing our most vulnerable communities. It's making our voices the drivers behind the community and the policies to make real change happen. There are two sides to that coin.
Naomi: When did this pattern of environmental injustice really begin?
Mustafa: It started when folks from Europe first came to this continent and began to steal land from Indigenous people and began to impact their cultural way of life. It continued when slaves came off those ships and were given the most dangerous jobs in this country, and in the exploitation of Chinese immigrants who built this country's infrastructure.
Naomi: Right, this is a fight that's been going on since this country was made—the exploitation of people, and not only of their physical bodies but also their land or land rights and sovereignty. And for Black people, it's not respecting the water they need to live, as in the case of Flint, Michigan, where five years later the water crisis is still affecting communities. What should environmental policy look like to meet the demands of communities fighting for environmental justice?
Mustafa: We need to make sure that there are clean, green energy jobs and that those jobs are open to everyone. Because if we don't make sure environmental policy is justice-centered, then we will see the old unjust paradigms recreated. Folks of color won't be trained to take advantage of those jobs.
If we're not careful, and justice is not a part of policy, people of color won't be part of this transition to a clean economy.
When we talk about including medical care in a Green New Deal, that reflects years' worth of advocacy by frontline community members. We have to advocate for jobs with justice and make sure that these new clean green energy jobs and other parts of that economy are open to everyone.
One example is the inclusion of a right to health care in the Green New Deal. All these communities that are being impacted are also communities that are underinsured and uninsured, medically underserved. So, you know, a lot of times there is not easy access to clinics or hospitals for those impacted from toxic pollution.
We have to anchor policies in examples of how people have been able to revitalize their communities. Whether in Appalachia or the Rust Belt or the Gulf Coast, there are real opportunities to help transform communities across our country.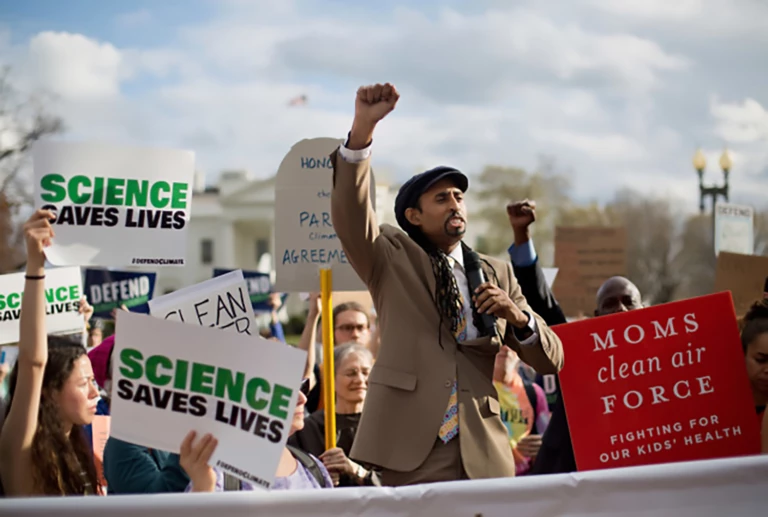 Naomi: In early 2018, the world's leading scientists warned us we only have 12 years to keep global warming below 1.5 degrees Celsius in order to avoid increased risk of floods, droughts, extreme heat and catastrophic impacts to millions of people.  When you think about what these next remaining 10 to 11 years look like, what do you see?
Mustafa: Everything that's been identified by the IPCC and the National Climate Assessment, those are all conservative numbers. They don't want to scare folks with the full details. So we have to make this change. And energy democracy, food justice, the act of truly revitalizing vulnerable communities, these steps have to be at the center of a new 21st century paradigm.
And we can do it. It's just a set of priorities. I worked on Capitol Hill. I know the money exists. I handled the appropriations process when I was there. I know that the resources to make real change happen are available. We also have to protect and utilize our vote. Our vote will hold people accountable and ensure that resources make it to the locations that need them the most.
Naomi: In 1992, you helped found the EPA's Office of Environmental Justice. What did the fight look like then as compared to now?
Mustafa: Back then, folks were just starting to talk about environmental racism, environmental equity and environmental justice. You had people telling communities that what they were experiencing, what they were smelling, what they were feeling in their communities was not real—that they were making it up.
It reminds me of the climate deniers of today. Those people 30 to 40 years ago were denying the impacts of environmental justice in the same way. They were reading from the exact same playbook, but those old talking points and actions won't be accepted or tolerated.
Naomi: They denied that there was environmental racism and injustice?
Mustafa: Oh yes. [laughs] When I was a student and just started at the EPA, I remember walking down the hallway past two managers, two older white men, going down the hallway to a first meeting. I must've looked like I was about twelve back then, so they weren't paying any attention to me. And I remember getting on the elevator with them and they were saying, "I don't know why we're going to this meeting, because the stuff that these people are saying is not real. It can't be happening in our country." And these were the folks that had a responsibility to protect communities.
Of course people who work in certain industries, politicians, and others making money from some of those companies of course they were going to deny this. They were making money from this.
That's why this administration is so damaging to the work of the past and present. You had to build real relationships with folks. I was adopted by some of the first environmental justice leaders. People were coming to this with a lot of pain that they were entitled to have. They had been lied to, they had been poisoned. It took a long time to build trust with communities. And now all of that trust has been broken by this administration. It will have to be rebuilt. But in the past, we had to get the science and information in place. We had to build capacity. Literally in the past people were not allowed to sit at the decision-making table. Over the years, we had to build those opportunities.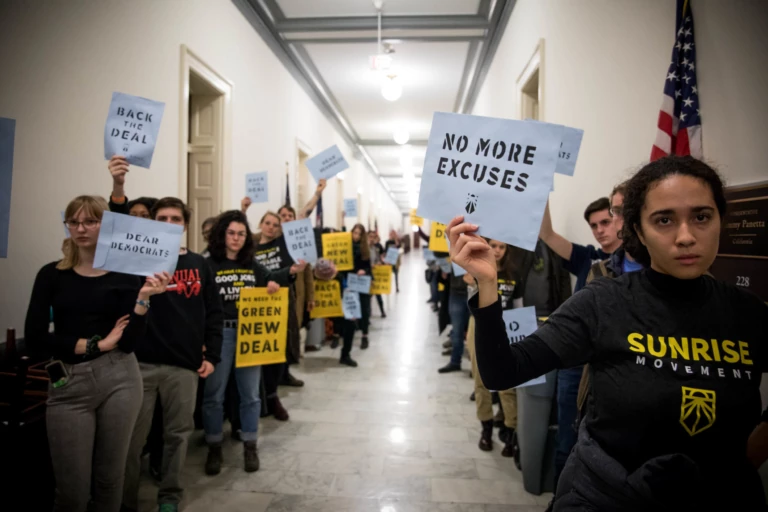 Naomi: Right! That's why at Sunrise Movement we're taking to the streets and pushing our leaders to end years of deep entrenched corruption. When I was a kid, I would read about the '60s, about people sitting at the lunch counters. I always asked myself, "Could I be the one sitting there and get harassed and beat and put in the prison and jail, things like stuff like that?" And I feel like this is our time. This is our time to prove ourselves in the scope of history, you know?
Half my family lives on the Caribbean island of Guadeloupe. And they were hit by Hurricane Maria. They were only hit by level three. But I know it's only a matter of time before the beautiful island where my ancestors are buried in this checkered cemetery is destroyed. It's only a matter of time before some hurricane goes in and just floods it all and takes it all away. And so part of this fight is fighting for something that I know I have to do.
Mustafa: I mean, the other part of that is we have to help others to understand the power of their dollars. We have to be a part of economic boycotts. We have to be a part of really tracking who we are giving our dollars to—those who work with us, or to people who are poisoning us more, who are devastating our communities. We have to divest from fossil fuels. Eleven or twelve trillion dollars is now a part of the divestment from fossil fuels, but it is going to take much more.
The Civil Rights movement, a big part of that was people saying, No, we will not give you our dollars for you to treat us badly and to discriminate against us.
And you saw it in South Africa with the divestment movement. People said that the system there would never change. And people began to tighten down on whom they gave their dollars to, organizations and entities that were a part of, you know, this racist structure. And that's how it was dismantled. It's worked in the past, and it can work now.
Editor's note: This story was first published on February 27, 2020.
Stop Neighborhood Oil Drilling
Support Communities for a Better Environment and STAND-L.A. as they to push the LA City Council to commit to a 2,500-foot buffer zone between families and urban oil drilling.
Take Action