Kusum Kanguru – Taking the Gear for a Walk
Barry Blanchard
/
December 1, 2011
/
3 Min Read
/
Climbing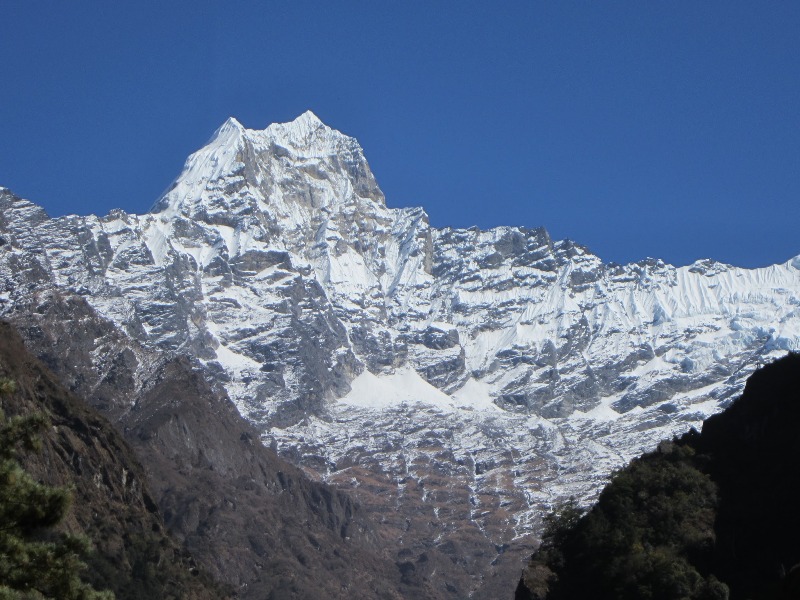 In the spring of 1991 I was guiding in the Everest Region of Nepal – the Khumbu. Knowing that I would be looking to climb a route on Kusum Kanguru on my own after the departure of my last climbing guest, my Sirdar, Tensing and I took advantage of a couple of down days to go up and have a wee peak at the unclimbed southwest face of the mountain. The Thadokoshi was a wild tramp. I really don't think that anyone had ever been up there. We saw a red panda prance from boulder to boulder in the creek not five metres in front of us. When the creek deepened into a slot canyon Tensing hacked down a tree with his kukuri and notched steps into it to create a ladder to get us out of the pit. Ever sensitive, he noted my solemn guilt at cutting down a tree. "I am sorry that I cut down tree," he stated in all sincerity.
In a swizzle stick tangle of immature bamboo the kukuri came out again hacking away like a machete to clear a path. I could have reached out and touched the Himalayan Thar that we … startled?
One long, long day saw us below the face and the next morning it was obvious to me that it was just too damn hard for me to attempt by my lonesome, I settled for the north face of the mountain in consolation.
Kusum Kanguru is the "Three Summitted Snow Peak." It is just over 6300 metres high and I've had it on my radar for the last twenty years. Despite several attempts, the southwest face has remained unclimbed. I've just finished guiding in the Khumbu again and have met up with my mate, Tom Schnugg, from my home town, Canmore, Alberta. Tom is a gentleman adventurer and strong all-round climber/alpinist. We're both acclimatized and keen. We're heading up the Thadokoshi tomorrow with three porters and what we can carry in our packs. I'm hoping to realize a dream that has sat in my slide collection for the last two decades. Wish us good weather!
After spending a couple days in base camp, we received the following sat-phone call from Barry. Did the weather hold? Did he and Tom make a successful first ascent? Have a listen. 

Listen to "Barry Blanchard Calling from Kusum Kanguru"
(mp3 – right-click to download)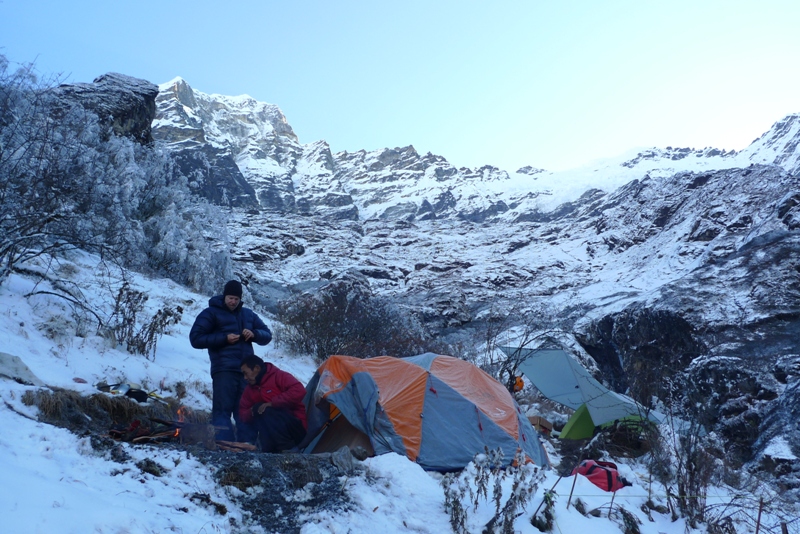 Tom Schnugg and Shara Sherpa in Base Camp of the Thado Kosi after 48 hours of snow. Photo: Barry Blanchard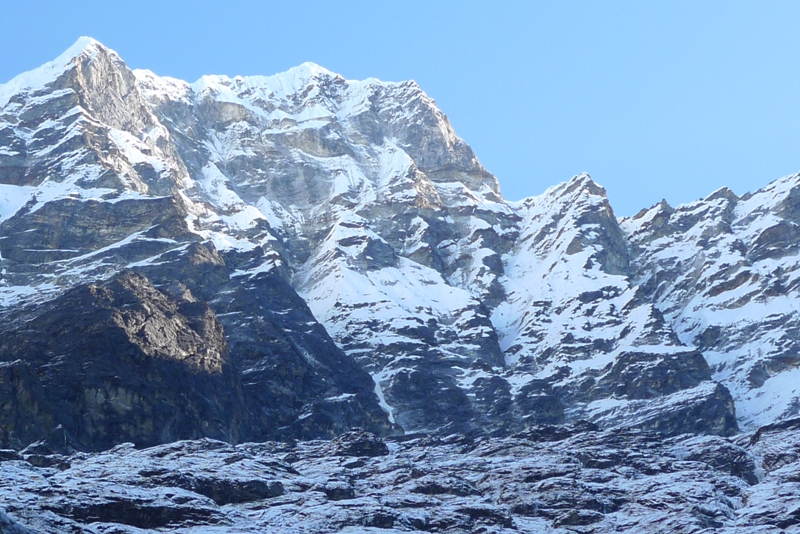 We finally get to see the southwest face of Kusum Kanguru, cool, time to go home! Photo: Barry Blanchard