Introduction to Greasel Conversion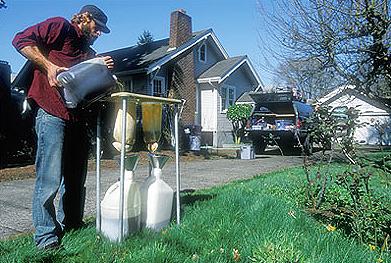 Ever since Bend to Baja took the Interwebs by storm in late 2005, we've received a pretty steady flow of inquiries from friends and customers about how they can convert their own diesel rigs to run on straight vegetable oil. A recent article from the Santa Barbara Independent serves as a nice primer for anyone interested in going greasel. And for more inspiration, check out Hot Buttered Rum's CD "Well-Oiled Machine" especially the title track. Their tour bus runs on greasel.
Read "The Hows and Whys of Fueling Up with Vegetable Oil"
[With thanks to the SB Independent. Photo: Keith Malloy strains used veggie oil for his greasel rig. Photo by Jeff Johnson]