Interview: Snowboard Ambassador Ryland Bell
greenewsurfer
/
June 13, 2011
/
6 Min Read
/
Snow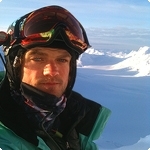 We're pleased to welcome Ryland Bell to the Patagonia Ambassador lineup. Ryland is a snowboarder who has spent all the summers of his life on boats in the Alaskan village of Elfin Cove (population 20), where his parents fish commercially. He can't think of a winter growing up when he wasn't riding on sleds, skis, inner tubes or whatever could slide downhill, preferably fast. When Ryland was first strapped into a snowboard at age 12 though, he knew he had found it. The 25-year-old rider now spends winter in Lake Tahoe's Squaw Valley and spring in Haines, Alaska. We caught up with him to find out more about what it was like growing up on a boat in Alaska – not to mention riding some of the steepest, most remote lines being ridden in North America today, some of which were featured in the film Deeper.
TCL: What stands out the most about your life growing up in Alaska?
Ryland: The amount of wilderness, and wildlife.
TCL: What's your favorite and least favorite thing about life as a fisherman?
Ryland: Favorite thing, being on the water, and the amazing views. Least favorite thing, getting up at 3 in the morning for weeks on end.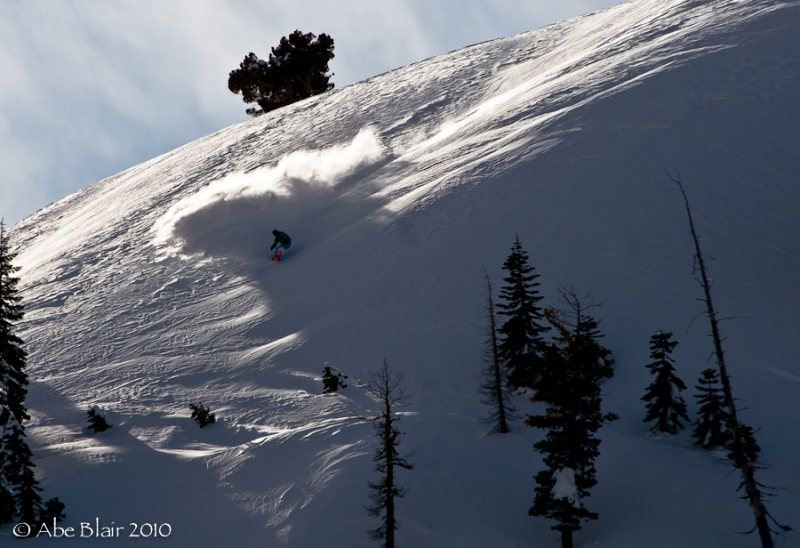 [All photos: Abe Blair, courtesy Ryland Bell collection]

TCL: What is it that you like about living on a boat, even when you're not fishing?
Ryland:  The ability to move around and still have a home. I can cruise into any bay or harbor, throw the anchor, put my dingy in the water and cruise to the beach. It gives me an amazing sense of freedom.
TCL: How did you start snowboarding?
Ryland: Grew up in Fairbanks, Alaska during the winters. It was often -20 degrees, and a good winter would be about 4 feet of snow total. The early days were rough. Originally I skied, I think from 8 to 12. Then my older brother started boarding and I followed.
TCL: Do you still ride competitively?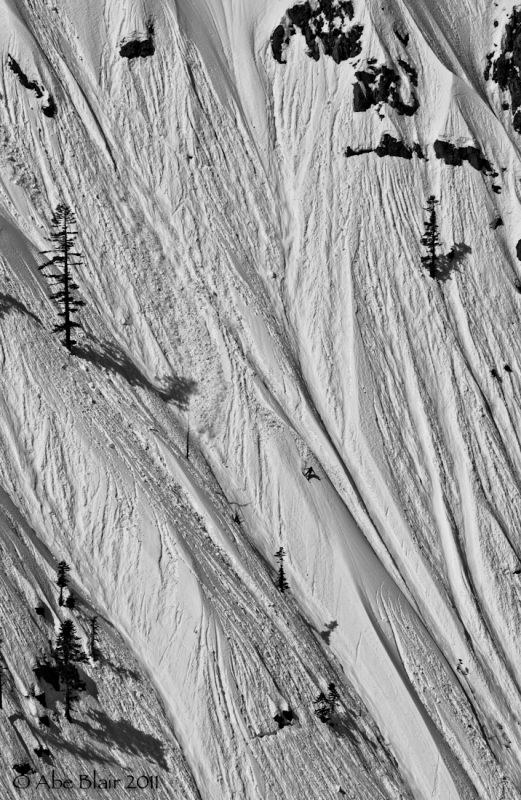 Ryland:  Yes, I still ride competitively. I compete in Big Mountain contests, and although I never thought I would I enjoy them, I do. I feel that with big mountain events the comradery is strong. We compete more against the mountain than each other.
TCL: How did you choose Squaw Valley as your main destination each year?
Ryland: I was going to move to Jackson Hole when I finished high school, but my friend Dave Hatchett told me, "Dude, Jackson is dust on crust, you should move to Tahoe." I came down for a two week trip to check it out, and ended up staying for three months. I've never looked back.
TCL: How's the adjustment each season from the culture of Alaska to that of Squaw Valley?
Ryland: It is full blown culture shock. People have different values and needs in each place respectively. Plus I am coming from living with only my girlfriend and myself on a small boat for 100 plus days.
TCL: How did you get involved in Deeper and how did hiking and riding in the film influence you?
Ryland: I met Jeremy Jones my first year in Tahoe, I would periodically see him and shred at Squaw. He started giving me boards about five years ago. We had a season three years ago where we shredded all the time. When he started Jones snowboards, I immediately dropped Rossignol and got onboard. He had mentioned the idea for Deeper, and when he finally got the go ahead I was lucky enough to be a part of it. Hiking and riding lines is an incredible experience. There is a connection to the mountain and, an ability to scope lines from every angle. This gives a great perspective, and I think helps to really nail each turn perfectly. The irony for me is that growing up around Haines and the Fairweather range, my goal with becoming a professional snowboarder was to be able to heli the mountains of my life. Instead I ended up hiking them.
TCL: Where did you learn how to climb peaks like in Deeper and how have your skills developed?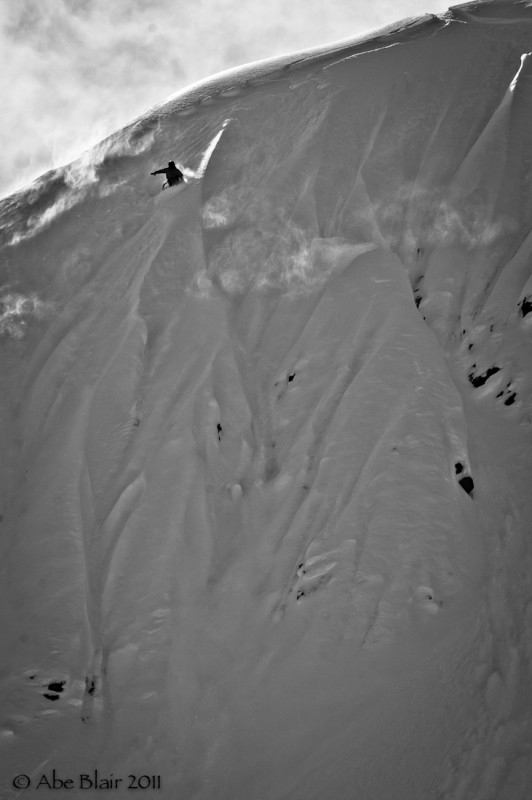 Ryland: I learned everything from Tom Burt, Jeremy Jones and Xavier de la Rue. In the past I had definitely done plenty of sketchy hairball hikes, but never to the level needed in Deeper. I went out for a week the first year of filming in Alaska. It was so eye opening. I saw what was possible and just as importantly, I saw the equipment I was going to need. When year two rolled around I was equipped and ready. Pretty much though most of what I learned was hands-on as we went.
TCL: How did you end up at Patagonia? What do you like most about it?
Ryland: I have always had the greatest respect for Patagonia, their gear, and as a company. My friend Ralph Backstrom told me they were starting a snowboard line and looking for prospective riders. So I sent over a resume. I love the gear, so bomber and element proof. Also the way they approach the environmental side of what they are doing is fully groundbreaking. It seems really next level to do things because they believe it is the right thing to do, even if it affects the bottom line.
TCL: What is your most sketchy line, when and where?
Ryland: Sketchiest line ever, I named the BarenJager. It was in the Fairweather range in Southeast Alaska in April of 2010. 3000 vertical of 50-70 degree spines. The drop in was exposed over 500 feet of stretched out peppery rocks. I dropped in thinking I just had to clear one small chute and gain the spine on its opposing edge. I gained the spine only to see there were 10 more spines all draining into the same exposure. My heart stopped, but I knew I couldn't. One wrong move at this point would mean certain death.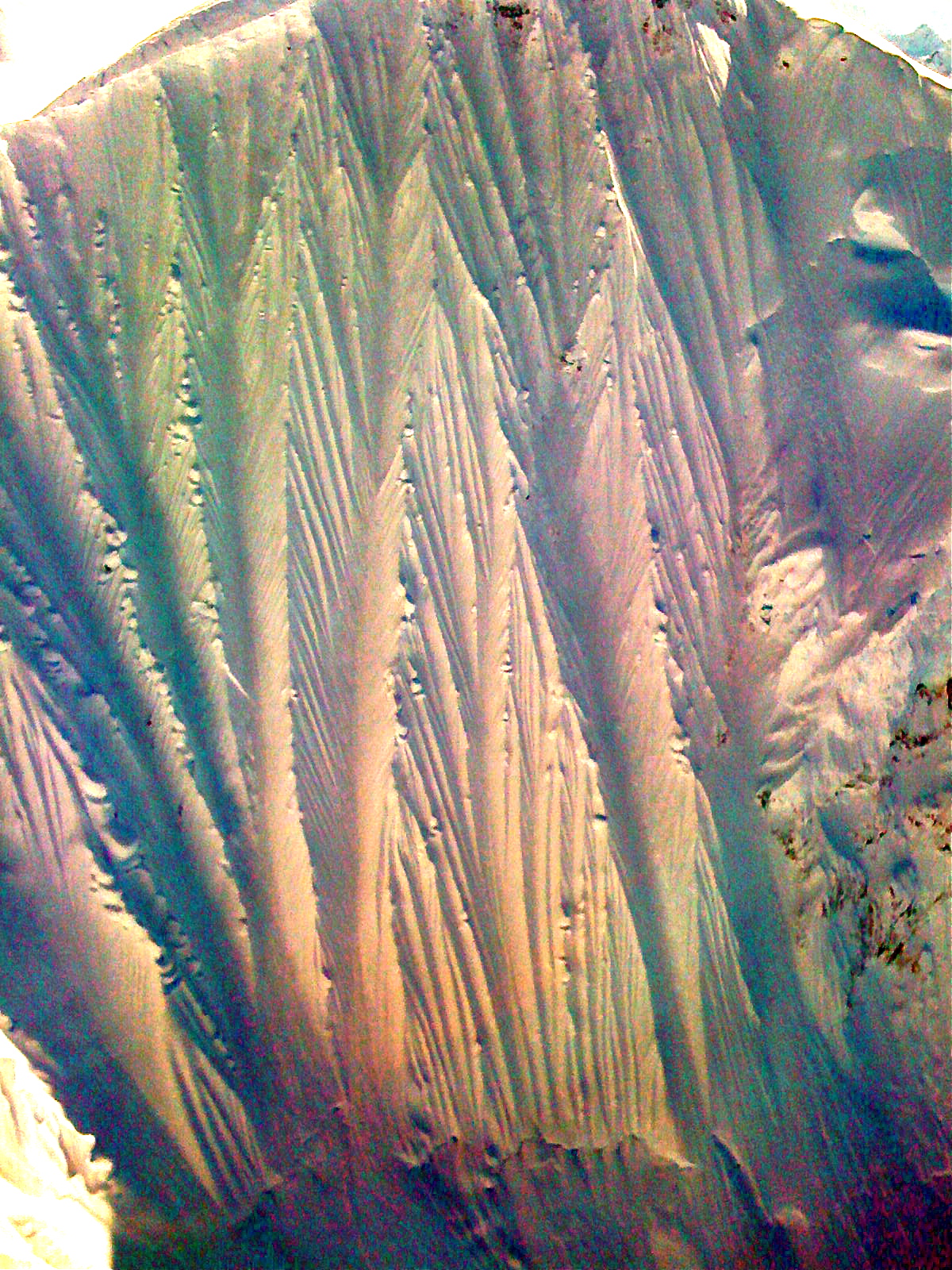 TCL: What is your favorite line of all time, when and where?
Ryland: My favorite line of my life was probably a line called Corrugated that I rode in April of 2010. It was the line that pushed Jeremy Jones to want to make Deeper, sitting just outside the helicopter boundary of the Haines operations. It is a gargantuan spine wall. Easily 2,500 vertical, constantly sustained at 60 degrees. I had seen it the year before and we had made an attempt, at the time it made me want to shit myself. I kept a photo as the screensaver on my phone ever since. When we eventually rode it, the rush of the steepness, mixed with the satisfaction of accomplishing our goal brought forth feelings I had never felt before or after.