Climbing in Greenland with Lizzy Scully
Lizzy Scully
/
October 16, 2013
/
5 Min Read
/
Climbing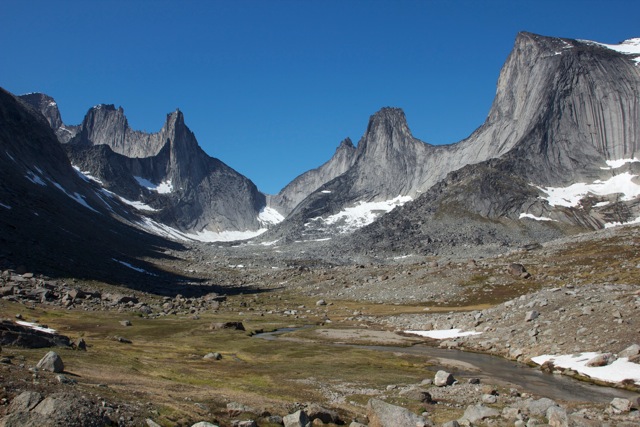 I dreamed of climbing in Greenland for a decade. This summer I finally visited the southernmost reaches of that country and climbed in the Torssukatak Fjord with photographer John Dickey, Quinn Brett, and Prairie Kearney. Team Glitterbomb put up three first ascents: "Morning Luxury" (5.11-, 1400ft) on The Breakfast Spire, "Plenty for Everyone" (5.10+/11-, 1800ft) on the Barnes Wall, and "Four Quickies" (5.9, 400ft) on the Submarine Wall. I recorded the trip via video, audio, photo, and diary entries.
Monday, July 1
We did a fantastic new route, an awesome, clean ridgeline up the Breakfast Spire. It has never been summited via a route from the bottom! Starting at 4a.m., we did it in two parties of two, with John and I in the lead, so that he could take photos of Q & P. I felt great. I thought I might fall on the crux pitch, maybe a 5.11-, because I had to clean a bunch of grass out of it. But, I was mad at myself for grabbing a piece on our first route at the crux, so I went for it and sent.
The summit was indescribable. We saw a vast landscape of ice and snow, with jagged, sharp, smooth, orange, wildly shaped spires and rock walls. And there were lakes, some frozen, some not, and the fjord and ocean in the distance. So much space. So many rocks. So vast and desolate.
And so many more routes to do! I stared at a long, golden Astroman-like dihedral on nearby Shepton Spire all day. I'm sure it's Ham and Eggs, one of the routes put up by the Favresse brothers, Ben Ditto, and Sean Villanueva two years ago. I imagine it's the Astro-Ham & Egg of Greenland. I want it! And then there's the face of the Breakfast Spire…
Wednesday, July 3
I woke up this morning to Quinn and Prairie laughing and to John asking, "Do you want tea?" His desire for coffee gets him out of the sleeping bag early. "I go to bed at night thinking about the cup of coffee I get to have the next morning!" he says, laughing.
It's sleeting right now. But this Friday it will be sunny, according to my mom's text messages. We will go for something bigger. There's nothing here that is big like Pakistan. Everything is sub 2000 feet. I like it that way. It feels manageable. I used to do 50- and 60-hour pushes, but 20 years of overuse and persistent arthritis means my body no longer fairs well under such stress. We have 16 more days in the mountains.
Thursday, July 4
We planned to celebrate the 4th of July, but it's raining too much. I'm reading Barry Lopez's book, Arctic Dreams. Everything in Greenland is WAY bigger than I expect. I thought the Barnes Wall was 1,200 feet at most, but it was at least 1,800 feet. I wonder how big the polar bears are. Barry Lopez says the 12-foot-tall bears are mostly just a myth…
Friday, July 5
Ugh. One of my partners spilled boiling water on my foot last night. So I can't climb. I longed to accompany the team as they headed off to do another FA this morning. Sigh. Instead I'm going on a walkabout up and over the Barnes Wall Col into the neighboring valley.
I'm pretty frightened of camping alone. I'm scared of polar bears. But what else am I going to do? Mike Libecki assured me before the trip that global warming and South Greenland's subsequent lack of ice on which seals can breed in the summers means polar bears are unlikely to be in the Torssukatak Fjord. But, the morning we left Nanortalik, a man in the grocery store asked me if I needed to rent a rifle.
"What for?" I asked.
"Bears," he replied, making the universal hand and facial expression – arms up in the air, claws out, grimace on the face, "GRRRR."

Videos by Lizzy Scully
Saturday, July 7
Yesterday, as I descended the col, I questioned my decision. But I reminded myself, "If Mike can spend 40 days alone in the middle of nowhere, surely I can spend three by myself." So today I hiked down valley, following the river to its end. I thought there would be fish, but there were none. And all day I worried about bears, but silly me, there aren't even ripe crowberries for them to eat. I looked for escape routes anyway.
Sunday, July 8
Hiking hurts. My foot is worse. I headed back to base camp today, though I spent the morning on top of the col. The view was extraordinary… the valley and fjord were completely filled in with luscious clouds. What a morning. I didn't sleep much the night before because I was so gripped about bears. I even packed all my stuff up in the middle of the night and hiked halfway up the col just to find a safer spot, close to this hand crack that I thought for sure no bear could follow me up.
Monday, July 9
We are all back in camp. My partners got just a few rain-free hours to climb yesterday, only to find their chosen crack system bottomed out on pitch 3. So today we hiked, again, for fun. Only I'm not having fun anymore. My foot isn't healing because it's too wet. Jumping from boulder to boulder hurts my knees, and my ankles keep giving out. Is my trip over? I agonize over this decision. There is still the Astroman of Greenland to climb…
Tuesday, July 10
This morning I woke up in pain – my foot, my back, my knees, everything hurts. I've had enough. I'm going home. I told my partners I'm leaving as soon as possible. Am I bummed out? Not really. We've lugged 50- to 60-pound bags and barrels across the world and up and down talus slopes, across boulder fields, up and down cols. I realize with finality that I don't need more rain or uncomfortably cold nights in the tent; I don't need more hiking or canned tuna; I don't even need the Astro-Ham & Egg of Greenland. I've already had my Breakfast Spire.