Kitty Calhoun on Ice Climbing in Cody, Wyoming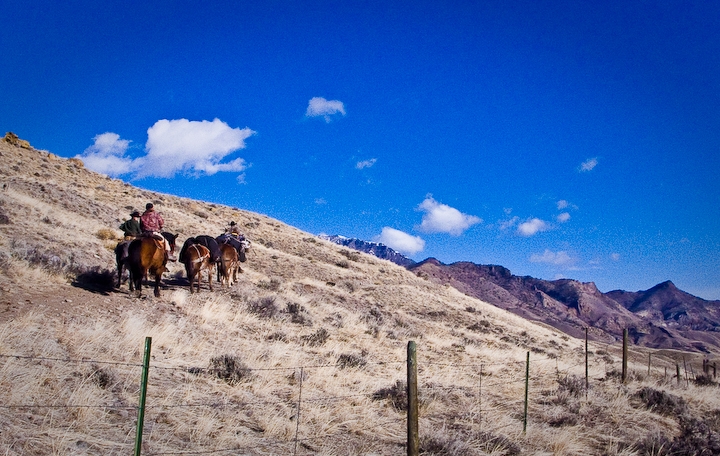 Editor's note: Our thanks go out to Patagonia ambassador Kitty Calhoun for sharing today's story and photos. This is the first time we've featured one of Kitty's stories on The Cleanest Line, hopefully it won't be the last.
Cars, phones, money are the necessary bane of my existence. On this trip I would need none of these; all I would need was my ice climbing gear, sleeping bag, and coffee mug, and the rest would be provided, including a wall tent and wood stove. Mules were going to carry our gear six miles to base camp in a valley outside Cody, Wyoming, which was, according to rumor, stacked with virgin ice.
[Mules carrying the loads (for once) to the ice climbs. All photos: Kitty Calhoun]
The invitation came from Aaron Mulkey – author of Coldfear, the website dedicated to Cody ice. He had flown over the valley one spring and was captivated by the amazing ice potential. His friend and local outfitter, Lee Livingston, was interested in expanding his business into the winter season, and so the adventure was launched. Aaron had taken my climbing partner, Dawn Glanc, under his wing years ago and she and I were planning a personal ice climbing trip after a long season of teaching Chicks with Picks clinics. In addition, Aaron had invited three other buddies: Steve Burwanger, Kevin Craig, and Doug Shepherd, and photographer, Jason Thompson.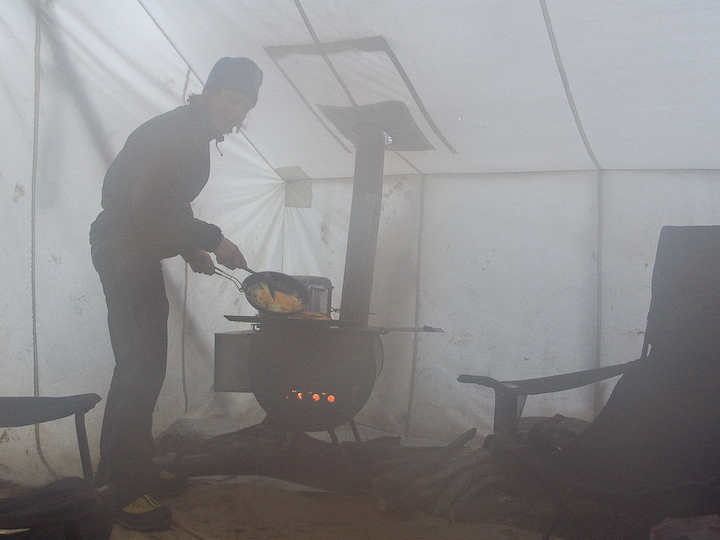 [Breakfast in style.]
Not long after the wall tent was put up and the mules had left, Aaron and Dawn went on a hike up valley to find the mother lode. "Mulkey expeditions" involving ice or whitewater, were renown for being dead-ends as Aaron relentlessly searched for the last, untouched, greatest stuff. As for myself, I was content just to be away from queues of climbers and peg-holed ice, and content to be free of responsibilities as mom, wife, and climbing coach.
When Aaron returned with Dawn, he was beaming – it was as he had remembered. The next morning, Dawn and I picked off two new routes about one hour from camp, and just upstream from Aaron and Steve. Each route was a full 60 meters long, WI4, and there was potential for a second, mixed pitch on one of them and another mixed line to the side but we hadn't brought a bolt kit. As is the case around most of Cody, the rock was choss.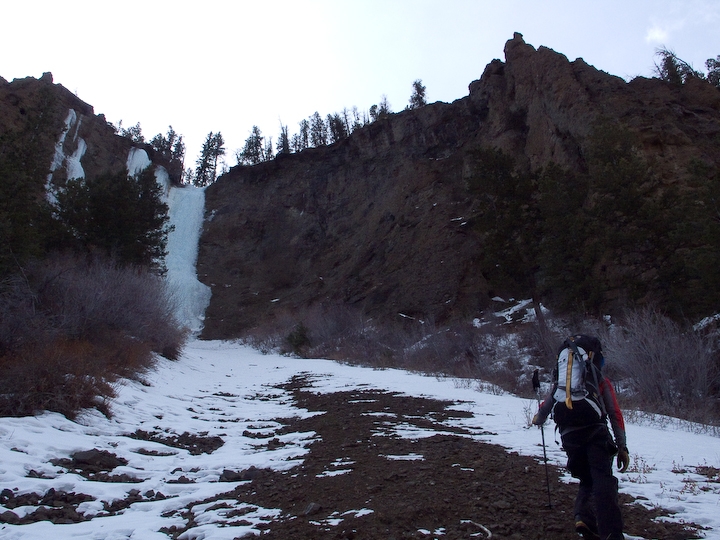 [Dawn approaching virgin ice.]
With a few hours of daylight left, we hiked an hour further up valley, passing several untouched lines on the west-facing walls. Unfortunately, the sun had baked these walls and only traces of once-giant pillars and ice flows remained. At the head of the valley, to the side of a half-frozen waterfall and just above a deep, clear pool of water, there was a 150-meter ribbon of ice that went over a bulge, around a corner, and then up a steep wall. We simul-climbed to the base of the wall, and it was my turn to lead. The sun had taken its toll and what remained was beginning to resemble frozen corn snow more than ice. I consumed my focus and all I can remember was the quiet, gleaming ice crystals, and a warm breeze.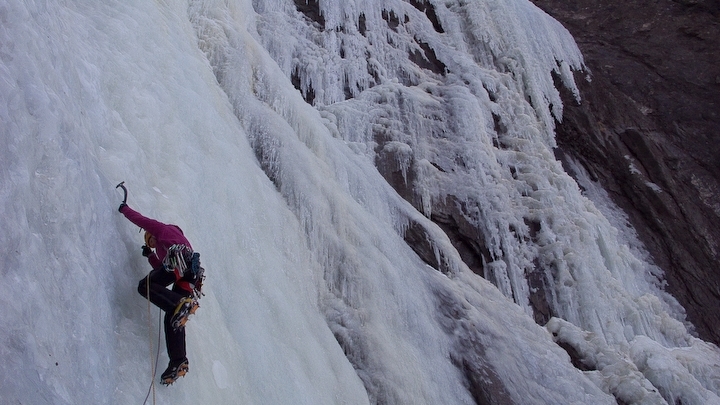 [Dawn Glanc leading a Cody classic.]
It was dark when Dawn and I arrived back at camp. In jest, I casually stated that we had done ten new routes that day, and Aaron became visibly sullen. It was a joke – we had only done three new routes, but over the next three days, between the three teams, we did 19 new routes. It was awesome, not only because we scored, but also because life, for a few days, had been pared down to the basics: eating, sleeping, climbing, and partying. With renewed vigor, I could return to reality, to paying bills, talking on the phone, and running around in my car.
–Kitty Calhoun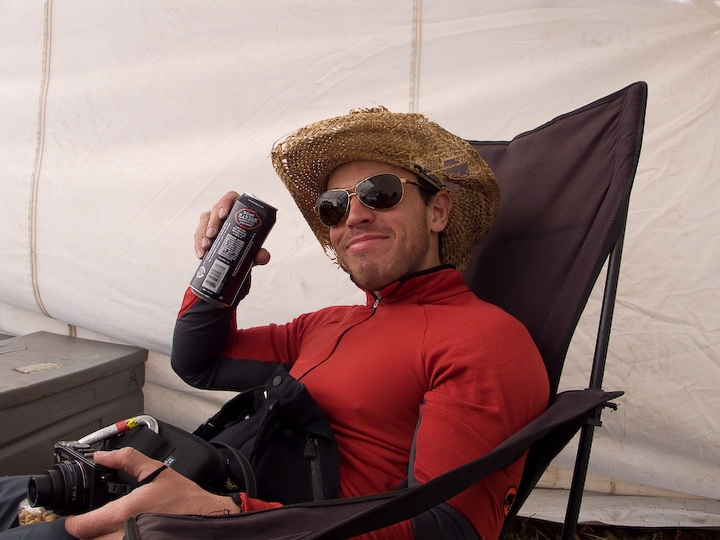 [Aaron celebrating another day.]