International Surfing Day, Surfboard Swap in Cardiff, Summer Solstice & Father's Day
/
June 18, 2009
2 Min Read
/
Surfing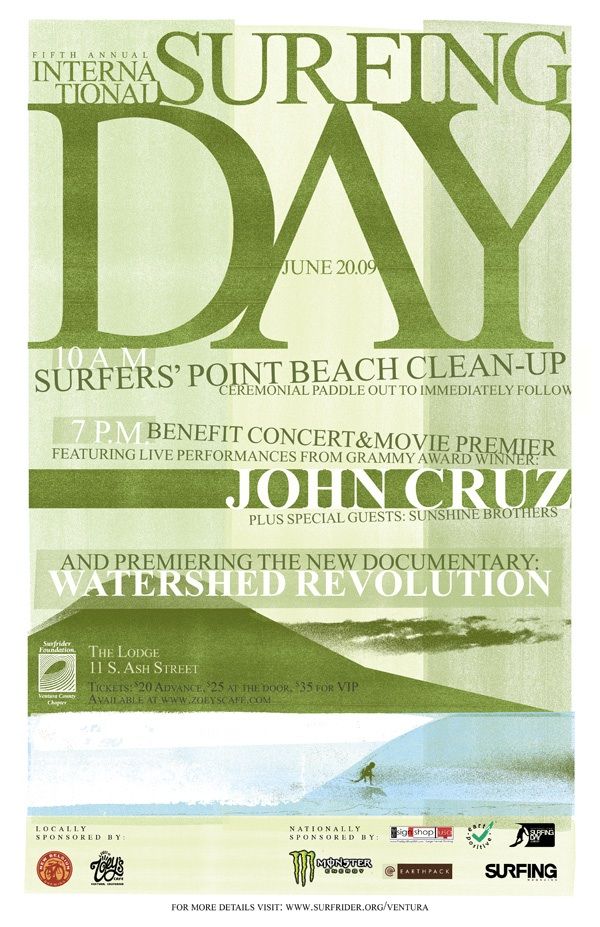 There are a couple surf-related events taking place this weekend we'd like to share with you. First up is the 5th Annual International Surfing Day (ISD) on Saturday, June 20. ISD has events scheduled across the country, many of which include beach clean-ups, paddle-outs and fund-raising efforts for local Surfrider Foundation chapters. Here in Ventura, ISD will begin with a 10am beach clean-up at Surfers' Point in Ventura, followed by a paddle out at 12:00pm. Clean-up supplies will be provided. Then, at 7pm, doors will open at The Lodge for an evening of music and raffles, and the premiere of Watershed Revolution (HD trailer here), an independent film by Rich Reid that answers the question "What is a watershed?" by highlighting efforts to protect the Ventura River ecosystem. All proceeds benefit Surfrider Ventura.
Also on tap this weekend is a community Surfboard Swap at Patagonia Cardiff. It runs Saturday (6/20) and Sunday (6/21) from 9am to 4pm. They'll have everything from barely ridden beauties to garage-sale beaters priced accordingly. Admission is free.
This Sunday also happens to be Summer Solstice and Father's Day. Santa Barbara has a fantastic solstice parade and festival every year if you happen to be in the area. And it's not too late to drop by your local Patagonia Retail Store and pick up a gift for dad.
Happy Father's Day to all the dads out there. Have a great time whatever you end up doing this weekend.