Backyard Adventures: A Shakedown in the Sawtooths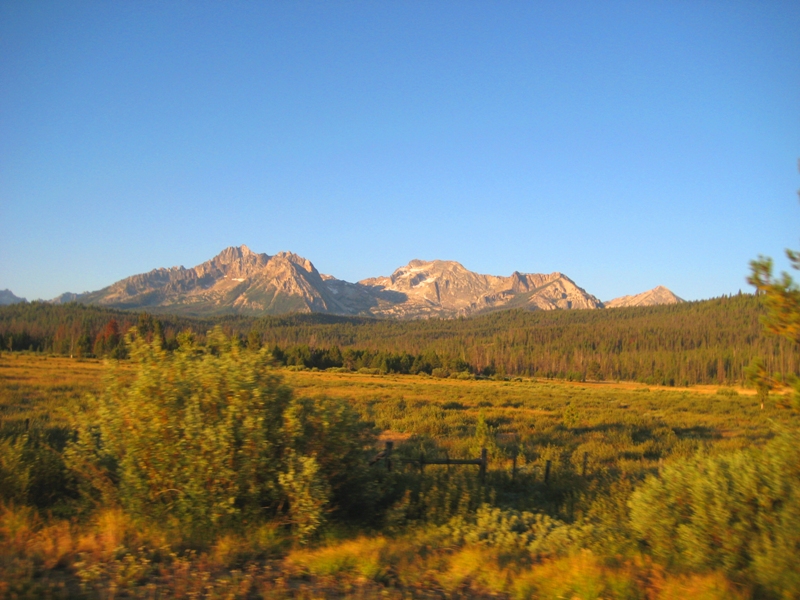 Central Idaho's Sawtooth Mountain Range offer a stellar backyard for Steve Graepel's adventures. A Boise resident, he wedges his endurance training around family and a full-time job. His Backyard Adventure gives us a glimpse at a beautiful section of country to be included in one of his bigger projects: connecting 1,200 miles across Idaho's backcountry by foot, raft and mountain bike. We can't wait to read that Backyard Adventure. Until then, here's Steve in the Sawtooths.
_______________________________________
"Steve, I've got an idea …"
This is how it always starts. One of us drops the bait. Only this time it wasn't me.
Scott and I have both been caught up with middle management – middle life. He runs a lab in the Bay area, and I've been tasked with leading a creative department at my place of work. Our schedules have been forged out of early mornings and late nights. Workouts squeezed between bottles and diapers.  We've both grown soft under our heavy shells of work, kids and family, barnacled with noon-meetings and mortgages…second mortgages. Our early trips together, traveling to climb in far-flung ranges have become cob-webbed memories and we now feel fortunate when we can carve out a weekend together every other year or so. As incentive to extract us from the grind of our day jobs, Scott makes the pitch.
"Let's do the Wonderland…in two days."
Like carp to corn, I'm hooked.
[Top, Idaho's Sawtooth Mountains in early morning light, as seen from the author's bike after running over 40 miles of trail to traverse the length of the range. Above, the route as it runs past an un-named lake below Alice Lake. Photo: Steve Graepel.]
The route is massive; the Wonderland Trail circumnavigates Washington State's Mt. Rainier, with a collective 20,000-foot vertical gain in 93 miles. It's been in our black book of To-Do trips for several years. An undertaking like this generally requires an immense amount of training to build mental and physical calluses, so that when it's no longer fun, it's still doable.
Early summer was quickly turning to late summer, which meant training season was rapidly coming to an end. After countless 20-, 30- and 40-mile runs in the Boise foothills, all that was left was one last training session: a shakedown.
"Sounds like a breakdown," a co-worker offered helpfully.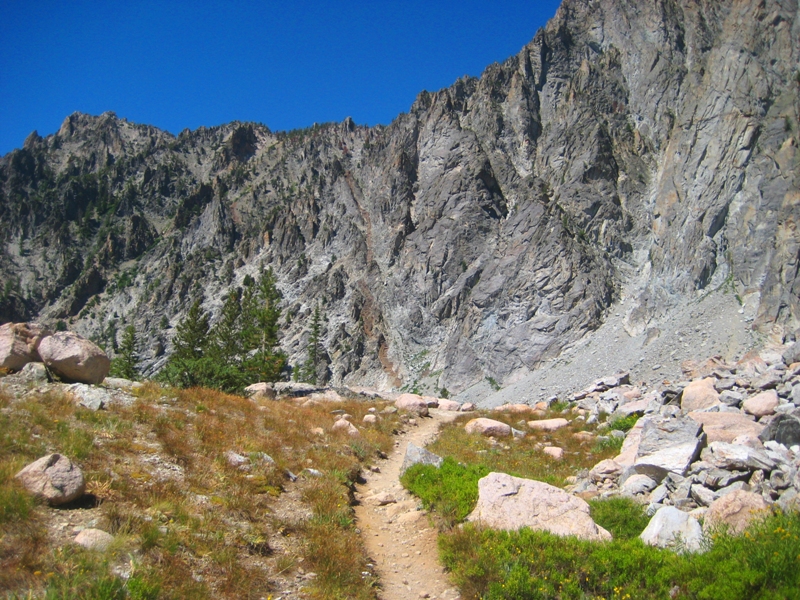 My goal was to run across two mountain ranges in central Idaho. I planned to drop a bike at the end and a car at the start, run in between, then bike back to the car. After asking 40 or so people, I cut my expectations in half and settled on a solo traverse of the Sawtooths.
Though not as high as its sister ranges (the Pioneers, Boulders or Whiteclouds), glaciers have chiseled the feldspar-rich granite into jagged hornes that prominently rip across the Stanley basin above the upper Salmon River, giving the range its namesake. Only 20 miles wide and 32 miles long, the Sawtooths pack a punch with 33 peaks over 10,000 feet and over 200 alpine lakes – strong evidence of its rich glacial history. Its a playground for locals searching for adventure during any season.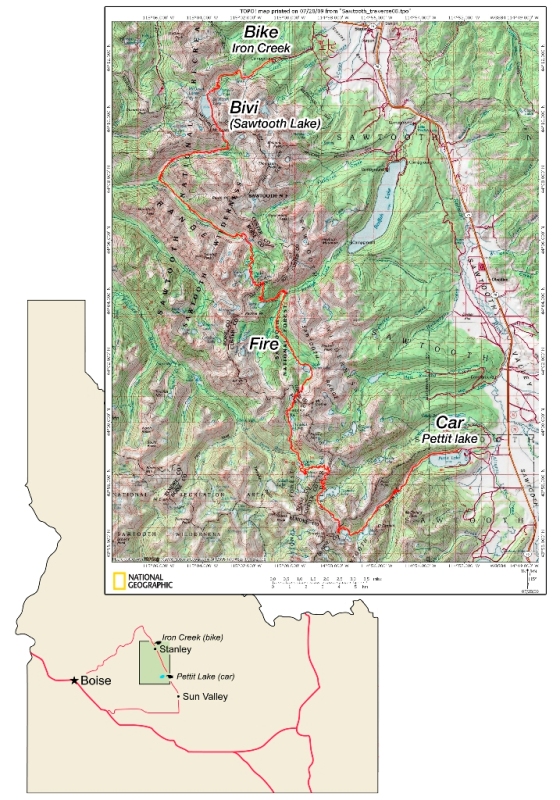 My proposed route would start at Pettit Lake and weave 45 miles north, crossing the divide five times with sharp climbs and drops over 9,000-foot passes. By the finish at Iron Creek, my cumulative elevation gain would be 10,000-feet.
Trucker coffee in my hand, map in my wife's, I left town at 3:30 a.m for Stanley. I dropped the bike at the north end and headed south to Pettit Lake.
About 8 a.m., I pack up my cell phone, filled my day pack with a 3 oz.-jacket, a wool cap, lightweight gloves, an emergency bivy, 100 oz. of protein slurry and about 5,000 calories of food.
I slowly wove my way deeper into the Sawtooths, greeting trailside campers with the morning sun. It was a mid-summer Friday, not too many people on the trail, just enough to share salutations. For the most part, I traveled with my thoughts, which were mostly consumed with not tripping. The trail was much rockier than my runs in the Boise foothills.
Around mile 20, I heard a helicopter coming from the south, likely Sun Valley. It came and went. Mile 25, I saw the same helicopter dropping down into the valley. I quickened my pace to see if I could catch it, only to see it rise up and head down the valley once more.  It came back a third time with a bucket of water and dropped it into the Cramer Lakes area. Fish, or fire?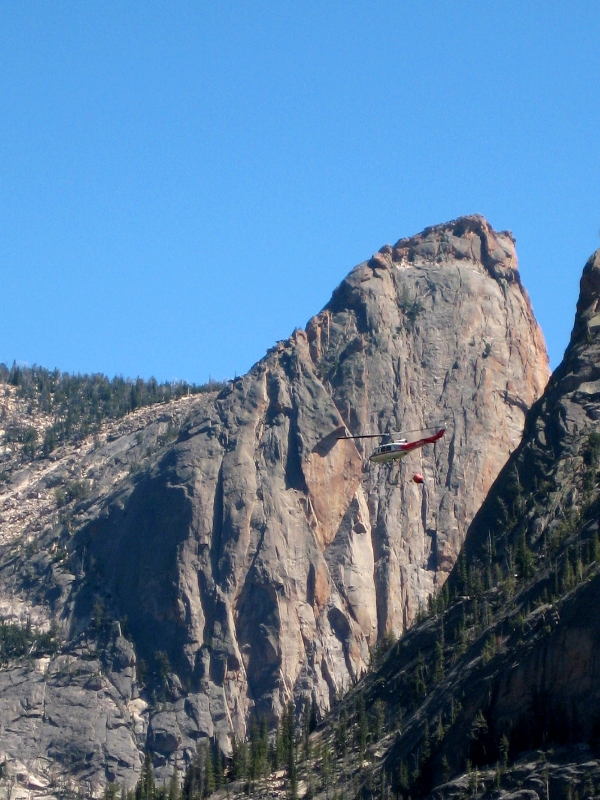 Evidently the valley I'd been running through was closed to hikers due to a fire caused by a lightning strike. I quickly made my way down to the valley floor and up the other side, where I got a clear view of what I'd run through and where the fire burned.
Fire behind me, I climbed up to the remote and spectacular Baron Lakes and out on the dry west-facing side of the range. The trail there is overgrown with juniper and sage, and tumbles down a dry creek bed baking in the afternoon sun, making footing particularly tricky near the end of a long day. The backside went relatively quickly, dropping 6 miles in 40 minutes. Looking at the map and triangulating with the terrain, I followed the trail down to my next turnoff.
It was getting late, and hot; 3:30 p.m. and about 90 degrees. As I walked north toward Sawtooth Lake, for the first time I begin to consider how far I'd make it before nightfall. And then I felt a familiar discomfort. My gut was no longer moving water. Everything I was drinking sat sloshing in my belly.
This situation typically requires a 'forced reboot' to empty the gut and start afresh. I held out for 40 minutes, came across a stream and sat down to contemplate the day, my decisions, my evening . . . the Wonderland. It was now almost 5 p.m. and I was still nine miles from my bike. An eternity in this condition.
Two hours later, I climbed out of the valley up to the 5th and final pass and found myself standing at the bottom of a spectacular cirque banked by 1000-foot walls of granite to the East and West and North. Unless I climbed to a summit, there was no way I was going to find cell reception.
No longer able to sip on the protein slurry, I emptied my water bladder and filled it from the stream. Gut spent, I unfurled my bivy sack and resolved to spend the night at Sawtooth Lake under alpine skies.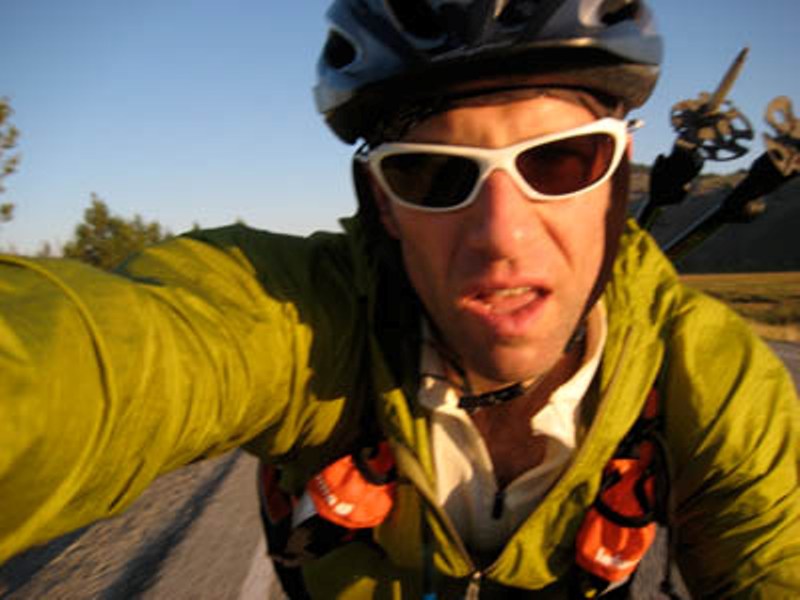 4:30 a.m. No longer able to block out the the feeling of my bivi sack sticking to my legs, I packed up and began to walk to the north end of the lake. An hour later, the lights of Stanley came into view and I pulled out the phone. Two bars.
I made the call home, tucked my tail between my legs, ran down to my cached bike and rode into Stanley. I pulled into a coffee shop and ate the last slivers of jerky as I watched sleepy people come and go. I saddled up, checked in with the forest station and continued 35 miles to the car, stopping every few miles to refuel the body.
[Above-left, a good view of the kinds of canyons that make a Sawtooth traverse anything but direct. Above-right, a map of the author's route. Middle, Sawtooth Helitack fire crew flying below Elephants Perch. Bottom-right, the elevation profile for author's route. Bottom-left, the morning after with the author on the long, slow ride back to Pettit Lake on Idaho 75. Photos: Steve Graepel.]