Waves and Winter: Photos
/
September 23, 2009
2 Min Read
/
Snow

"Our thoughts often go to the deepest, fluffiest powder days when we watch the tops of breaking waves get blown back to sea by a strong offshore breeze. Maybe the wind reminds us of Old Man Winter's legendary howl and roar. Or perhaps surfing among these waves – floating in that fluid ocean as the spray rains on our heads – gives us the same feelings we have when gliding in a snowstorm down a powder-coated mountainside.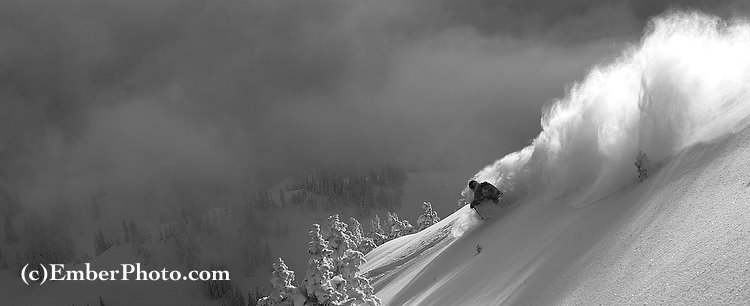 "Ultimately, it is the simple beauty witnessed on both occasions that makes the connection for us. Be it the wind-blown spray of breaking waves or the billowing clouds of snow behind the descending skier/rider, there is something undeniably surreal and powerful and spectacular going on here…
"Here's to a fun fall surf season, and an snowy winter ahead!"
Brian and Emily
Moretown, VT
www.EmberPhoto.com
Word and photos today by Brian Mohr and Emily Johnson. The duo, collectively known as Ember Photography, have appeared in the Patagonia catalog and previously on The Cleanest Line for their story about a month-long skiing exploration of Chilean Patagonia's endangered Rio Baker Valley – a trip featured on the Dirtbag Diaries. They make a living sharing stories and images of their primarily human-powered adventures through outdoor and general interest media, their own Wild People, Wild Places slideshow series and regular fine-art exhibits in the Vermont region.
"We are also very excited about the upcoming launch of our new website, www.AdventureSkier.com," says Brian. "We envision the website being a great resource for building community around the enjoyment (skiing adventures) and protection of mountain lands in the northeastern United States, Canada and beyond."
Brian and Emily share their talents for the greater good as well.They've teamed up with conservation organizations to photo-documentplaces like East Greenland's Schweizerland Alps, Iceland's HornstrandirNature Reserve, Quebec's Gaspe Peninsula and the many wild nooks andcrannies of northern New England's Great Northern Forest.
You can learn more about Brian and Emily's work, including prints and gift cards, at Ember Photography or on their blog.