The Garden at the End of the World: Regenerative Agriculture Pioneers in the Chacabuco Valley
If the present status-quo of soil loss, carbon pollution and planetary warming continue, we're looking at just 60 more harvests before we can no longer grow 95 percent of the food we humans rely upon to live. At the same time, the way to prevent this calamity is at hand: regenerative organic agriculture. This is why Patagonia has joined with the Rodale Institute to spearhead the Regenerative Organic Alliance (ROA)—a diverse coalition of organizations and businesses in the areas of farming, ranching, soil health, animal welfare and farmer and worker fairness—to create a Regenerative Organic Certification (ROC) that identifies and promotes the practices (minimal tillage, companion planting, intercropping, no chemicals) that will secure our future.
"At Patagonia, we are no strangers to leading big shifts and marketing them to customers," says Patagonia CEO Rose Marcario. "The new certification for regenerative organic agriculture will set a high bar for brands, provide guidance to consumers and take this urgently needed movement to the next level."
What's relevant for food crops is also true for ones that yield fiber for clothes, and within in our own company we've launched ROC pilot programs with the suppliers of organic cotton as well as the lentils, grains, and buffalo for our food line, Patagonia Provisions.
Along with our partners in the Regenerative Organic Alliance, we'll continue to gather and incorporate public feedback, and we'll hold a series of pilot audits with a small group of producers and certifying bodies to understand how the ROC standards can be best implemented at the farm and ranch level. And we're listening and sharing stories from pioneers in the field such as this one, of two huerteros in Chilean Patagonia.
Growing Their Own in Patagonia
2,000 kilometers south of Santiago, surrounded by mountains in the region of Aysén, lies the imposing Chacabuco Valley, an old estancia with a powerful past, the cradle of colonization in the region.
Last year, this valley, with its more than 80,000 hectares, was donated to the Chilean state by Tompkins Conservation. The donation brought together Jeinimeni National Reserve to the north and Tamango National Reserve to the south, creating Patagonia National Park, which today protects unique steppe ecosystems, wetlands, glaciers and abundant wildlife, guaranteeing the highest level of protection to its 263,000 hectares.
Inside the park, in the middle of the pampa, there is a small vegetable garden, guarded by two young farmers.
We studied agricultural sciences in the central region of Chile, where conventional agriculture and the large-scale economic model have devastated soils and biodiversity.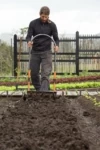 We experienced firsthand the contamination caused by fertilizers and pesticides, erosion and wildfires. Almost all the landscape of the central region was once native forest and abundant grasslands; today it is almost a desert. Nobody remembers that there used to be guanacos, pumas and condors wandering around.
By understanding this, you realize that there is no other option. We felt an urgency to change the way we produce food and relate to nature. We chose to take charge.
We came to Patagonia because it is a region where industrial agriculture has not arrived. It is a great opportunity to make a long-term impact.
We arrived at the park as volunteers, and our main objective was to supply fresh food to workers and the restaurant, balancing productivity with beauty, since all the parks built by Tompkins Conservation inspire through their beauty.
Our second objective, no less important, was to develop a method of regenerative agriculture adapted to the local setting. We wanted to show that it is a real economic alternative. We collect data on everything we do, from work time by task and yield per area, to days from sow to harvest.
Eighty percent of the food consumed in the region is imported from the north, where it is grown with conventional methods. Young people migrate to the cities because there are no opportunities in the rural areas. The average age of farmers in the region is 60 years.
When we arrived, we did not have a working method adapted to the region. We had experience in organic farms, but in another context, with tractors and all that stuff. Eventually we got to know the work of John Jeavons, and then Eliot Coleman, Curtis Stone and Jean-Martin Fortier. It changed the way we work.
Biointensive agriculture is a human-scale way of farming; it does not depend on fossil fuels and works with living soils. So not only do we not use fertilizers or pesticides, but every year the soil is more fertile, thanks to compost, green manure and crop rotation.
We use flowers to attract insects and enhance biodiversity. We build small birdhouses so they live in the garden and feed on insects that could cause damage. It's a space of abundance and beauty, where life vibrates.
Last season we harvested more than 3.5 tons of fresh produce in a very small area, using only compost made here with the waste from the houses and the restaurant. We grow more than 35 varieties of vegetables and about 20 species of flowers and medicinal herbs.
In these four years, volunteers have come from all over the world. It's still a small movement, but it's spreading fast—though not fast enough!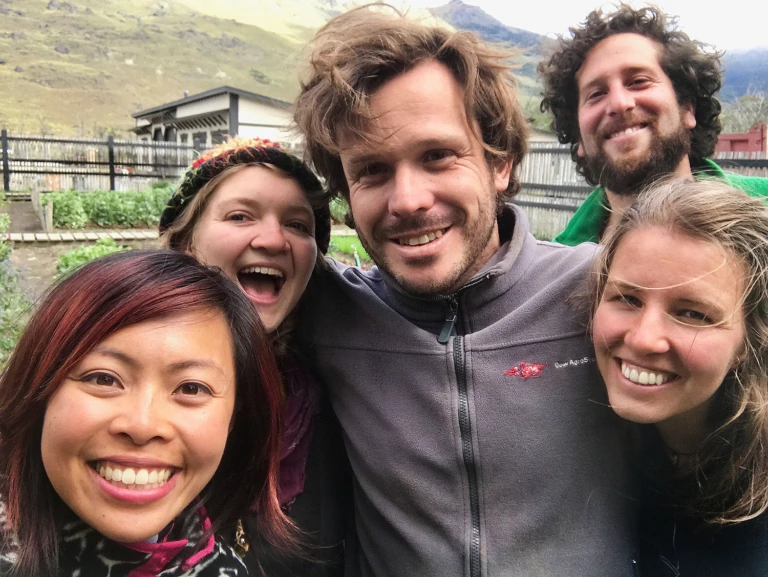 The experiment goes on. Every year is trial and error, data collection and re-planning. We are generating public access information for crops in Patagonia.
Our purpose is to demonstrate that another model of agriculture is possible, breaking the paradigm of conventional agriculture. We want to grow real food because we care. We take charge.
Today we leave the garden of Patagonia Park in the hands of a new huertero, Ángel. With the support of the Ministry of Agriculture, we will start a new farm, just outside the park. The objective is to validate the biointensive method in a context of real commercialization for the region of Aysén, and convey the experience to local farmers, so they are inspired and begin the long journey to make the region recognized as a place where agriculture generates an abundance of real food, biodiversity and natural fertility, and promotes the development of healthy communities.
El Huerto de Cuatro Estaciones invites you to apply to their one month apprentices program. The objetive is to inspire, educate and empower future farmers in how to run a farm based on the practices of regenerative agriculture, this season focused in biointensive market gardening.
You will learn how to produce food of the highest quality on small scale in a very difficult climate, enjoying a spectacular environment and sharing with people from many parts of the world.