Run for Something
Footprints Running Camp is as much about finding solutions to the climate crisis as it is about running.
In a funky ski lodge off Colorado's Red Mountain Pass, midway between Silverton and Ouray, a group of young people sat down to dinner and contemplated how to save the world. They gathered as a part of Footprints Running Camp, a project designed for runners with big ideas to create community-oriented solutions to the climate crisis, and connect those runners with mentors to help make their ideas as real as possible. The group spends a week together in a hut in the mountains, with no cell service and no internet, running in the mornings and work-shopping in the afternoons and evenings. Interesting and developing ideas get taken down to the studs and reworked while wet running clothes dry on windowsills above 11,000 feet and the mountains change color with the light.

This year's group included nine participants, the mentors, speakers and organizers, plus a few good dogs. When I arrived a few days into camp, I found photographer and artist Max Romey huddled under a sleeping bag, writing while watching the fog banks swirl out the window. The camp participants were just finishing a talk about diversity, social justice and land reclamation by Dr. Lydia Jennings; earlier in the day, Dr. Len Necefer discussed innovation and advocacy with the group. (There are a lot of speakers with doctorates at Footprints.) I could hear the muffled sounds of questions on the other side of the wall.
"How's it going so far?" I asked Max.
"We're at a point right now where things are being dismantled and put back together," he said. "Everyone is exhausted and full."
Just then, the door opened and a dog named Salchicha came bounding out. Someone handed me a plate, and soon I was sitting shoulder to shoulder with an ecologist from Los Alamos, New Mexico, and Patagonia ambassador Peyton Thomas (both also hold doctorates) talking about big things like landscape and human connection—and small things that sometimes feel big, like the weather. Everyone had notebooks. The atmosphere was warm and kinetic.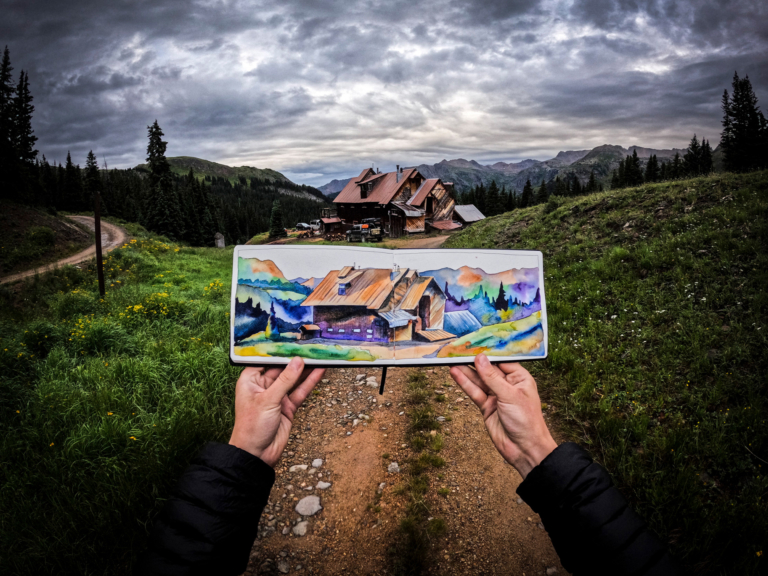 Footprints was started by Dakota Jones, a professional runner who grew up in nearby Durango, Colorado. Jones wanted to bring together the expertise of environmental scientists, artists, organizers and businesspeople with the innovation of students and the endurance and community of runners. Jones had been thinking for years about how to combine running and climate work. He liked the model of running camps but wanted Footprints to encourage people to come together over more than just running. "We want to stop climate change, but we also want to empower people and define who those people are," Jones says.
Potential participants are asked to submit a project proposal, and those who are chosen are selected based on their ideas. All of the work at camp is focused on making the proposals actionable through case studies, workshops, discussions and one-on-one mentor-mentee relationships, or mentor groups organized by specialty. The approach is relatively simple: Understand the problem, consider a solution, communicate your ideas in such a way that people want to join you, then go running. One session asked participants to "speed date" their proposals to each other, but rather than discussing what they wanted to do, they had to explain why they wanted to do it. The goal of the exercise was to figure out how to get people to care about a given issue as much as you do.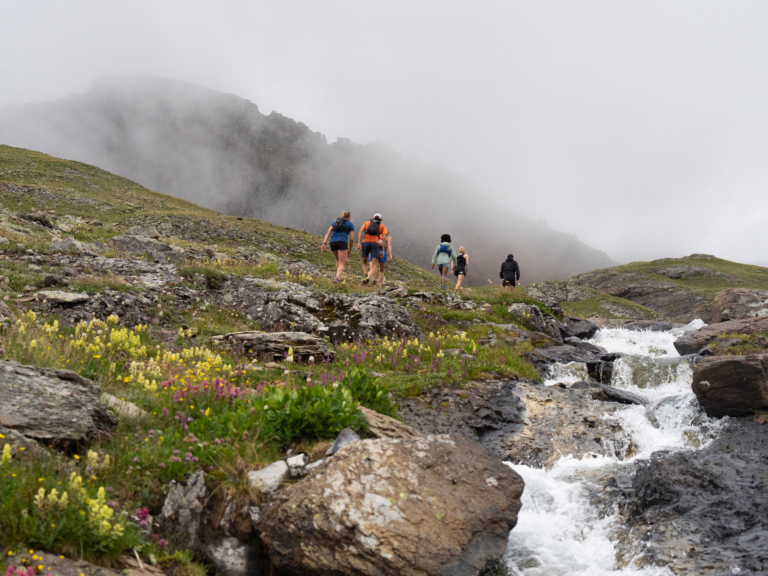 Early in the week, everyone hiked up to an old mine set against earth naturally dyed red from the iron in the rocks and conducted a "pre-mortem" for their projects. They were asked to imagine all the ways they might fail and why. The setting was dramatic—a different kind of a failed big idea. That was intentional. Jones wanted the camp in the San Juan Mountains in large part because of the mining history that has scarred these mountains that provide so much water to the surrounding deserts. If we can have that kind of a negative impact on a place, then maybe we could have an equally opposite positive one.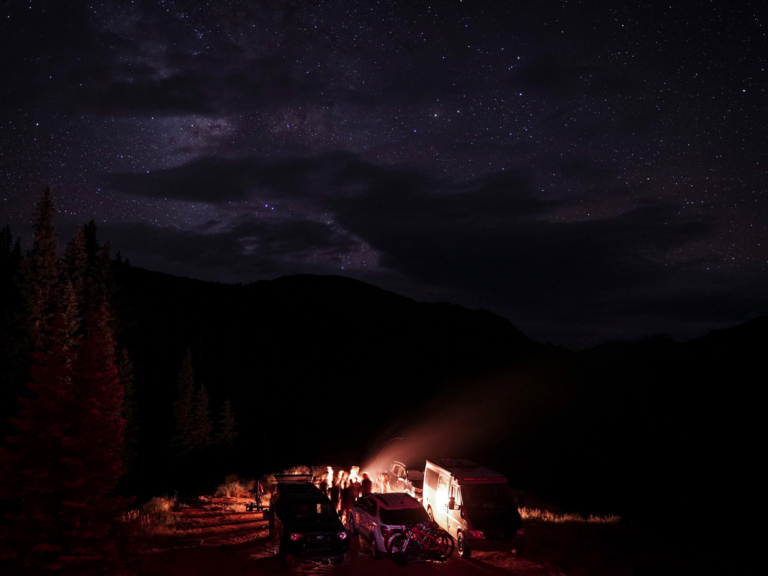 Midweek dinner was followed by a dance party around a bonfire before bed, on this night, the backs of cars and the bunk house on the second floor of the lodge. The next morning, we drove toward Ouray for a few hours of trail work with the San Juan Mountains Association. While walking, picking up trash and clipping branches, I got to hear a bit more about what motivated some of the participants to want to be here. Apart from loving running, everyone had come for the opportunity to work with other smart, solution-focused people. Many of the projects were inspired by unique interests or firsthand experiences. Lily Lawrence, one of the youngest participants, had taken up embroidery during the pandemic, which led her to think about clothing waste. Her project at Footprints was to examine ways of reducing apparel overflow and overproduction in the outdoor industry. Miles Anderson grew up in Maine and wanted to help the fishing industry in his home state adapt to the warming oceans.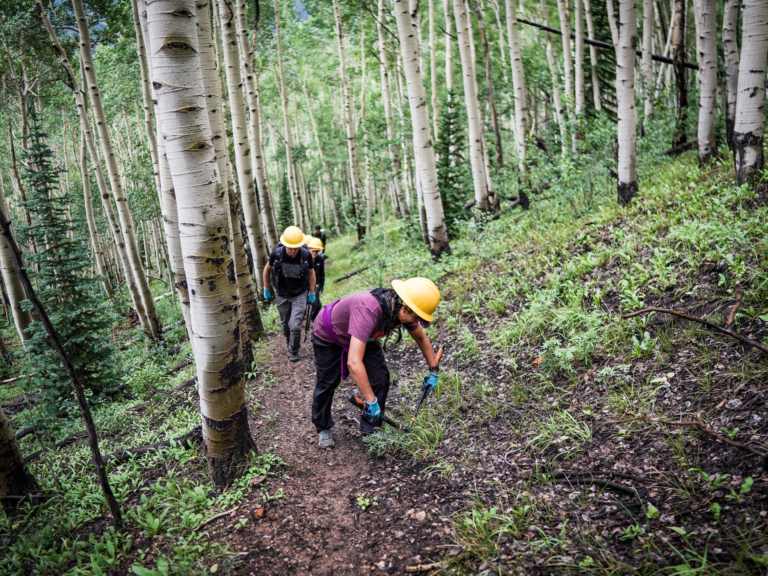 Over the course of seven days, the group talked about ranchland in Montana, working across political boundaries, writing and education, and futures both immediate and abstract. At times it was hard to differentiate between the mentors and mentees, which I took as a sign of the trust and connection that the camp setting had created. The focus of the camp wasn't to single out individuals as leaders, but rather to teach the skills of leadership and gather people to a shared cause. "If your work is who you are, you won't fail until you cease to exist," explained Lakota skier and activist Connor Ryan that afternoon. In that way, everyone in the room was already a leader.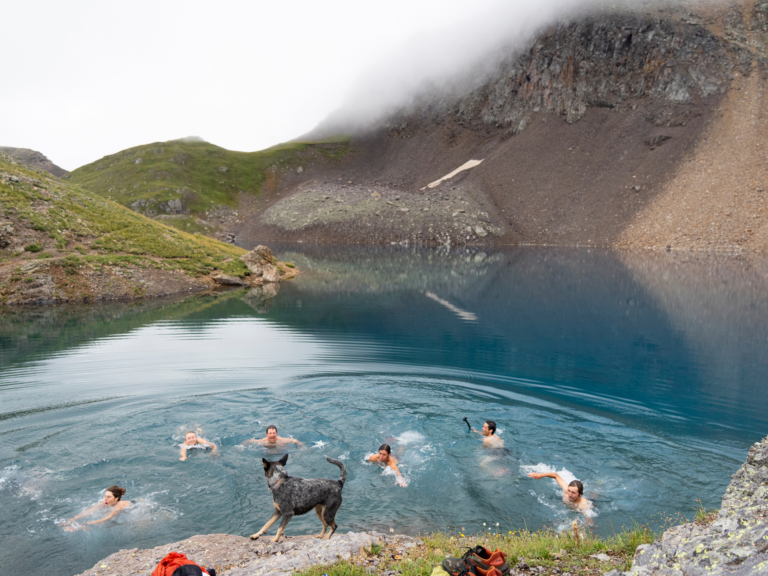 My biggest impression from the time I spent at Footprints, however, is that no idea on its own is going to alter the course of the climate crisis. No individual idea is big enough. Instead, it's the collective impact these ideas could have, and the collective commitment to figuring things out together, that could ultimately make a difference. That's something to feel hopeful about.
Footprints 2022 participants and their projects:
Michael Harralson: Refining his existing non-profit ReNew Earth Running, which aims to use running events and the running community to return stolen land to Indigenous nations.
Noël Clark: Using her background as a fisheries scientist to create a "watershed curriculum" to educate those who make decisions about land use—land managers, trail builders, developers—about how the different parts of watersheds are connected, and how damage in one place can have effects on nearby places not often considered.
Austin Meyer: Producing a pop-up theater show explaining the impacts of animal agriculture on humans, land, animals and climate.
Miles Anderson: Creating an aquaculture project designed to provide economic stimulus to Maine's seafood industry, as traditional species move out of the area toward colder waters.
Stephanie Jimenez: Designing a journalism project focused on the intersection of social justice and environmental issues.
Zoe Pritchard: Building a high school curriculum to teach climate change in regional and project-based methods, inspiring action over apathy.
Lily Lawrence: Promoting a slow fashion consciousness in the outdoor industry through her own clothing repair business.
Luke Foley: Creating a climate change curriculum for outdoor educators teaching K-12 students in experiential education settings.
Paige Penrose: Expanding trail running opportunities for para-athletes as a way of increasing diversity in the sport as well as providing inclusion and opportunities for a disadvantaged group.