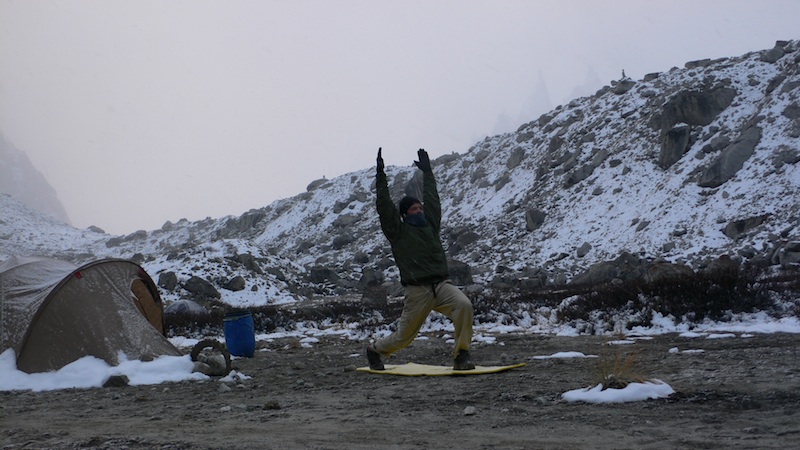 Note: On this blog in 2011 I wrote over 30,000 words in 40 original blog posts (to TCL readers, I apologize for the resultant drop in your IQ). I also edited and introduced another seven posts from other authors, and wrote a little on my personal blog (where I put my inappropriate rants). So I got this idea to paste sentences, or, in occasional spots, phrases from a sentence, from my TCL posts into one randomly connected paragraph. I kept original formatting, like italics, and tried to avoid pasting any consecutive sentences, though I cheated in a spot or two. And with 30k words, I got overwhelmed, so I just did it for the first half of the year (I know, what an overachiever). Here it is:
What do you want? Sex appeal? Must be comfortable with yourself, have a strong sense of self-identity and be willing to change the things about you that I don't like. Sunglasses, no shirt, big ol' toothy grin. Surely the reason all shirtless bouldering bros wear a beanie. Hey, anytime my frontal lobe wants to attach itself to the rest of my brain I'll take it. I'm not talking creepy stuff like sending nekked pictures of yourself over Twitter. We started hiking the right way, convinced ourselves it was the wrong way, turned around and hiked a couple of miles toward the Tonquin Valley until a couple of bewildered hikers – bewildered like, "what are these two idiots doing out here?" – eventually set us straight. Hmmm. Smarter? I don't know. The total number of climbers has grown by a shitton (spell-check always flags that word, but I'm pretty sure it's one word, not two). But it's pointless to wallow over the past, and, even as I suffer the effects of years of pushing too hard, I still view with suspicion the armchair directives sometimes barked at the young and driven about how they should just take it easy (though yes, I know, all that time on the couch saved your knees). I'm not so sure about that last part, but I'll uphold my Cockroach Club membership as long as I can. Hell, the phone rang yesterday, mom answered and told the bill collectors, "No. I'm busy dying right now." Of course it's orange. Yeah, no shit. Hell, want to frisk me? Be my guest. I'll take what I can get.
How do you measure? I have NFI where the SBR route begins on the topo, but I think it's near the 8,000-foot contour line. We bumbled into the trailhead parking lot near midnight in a low-cloud drizzle, opened the doors and rolled-out with a bunch of empty beer cans (this was a long time ago, and we were a lot stupid), slept for a few hours, overslept, got lost immediately upon leaving the parking lot, realized at sunrise that we'd mistakenly approached beneath huge seracs, made a hasty traverse and eventually found the general vicinity of the route. It used to scare me, but I guess I'm used to it. I always wanted to be like him, a "real west cowboy." Side note – how 'bout that Facebook app that lets you know when the person you're stalking curious about becomes single? We all choose our battles. It won't be the same, but it'll be damn good. Imagine, you and your online souuuul mate get together for virtual yoga and herbal teas n stuff, talk about recycling, and if that goes well, maybe you meet in person someday? For those who don't know much about him, here's why we love Bean: Vibrant, burly, funny, strong, sharp, genuine.
A true hardman, a tough bastard with a kind heart, loyal, never fake, a tell-it-like-it-is person. The real deal. The real deal. It's such a contrast to a world that feels huge, cold, corporate, corrupt, where we feel powerless. Wild-living, hard-charging, too often in too much trouble, but always full of love and now back in her home at last, no more hospitals, thanks to her dear friend who helps care for her, and for the wonderful, compassionate people of hospice. And for every spraylord with a blog who self-celebrates the last route he did or the sammich he just ate, some old cruster pulls that tired old line: "Yeah, well me and McGillicutty did that 30 years ago, we just never felt the need to tell anybody!" Well Hoss, ya kinda just ruined that now, didn't ya. They even had a tequila sponsor – but I swear this review is not rigged. If there's any chance that the knot could pop through the anchor point, you'd be deader than fried chicken. Have a marg. Don't do it and you'll get cold fast. It makes me remember everyone I've loved, no matter how they lived their lives, including their willingness to embrace risk or do things that are so easy to look back upon and second guess, because everything we do – the good and bad decisions we make, the experiences we have, the chances we take – are all a part of us, and make us who we are. All the way until we are nothing more than dancing skeletons. None of us stands alone, no matter how we try to convince ourselves, and sometimes we draw inspiration from the most unlikely places and people. Go ahead, fine, yank my hardman-wannabe-alpine-toughguy membership card. I look at the huge holds just as a big sound distracts me – a big guy, like real big, and 30 feet up on the route next door, on lead, thrutching, grunting, huffing and puffing. You have to keep fighting. My final surgeries, inshallah, making six in a little over a year. Just right for a man of my stature: Gimped, broken, mulletted and scared. Yet I still squeeze my limes by hand. Wear a hat. Stay hydrated and well fed. After all, life is art, dammit. Big boy's going for it.