Kohl Christensen Reports on the Dam Protests in Chile – Take Action to Keep the Pressure On
Kohl Christensen
/
June 15, 2011
/
4 Min Read
/
Activism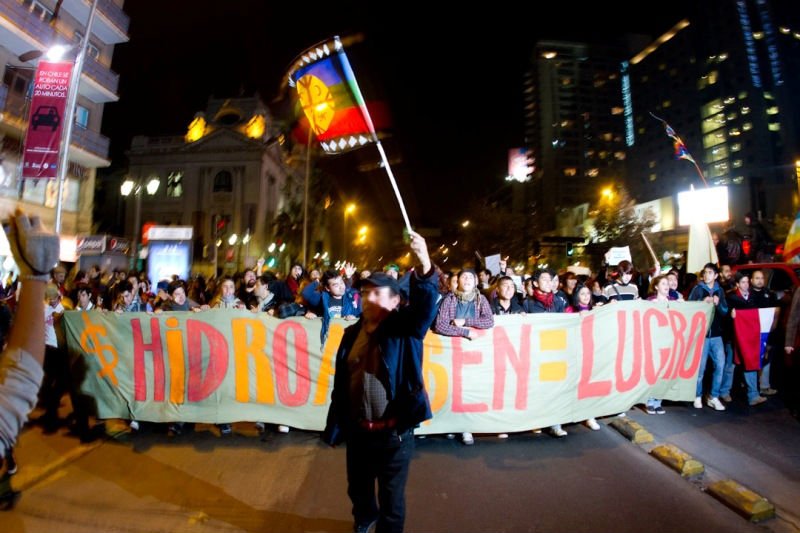 Editor's note: When the Patagonia community banged pots and pans in protest of the proposed dams in Chilean Patagonia, a large protest was scheduled to happen at the same time down in Santiago. Patagonia surf ambassador Kohl Christensen – who was visiting Chile for a surf contest – attended the protest and sent along this report with photos from Rodrigo Farias. At the end of this post, we have a new opportunity for you to Take Action against the dams.
Seeing ¡Patagonia Sin Represas! (Patagonia without dams) spray painted above bus stops all around the capital of Santiago gives you an idea of where most Chileans stand on the proposed construction of the five hydroelectric dams that will destroy certain areas of Patagonia. I got invited to the protest that was happening in Santiago and happily agreed to check it out.
[May 19, 2011, Santiago, Chile. Tens of thousands of Chilean citizens who marched in opposition to the proposed construction of five mega-dams in Patagonia's Aysén region. All Photos ©Rodrigo Farias]
We took the subway at rush hour to downtown and met up with thousands of other protesters at the Plaza Italia. The ages varied but the majority seemed to be in their twenties. The chants "Piñera concha de tu madre", "Patagonia Sin Represas", "Piñera entiende, el agua no se vende" and others would start in one area of the crowd and then spread, holding for minutes at a time.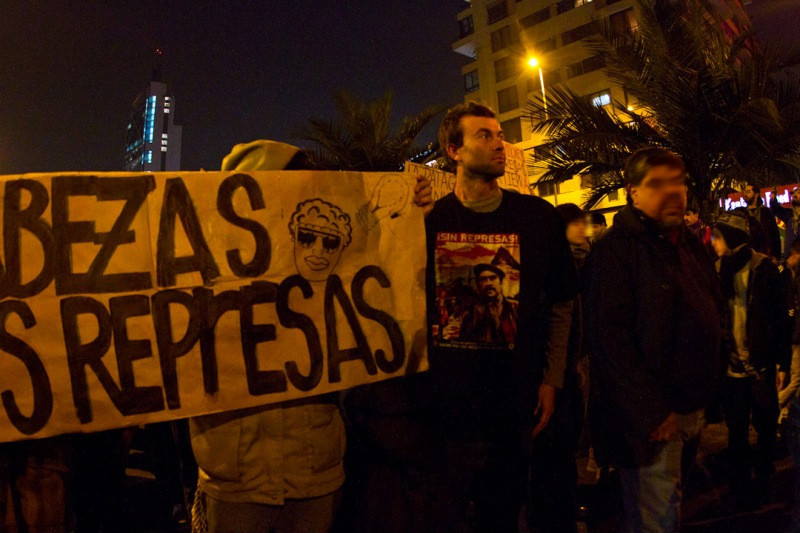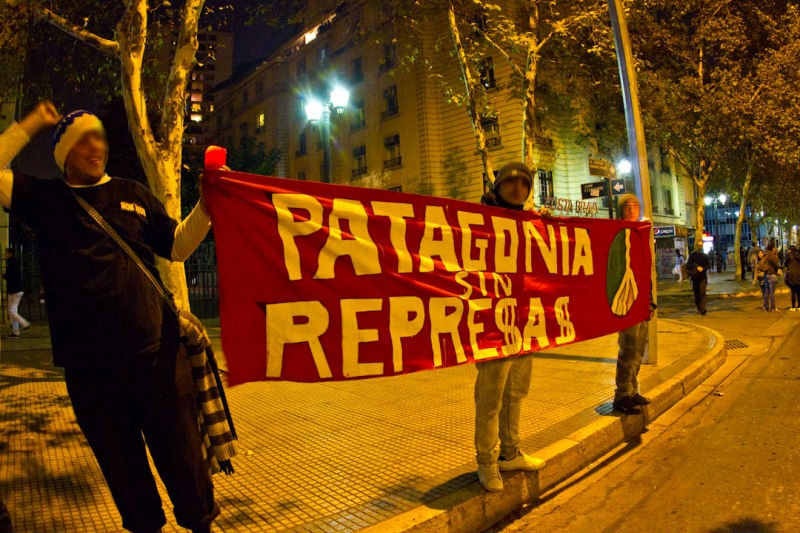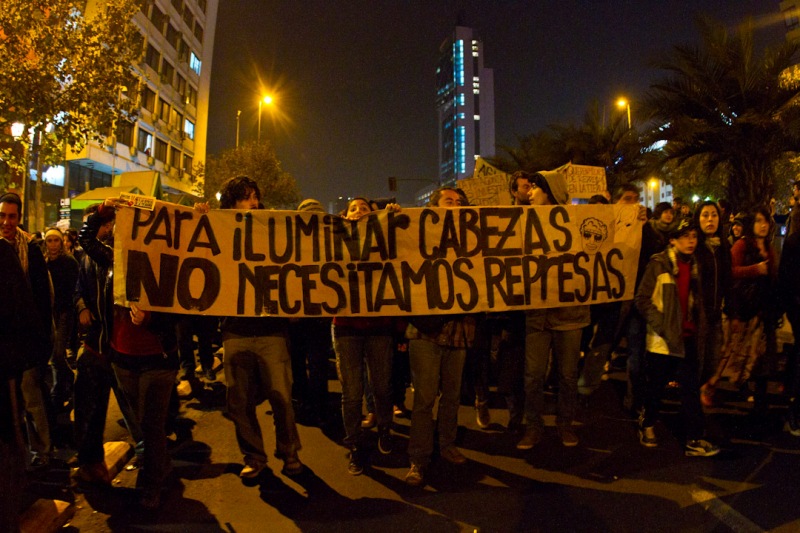 We marched to La Moneda, the capital, about a mile or so away in a mass of thousands of people yelling, chanting, waving flags and boasting homemade signs protesting the government and the dam project. The Chileans love their Patagonia and do not want the project to proceed. How far they can take this fight is hard to say because in the end it's just their voice against a strong Government with its own agendas. It's a voice though that is loud, clear and being heard around the world and it definitely made me listen.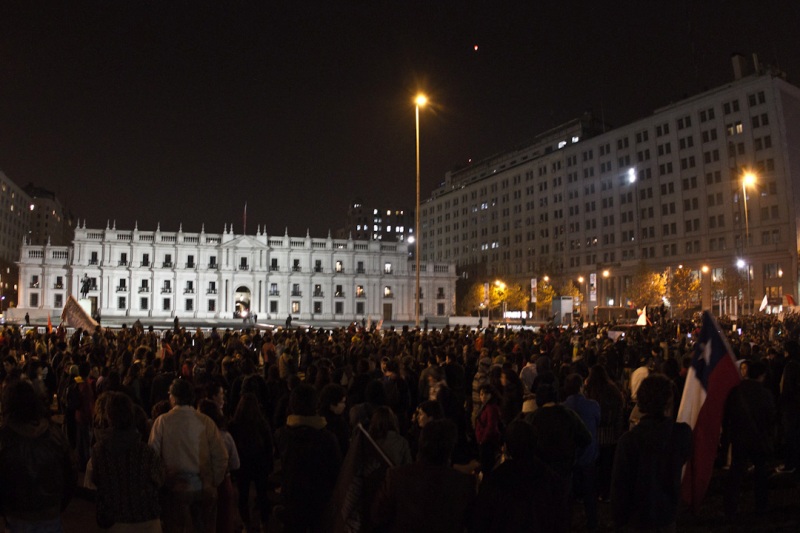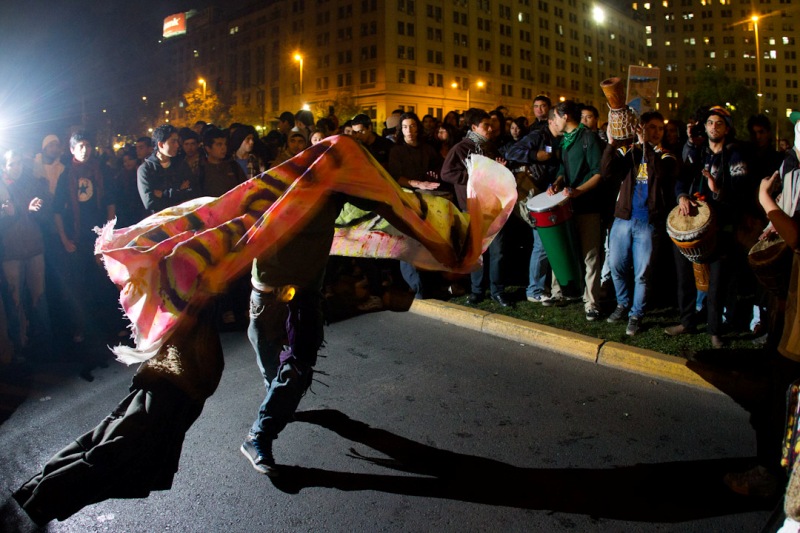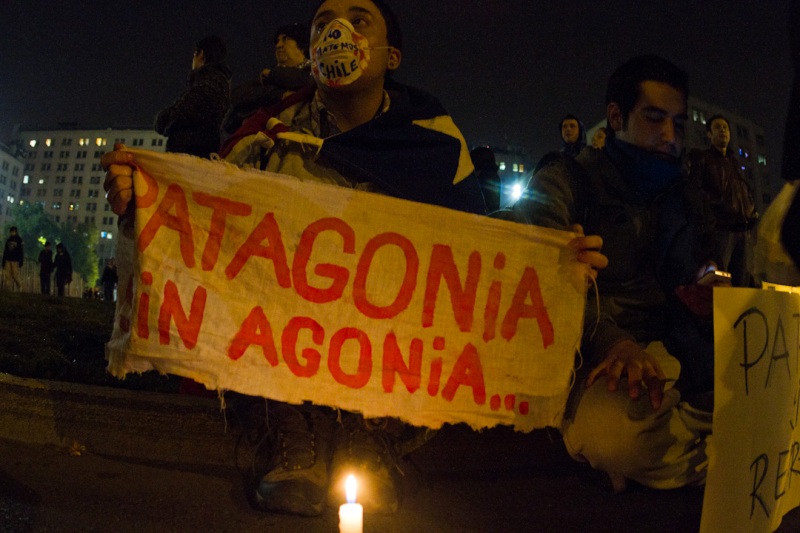 What are the alternatives in a country that will demand twice the energy production it has now in the next decade to keep up with its growth? I am not an expert but after doing a little research I found out it would take about 4,000 wind turbines to produce a similar amount of energy. They also say if you covered 1% of the Atacama Desert (Northern Chile) with solar panels you could produce the same amount of energy. Geothermal is another option.
So, how do the people of a country with so many alternative-energy options find themselves fighting against an energy project they don't want to happen? I'm thinking it's because the people of Chile love their country and want to preserve what they have left of it for future generations. There are other alternatives and they're demanding one.
–Kohl Christensen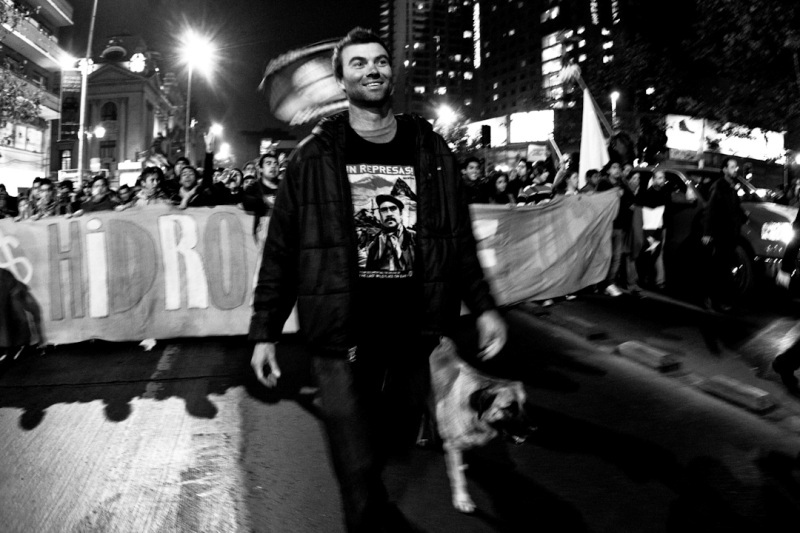 This issue is getting a lot of international press, like this NPR report, but a few news stories won't keep the dams from being built. The Chilean government needs to hear from everyone around the world who doesn't want to see the wild rivers of Patagonia spoiled. Our friends at International Rivers will help make your voice heard.
Take Action! Send a letter to the Chilean Embassy to support the Chilean demand for democracy and truly sustainable development.
Our thanks go out to Kohl and Rodrigo for keeping us connected to the events in Chile, and to all of you for taking action.
[All Photos ©Rodrigo Farias]