The Art of the Resole with Mark Sensenbach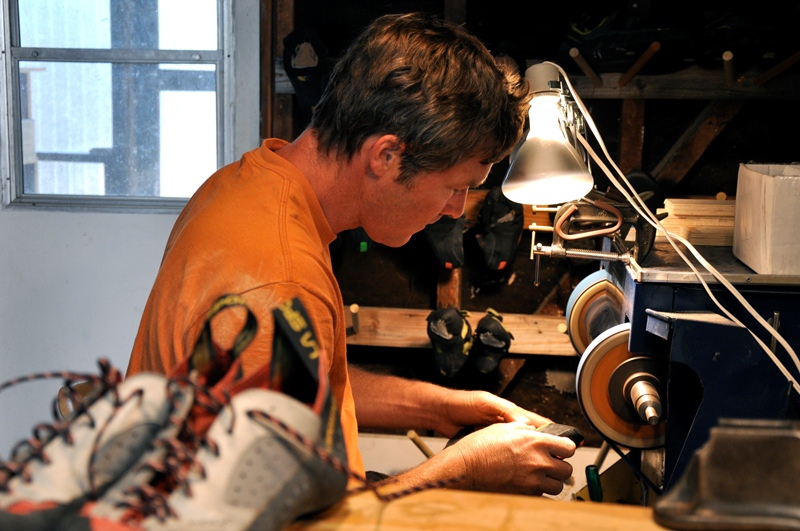 Mark Sensenbach perches on a stool, back slightly hunched, eyes down, brows narrowed in concentration. His hands, toughened by mountains and work, maneuver the rubber sole of a climbing shoe against a sanding wheel.
His movements made smooth by practice, Mark runs the shoe back and forth, rotates and repeats. He draws it away from the wheel for a moment and thumbs around the edges of the shoe, feeling for imperfections. There must have been a few, because the shoe goes back to the wheel once again.
Mark looks up and smiles. "That's pretty much how it goes in here," he says, gesturing around his workshop.
To call the space a workshop is generous. It's a wooden shed tucked in a corner of Mark's Central California backyard – the kind of place a kid would beg for permission to turn into a playhouse. And, in a way, it is a playhouse. The walls are decked with posters and lined with tools, battered climbing shoes hang in orderly rows, and an antique iron shoe form stands sentinel in the middle of the room.
Every day, Mark makes his way into the workshop, turns up the music, and sits down to work on his shoes.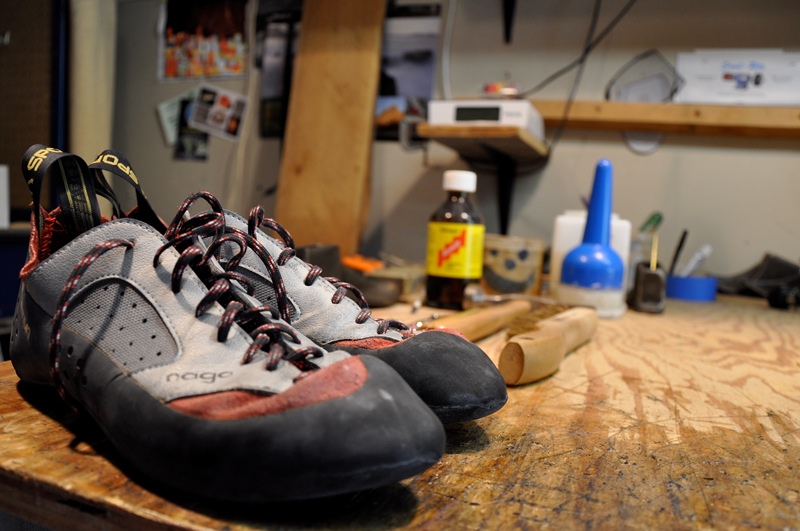 The operation is as small as it gets: Mark handles the shoes and his wife, Amy, handles the people who wear them. They have a collection box at their local climbing gym, SLO Op, and every mail delivery brings in a couple more pairs from around the country. Each one loved, worn, and waiting for renewal: a new sole, a better structure, another rand.
Mark started the repair business, Recycle Resoles, almost two years ago. He's one of only a handful of guys in California who resoles climbing shoes. It's a specialized business. There's no school for this kind of work. Mark had to learn the old-fashioned way: he watched a master. Mark went to Tony Puppa, a resoler at The Rubber Room in Bishop, CA, to learn the ropes.
"With some of these guys, like Tony, resoling is an art form," Mark says. Under Tony's guidance, Mark learned how to breathe new life into old shoes.
Tony taught him the skills, but it was Mark's love of climbing that transformed the dusty backyard shed into Recycle Resoles. Mark and Amy have been tackling mountains for years. They raised their two boys on the rocks as well – as we spoke in his San Luis Obispo living room, one of his teenaged sons was climbing the nose of El Capitan. Climbing runs through the Sensenbach family like a strand of DNA. It's part of who they are.
You reach a certain understanding with nature when you crest a peak in time to watch the sunset cast its rosy glow over the valley below: it's more vast, more beautiful than you can ever hope to fathom. But for all its power, that beauty is fragile. And most climbers know it.
"Climbers are generally pretty conscientious about the environment," Mark notes. "Whether we're making sure to throw trash away or Leaving No Trace."
Saving shoes from the trash is a natural offshoot of the climbing culture that he loves. "You don't have to toss worn-out shoes when you can get two to three resoles out of one pair," Mark points out.
300 million shoes are thrown out in the United States every single year. The leather on a shoe takes 40 years to break down in landfills; the rubber sole, as many as 80 years. I've been studying the lifecycle of our stuff for a decade with my company, iFixit – a free online do-it-yourself repair manual. What I've learned isn't terribly shocking: manufacturing requires a huge outlay of resources. Throwing stuff away is a huge waste of those resources, recycling is only a partial solution, and repair is the best option whenever possible.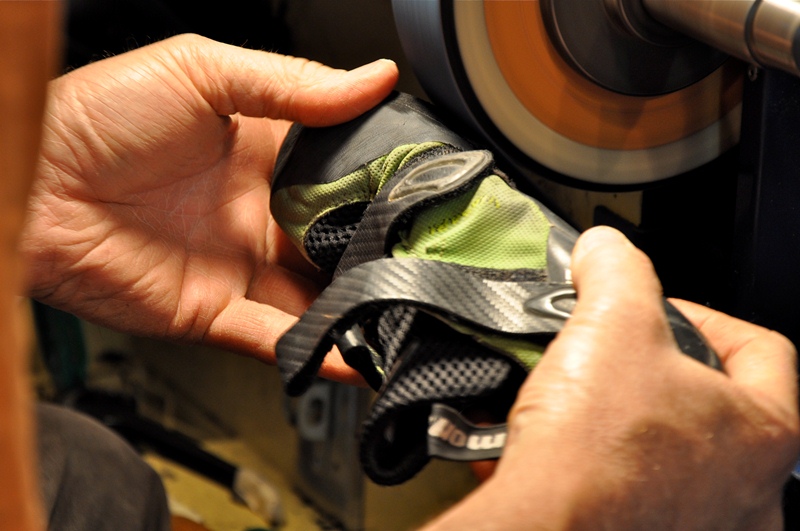 But repair isn't just about reducing waste. High quality gear is expensive. Mark makes it last longer. "Climbers get attached to their shoes in part because they're expensive," Mark says with the sigh of someone who's spent a few bucks on a climbing shoe. "You blow through them pretty fast if you're climbing a lot."
Resoling is a smart option for climbers who aren't ready to let go of the shoe that took them up the face of Half Dome. Of course, resoling is only possible if the rest of the shoe is in fairly good shape. If you don't take care of a pair of shoes properly, they can break down so badly even a shoe guru like Mark won't be able to help you. "Sometimes they're just too far gone." He pauses, hesitates. "Do you want to see an example?"
Of course I do.
Mark disappears into the shed. A moment later, he plops two pairs of shoes on the table. They're not just dusty and worn down—they're disasters. One pair has gaping holes filled with a mystery substance where the soles used to be. The hardened goop turned out to be shoe glue.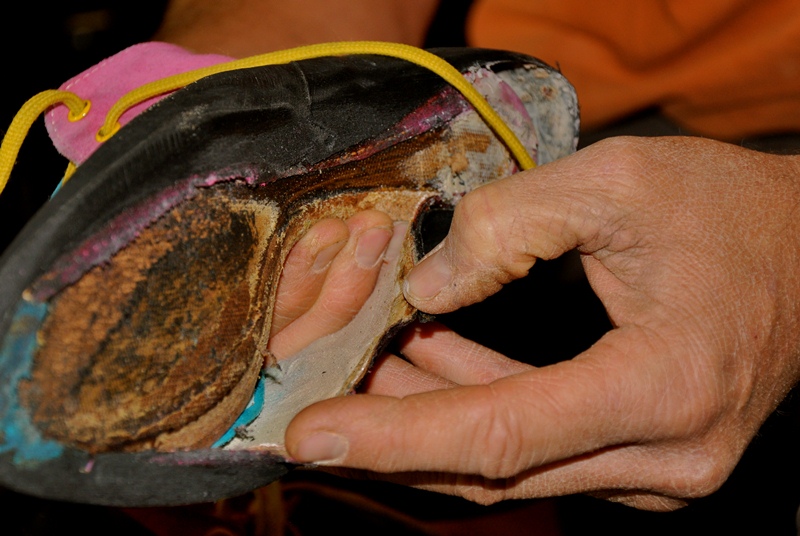 "This doesn't even make sense," Mark shakes his head somberly over the shoe – beyond even his powers of resurrection. Shoe glue is great for patching a small hole, but you certainly can't resole a shoe with it.
"These were pretty expensive," he shrugs as he looks the shoe over again. "They'd last a long time if you took care of them."
Mark's business is humble, but his goals are noble. Like all climbers, he loves a good pair of shoes, and he hates to see one go before its time. He picks up another shoe and takes it back to the sanding wheel. No time to waste – after all, he's on a rescue mission. He's bringing that shoe back from the brink. Saving it from the landfill. Getting it back home to its owner, so they can climb together again.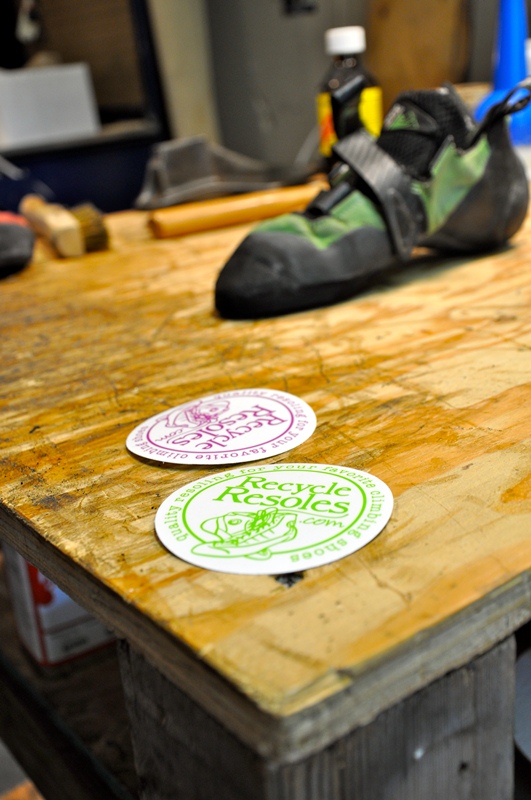 Get the most out of your climbing shoes:
Keep shoes in a cool, dry place: too wet and the leather will rot out, too hot and the leather will bake.
Keep away from any petroleum oil products.
Do not walk in them too much. Use something else for your descent and approach.
Get them resoled before they have holes.
We're building a free repair manual for every thing. Got any shoe repair or resoling tips? Share your knowledge with the world on iFixit.