Rios Libres: In the Shadow of Glen Canyon Dam, plus "Power in the Pristine" Trailer
/
September 16, 2010
4 Min Read
/
Activism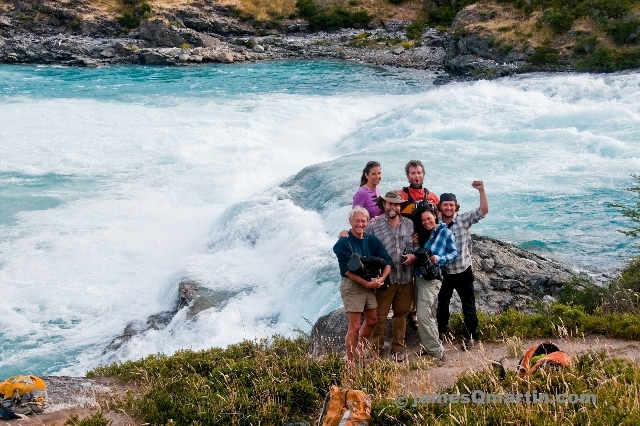 6170 miles. This is the distance between Flagstaff, Arizona and Puerto Bertrand, Chile – the town closest to the source of the Rio Baker. This creates a formidable gap (the equivalent of driving from Boston to San Diego and back) between where many of us live and the rivers we are fighting to protect. Why then, are five folks from Flagstaff and two from Colorado so damned concerned about a river and a watershed that are so far from home?
[Rios Libres, a team of passionate and talented folks from the Southwest who are fighting to "keep Patagonia wild". Photo: James Q Martin]
Editor's note: When last we left team Rios Libres, they had finished their paddle down the Rio Baker and talk had begun about a film hilighting the dam issue Patagonia. Today we're happy to share the trailer for that film, Power in the Pristine, and a story by Chris Kassar that brings the issue home.
The simple answer is this: we believe rivers should flow freely – from source to sea – as nature intended. But, there's more. We are also motivated by the missteps made in our very own backyard. We live in the shadow of Glen Canyon dam – aka "America's most regretted environmental mistake" and we constantly grapple with 'what could have been' if this place had not been lost. This dam stands as a beacon, reminding us of a past heartbreak and calling us to action in order to prevent others.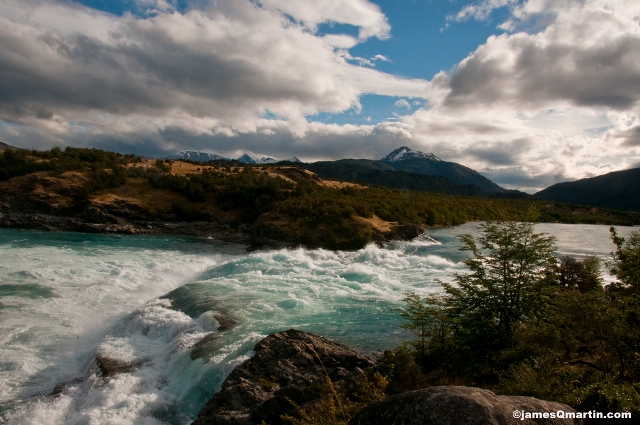 [The Baker, one of Chile's wildest and most voluminous rivers is threatened by the power of big business. Photo: James Q Martin]
The lessons we have learned from the tragedy at Glen Canyon have made many of us in the Southwest unwilling and unable to stand by and allow the same mistakes to be made again, even in remote regions that are thousands of miles away. Despite the geographic distance between where we lay our heads and Patagonia, our connection to these rivers is strong and the need to stand up for them remains close to our hearts.
Recently, a few members of the team re-visited Glen Canyon Dam bringing with them newfound knowledge and experience as a result of our trip in Chile.
–Chris Kassar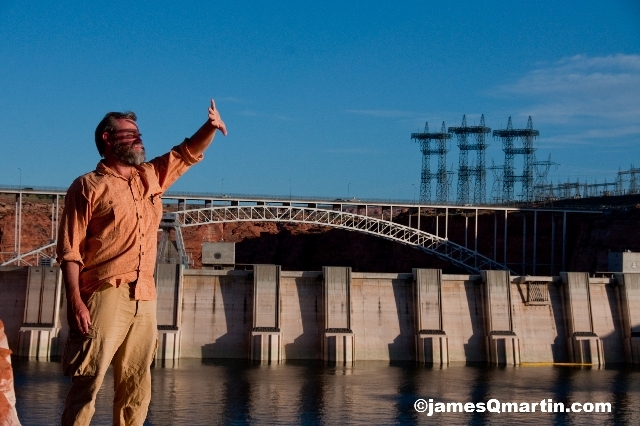 [Luminary writer, Craig Childs standing in the shadow of Glen Canyon Dam. Photo: James Q Martin]
The other result of the crew's trip to Chile is the upcoming film Power in the Pristine. Here's the trailer:
About the film: Patagonia is one of the few places on the planet with untouched and undiscovered corners still remaining. Yet, at this very moment, its rivers and wildlands are under attack. Big business seeks to choke two of the region's most pristine rivers with mega-dams and plans to decimate unique forest ecosystems to build the longest power line in the world. Follow Team Rios Libres, led by professional athlete Timmy O'Neill and luminary writer Craig Childs, as they immerse themselves into this remote region. Find out what they discover on their journey from the source of the Baker River to the sea. Filled with inspiring imagery, compelling interviews and a bit of adventure, you'll gain an understanding of how this huge hydroelectric scheme would forever change the face and character of the area and why we must act now to Keep Patagonia Wild. For more info: www.rioslibres.com.
Power in the Pristine will debut at the Flagstaff Mountain Film Festival's Environmental Night on October 7th. Both Craig Childs and Timmy O'Neill will be there to introduce the film and to entertain us with a spoken word/music extravaganza.

If you want to help keep the rivers Baker and Pascua flowing freely, take action at Patagonia Sin Repressas (en Español) or International Rivers (in English).