Patagonia Music: Surfing with Abigail Washburn and the Making of "Sala (USA)"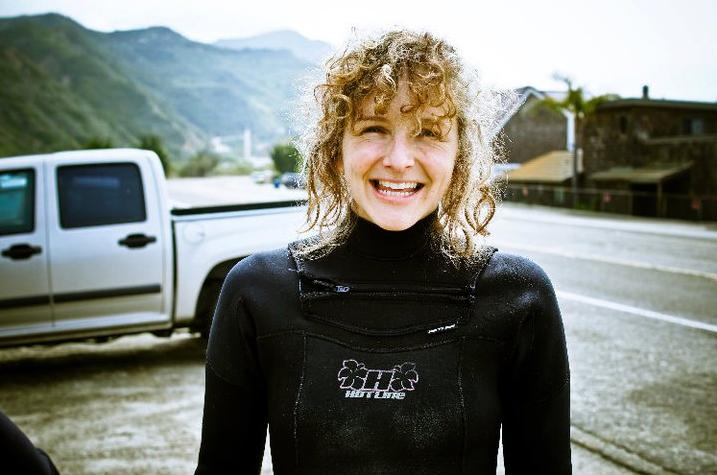 One of the nicest parts about being involved with Patagonia Music is getting the chance to meet some of the artists who've generously donated their music to benefit the environment. Ben Sollee stopped by the office on his bike-powered tour through Southern California, moe. played a show for Patagonia employees right before we launched, and, last month, Abigail Washburn came through town and kindly asked if we would take her surfing. [Photo: Jon Estes]
Abigail Washburn – LA story: late night misty jams, 3 killer gigs, new band name, now surfing for the first time with @Patagonia. Pinch me. Santa Barbara ahoy!
9:11 AM Mar 26th via Twitter for iPhone
As one of the lucky folks who was tapped to teach Abigail and her band how to surf, I was both excited to meet such an amazing musician and worried that I might be responsible for a tour-ending injury – this would not sit well with her manager or her husband. Surfing is not a dangerous sport, if you know what you're doing. The two times you're most likely to hurt yourself are when you're pushing the limits of the sport and when you're paddling out for the very first time.
The band – a super-fun bunch based in Nashville, Tennessee – spent the drive from Santa Monica to Ventura joking about how they were going to get eaten by sharks or drowned by the large waves. The jovial drummer, Jamie Dick, figured he would just paddle out in a body bag to save the coroner some work.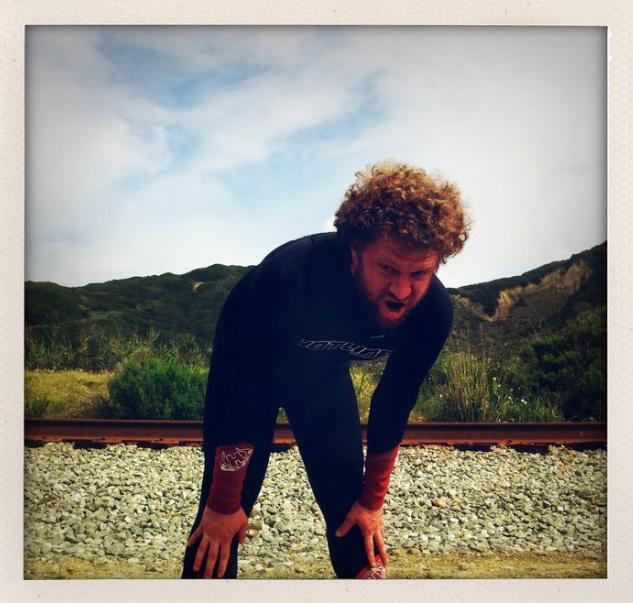 [Jamie Dick stretches out his pre-surf jitters. Photo: Jon Estes]
As it turned out, the day went off without a hitch. Our local beginner's spot was sparsely populated and the two-foot windswell was consistent and gentle. Everybody got wet and a few of them, Abigail included, made it to their feet on the surfboard. Snagging the wave of the day, and the longest standing ride, was Jamie, the drummer, who claimed his wave with arms raised high, as his bandmates cheered loudly from the beach.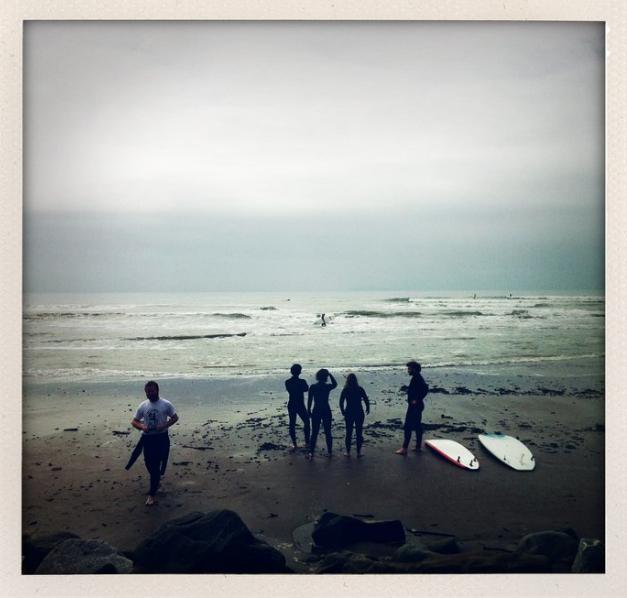 That night, a group of us went to see the Abigail Washburn Quintet perform at Santa Barbara's friendliest night club, SOhO. The band played a glorious set of music from their new album, City of Refuge, which was co-written by Abigail and the talented multi-instrumentalist, Kai Welch.
The band also played "Sala (USA)" the beautiful song Abigail donated to the Patagonia Music Collective. Like all good songs, this one has a story behind it. Abigail traveled to China in 2009 to help out during the recovery of the big 2008 Sichuan earthquake. There, she met a little girl who had lost her mom in the disaster. The little girl had seen Abigail perform and said, "My mom taught me this song. I'd like to teach it to you so you can share it with the world." The song is traditionally sung around the fire by the Qiang minority group in Western China to celebrate life. Says Abigail, "'Sala (USA)' is an offering, this side of the Pacific, to celebrate life as it is, here and now, as well as compassion for one another and our global home."
[Video: "Sala (USA)" on YouTube.]
You can own this song and help a good cause in the process. "Sala (USA)" [featuring Kai Welch & The Shanghai Restoration Project] is available now on iTunes through Patagonia Music and benefits Jane Goodall's Roots & Shoots program in China, a country that Abigail holds close to her heart. In the words of Jane Goodall: "Only if we understand can we care; only if we care will we help; only if we help shall all be saved."
This recording really epitomizes the spirit of the Patagonia Music Collective. It's a new song, arranged and recorded specifically for the Collective with the positive intention of raising funds for a grassroots environmental group that's doing good work in the field. Wonderful stuff.
After the show, as we parted ways and they packed up for a six-hour nighttime drive to San Francisco, it struck me how our fledgling music program was the catalyst for teaching five musicians and a road manager how to surf. And maybe, now that the tour's over and they're back home in Nashville, the photos and stories will inspire others in Tennessee to brave the "dangers" of surfing, and connect with the ocean in the same meaningful way that surfers like myself often cherish, but sometimes take for granted.
Meet the band: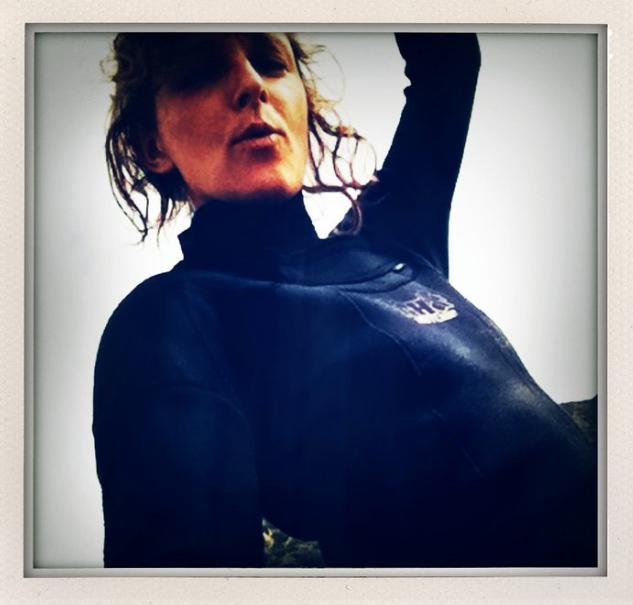 [Abigail Washburn (vocals, banjo). Photos: Jon Estes]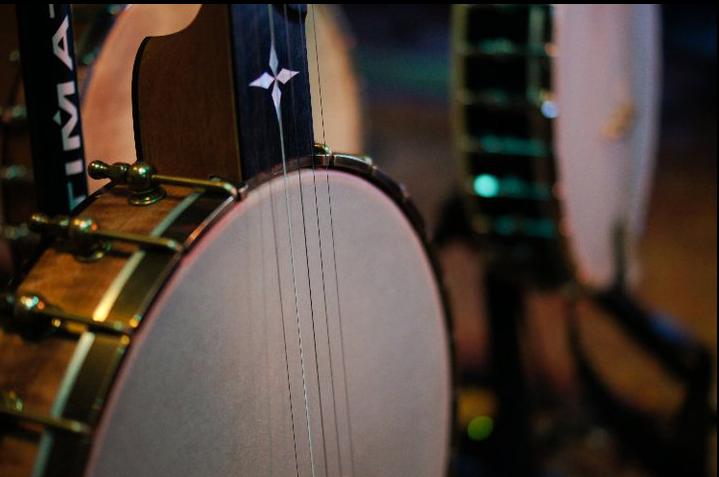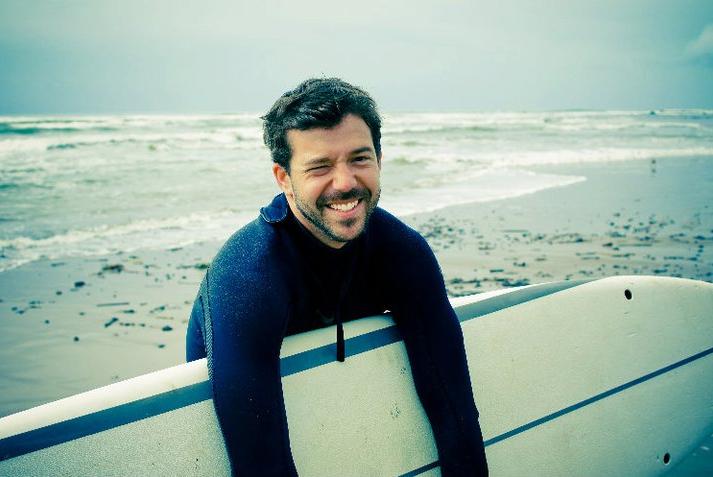 [Kai Welch (vocals, keys, guitar). Kai was the only one with previous surfing experience. He did great and logged the most time in the water. Photos: Jon Estes]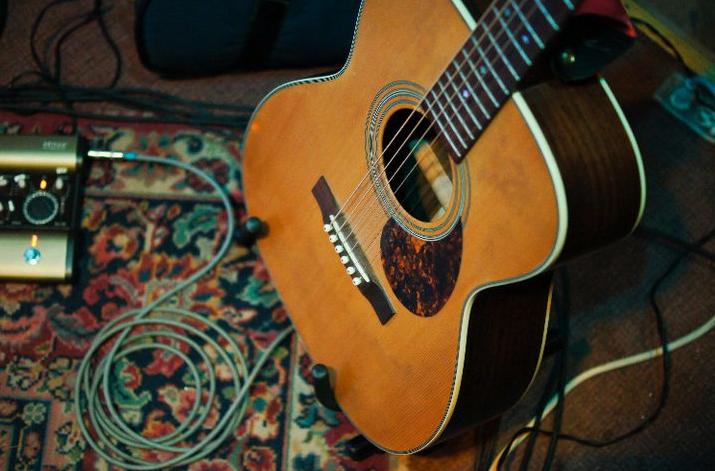 Rayna Gellert (fiddle). Photos: Jon Estes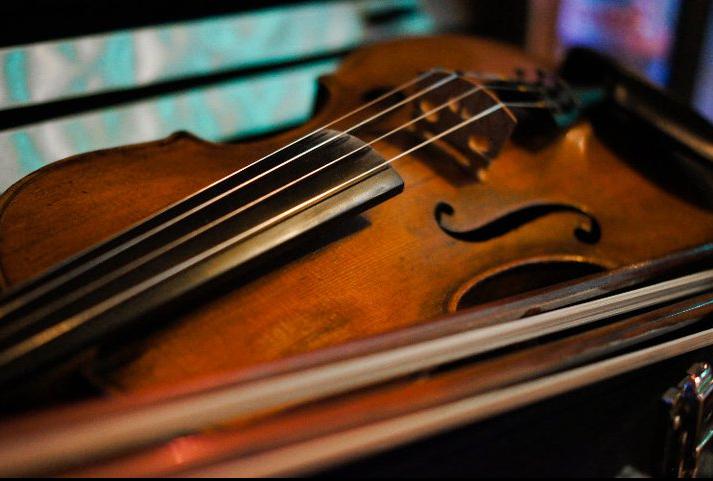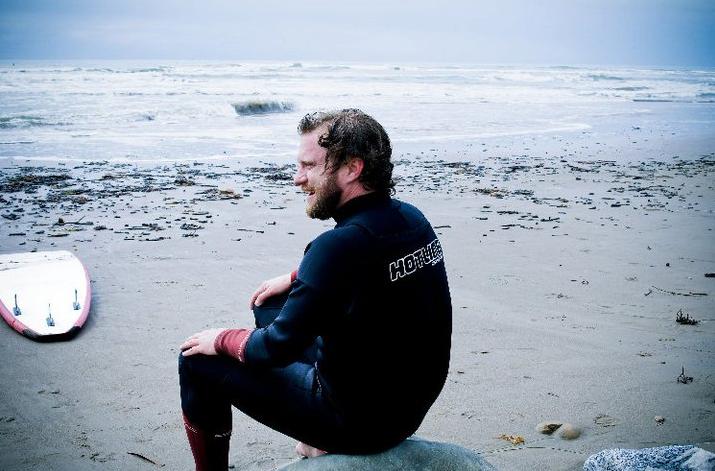 Jamie Dick (drums). Photos: Jon Estes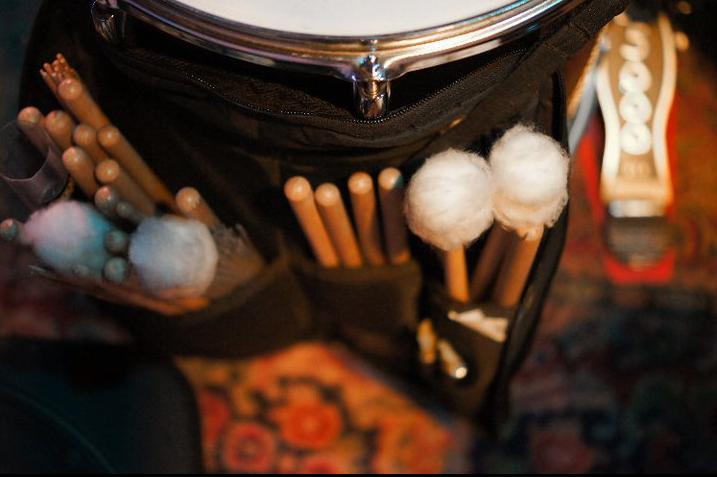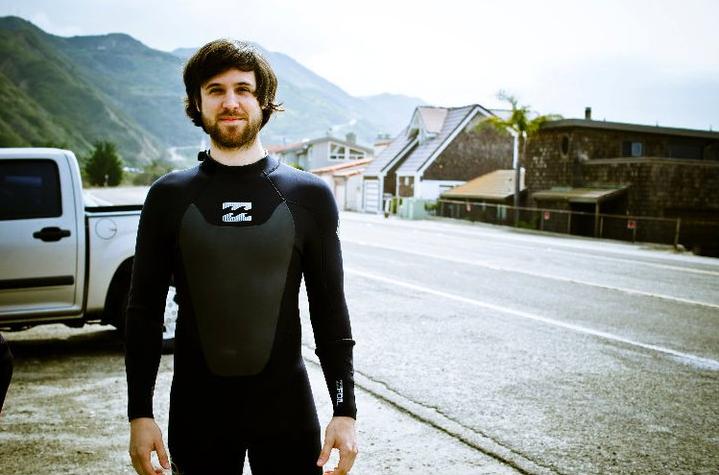 Jon Estes (upright bass, pedal steel). Photos: Rayna Gellert & Jon Estes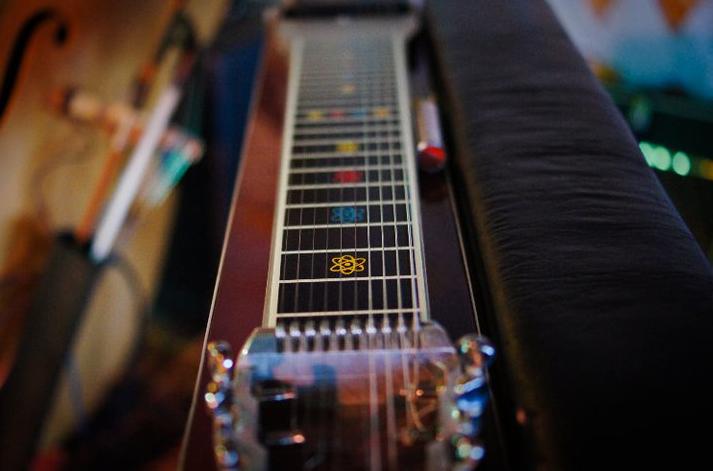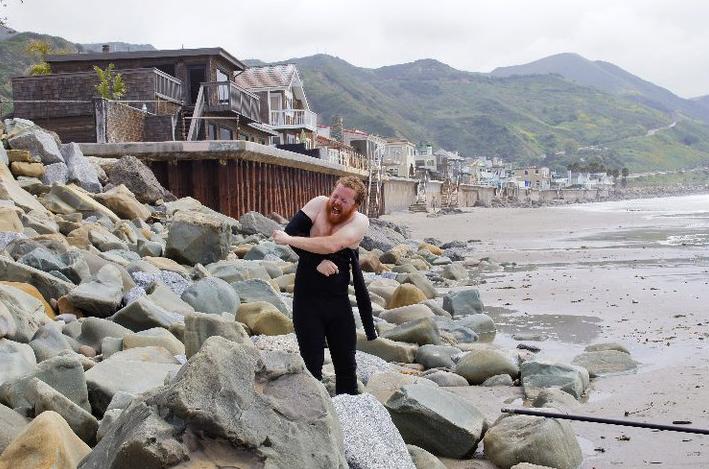 Cain Hogsed (manager, sound). Cain endured a wetsuit that was two sizes too small. Photos: Jon Estes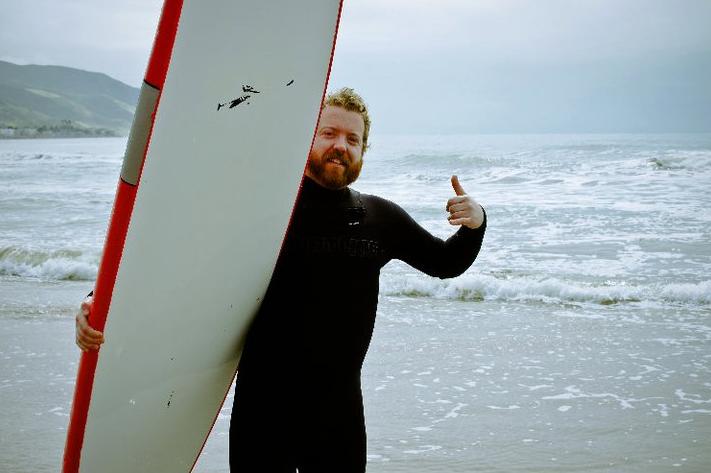 Please consider buying "Sala (USA)" today. Cain and I guarantee it will be 99 cents well spent.
[With thanks to our friends at A-Frame Surf.]