On the Road with Worn Wear – 2015 Spring Tour Recap
In the spring of 2015, Patagonia hired me to document a lively traverse across the United States—the Worn Wear tour. The story is as follows.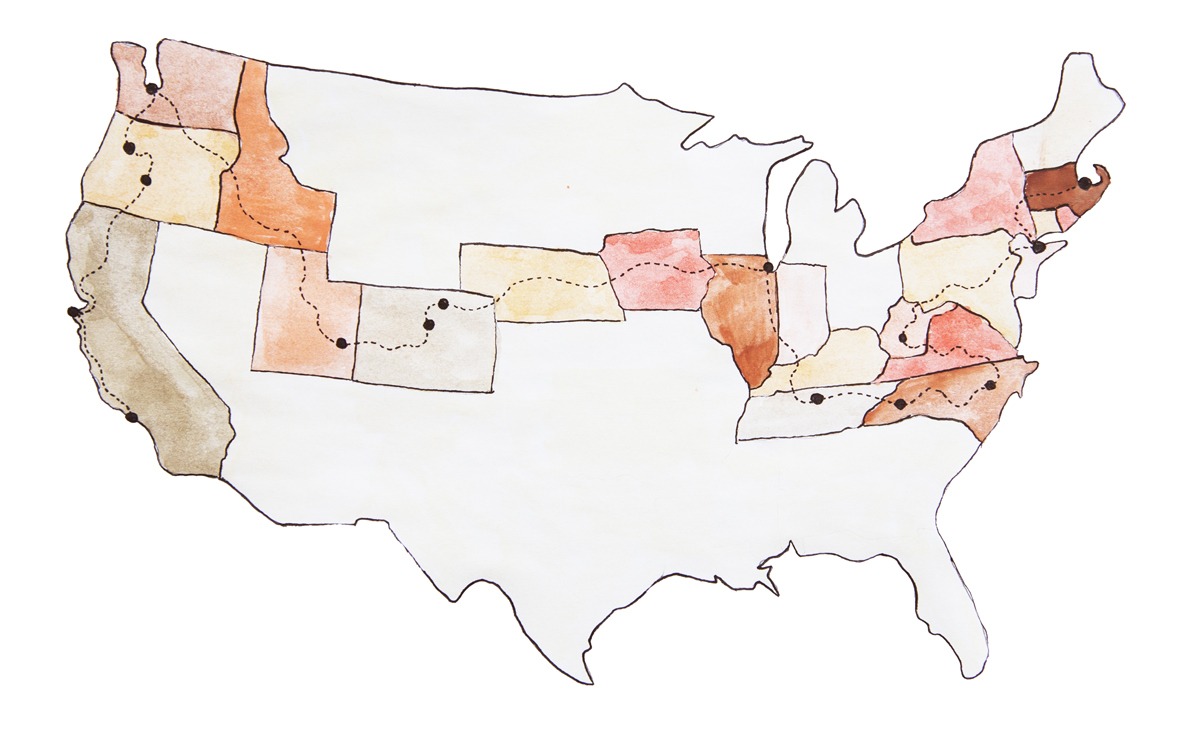 "What in the heck is that thing you got there?" mutters a middle age lady smoking a cigarette out back of the service station. "It's a mobile clothing repair wagon," I tell her. "We're going around the country fixing folks' clothes so they don't have to throw away their favorite jackets." She looks off into the distance taking in the concept, sweat beading down her forehead—summer came early in East Tennessee. "Well, if I woulda known y'all were coming," she exclaimed, "I woulda brought down my jeans. The damn knees keep blowing out!"
She takes one last rip and puts out her cigarette. "You know, that's a good idea you've got there. This country could use something like that. We buy so much crap and throw it away." She gets to her feet. "You all travel safe and keep up the good work. I gotta get back to it."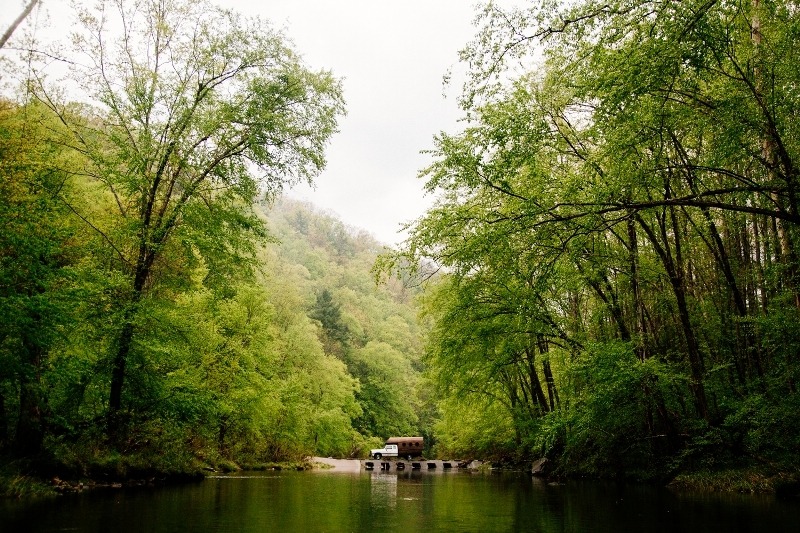 The way we turn and burn through our garments seemed to be on the tip of everyone's tongue, but it took Jay Nelson's reclaimed redwood-wine-barrel-paneled truck, a submarine on wheels, full of sewing machines to pull it out of us.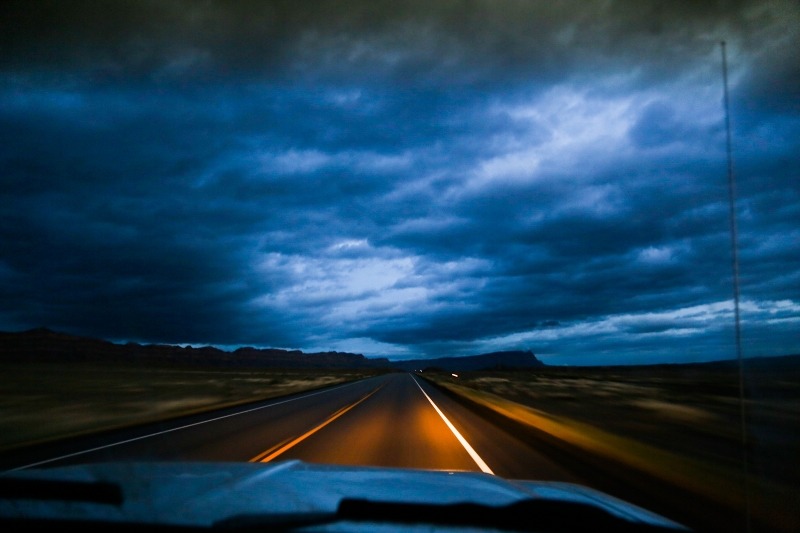 Five thousand, four hundred and thirty miles traveled. Five hundred and sixty-two garments repaired out the back of Delia, the Worn Wear wagon. Broke down and well-loved clothing was the medium, America's quilt of diverse communities the venue.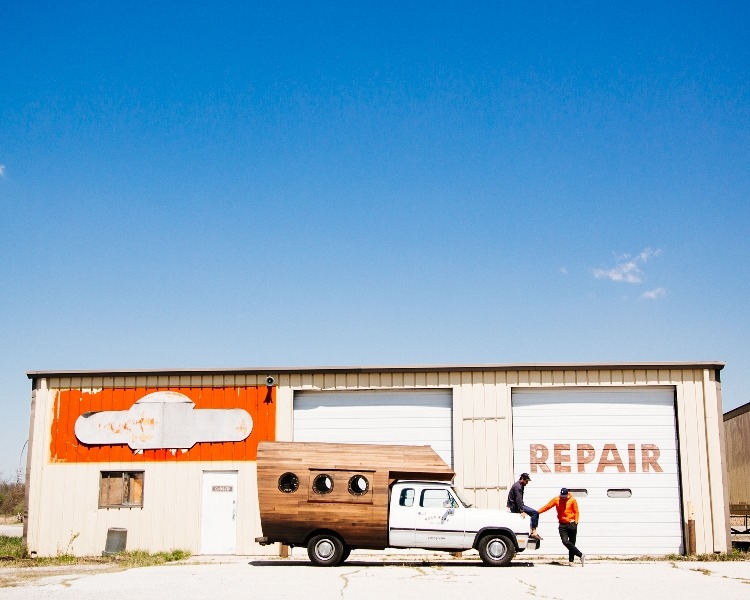 From breakfast in a Smoky Mountain cabin to stories around a fire at the New River Gorge. High fives at the oyster bar in Brooklyn to counting wild coho salmon in the Lagunitas watershed. All these interactions and immersions were sparked by a spool of thread, a needle and the willingness to take a second look at our process of buying, wearing and repairing clothing.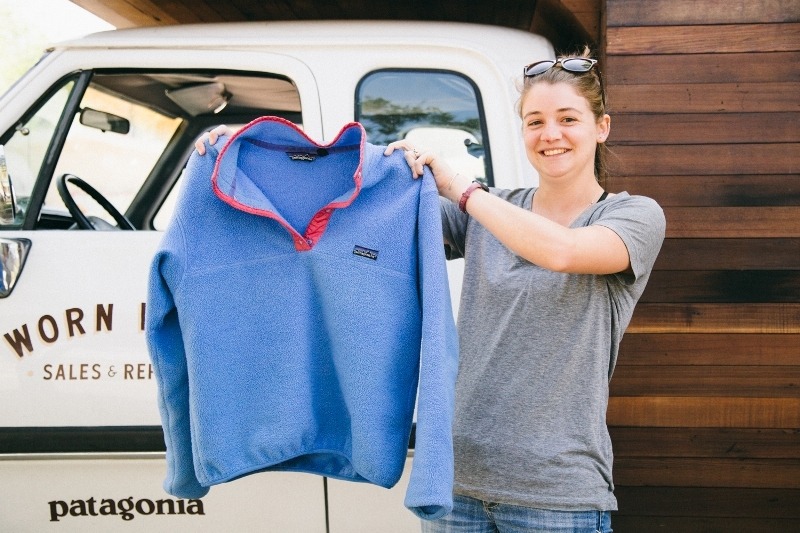 "This Snap-T was my mom's. She bought it with her first fire department paycheck when she was about twenty-five. It's one of my favorite things. It's in great shape. About thirty years old and still kicking!" says Ginny Lefler in Moab, Utah.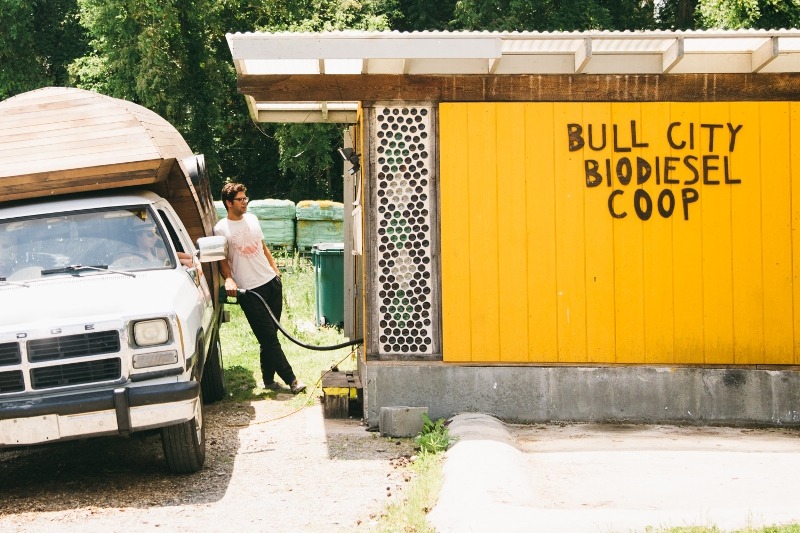 As we traversed the country, the crew and I began to gather a keen eye (and scent) for hand-me-down and generationally loved gear. The stories and fiery people behind the garments were our lifeblood. Watching Cathy, Dom and Chelsea, wielders of the sewing machines, hand over a family heirloom with a newly revamped zipper and sewn-up hems back to its twenty-two-year-old inheritor who was chomping at the bit to get it back on the slopes was priceless.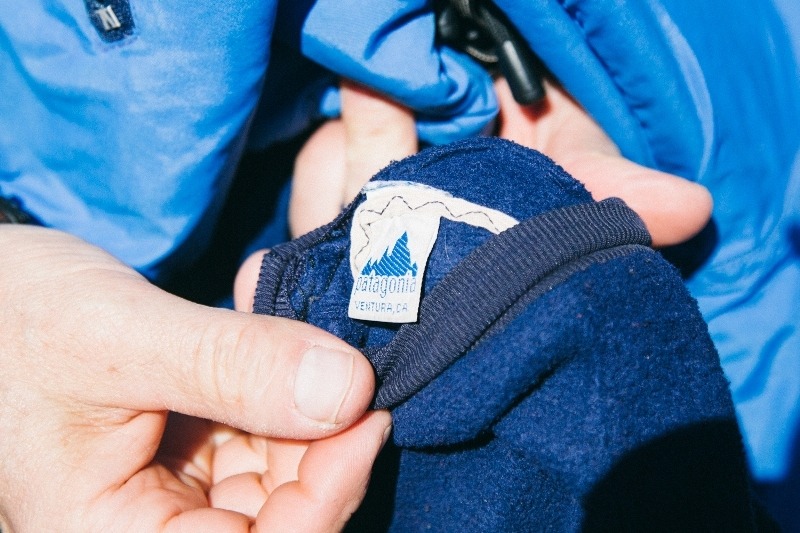 It's a powerful coupling of story and quality that keep these jackets in the field and out of the landfills. I experienced parents who had been classified by their angsty teens as out of date and out of touch, rekindle adventure with their kids over the passing down of a jacket. We saw kids taking pride in the function and story of their parents' gear, recreating the climbs, paddles and journeys that were once had in them.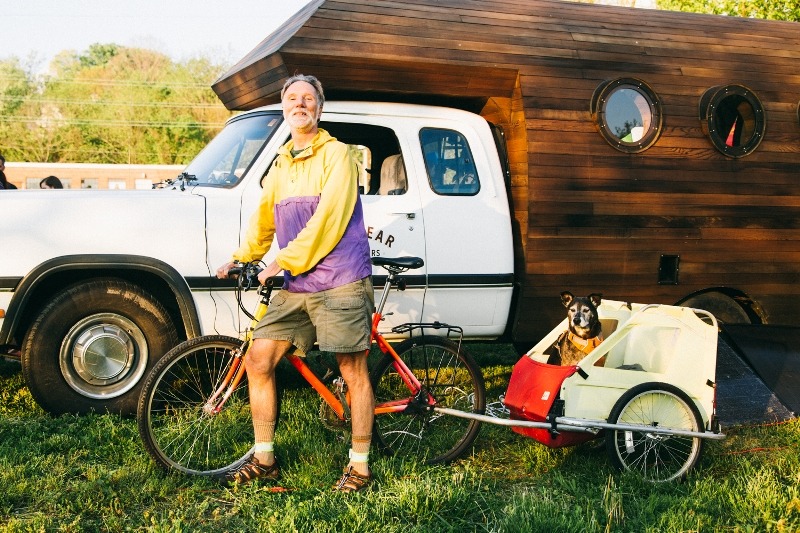 I thought I had a grasp on the intensity and richness of Patagonia customers and outdoor folk in general, but apparently, from my sunny California outpost, I was looking at just the tip of the iceberg. In Asheville, North Carolina, Dan Hoesch peddled by with the 1988 pullover he wore and the 30-year-old bike he rode from the North Sea to the Mediterranean Sea. He's still utilizing the same gear and charging harder than ever. Bindy Beck-Myer brought her 28-year-old fleece that she's worn on every journey since she bought it. The list goes on. The crew and I collected nearly 200 stories like this amid the six-week gallivant.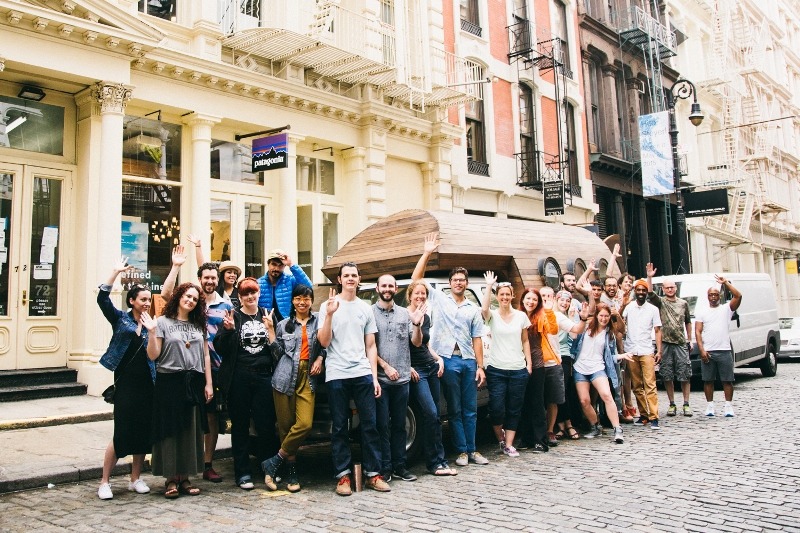 The tour and the Worn Wear program as a whole—an unraveling story of encouragement for folks to make their clothes last a lifetime—empowered all walks of life to agree on the single most important thing we can do to lower our environmental impact: buy less.
This was not your average retail road trip.
Tasked with a curiosity for characters and their stories rather than the selling of a product, I was able to follow those rambling rabbit holes and tangential discussions of smelly Capilene to discover some compelling tales and individuals.
In Boulder, Colorado, Jennifer Garcia brought us a Snap-T that was cut all the way down the front. No longer a pullover, it loosely resembled a jacket minus the zipper. Turns out Jennifer's friend Megan was wearing this Snap-T during a traumatic injury in the backcountry and it was cut off for an emergency surgery. Dominique stitched it up perfectly so Jennifer could gift it back to her friend as a token of recovery. Jennifer emailed me later with a picture of Megan wearing the jacket and news of her journey to recovery. (You can help Megan here.)
This cross-country ramble provided proof that we can yell and scream all we want from our cozy perches or iPhone outposts, but it's the handshakes, hugs and spontaneous debates that actually get the message across—be it a simple interaction at a service station in East Tennessee or a morale-boosting stitch job on Jennifer's friend's Snap-T.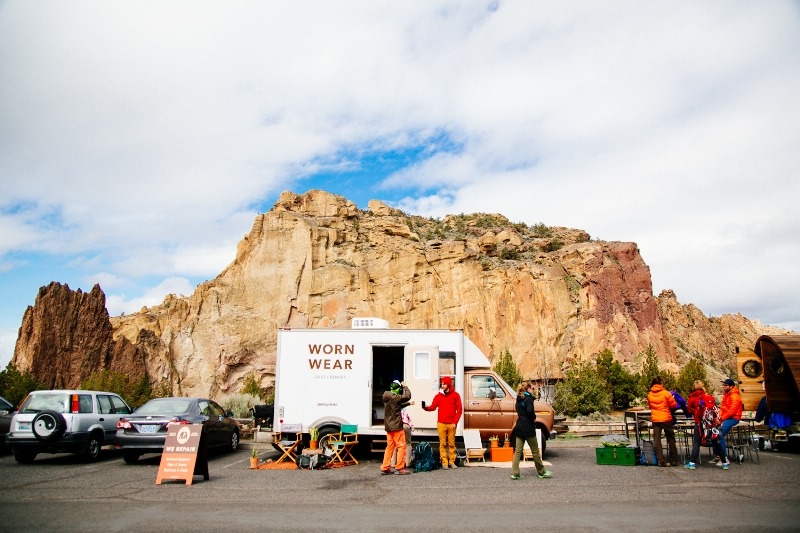 "Patagonia is a growing business—and we want to be in business a good long time. The test of our sincerity (or our hypocrisy) will be if everything we sell is useful, multifunctional where possible, long lasting, beautiful but not in thrall to fashion. We're not yet entirely there."

– Yvon Chouinard, The Responsible Company
I referred to this quote often as a benchmark during the tour—to make sure our course was aimed true. This isn't Worn Wear's last rodeo, nor the first. I'm honored to look in the rear-view mirror at all the places we've been, shift Delia into 5th and keep trekking down the road, fixing clothes, hearing stories. As far as I can tell, we're on course. But yeah, we're not entirely there yet.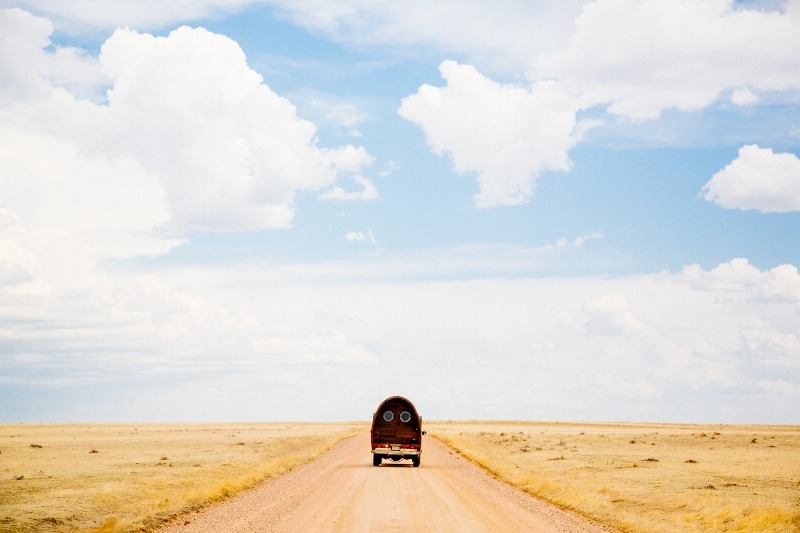 Onward.

We want our clothes to live long, useful lives and never end up in the landfill. Visit Patagonia.com/WornWear for everything you need to get started.
DIY repair and care guides by iFixit
Instructions for sending your garment to our Reno repair facility,
Ways to share stuff you don't need anymore
Recycling instructions for Patagonia clothing that can no longer be repaired
Plus, more Worn Wear stories and videos from Patagonia ambassadors and folks like you