On Letting Go
Morgan Williamson
/
April 5, 2021
/
4 Min Read
/
Surfing
Ramón Navarro and Kohl Christensen bring Léa Brassy into the jaws of a Chilean monster.
Fewer than 1 percent of surfers experience the rush of releasing a rope and gliding into a wave too large and fast to paddle. It takes conviction, confidence and being OK with the knowledge that, at some point, the rail of your board will dig in just wrong while a 30-foot-plus wave face plays chiropractor. "I've always liked to surf when it's bigger," says Léa Brassy, who over the past couple of years has been breaking down her barriers, inducting herself into the niche family of big-wave surfers. "But I've never targeted it into surf trips."
She was in Chile when she found herself under the guide of Kohl Christensen and Ramón Navarro—two gentlemen who've been on the heaviest swells around the globe for the past two decades. "Léa definitely did not see this [trip] coming," says Christensen. "Ramón and I knew firsthand what we were getting into. We knew the liquid army we would face. Léa's tough, we knew she could handle it."
Before going down the coast with the guys, Brassy was sipping on the more user-friendly offerings of the Chilean coastline—sans inflatable safety equipment, impact vests and PWC assists. She'd also taken a solo mission up to Arica for a few double-​overhead-plus waves that'd get the blood pumping of any surfer with a taste for the juice. But when a purple blob splattered the swell charts, her time in Chile took on a new pace.

"I was hanging in Punta de Lobos when the trip happened," says Brassy. "The guys [Navarro and Christensen] are always in contact, watching the charts, and I happened to be there when a swell showed up. The guys were like, 'Well, we're going on a mission. There's a spot for you.'"
Brassy didn't hesitate. She was on, and when you're on with Navarro and Christensen, it's volume up, all systems go. "They're some of the best out there," she says. "I had one experience towing before that. I can't say I was that comfortable with it. I was hoping we would find some big paddle waves. But we ended up going to a tow wave; I was game and the swell was growing."
"On our first trip to this wave, the whole ocean seemed to converge on Ramón's knee, sidelining him for nearly a year," says Christensen about the tow-in slab. "It's fast-moving water that breaks on an underwater seamount, surrounded by jagged rocks, hours from any chance of higher-level medical care. Few people have even tangoed with it."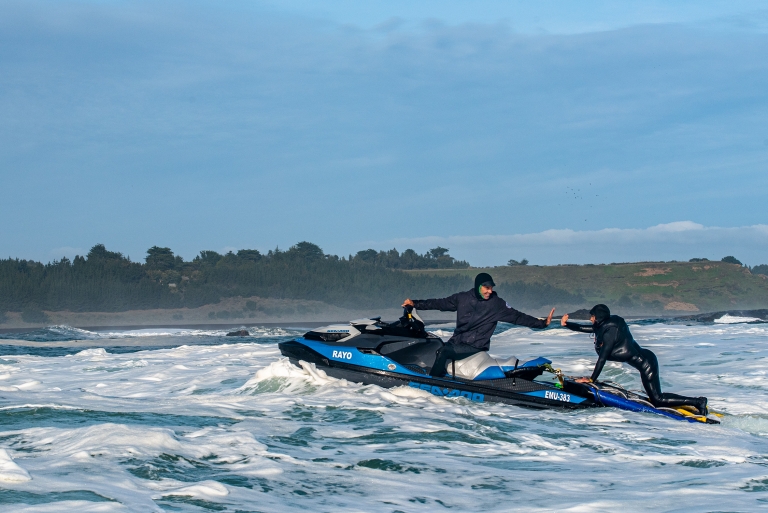 Surfing waves of consequence takes preparation. It takes tried-and-true equipment and leaves little room for error. No room for hesitation.
"Both Kohl and Ramón have their own approach, personality and character. They have a highly prepared routine, so you feel secure. They make sure everyone knows their position in case something goes wrong. There's also a hint of craziness that comes into both of them. As soon as you decide to join the session, you go for it. When it's a green light, there's no more space for fear or doubt. It's very contagious."
"Two wave hold-downs with inflation suits are commonplace here."
The night before, they fueled the skis, attached the rescue sleds and readied the ropes and handles. "This mission was different," says Christensen. "Like Cesar's epic battle of Alesia, we would need to strategize, prepare and strike with precision. Lea joined the ranks as the first woman to throw down out there. We all met at Ramón's, loaded the trucks with gear and headed south into the wind and rain."
The next morning, they launched. The team of eight got into formation, all knowing their roles and positions to ensure safety in an environment that's anything but. "Two wave hold-downs with inflation suits are commonplace here," says Christensen.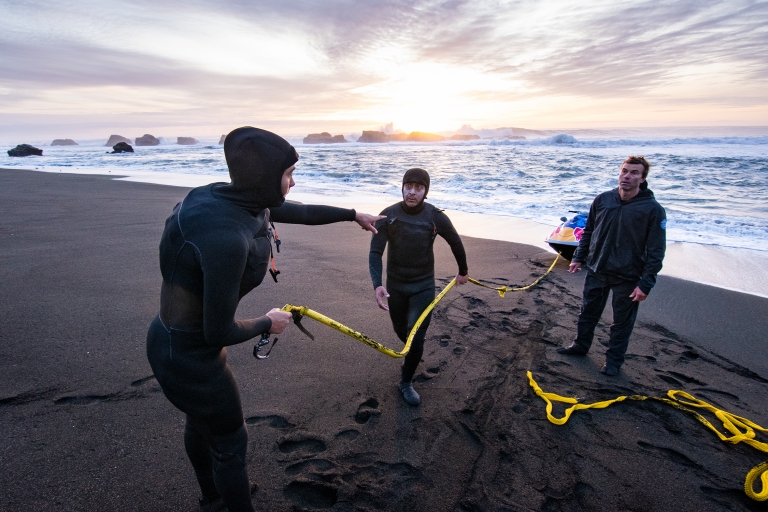 Brassy was wearing her wetsuit plus inflation—her first time surfing waves grave enough to require the additional safety net, although it certainly won't be her last. "It was bigger and more challenging than anything I have ever surfed. On my first wave, which happened to be quite big, I took an enormous beating!" she laughs. "Everything has to be ready. We wear wetsuits that are a lot warmer than what we would wear if we were surfing regular waves, because we're out there for hours at a time. Once you're on the ski, you have to be ready to go. You can't be thinking, 'Gosh, I wish I was a bit warmer.'"
This session was a leap in Brassy's continuous goal to ride some of the biggest swells when the situations present themselves. "[The trip] was one of the wildest experiences I've ever had surfing—just the right place, right time, with the right people. Kohl and Ramón are like brothers to me. I'm very lucky."