Recap of the 2012 Dirksen Derby Snowboard Rally Race
by Gerry Lopez, photos by Abe Blair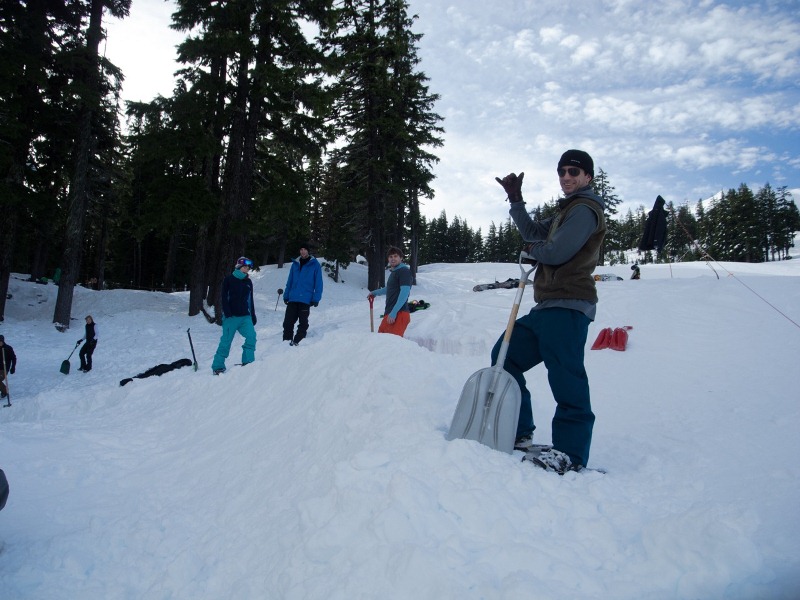 Josh Dirksen is a very social, genuinely friendly person with a lot of close friends all over the world. He has been a well-respected and well-traveled professional snowboarder for his entire adult life – a top competitor, free rider and now, for the past 6 years, as an event creator. The 6th Annual Dirksen Derby is Mt. Bachelor's first snowboard event of the season and will happen this weekend, December 14-16, 2012.
Editor's note: Follow Patagonia on Instagram, Tumblr, Twitter or Facebook for #dirksenderby photo updates all weekend long, as well as the Dirksen Derby Facebook page.
The idea for it came from Josh wondering what else he could do with his snowboard career as far as giving something back to the community and having fun with his pals. A longtime contender at the well-known Mt. Baker Banked Slalom, Josh thought, with a little help from his friends and a few days of serious digging, he could create a fun rally race of some sort at his home mountain. The Derby naturally turned into a fundraising event when young, Bend local, Tyler Eklund, was tragically injured and paralyzed in an accident at the USASA Nationals in 2007.
[Above: Josh and crew building this year's course.]
The 2011 Dirksen Derby drew over 300 competitors and it's a fact that every single one of them had a great time. What started as a friendly rally now attracts a wide field of entrants, including many of the Mt. Baker hardcore like Jake Blauvelt, Matt Edgars, John Laing and Blair Habenicht, as well as Bend homeboys Austin Smith, Curtis Ciszek and Jake Price, all vying for bragging rights. Oregon locals were surprised when Norwegian Terje Haakonsen dropped in for his run last year.
One thing that has happened, and has come to be expected, is that each year's Derby gets bigger and better. Last year, $18,000 went to Tyler, most of that came from the entry fees and sponsors but about 30% was generated at the Friday night auction of interesting and unique pieces of art by local artists.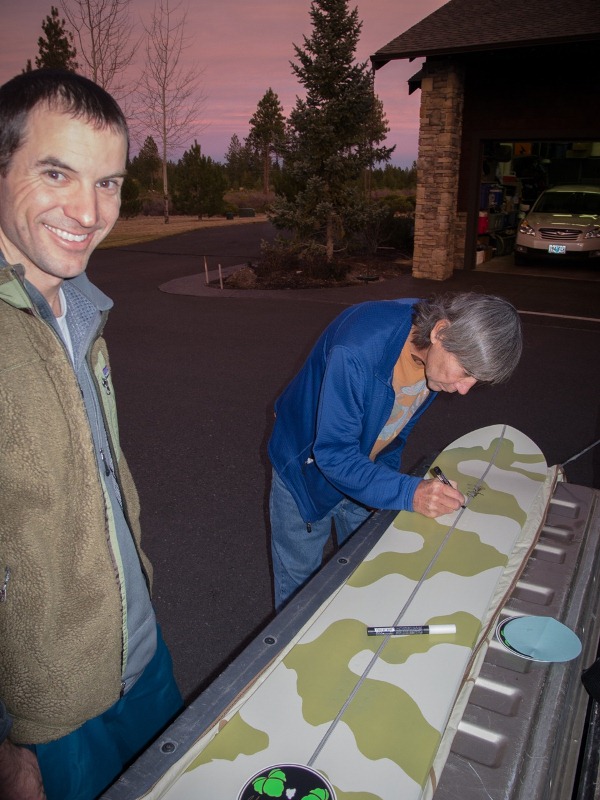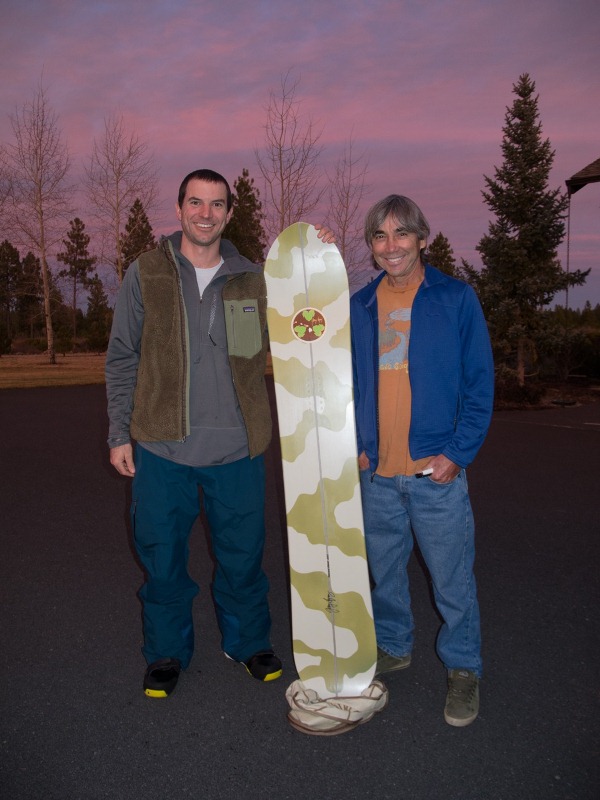 [Gerry signs one of his snowboards for the auction.]
Patagonia began to get involved with the Derby when Josh became a snow ambassador for the company several years ago. That combination plus the help from a long list of other sponsors continues to make this one of the most awesome, good fun events of the season. 'Tom Sawyer' Dirksen is up on mountain this week with his fence painting crew digging the course and it looks like another fantastic effort. Officially billed as a Snowboard Parallel Banked Slalom, it is a crazy, super tight, highly technical run that will have the best riders putting on their most serious game face on the course before breaking into a huge smile at the finish.
Mt. Bachelor has given them an entirely new area for the Derby this year over near the Sunrise Lodge. Friday will be an open day for all competitors who want to take some practice runs on the new courses. Things get underway at 6pm Friday evening with the Dirksen Derby Kick-Off Party and Broken Board Art Auction at the Century Center. Racing will be 10:00am – 2:00pm Saturday and Sunday. The schedule is subject to change based on weather and snow conditions so everyone should be available to race both days. There are seven divisions including Men's [14-49 years old], Derby Elites [invite only], Women's [14-49 years old], Groms [13 and under], Older and Wiser [50+ years], Splitboard [all ages] and Sit-Ski [all ages]. People are encourage to register online at the Mt. Bachelor website and get a free limited edition Dirksen Derby beanie from Patagonia while they last. Registration is also available at the Sunrise Lodge on Friday [9:00am – 3:00pm], Saturday or Sunday [7:30 – 9:30am]. Discounted lift tickets will also be available at Registration.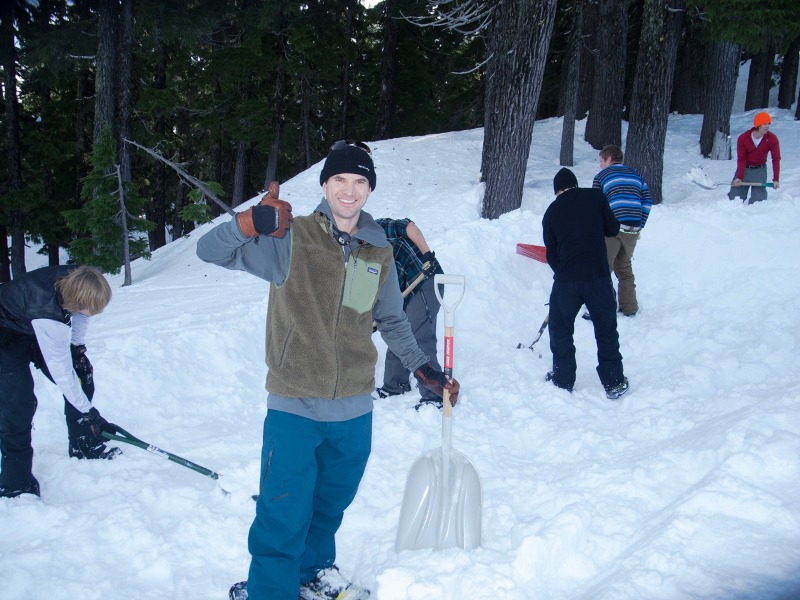 [Josh gives this year's course the thumbs up.]
I asked Josh what the secret formula for a good run was? "Easy, just have fun and everything else will work out fine." He also told me to try one of my wife's boards since a shorter board would be easier to handle on the tight course. I tried running the curvy, banked course that wound around, in and out of the trees two different ways with surprising results. Flat out fast as possible but on the ragged edge of control was actually not as quick as taking it slower and smoothly.
So there it is, don't miss the 6th Annual Dirksen Derby Snowboard Rally Race this weekend at Mt. Bachelor. And it doesn't matter whether you're racing or just spectating and cheering, it will be a spectacle and a good time will be had by all.
Gerry Lopez is a Patagonia ambassador and Mt. Bachelor local. He surfs, writes, shapes, and shreds powder days near his home in Bend, Oregon. 
Tahoe-based photographer Abe Blair has been capturing images for the last 20 years. See more of his work at Blindman Photography.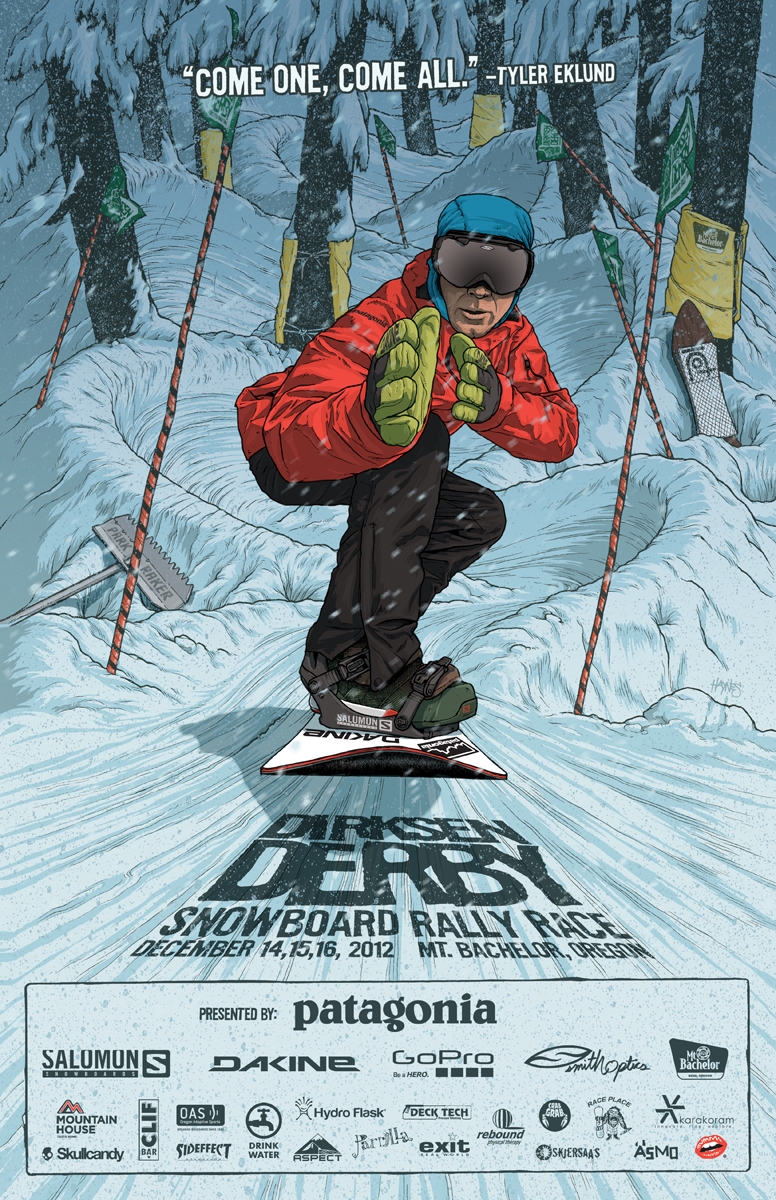 Check out the official video from last year's event: