Sonnie Trotter and Will Stanhope Attempt to Repeat The Prophet
On El Capitan in 2010, British rock climbers Leo Houlding and Jason Pickles completed their nine-year project, The Prophet (600m, E9 7a, 5.13d R). The difficult and dangerous new route climbs the far right side of El Cap, and Houlding, renowned worldwide for his boldness and skill, successfully freed every pitch, on lead, on their final push. This fall, Sonnie Trotter and Will Stanhope headed to Yosemite hoping to repeat the route. Trotter chronicled his efforts on his blog, including this post, below, which he wrote in late November, just after the culmination of a Yosemite journey – the second ascent of The Prophet. – Kelly Cordes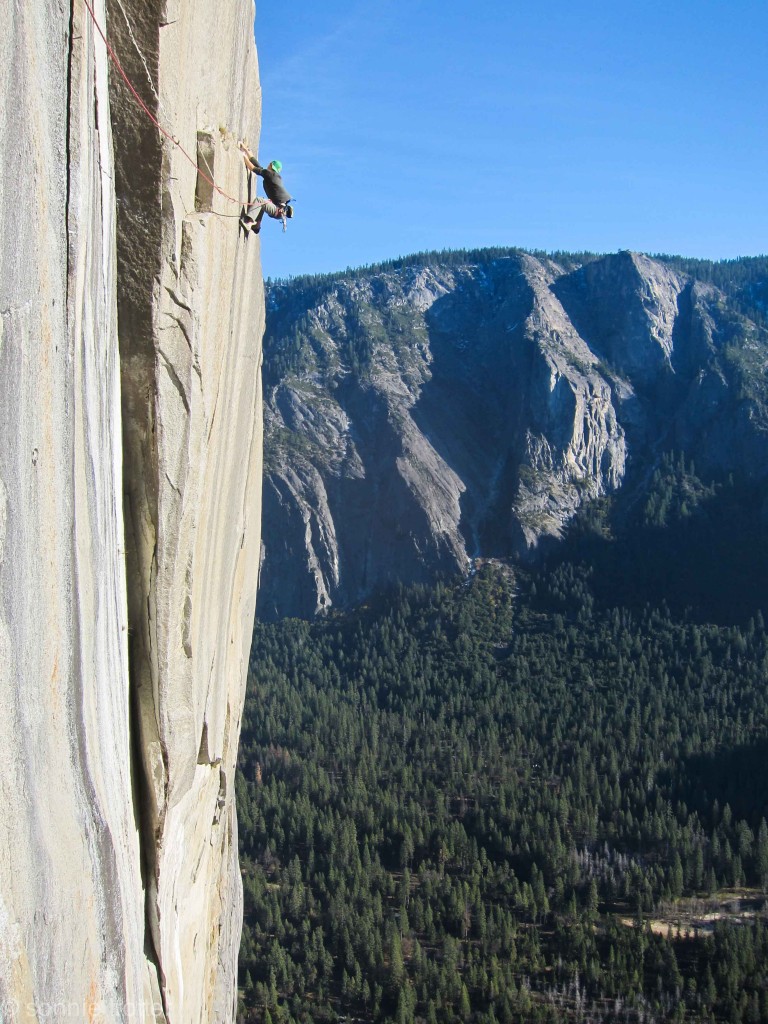 Wow. What a roller coaster. As life is I suppose. The highest of highs, and lowest of lows. It's a beautiful thing really. I'm in Bishop, California, with my incredible wife, Lydia – I don't mean to brag, but she gets more beautiful with each day. I am sooo lucky. I missed her dearly, I didn't even realize how much until I saw her at the San Francisco airport two days ago. But there's a sad truth that when you're so focused on a project such as The Prophet, time literally flies by. Days turn into weeks and you don't even think twice about it. Looking back now, most of it is a blur.
Five weeks in the Valley, five failed ground-up attempts, four days in Lake Tahoe, two days in Santa Cruz, and over 25 days climbing, hiking, rappelling, hauling and slogging. El Cap is a glorious son of a bitch – that's a fact. And The Prophet was one of the richest, most deeply rooted climbing experiences I have ever had, with a partner who's got a boyish charm, a man's ambition, and a spirit tougher than leather. It was more like an expedition than a climbing trip.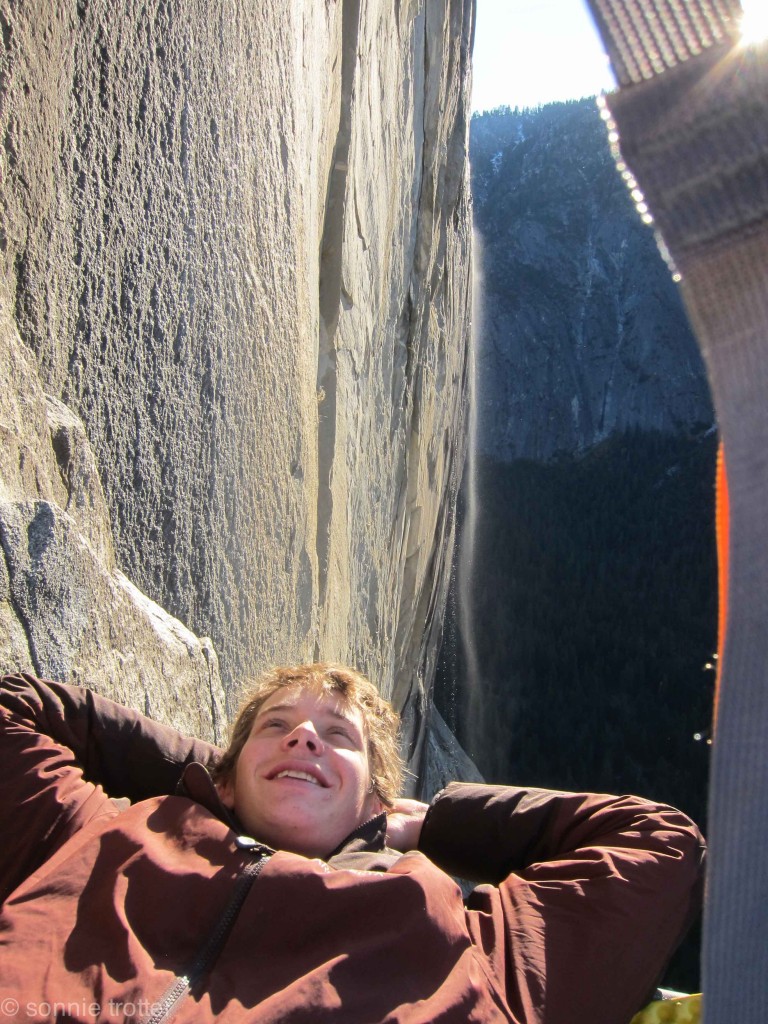 Will Stanhope chillin' in the portaledge on El Capitan.
Photo: Sonnie Trotter
In the end, after two snow storms, two flight changes, and after Tommy spent 16 days on the Dawn Wall, Will Stanhope and I got our lucky break. On November 14, the day before my birthday and two days before Will's birthday, we embarked on a final attempt. We were the only climbers on all of El Cap – an odd but invigorating feeling. Our dream was to breakthrough the Screamer pitch on day one, and continue up the wall hauling and grinding on the pitches we had rappelled into (after our failed attempts at a purely ground-up ascent, we'd rapped-in to inspect the upper pitches) and send the entire climb, all free, in one continuous push over three days.
The stars were aligning.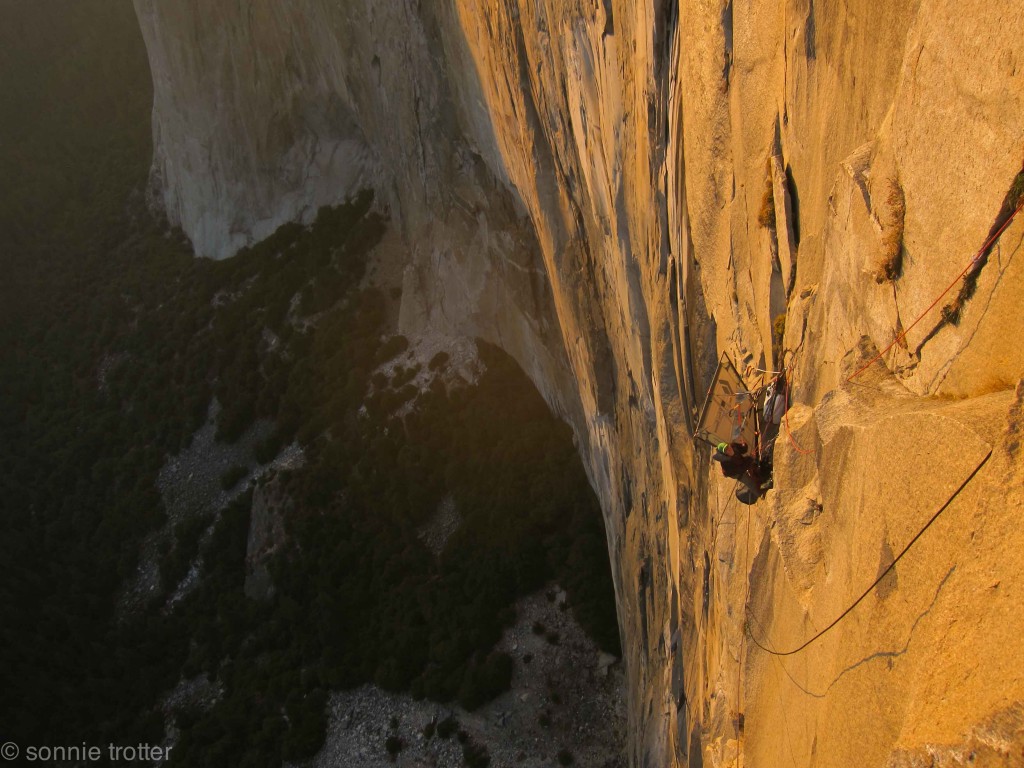 Sending-up sending psyche: Will Stanhope from the portaledge on El Capitan. Photo: Sonnie Trotter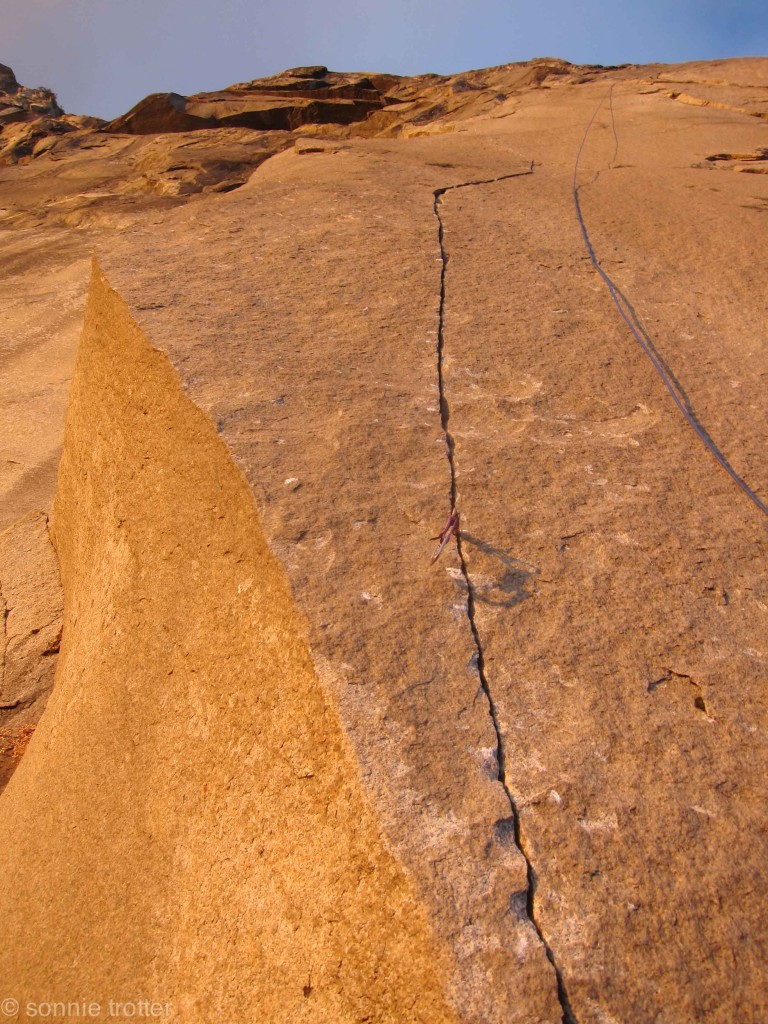 Looking up at the crux A1 Beauty pitch. Photo: Sonnie Trotter
To make a long story short, in the evening light of the very last day, on my second try I desperately managed to redpoint the crux A1 Beauty pitch. I was overwhelmed with euphoria. I then put Will on belay and he climbed brilliantly, and as he hit his personal high point I thought it was in the bag – he looked calm and strong as he climbed beyond, past the crux. It was all happening in slow motion in my eyes. But it WAS happening. Stanhope, on the other hand, told me later that THAT was when he knew he had nothing left. Suddenly he hit the end of the rope and swung into the abyss. After weighting the cord for a flash, he got back on and continued to the anchor.
We had both given it nearly everything we had. Only saving enough mojo for the next 5.12 pitch and the Final Defense (5.13-), which we completed by headlamp and adrenalin. The next morning, Will heroically tried the A1 Beauty pitch again. After three days of hard, scary climbing, at dawn he mustered the energy and psyche for four honest attempts. But ultimately, his skin was too thin, our knuckles swollen, and our muscles aching. We had climbed six out of eight days. He calmly surrendered and vowed to return as soon as possible. There isn't enough time or words to explain it all, but in a nutshell, I have so much respect for Will's determination and motivation. He's one of the best and strongest climbing partners I have ever had and I could not imagine doing the route with anyone else. It was a truly unforgettable experience. I know he'll be back because that's the type of person he is, and because he told me so before I dropped him off at the airport for a trip to China. We talked about the remarkable failures in climbing, and how in many ways they trump the summits. We grow the most in those moments.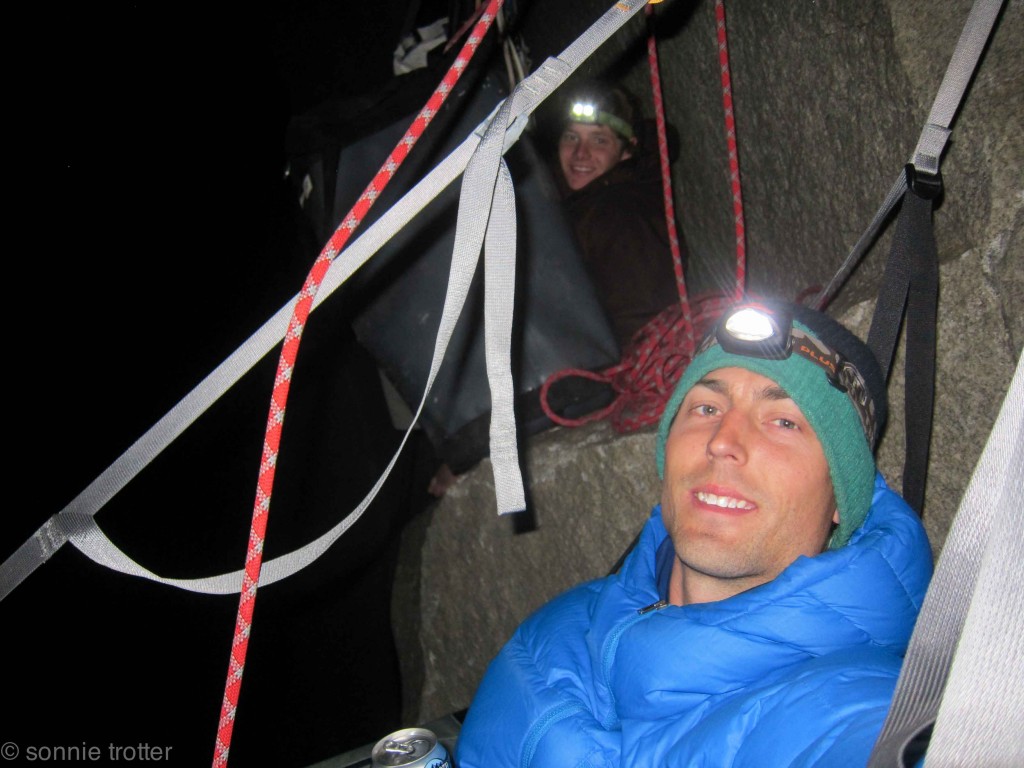 Sonnie (foreground) and Will loving life on El Capitan. Photo: Sonnie Trotter
But more than any of that, what I'll remember forever are the really little things. The chocolate cupcakes Kyle Berkompas rappelled down to us on our birthday, the cold beers we drank on the portaledge on the night of our birthdays, the 50 or so shooting stars, the cold mornings and hot coffee while wrapped in warm sleeping bags. Watching the horsetail waterfall pour over the top. Getting text messages from Tommy Caldwell and friends in the meadow. Laughing with Paul Bride over Simpsons episodes. Calling Lydia every night to report on our progress. Hearing the cheers from the valley floor when we ticked off another pitch on our quest. Seeing Ben Moon rappel down above us to capture some pictures. The sunsets that engulfed us in orange and purple light. The magnitude of the wall, the exposure and belaying Will on the Devil's Dyno pitch, absolutely one of the wildest and most memorable belays of my career.
It wasn't just the A1 Beauty pitch, it was everything, all wrapped up into one massive and ideal chapter. The beginning and end of everything. I think it was the most savage and satisfying rock climb of my life. One of the hardest routes I have ever done. My first ever El Cap route. And I'm glad it's over.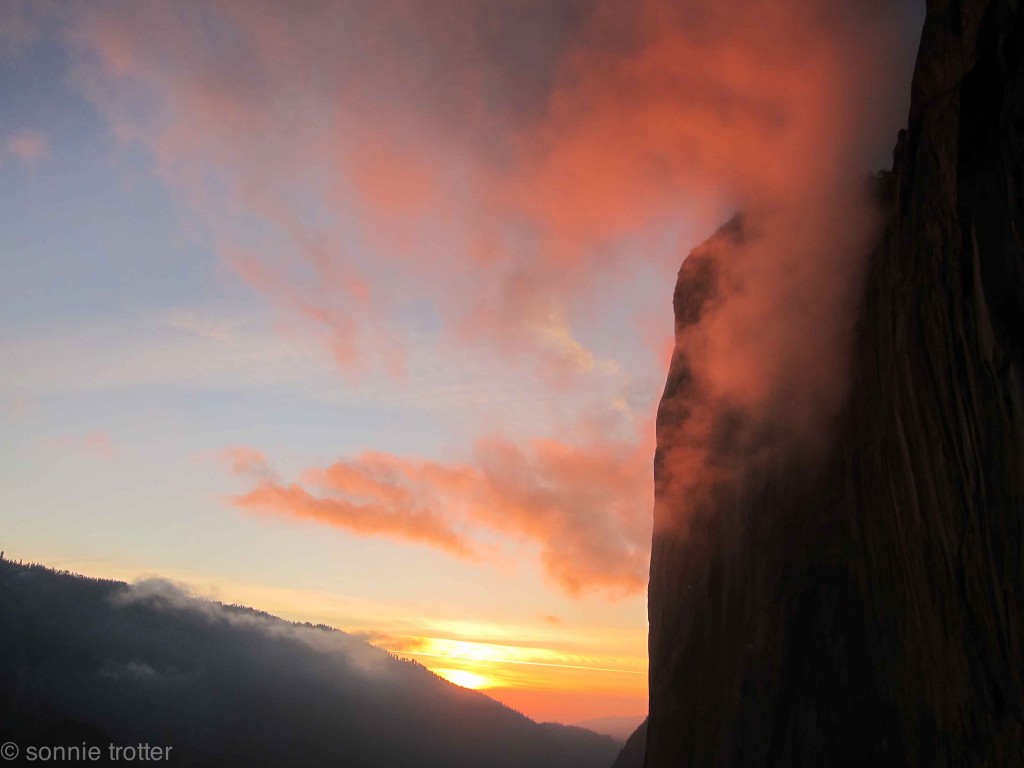 A worthwhile view from a worthwhile wall. Photo: Sonnie Trotter