Taking the Long Way Home
Ellen Bradley & Matthew Tufts
/
January 4, 2023
/
9 Min Read
In Southeast Alaska, a Native skier searches for something deeper than powder on her homelands.
All photos by Matthew Tufts
Editor's Note: In this piece, the Tlingit term Áak'w K̲wáan aaní refers to all of modern-day Juneau and the surrounding area, including Douglas Island. 
The sun hung low on the Alaskan horizon, bathing the slope in warm rays and cool cerulean shadows. A few inches of fresh powder lay atop a firm, edge-able base. Yesterday's heavy rains, followed by a fortuitous single-degree temperature drop, sculpted and leveled the wind-battered sastrugi and runnels into nature's groomer—short, perfect pitches falling from the alpine landscape to the sparkling Pacific Ocean below. Amber light illuminated patches of low-hanging clouds like brightly colored resin amid the dark coniferous treeline. Warm and cold, fire and water—a brilliant display of contrasts hanging in natural balance.
Ellen Bradley, a Tlingit scientist from Everett, Washington, stood atop the ridge, her mind racing to strike a similar balance. She has desires as a skier: Alaska is widely considered to be the pinnacle of North American snowsports, and this was her first visit to Áak'w K̲wáan, commonly known as the Juneau area. At the same time, she carries the weight of her local Tlingit heritage as a proud child of the L'eeneidí (Dog Salmon clan).
But many of the snowsport industry's practices in Southeast Alaska are contrary to her Indigenous worldview. That tension kept her both looking forward to and putting off a trip to this area for many years. After watching misguided portrayals of her ancestral homeland, she reached a point where she needed to confront it head-on.
Which is how she ended up on this snow-caked ridge, peering down her final line of the day as the sunset lit up half her face and cast the other in shadow. She spoke softly, the tightness in her voice matching the concerns in her watering eyes.
"We're not supposed to be here yet," she says to the skiers standing by her side.
Coming home can be difficult.


Southeast Alaska's rugged Inside Passage is a topographic mosaic of inlets, volcanoes, coves, glaciated peaks, fjords, braided rivers and islands. Countless glaciers cascade from some of North America's most remote peaks to the Pacific, an intersection of fresh and salt water that grants the region some of the world's most renowned fisheries. Almost 90 percent of the Alaskan panhandle falls within the Tongass National Forest—which, at nearly 17 million acres, is the largest national forest in the US, the largest intact temperate rainforest in the world and one of the densest biomasses in the world.
The Tlingit have called Lingít Aaní (Tlingit land) home since time immemorial, a territory that stretches the nearly 500-mile length of the panhandle. It's an abundant homeland; in stark contrast, it's also been regarded by the foremost skiers, snowboarders and alpinists of the past century as an inhospitable edge of the earth. You can't drive to Áak'w K̲wáan, after all.
The latter speaks to the general disconnect between the snowsports industry and Indigenous peoples, in Alaska and beyond. One has only to look at the marketing verbiage—terms like "strike missions," "peak bagging," "shredding," "ripping," "sniping lines," "smash-and-grab ascents" and "siege tactics"—a language of violence for an industry seemingly both in love and at war with the high country.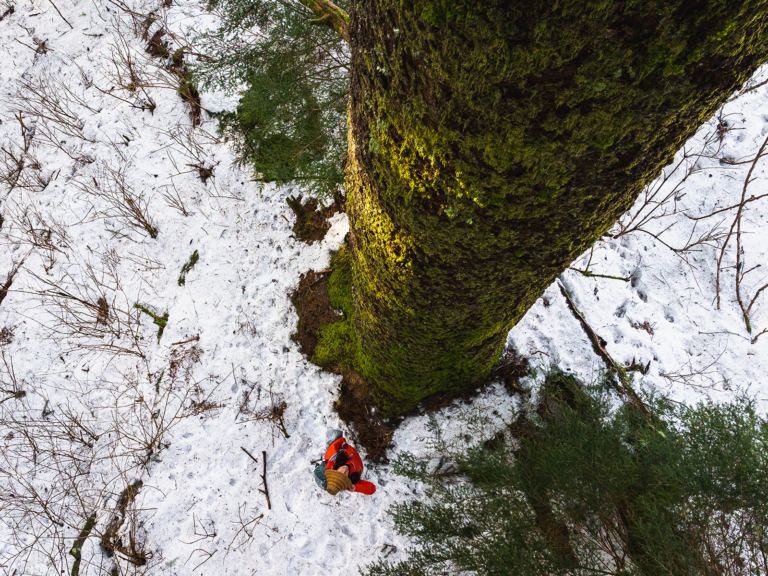 In contrast, to ski tour with Bradley through the Northwest Coast's old-growth forests is to accompany a friend taking the long way home. Though her climate research takes her to the sub-arctic tundra of Yup'ik Territory in the Yukon-Kuskokwim Delta, Alaska, this 10-day trip to ski and re-connect with Bradley's culture was her first visit to this part of Lingít Aaní. She'd spent time in other parts of her traditional homelands but had never cultivated that relationship through skiing. Bradley's first turns with the land were far from dreamy: rain crust alternated from breakable to boilerplate.
But as we skinned through the forest on our first day in Áak'w K̲wáan, the woodlands cloaked in s'íx'gaa (moss) felt instinctively homelike. Scraggly trees and dense lichen absorbed our carbon dioxide and stress while exuding oxygen and a grounding calm, in spite of thin snow cover and serious bushwhacking. Bradley, in particular, found her comfort zone.
"When I'm surrounded by forest, I know I'm surrounded by ancestors and relatives," Bradley says. "Skiing feels like dancing with the trees. You're developing this relationship; when you come back next time, they will remember you."
As she emerged from a thick bramble, she looked over her shoulder and grinned at her ski partner. Connor Ryan is Hunkpapa Lakota—one of the Native peoples of the Great Plains—and stands a head and shoulders taller than Bradley. He trundled a few steps behind, ducking branches and snapping twigs as he squeezed through tight gaps in the undergrowth. "I'm happiest when I'm surrounded by trees," Bradley notes with a shrug, then smiles. "Connor gets claustrophobic when he can't see the sky."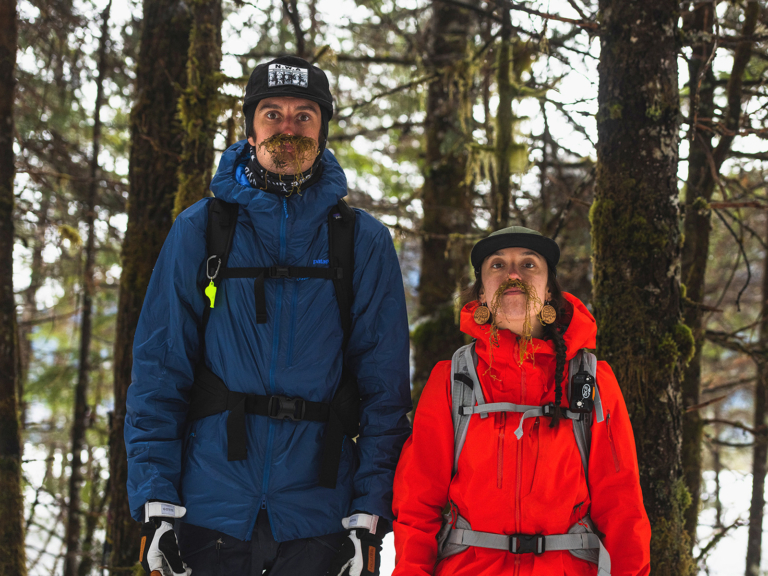 Bradley paused before a tree covered in dozens of different epiphytes—lichen, moss and liverworts, specifically. Her previous research was focused on these organisms and their relationships. Recent studies have upended prior theories that epiphytes were parasitic; their relationships to their hosts are grounded in reciprocity.
Bradley's identities as Tlingit and scientist are reflected in a fundamental approach she employs on skis. Listening to the land is at the heart of traditional knowledge and Indigenous ways of knowing. Ski touring is a vehicle for this methodology.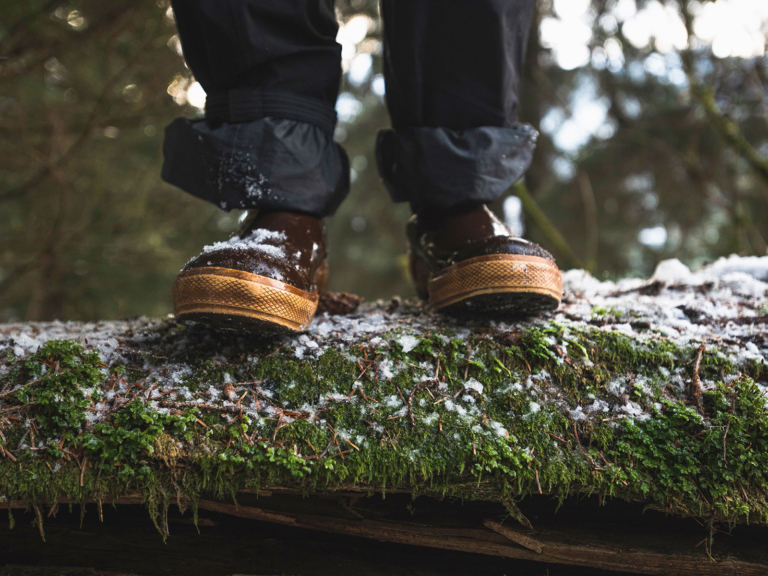 "Backcountry skiing is like scientific fieldwork," says Bradley. "You're an observationist. You listen to a place and let it speak to you."
In this way, Bradley sees how Indigenous practices could upend skiing's long-standing extractive narrative: In the same manner big-mountain skiers study snow science and practice technical skills, they should also put in the time to build relationships with the land on which they recreate.
"To ski bigger lines, it feels like you constantly must learn the place and feel its limits," she says. "The best way to do that is to work your way up the ecosystem—literally moving up the mountain, [ocean to treeline to alpine] step-by-step feels like paying respect to the place."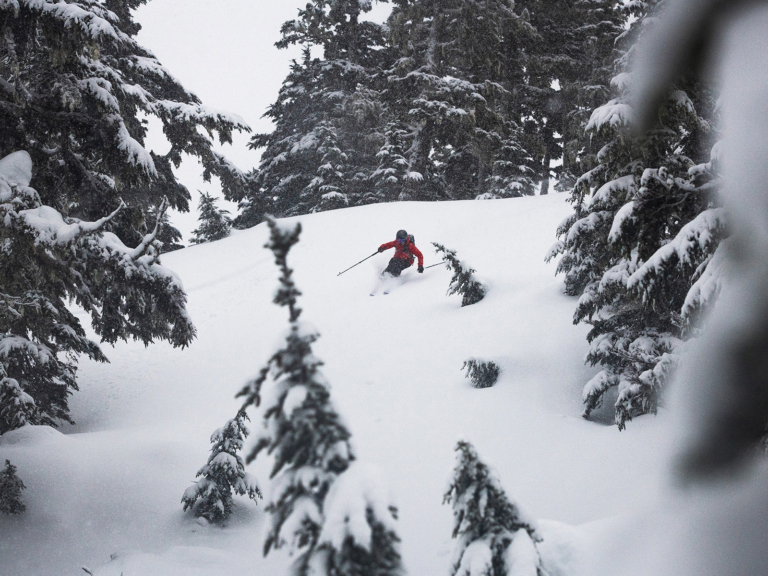 For Bradley, that journey started neither in the forest nor the slopes, but in town. "Growing up away from my traditional homelands, skiing has always been my access point to relationships with the land and its people … I wanted my ski homecoming to be centered on the entire place, not just the skiing."
So, she set up meetings with folks from the Central Council of the Tlingit and Haida Indian Tribes of Alaska. After a few serendipitous encounters in town with local Tlingit artists and business owners, Bradley was keen to experience overlap between the Indigenous communities and the ski community.
We took a few rainy runs at the ski hill with local Alutiiq Sugpiaq snowboarder Jessie Herman-Haywood and caught up with another friend teaching an intro to backcountry course. Anthony Mallott, Tlingit CEO and president of Sealaska—the community-owned Alaska Native regional corporation for Southeast Alaska that manages more than 360,000 acres of traditional Indigenous homeland and waters—was attending the course with his family, everyone smiling in the drizzle.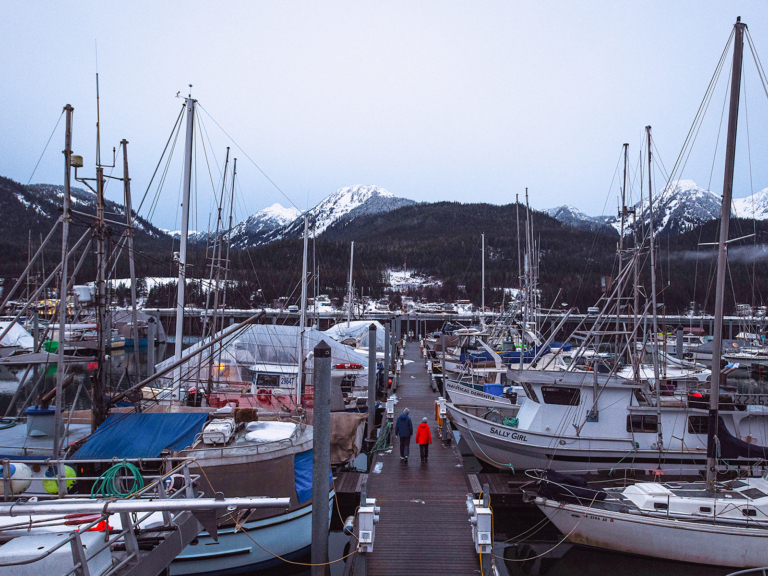 Bradley met with Mallott back at Sealaska Heritage Institute's headquarters in the Walter Soboleff Building, the most recognizable structure in downtown Juneau. Soboleff was a Tlingit traditional scholar, spiritual leader and respected Elder in the Indigenous and non-Native communities of Southeast Alaska. He was also Bradley's great-uncle. Inside stands a hand-adzed clan house—the cedar boards took a Tlingit artist 940,000 adze strikes over the course of five months to fashion.
Some processes aren't expedient, but value is cultivated by intention, not efficiency. On clear, calm winter days, helicopters fly over the building, ferrying skiers to the alpine slopes in the neighboring Boundary and Chilkat Ranges. Most of those skiers will never see the adze work or the forests the cedar came from. They skip the approach altogether—forest and people combined.
"Alaska is not a place for skiers to just come, jump on a helicopter, go to the top of a mountain, ski a line and leave," Bradley said forcefully one evening. "Alaska has been so extensively romanticized within the ski and outdoor industries that it's very clear people don't think about Alaska as a place that people live and have lived since time immemorial. It's this Last Frontier." She rolled her eyes on the last words, miming air quotes.
"It's our home. And if you're going to come here to ski, then you need to do so in a respectful way."


There's a classic Alaskan ski story that plays out in industry representations of the region: arrive with big dreams, the conditions don't align, wait and reflect on the clichés of skiing for privileged individuals, the weather breaks, ride the line in golden light. Fin.
It's easy to get drawn into that story: Of our 10 days in Áak'w K̲wáan, only one—our fourth day—was clear. We went straight to the alpine and skied spectacular snow in magical light.
Bradley wishes we hadn't.
On the last day of our trip, Bradley went into detail about her misgivings in the high country. "Our time in the alpine came earlier in our trip than our ability to make relations in the forest," she explains. "We weren't supposed to be skiing in those spaces yet. That's why it felt really good to spend this final day in the forest—to return to what felt like a stepping stone of relations."
Bradley's approach is rooted in such intention and re-connection. Skiing is a dance with the ephemeral, not a duel with the elements. One is a celebration of—and with—the land, the other a conquest.
"Skiing needs to be recognized as an inherently Indigenous movement through the land," Bradley says. "The ski industry lens is extractive—the narrow filter through which we perceive the activity—not the act of skiing itself. The removal of Indigenous peoples from these lands, from access to this sport, from decision-making about where and when skiing can happen, erases us from our home."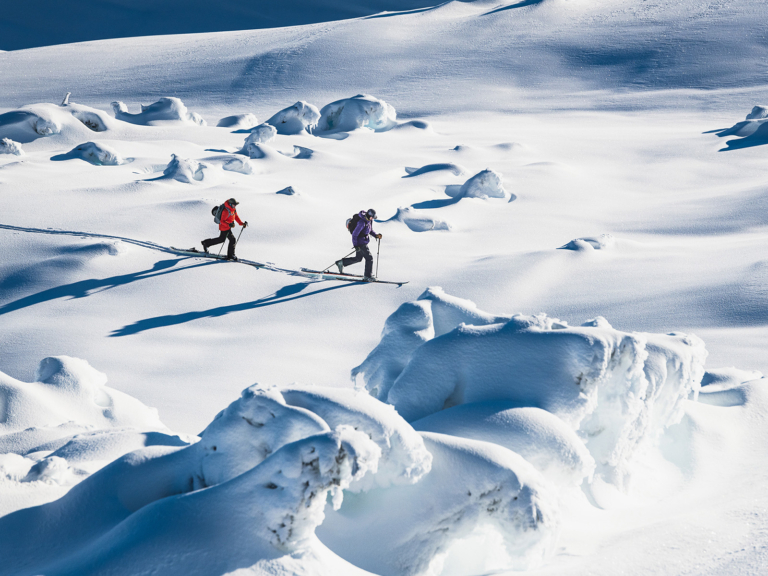 The past needs to be acknowledged to build upon for the future, and Bradley sees a way forward by looking back. "Haa Shuká (our ancestors)," the Tlingit say. "Honoring our ancestors and future generations." In reconnecting with her traditional homelands, she hopes she can offer a path for skiers and snowboarders on all Indigenous lands, by cultivating reciprocal relationships with the land and local communities rather than simply extracting an experience.
"I'll never run out of things to re-learn or opportunities to continue re-connecting," Bradley said on her final evening in Áak'w K̲wáan. She enunciated the start of each word. "And it is 're-' everything. Re-storyation. We say 'I tóo yéi yatee'—'it is within you.' All the teachings and connections are within me. I just need to choose to put in the intentional effort to cultivate them."
She paused, chewing on a piece of salmon and the thought for a moment. "It's really exciting to know that this isn't the end of a journey to come home—the journey home is constant, every day, and something that you have to choose to do.
"It's a beautiful choice to make."