Re-Imagining Rubber: PLUSfoam's Flip-Flop Recycling Revolution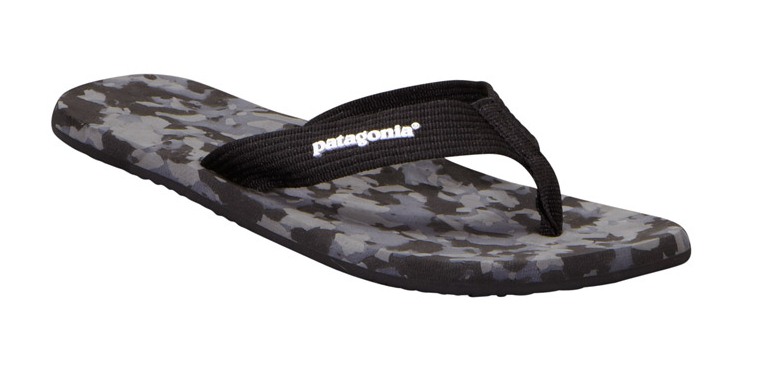 Even the most tender-footed outdoor enthusiasts amongst us are familiar with the scenario. You are walking back to camp from a quick creek swim, or perhaps making your way home after a day spent chasing the hollow insides of pitching lumps of salt water, and your trusty flip-flops decide to blow out. Maybe the strap pulls out or tears or your big toe finally busts through the sole. Either way, your beloved slaps are toasted and now destined for the trash can, their fate all but sealed by the very material they are made from – non-biodegradable waste taking up space forever in a landfill or, even worse, the very ocean you just spent your afternoon playing in.
Certainly, creative upcyclying (hello handplane or doorstop or fly swatter) can work to delay such a conclusion to the life of a pair of flip-flops but, eventually, a final trip to the dump is unavoidable for essentially anything (be it footwear or otherwise) made out of popular petro-chemical based materials like rubber, foam, ethylene-vinyl acetate (EVA) or polyurethane (PU). Unfortunately, even in this great age of ever-improving recycling technology, this less-than-ideal end game endures our children and our children's children are all on the hook to pay the bill.
Today, thanks to the folks from PLUSfoam, a small upstart company based in Newport Beach, California, this story is being rewritten with a markedly happier and eco-friendly outcome.
[Above: The Men's Reflip Chip, and Women's Reflip Chip (not shown), feature a PLUSfoam recycled footbed that's 100% recyclable at the end of its useful life. Photo: Patagonia.com]
For three seasons now, Patagonia has collaborated with PLUSfoam to create flip-flops that never have to go to the dump. That's right, the Men's Reflip, Women's Reflip, Men's Reflip Chip, Women's Reflip Chip, Women's Flip Around and Men's Flipcycle are all 100% recyclable through PLUSfoam. Even more impressive, slide a pair onto your feet and you will be hard pressed to notice any difference whatsoever when it comes to performance between a PLUSfoam powered flip-flop and something more mainstream.
"They are essentially the equivalent of the standard materials in the marketplace today," summed up PLUSfoam's Brett Ritter recently. "Whether you are measuring compression, tear strength, durability or anything like that, we perform as well, if not better than, what is out there. The only real difference is the lifecycle of the product… It is just not possible today to achieve with EVA or rubber what we can do with PLUSfoam. People have a hard time believing it but, yeah, we are completely recyclable."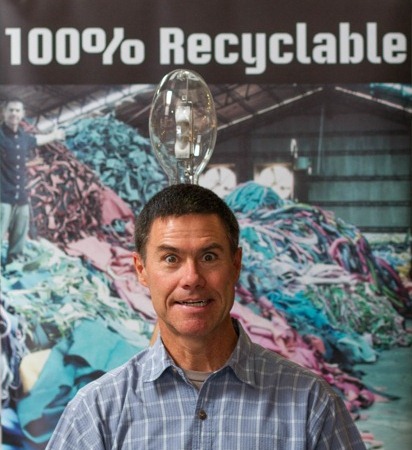 Ritter, who along with partners Ken Wong and Jason Stanson started PLUSfoam nearly half a decade ago, often finds himself having to convince people of his product's seemingly magical regenerative properties, a task he had to do with the Patagonia Footwear team when their paths first crossed at the Outdoor Retailer tradeshow a few years back. And while he has a few tricks up his sleeve as to how best to turn disbelievers into converts, his George Foreman grill and blender routine has to be the best. In short, Ritter takes an old PLUSfoam flip-flop, tosses it in a blender, and whirls it to bits, strap and all. The colorful tiny chunks are then dumped onto the hot grill and, after just a few minutes in the press, the once-upon-a-time flip-flop has been rearranged back into fully functional slab of PLUSfoam, an achievement that would be impossible with EVA or PU or any similar material for that matter save for Polyethylene (PE, it should be noted, cannot achieve the same density characteristics of PLUSfoam).
"Obviously, when we are actually recycling our products we use an industrial grinder and a much different machine to reheat and apply pressure, but the Foreman trick does a great job of showing people what we are capable of," explains Ritter with the telltale smirk of man who knows he is on to something. "And it is pretty fun to do."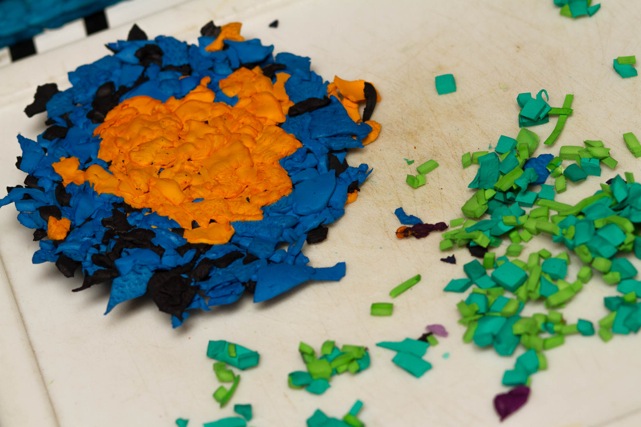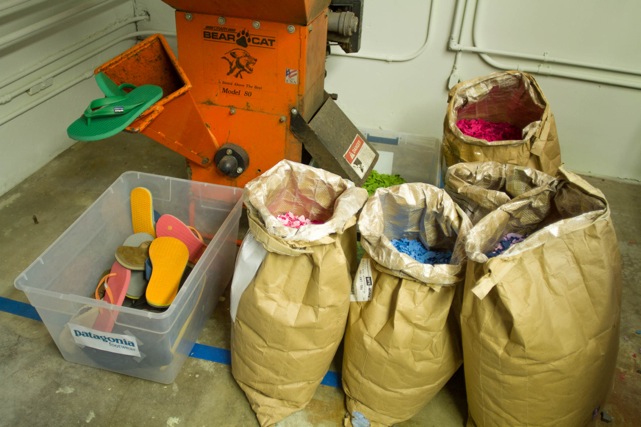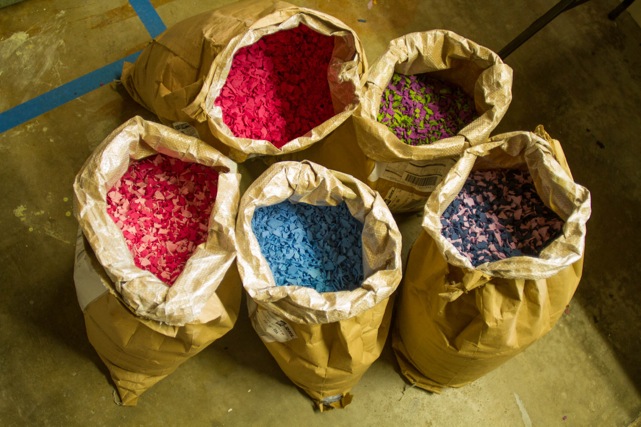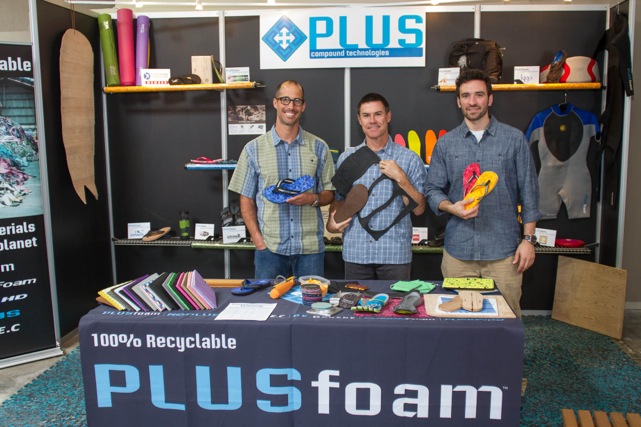 Of course, PLUSfoam is still a petro chemical-based product, albeit with unrivaled recyclability, and, well, for many that is a fact that cannot be overlooked. However, to hear Ritter tell it, the trouble isn't so much that we use petro-chemicals but more how we use them, "Let's face it, petroleum and plastic can do some pretty incredible and important things, but at the moment we are just horrible stewards… we are completely irresponsible in how we use them."
PLUSfoam marks a major step towards proper stewardship. That progress isn't just evident in the recyclability of PLUSfoam products – which include everything from Patagonia's flip-flops to yoga mats and backpack straps to dog toys and swimming kick boards and even wood flooring substitutes – but also in the post-manufacturing process. There is no shortage of waste generated by your typical footwear factory, just think of all the scrap rubber or some such similar material that goes to the landfill or the incinerator after a run of flip-flops or shoe soles are cut out from the original layup sheet. Likening PLUSfoam to cookie dough, Ritter is quick to point out that their technology does not suffer from such wastefulness. "We have made cookie dough," he says. "We can take all that scrap and simply mash it back up and make more product from it." In fact, according to him, PLUSfoam enjoys a roughly 30% reduction in waste on the production side alone. "Think about that for a second, that by itself is going leaps and bounds to changing how the footwear world works and that is before you consider our recycling program."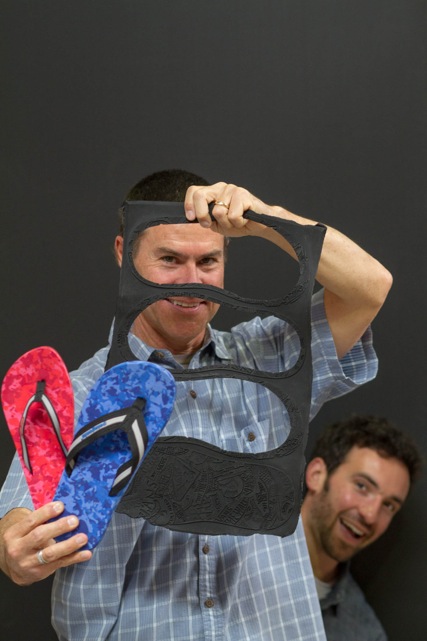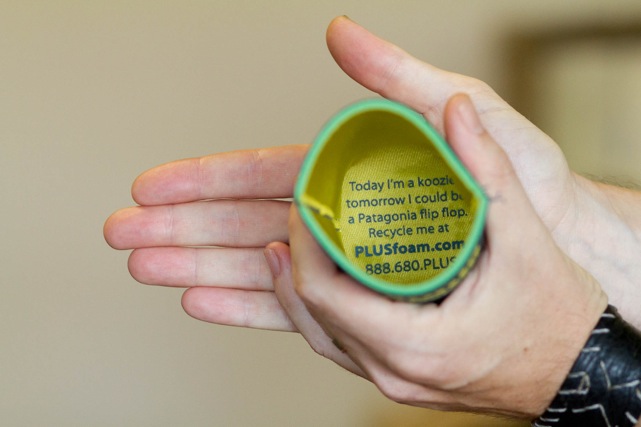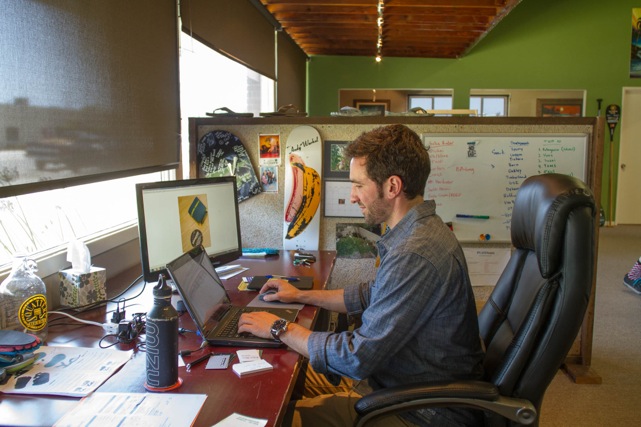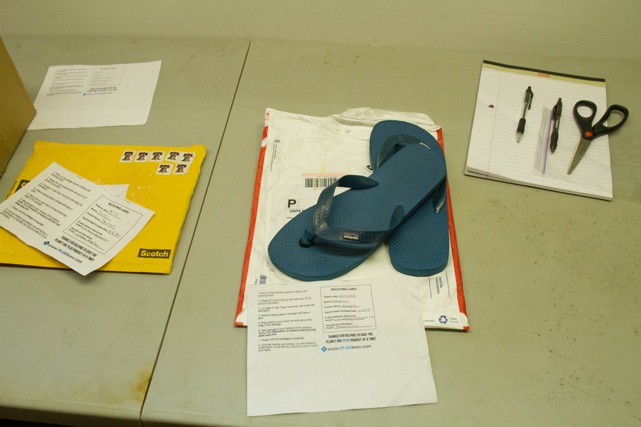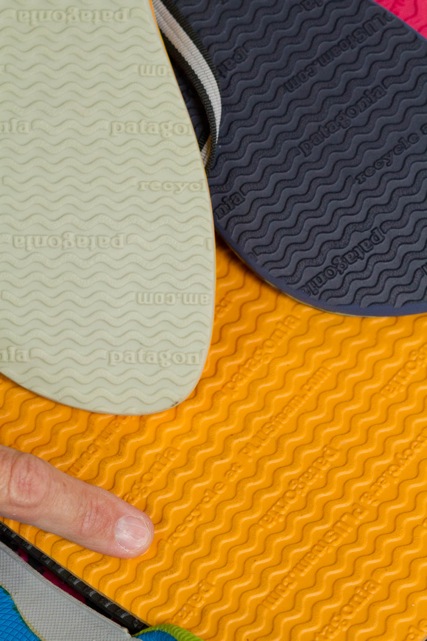 Once your Patagonia flip-flops have lived their full life, just send them back to Ritter and his crew (Patagonia Footwear covers the cost) or drop them in any Patagonia Common Threads Recycling Bin (located in Patagonia stores and select dealer partners) and PLUSfoam will take your well-worn slippers, throw them in a grinder and re-birth them as something entirely new. Who knows, thanks to a recent partnership with NASA, your dead old flip-flops may eventually end up in outer space as part of an astronaut harness.
"It's really an easy incentive program," sums up Ritter. "Technically, you could just toss them in your blue recycling bin as the flip-flops qualify under the #7 category but chances are most garbage men will think you made a mistake."
If recyclable flip-flops are an idea you can get behind, check out these Patagonia styles: Men's Reflip, Women's Reflip, Men's Reflip Chip, Women's Reflip Chip, Women's Flip Around and Men's Flipcycle.
Companies interested in working with PLUSfoam can learn more at plusfoam.com.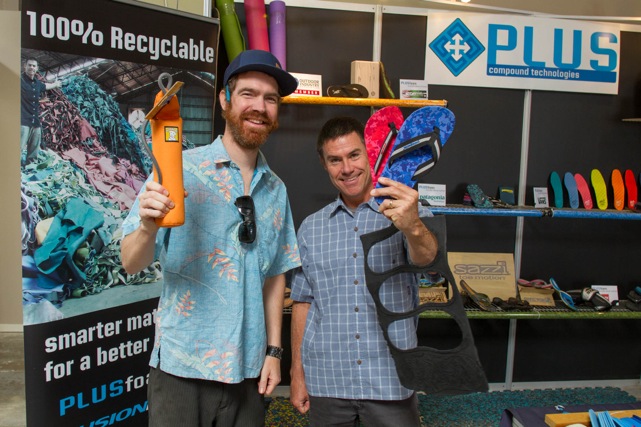 The author, Ethan Stewart, and PLUSfoam's Brett Ritter.
This article was commissioned by Patagonia.