Patagonia Music: Ben Sollee's Patagonia Performance and New Album, Inclusions
[Fresh off their bikes and onto their instruments, Ben Sollee and Jordon Ellis play "How to See the Sun Rise" during their Ditch the Van Tour. Patagonia Marketing Department, Ventura, California. Video: Kasey Kersnowski]
Congratulations go out to Patagonia Music artist Ben Sollee for the release of his new album, Inclusions. I dug out this little video nugget from his visit to our office to celebrate the release. You can preview all of the tracks, read the lyrics and purchase Inclusions over at Ben's website. And for 99 cents more, consider purchasing Ben's Patagonia Music Benefit Track, "The Wires" to help support the work of Kentuckians for the Commonwealth.
You can read a review of the album and learn a bit more about Ben over at roots-music site No Depression. One thing I learned: "For the premiere of INCLUSIONS at the historic Kentucky Theatre in Lexington, Sollee put out a call for folks to ride their bikes to the show for a chance to win a prize and made sure that bike racks and even bike valet parking were available. The bike racks out front were full, with more than fifty people arriving via bicycle. Sollee also donated a portion of the show's proceeds to a local bike shop, the Broke Spoke, a volunteer-based organization that provides maintenance and parts for folks who need help with their bikes in trade for donating your own time or other ways of bartering. The shop also sells used bikes but they're not there to make a profit so much as they're there to provide an affordable vehicle for those who need it."
Hit the jump to watch a bike-themed video of "Close to You" from Inclusions.
["Close To You" from Ben Sollee.]
Ben's also out on tour right now. Check his tour page to see if he's playing near you or follow @bensollee on Twitter. You never know when an impromptu performance might be announced…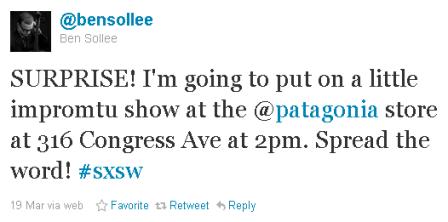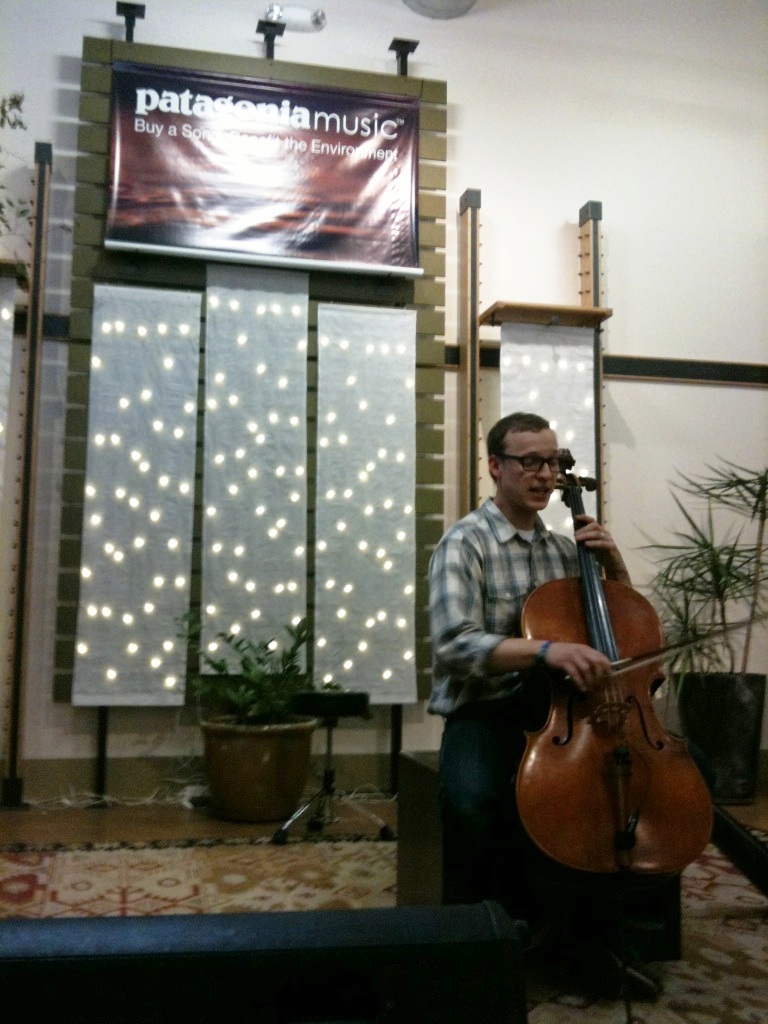 [Ben Sollee playing an impromptu solo gig at Patagonia Austin during South By Southwest 2011. Photo: Christina Speed]
You can read more about Ben's visit to Patagonia headquarters in our previous post. We wish him the best of luck with Inclusions and the tour.