Patagonia Employees' My Footprint Series: All That Rots
A new citizen is emerging. That citizen is engaged, concerned, and most of all, confident; confident in his or her choice as a consumer, confident in his or her power as an employee, confident that change is possible.
The Footprint Chronicles were developed to document the changes we're making as a company to lighten our environmental impact and do less harm. These chronicles are as much an inspiration to Patagonia employees as they are an outgrowth of our personal values. The "My Footprint" series shares the stories of Patagonia employees who have been inspired by the Chronicles, and whose inspiring lives help fuel the vision of what we can do as a company.
Their stories are offered here, glimpses of individual footprints spotted along the path toward positive change.  We invite you to enjoy these personal accounts, and share your own in the Comments included with these posts.
__________________________________________________________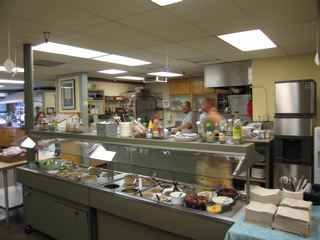 The Lost Arrow Café at Patagonia HQ serves up tasty, mostly organic goodness every day. 
We have a café here at Patagonia HQ in Ventura that serves breakfast and lunch to some 150-200 employees and visitors. Along with daily entrees, we have a full salad bar with largely organic fixings. Food-prep and plate-scrapings at the Lost Arrow Café generate about 50 lbs. of veggie refuse a week. Rather than throw it away, we compost it.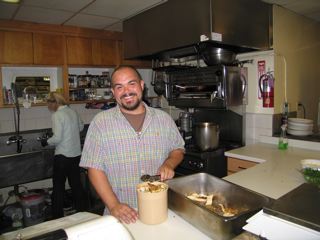 Nick Velasquez preparing delectables. Photos: Jim Little
Some afternoons, Nick Velasquez, one of the creative geniuses in the kitchen, partners with Kevin Dee, another environmentally minded employee who makes clothing in our sample room. The two wheel a big bucket of veggie scraps, coffee grounds, spent paper napkins, eggshells and other compostables across the parking lot to our on-site bin. Ours is a custom-built container made of plastic wood – which doesn't warp as readily as the real stuff – wire and corrugated tin. It has three compartments: a starter, middle and finish.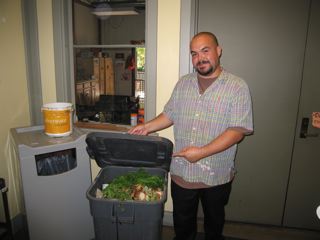 Nick with a tub of fresh goodness destined for the compost bin.
With a bend of the knees and a big huff, our intrepid composters dump the day's freshies into the starter compartment to begin a low-tech process that Nick reckons has kept some 2 tons of kitchen waste from the local landfill over the last 2 1/2 years. He unsheathes a machete to hack at the larger stuff (smaller pieces decompose faster than bigger ones), then out comes a pitchfork to mix in some leaves and yard clippings collected from other parts of the Patagonia campus. Nick and Kevin let that pile sit for about a month before moving it into the middle compartment, where it spends several more months while the forces of decomposition break it down. These guys are pretty enthusiastic about the process, and like to take the compost's temperature to see how hot it gets (as high as 140 degrees, Nick says). They also turn it regularly, which speeds decay.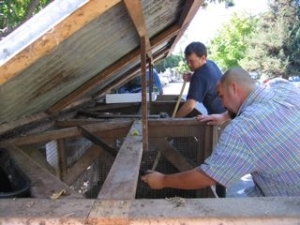 The gents hacking and turn the compost to speed the decomposition process. The temperature is down from a high of 140 F.
"It's 100% alive," Nick says, unearthing a hungry army of sow bugs and earwigs beneath the top layer. "You can feel the magic happening."
"It's 100% alive," Nick says, unearthing a hungry army of sowbugs and earwigs beneath the top layer. "You can feel the magic happening."
When the magic has happened, the finish bin holds the results until someone, usually another employee, carts off the compost for a home garden or potted plants. That person is usually not Nick or Kevin.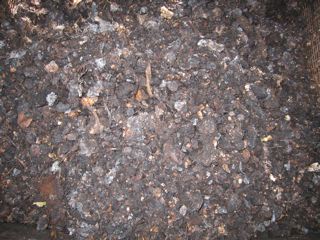 Beholding the finished product. Photos: Jim Little
Unlike some people who compost, these guys are more interested in keeping compostable materials from the landfill than they are the compost itself.
"I just like to see it turn into dirt," Kevin says.
Ed note: Get started with your own compost heap with one of many online guides. A fun, interactive one is available here courtesy of the BBC.
A sampling of the Lost Arrow Café menu for this week: December 1 – 5, 2008
Monday: Breakfast: Spanish tortillas. Lunch: Enchilada casserole and side salad.
Tuesday: Breakfast: Eggs and potatoes. Lunch: Penne pasta with a tarragon basil pesto, or spaghetti with alfredo sauce, and bruschetta. Served with bread and one of our unique tapanades.
Wednesday: Breakfast: Bagels and eggs. Lunch: Antipasto salad with pita chips and (wait for it…) hummus.
Thursday: Breakfast: Breakfast sandwiches. Lunch: Chicken quesadillas with salsa, guacamole and additional trimmings.
Friday: Breakfast: Eggs and bacon. Lunch: Garden burgers and chips. Don't forget the condiments!