An Earthquake Hits the Mentawai Islands
Indonesia is a favorite destination of surfers from all over the world, including Patagonia employees, who have visited the islands many times over the years to surf and explore. A group from our company was on Sumatra just last month. They flew into Padang, the island's largest city (pop. 900,000), where they hopped a charter boat out to the southern Mentawai Islands. Their enviable mission: test some boards, shoot photos and video and have some fun. Onboard were Patagonia Surf Ambassadors Keith, Dan and Chris Malloy, Wayne Lynch, Gerry Lopez, and Liz Clark, along with Fletcher Chouinard, Jason McCaffrey, Jeff Johnson, Devon Howard, and Tim Davis.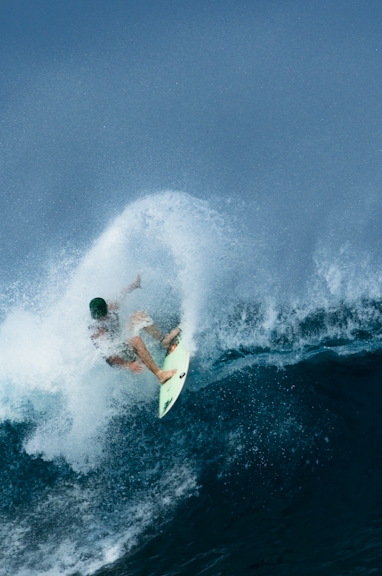 Patagonia surf ambassador Keith Malloy enjoying the surf in the Mentawais a few weeks before the earthquake. Photo: Tim Davis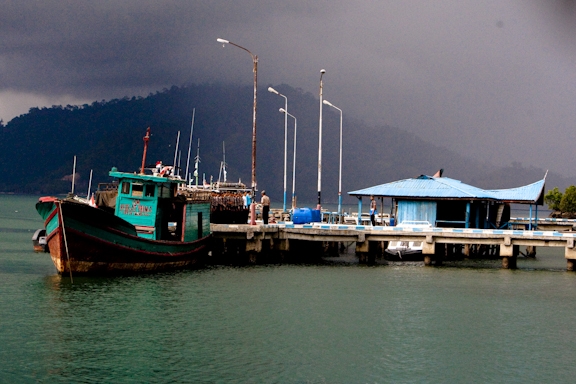 The docks at Padang, Sumatra, prior to the Sept. 30 quake that hobbled the city. Photo: Tim Davis
On September 30, a few weeks after they returned, a 7.6 earthquake hit Sumatra, toppling buildings, unleashing landslides, killing at least a thousand people and leaving an estimated 500,000 more displaced. To say it created huge additional hardship for a people already hard hit by poverty and privation would be putting it mildly.
To the point of this post: Many wonderful nonprofit humanitarian groups are now at work helping Sumatrans in the aftermath of the quake. Among them is SurfAid International, which has been working in the Mentawais since 2000.
The group was founded by Kiwi physician and surfer Dr. Dave Jenkins, who like Patagonia's surfers, took a surf charter to the Mentawai Islands in search of perfect waves. The surf proved to be everything he had hoped for. What he also found, however, were the Mentawai people – mostly women and children – suffering and dying from the ravages of malaria and other preventable diseases.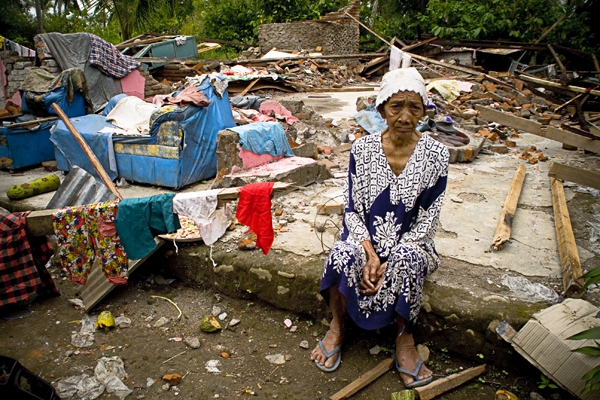 Life amid the wreckage after the recent earthquake. Photo: Andy Campbell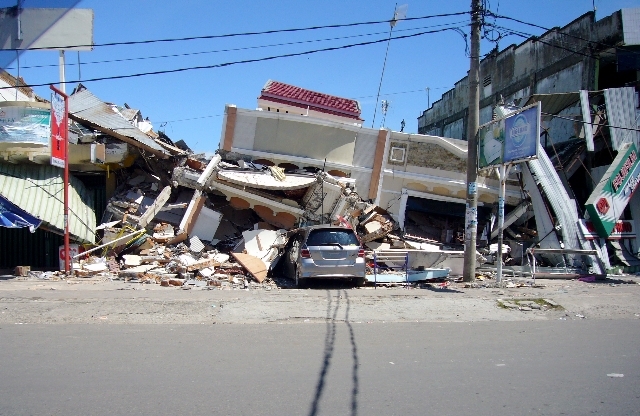 A crushed building in Padang, Sumatra, where at least a thousand people were killed and some 500,000 displaced by the earthquake. Photo: SurfAid International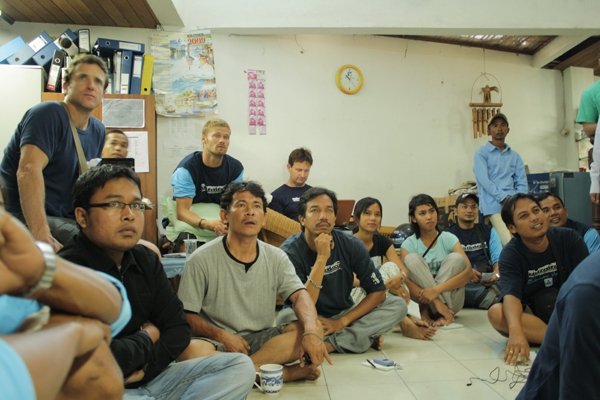 The SurfAid team is briefed before heading to work. Photo: SurfAid International
There are many humanitarian groups doing amazing work that are in need of money to continue their efforts. We focused today's blog post on SurfAid International because they are highly regarded in the surfing community, work exclusively in Indonesia using mostly Indonesian staff, and some of our surf ambassadors have a personal relationship with them.
We hope you'll visit their Web site to learn more and contribute http://www.surfaidinternational.org.