Getting There: A Journey Toward Greener Driving
/
November 1, 2007
4 Min Read
/
Activism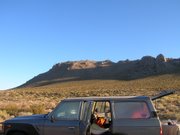 [Ed note: This is the first of a three-part post from former Patagonia employee Matt Hunt. Matt was kind enough to share the details of his conversion of a Toyota Land Cruiser using Patagonia's alternative transportation incentive plan. Read on for an inside look at one man's eco-fueled automotive quest.]
The Parking-Lot Culture
Working for Patagonia in Reno has a lot of great benefits: powder days, casual dress codes, great coworkers and a feeling of community to name a few. When you roll into the parking lot at the Patagonia Service Center in Reno, you notice a lot of things. There is the permeable paving system, the employee garden, bales of recycled cardboard, the Truckee River gurgling along nearby, and the Mount Rose Wilderness rising up in to the giant Nevada sky.

There are also cars. It is, after all, a parking lot. It probably comes as no surprise that the vehicular demographic here leans heavily toward a couple of favorite species. Toyota Tacomas and Subaru Wagons seem to be the rigs of choice, for their surefooted ability to cruise past the flashing yellow words "chains or 4wd with snow tires required" on the way to a powder day. When visions of first tracks are dancing in your head, you sure as hell don't want to wrestle with chains.

But when the flakes stop and I have a moment to consider the bigger picture, I have to wonder what the footprint is. They say the most dangerous part of climbing is the drive to the crag, and I have to assume it is the most polluting part of it too.
[Photo: The Greasy Bruiser, courtesy of Matt Hunt]
We profess ourselves to be environmentalists and outdoor enthusiasts,but these two activities sure do come into conflict when you considerthat most of them involve a hell of a lot of driving. There is no lightrail system to my favorite crag, how about yours?

After more than a year of biking to work and sharing a car with mygirlfriend on the weekends, I had been thinking it was time to get acar. We had acquired a dog who would love to come to work with me, butthere was just no way 70 pounds of bouncy black lab would fit in awicker basket on the front of my bike. I was missing out on some dawnpatrol days when I couldn't scrounge a ride at 4 AM, and thoseafternoonmountain bike rides through the Sierra were too good to pass up. I knewI wanted a car of my own.
Through a series of happy coincidences I acquired an old ToyotaLandcruiser, my dream car, but a nightmare in terms of itsenvironmental impact. This was not the shiny soccer mom mobile I hadseen before with a trunk full of groceries and an undercarriage cleanerthan my kitchen. No, this hulking mass of steel had lately been theride for a fly-fishing guide in Montana. I think most people leave abit of themselves on their car, and this one was plastered withstickers for rod companies, reel manufacturers and a license platecover advertising a fly shop in Bozeman. The headlight was smashed infrom a recent run in with a deer and seemed to be held on with a couplewraps of tippet. Like some environmentally perverse morning glory, anew puddle of oil sprouted under her each day and it was a miracle ifthe fuel milage made it to double digits. Charming.

With single digit mileage, my new Land Cruiser was not the greenest ofrides. I had heard all about biodiesel and the Malloy brothers Bend toBaja trip on vegetable oil. When I saw a used diesel engine to fit mynew car, the pieces fell into place. Patagonia has a program thatreimburses employees for purchasing efficient vehicles, such ashybrids. There is also a clause that includes converting a dieselengine to run on vegetable oil. Ah, ha! No problem, I thought. I willjust drop in that diesel engine, hook up a couple of hoses to pumpveggie oil and I will be off and running! As it turns out, that is notexactly how it happened.