How a Patagonia Employee Helps Re-Nest Young Birds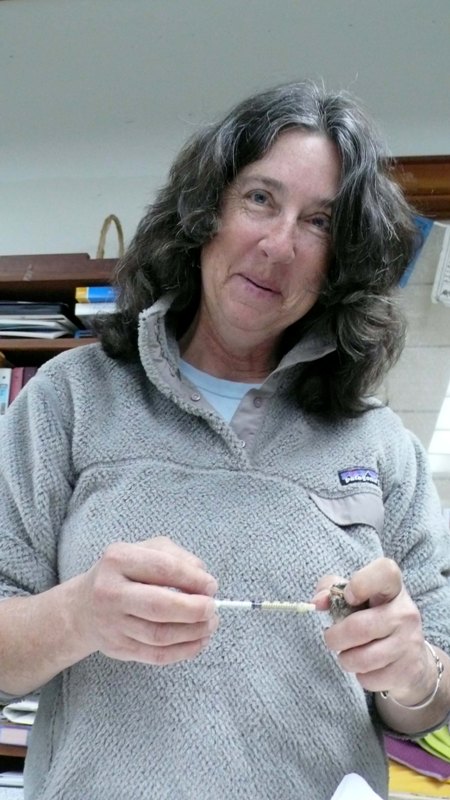 Kim Stroud, who manages our sample room here at Patagonia HQ in Ventura, came walking in the other morning with one of those cardboard boxes used to carry live things. In her "spare" time, Kim is executive director of the nonprofit Ojai Raptor Center, so she's always nurturing some kind of critter, not just raptors. I've seen her with possums, sea gulls, pelicans. But she says she's also cared for bobcats, fawns, even a couple of coyotes. She also deals with dead critters. Fish & Game and the Sheriff's department often call her when they find freshly car-killed deer. She dresses the carcasses and feeds the meat to her eagles.
This time Kim had baby swallows in the box. Seems the fellows at a Ventura business (which shall go unnamed) decided the bird's mud nests were a little messy. So they had their workers turn the hose on them (hey isn't there a drought in Southern Cal?), washing down about 55 birds that were just five days from being able to fly. One of the biologists who works for the business stopped the hosing when she saw all the baby swallows lying on the ground, many of them in puddles of water.
[Kim Stroud, Patagonia sample room manager and executive director of theOjai Raptor Center, hand-feeds a baby swallow, one of 55 hosed out oftheir nests. All photos: Jim Little]
Kim said she had volunteers spend the weekend "driving all over the county" in search of nests in which to "re-nest" the young birds. Swallows are pretty good at building their shelters out of reach of humans, so it was challenging work. When they found some, she inserted her homemade tool (one of those little mirrors with a light on a shaft like dentists use) to see what was inside. If there weren't too many babies there, she'd plop another one in. She managed to find nests for 32.
What's even more time-consuming than inserting baby swallows in nests is feeding them, which Kim has been doing every hour or so. She said it took her and a volunteer 45 minutes to get mealworms and a squirt of gruelish formula into 53 hungry beaks. But with 32 re-nested and 15 mortalities, Kim's now down to eight swallows. Her colleagues at the Santa Barbara Wildlife Care Network will re-nest them.
Kim is licensed to take in all sorts of wildlife. Last year she received about 1,350 animals: 500 raptors, 650 songbirds and the rest small mammals. She says spring is a particularly busy time of year, with all the nesting. She already has hundreds of other baby birds in her care.
As for the hosers, well, they really should have known better – particularly with wildlife biologists on staff. There's a federal law that's meant to protect migratory birds from this type of tidying up during nesting season. Kim said a company in a neighboring city was fined $100,000 when it destroyed hundreds of swallow nests in violation of the Migratory Bird Act.
The hosers are bending over backwards to make amends. They're going to pay for all of the swallow rehab and make a donation to the Ojai Raptor Center. They've also agreed to purchase a lighted scope to replace the handmade job, so Kim and her volunteers have an easier time peering into nests.
"They've really tried to make it right," Kim said. "They know they made a big [and potentially costly] mistake. They've promised it'll never happen again."
FAQ of the day: What to do if you find an orphaned or injured animal in Ventura County?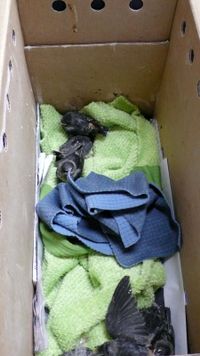 Kim keeps the babies in a box with scraps of our Regulator insulation material.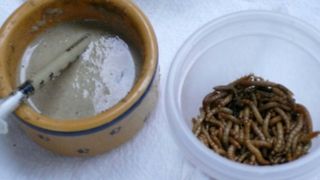 Swallow sustenance in the form of mealworms and gruel.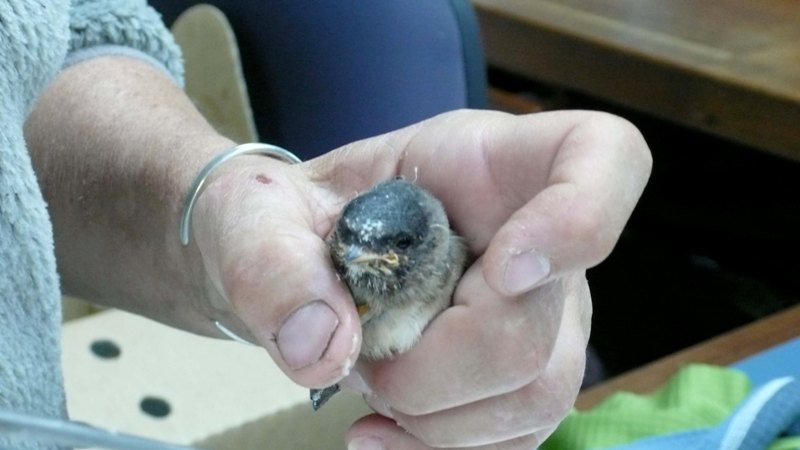 A hungry beak.
Please visit www.ojairaptorcenter.org to see more of what Kim does and to support her vital work.