Backyard Corridors: What Has Been Done in Your Area to Enable Wild Animals to Move Around?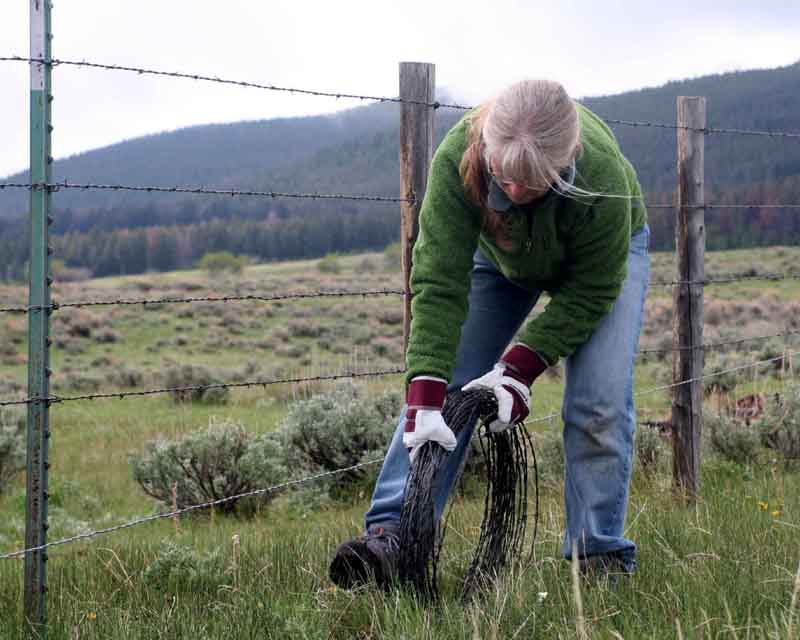 Employees at our Dillon outlet store gained some "Freedom to Roam" last summer when Patagonia funded an environmental internship for store staff. Outlet employees chose to work with American Wildlands (AWL), a Bozeman-based non-profit that works in Montana to identify and prioritize wildlife corridors. Donning leather boots and gloves, they headed to the Centennial Valley, where, literally, the deer and the antelope play.
The Centennial stretches over 380,000 acres north and east of the Continental Divide and is a crucial migration corridor for grizzly bear, pronghorn and other migratory land animals, along with hundreds of bird species. Armed with fencing pliers, outlet staff removed miles of barbed wire from the bottoms of livestock fencing. They installed smooth wire as a replacement, or modified the distance between strands to accommodate more frequent and widespread wildlife crossings at identified corridors.
"Unlike typical field work in my life, this has an immediate positive impact," said store merchandiser, Bucky Ballou. "What we did in one day impacted migratory animals the next day . . . [It's] instant gratification."
[Patagonia Dillon's Bucky Ballou rolling removed barbed wire. Photo: Pam Neumeyer
Modifying or removing fences using volunteer labor is a relatively cheap and easy way of helping to ensure that animals have freedom to roam. At much greater expense, in Banff, Alberta, an overpass was built to bridge the busy Trans-Canada Highway for both wildlife and motorist safety.
In western Wyoming's Nugget Canyon, the state Department of Transportation likewise built underpasses to help mule deer and other critters safely cross Highway 30.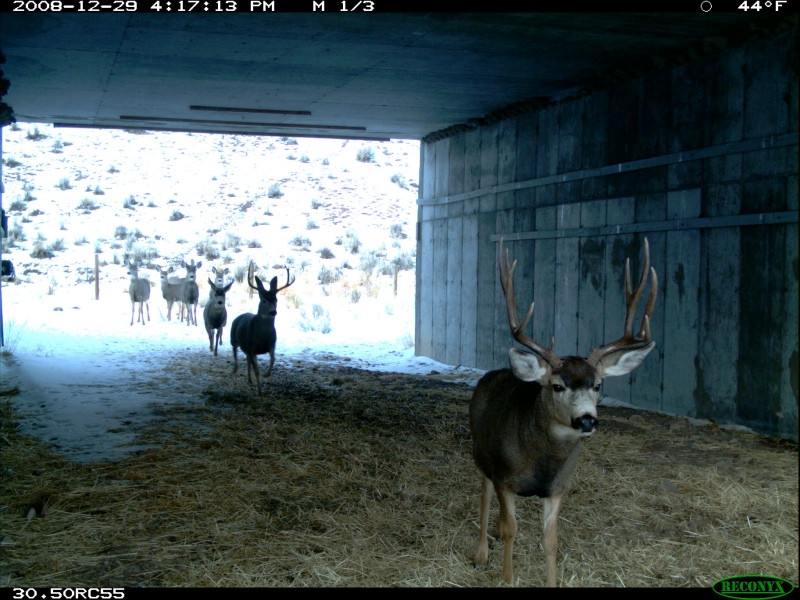 For more photographic examples of the species using Wyoming's Hwy 30 underpass, check here. Photo: Wyoming Department of Transportation
On Highway 93 in the Flathead Nation, the People's Way Project also installed underpasses now used by many animals, including bears, coyotes and bobcats.
Even in Ventura, home to Patagonia HQ, a fish ladder was built on the Ventura River to try to help endangered southern steelhead trout reach spawning grounds upstream from a diversion dam.
What, if anything, has been done in your area to enable wild animals to move around?