Will You Vote for Winter?
For skiers and snowboarders whose fate, passion and careers depend on cold weather, the future looks grim. As temperatures warm, the average amount of snow in the American West has dropped by 41 percent since the early 1980s and the snow season has shrunk by 34 days. Projections indicate that by 2090 ski areas like Park City in Utah will lose all of their snowpack. Losing winter due to climate change is a bleak possibility, one that is mobilizing snow lovers to hit the polls and elect climate leaders in upcoming elections.
With the size, influence and resources equivalent to a swing state, the outdoor community has the potential to affect the vote. While the world is in the midst of global health crisis, the larger climate crisis has been underway for some time, with greater threats looming on the horizon. Addressing both these health and climate crises requires a marathon mindset and unwavering resolve in the upcoming elections. Athletes are natural allies in the fight for climate justice, with a honed mentality of grit, perseverance and defying the odds. And groups like Protect Our Winters (POW) and Natives Outdoors are joining forces to mobilize outdoor enthusiasts and athletes to get out and vote.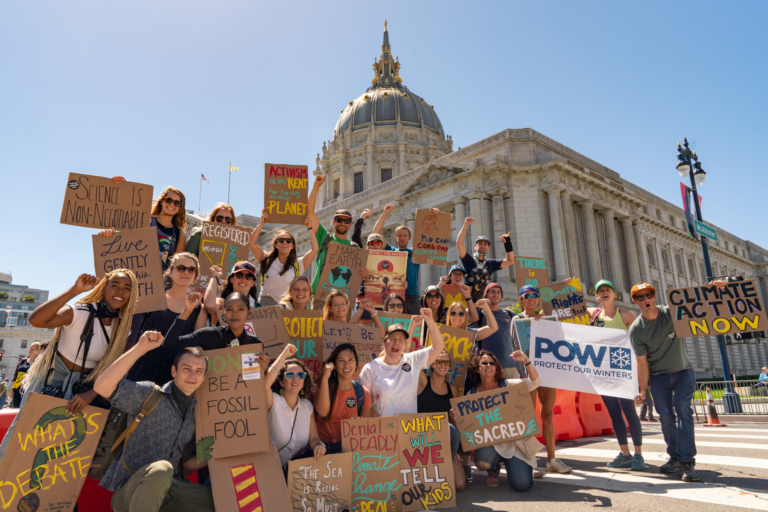 "Democracy only works when people participate. If we aren't voting out climate deniers, then we can't complain," says Lindsay Bourgoine, director of policy and advocacy at POW. The nonprofit organization is set to turn 40,000 people out to vote in the 2020 elections, a goal determined by their voter data that looks at how many votes are required to win and how many voter pledges the outdoor community can garner. "We don't need a ton of people, but the right people at the right time and we can make a difference. If we think about how someone in the Olympics can win by .001 seconds, as an outdoor community we can win by pushing our limits and the boundaries," says Bourgoine.
The outdoors play a crucial role in the nation's healthcare and economy. People have flocked in droves to public lands during quarantine to restore themselves and find solace, and reasonably so. Studies show that simply being in nature can help lower depression, anxiety and inflammation.
Outdoor recreation supports thriving economies and millions of jobs—winter sports alone are responsible for more American employment than extractive industries: spending on snow sports supports 695,000 jobs compared to the 627,000 supported by extractive industries. Climate change, however, threatens the economic benefit of winter sports as low-snow years have cost the country more than $1 billion and 17,400 jobs compared to an average winter season. Climate change is projected to increase the frequency of low-snow years. In Park City alone, the decrease in snowpack is estimated to result in $120 million in lost economic revenue by 2030. Electing climate leaders who can protect the outdoors and phase out fossil fuels might not bring snowpacks back, but will benefit people in the long run. "Transitioning to a clean energy economy doesn't just create jobs. It improves public health. And with 80 percent of voters saying that healthcare is the most important issue for their vote, it's time we stop and ask ourselves what's really making us sick in the first place," said professional skier and Patagonia ambassador Caroline Gleich in her testimony in favor of the American Public Lands and Waters Climate Solution Act.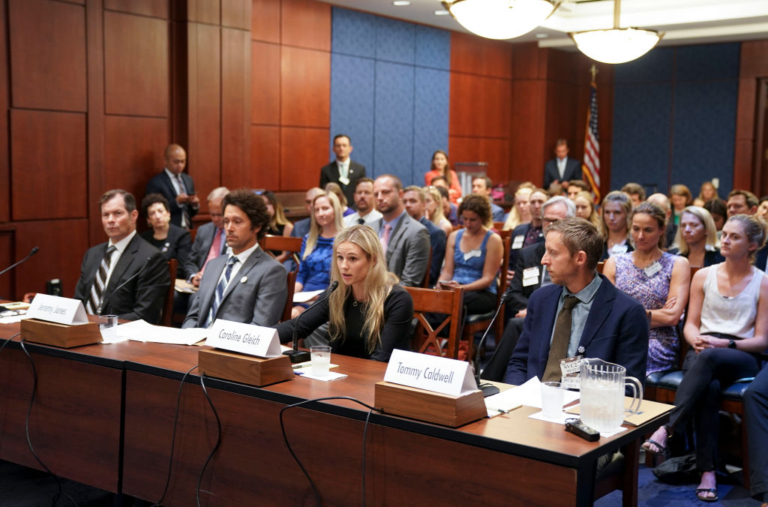 Yet the Trump administration denies the existence of climate change while recklessly leasing public lands to extractive companies. This threatens everyone's relationship with the environment and worsens the climate crisis. Outdoor enthusiasts who benefit from and recreate on lands without a sense of responsibility to these places perpetuate the practices of industries fueling the climate crisis: extracting benefit from the land without reciprocity.
Connor Ryan, a skier and member of Standing Rock Sioux Tribe (Hunkpapa Lakota), is one of a growing number of athletes who are encouraging the snow community to move beyond stoke and sport, and to shift instead to a deeper relationship with the places they derive joy from. Raised in Boulder, Colorado, a mountain town known for bluebird powder days and Longs Peak (Neníisótoyóú'u in Arapaho), a 14'er on the Front Range, Ryan has a deep reverence for the land and waters he is in relationship with. "Frank Waln once said, 'I'm not an activist, I'm Lakota.' For me that's everything. I'm fighting for the water, for the people, because that is the moral fiber of the culture that I come from," he says.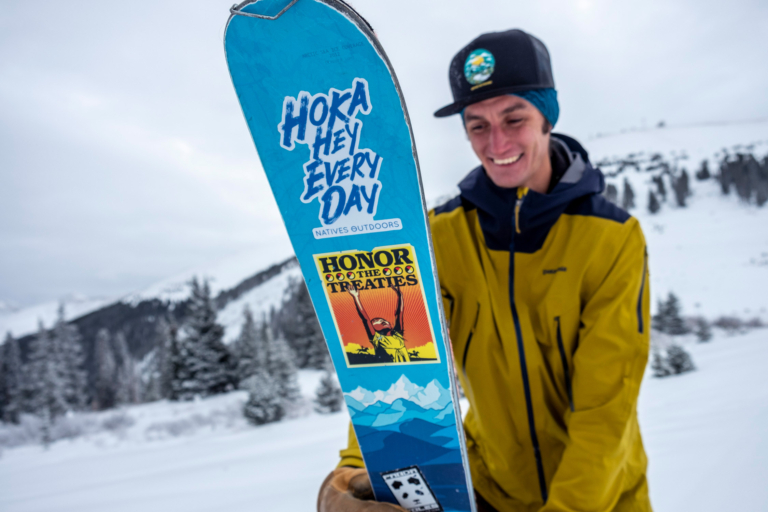 Ryan is a team athlete with Natives Outdoors, an Indigenous-led organization that seeks to increase visibility for Indigenous athletes in outdoor sports and amplify their perspectives. The group has partnered with POW to mobilize those involved in snow sports to transfer the stoke into votes and a shared love for snow into a responsibility to take action. "You sit in traffic for four hours to get to the mountains, but you can't take a few hours to register and get out to vote?" says Ryan. "Making that a part of the culture of our sport is what needs to happen."
While skiers are worried about the loss of winter, many also realize there is much more at stake than just losing skiing and snowboarding. Caroline Gleich was one of the first athletes to join POW in 2011 because she believes that sport is a powerful starting point to bring people together and talk about climate. "Sure, it might suck we can't keep climbing the mountains we love and the places we love to ski from, but glaciers provide drinking water to over 800 million people and that's a big reason to care," says Gleich, referring to the Himalayan plateau in India, which is glacier-fed by some of the highest peaks in the world. These glaciers won't escape melting though, and this stark figure reaffirms that countries that have contributed the least to the climate crisis will bear the biggest brunt of it.
The upcoming elections are an opportunity to vote for leaders who will enact policies that bring justice to people most impacted by the climate crisis. Len Necefer, founder of Natives Outdoors, is building alliances among the outdoors and Indigenous communities on the premise that Indigenous sovereignty is climate justice. Climate change is rooted in the dispossession of Indigenous peoples from their lands to make way for fossil fuel resource extraction. The outdoor industry and community are starting to recognize their long-overdue responsibility to take an active stance in this fight and to not only advocate for climate justice, but also to support Indigenous rights. "Voting is the step towards doing that," Necefer says.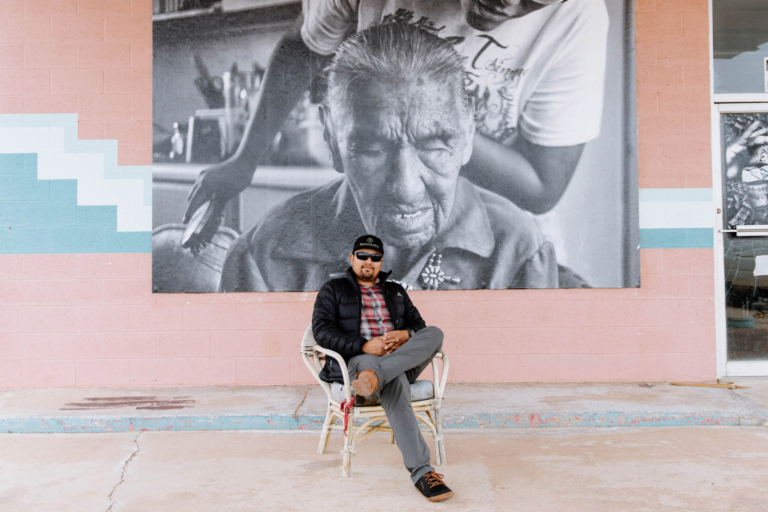 Still, there is potential for even greater impact. "In 2018, 70 percent of the people who said they would vote with us did," says POW's Bourgoine. "That is really exciting to see that conversion, but there's also an opportunity to say: 'Wow, 30 percent of people in the outdoor community are not voting and that is a huge opportunity.'"
For Necefer, holding knowledge of the past in the present fuels his hope and daily determination for a better future. "These very disruptive moments in human history are often the rare opportunity to make systemic changes," he says. "We have an opportunity now with an economic crisis, pandemic and the social issues that have risen to the forefront. I remind myself when I wake up in the morning that this is another day to change the course of this history; the clay is still malleable and not fully cooked."
Make a Plan to Vote
The 2020 elections will have a significant, long-lasting impact on the strength of our nation's climate policies and the very existence of public lands.
Take Action