New Route Established on Donner Summit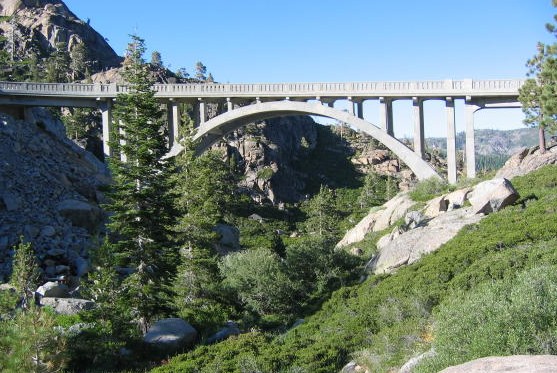 Many climbers are familiar with the convenient, high-quality granite available at California's Donner Summit. Those who have made the trip are no doubt familiar with the sight of The Summit's Rainbow Bridge, built in 1926.  Many come simply for the view available from the bridge's road-side vista pull out.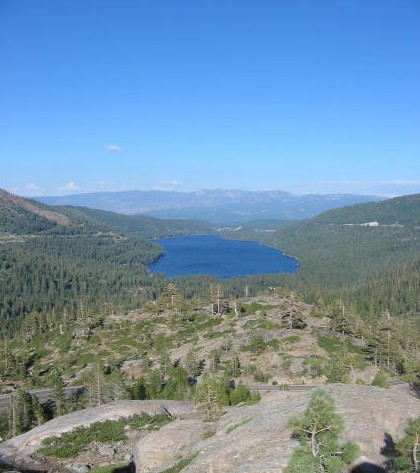 Those who frequent Donner Summit for climbing might be surprised to hear that on September 16th, an exciting new route was established. As of this posting, we're unaware of any being who has completed this route, though countless are sure to follow after viewing the photo of the new route on the next page. It is custom that the first to ascend a route earns the right to christen it with its name. We're unsure that it will get one, however, due to the unique nature of this climb.  We know it's a traverse, and the picture above gives a hint about its exposure . . .
Top photo: Donner Summit's Rainbow Bridge, looking West from below Grouse Slab; Bottom photo: Donner Lake and the Carson Range as seen from Rainbow Bridge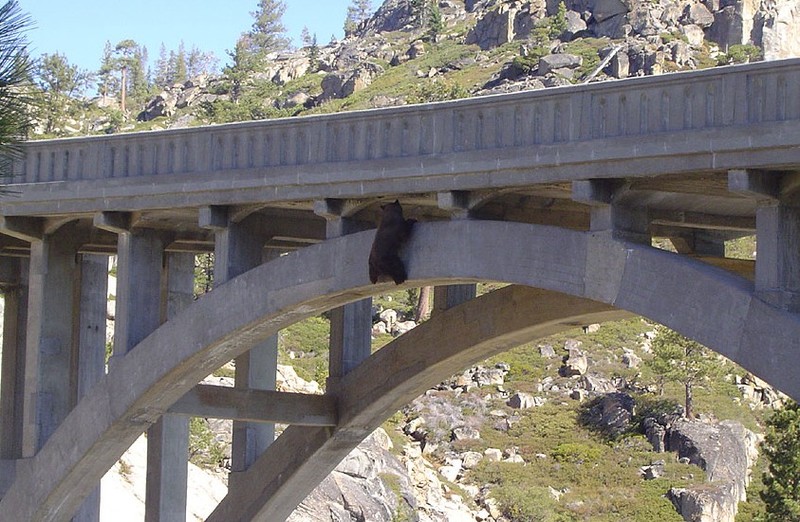 Zoom in on this picture here for a closer look at both climber and route. No, this isn't staged or "Photoshopped." This photo's the real deal. Read all about the bear's night spent under the bridge and the ingenious rescue organized by Nevada County Animal Control and Truckee, California's BEAR League in this story published by the Nevada Appeal: Bear Saved From Fatal Fall, or check out more photos on the Telestar Logistics blog.