Is Osteoarthritis a Danger to Rock Climbers?
Lynn Hill
/
July 19, 2007
/
2 Min Read
/
Climbing
Editor's note: We're honored to bring Patagonia ambassador Lynn Hill on-board as a contributor to The Cleanest Line. Lynn is no stranger to blogging. For a glimpse into the past 2+ years of her life jump on over to Lynn Hill Blogs.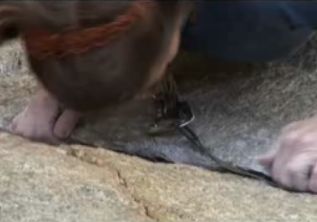 I was a bit surprised to read the following article about osteoarthritis in rock climbers since I expected the study to show a higher risk in climbers. I've seen many climbers' hands over the years and it seems that the people who climb a lot at a high level of intensity have either really thick fingers and/or damage around the finger joints. Considering the fact that I have climbed for thirty-two years, I feel fortunate that my fingers are in great shape. I think the fact that I am relatively light compared to the average climber is an advantage since I don't stress my tendons and ligaments so much. I also listen to my body and if I feel pain, I usually stop. It was also beneficial to have had a solid base of climbing experience on slabs and crack climbs in my formative years as a climber. The routes that I climbed in those days helped strengthen my tendons and ligaments as opposed to injuring them on the physically demanding sport routes of today.
Photo: Screen grab from video by Lynn Hill, Brad Lynch, Jim Hurst and Patagonia
According to the following article from Medical News Today, climbers are no more at risk in developing osteoarthritis than non-climbers:
Risk of Osteoarthritis Not Increased in Rock Climbers

A study in the US has found there is no greater risk of osteoarthritis in rock climbers compared to non-climbers, contrary to previous theory.

The study, published in the November issue of Journal of Anatomy, examined osteological changes in the hands and fingers of rock climbers that result from intense, long-term mechanical stress placed on these bones. Specifically, whether rock climbing leads to increased cortical bone thickness and joint changes associated with osteoarthritis. Researchers also wanted to identify whether climbing intensity and frequency of different styles of climbing influence changes. (read full article)
Have you noticed any changes in the thickness of your fingers due to climbing?