Climbing the Diamond with a Painful Cankle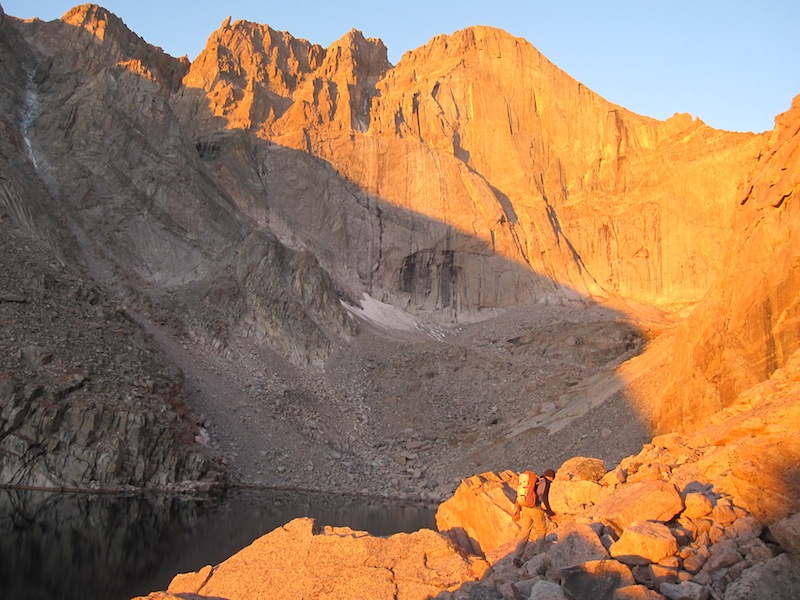 Summer left for fall the week before, and my super long shot goal slipped away. So it goes, I told myself, I had an awesome summer and am still months-to-a-year ahead of rehab schedule.
Besides, climbing means nothing. OK, OK, let me get this straight: so there's this hunk of rock – what, is there a pot of gold at the top? – and you hike to it, then hold on with your fingers and toes and climb up? Boy, what in the HELL is wrong wit you? But we start to think about it, and most of what we do in life is ridiculous. Mean something to you personally, though? Hell yeah.
At five a.m. on Thursday, September 30, a week after the official start of fall, young gun Blake Herrington, owning a name that sounds like he belongs on the TV-show Dallas, and my gimpy old ass hiked from the Longs Peak trailhead and stashed beers in the stream for our return.
Dawn's first rays soon crested the east, spreading light golden as autumn leaves over alpine tundra. Lights flickered in the distance and people began a new day.
[Blake Herrington approaches the Diamond in early morning light. Photo: Kelly Cordes]
Despite my proclamation that I find it best to have no goals whatsoever – so that I won't be disappointed if I don't reach them – I had a secret goal for summer. I wanted to climb the Diamond. I started walking again in May, and my best prognosis from any doctor was "Maybe some easy hikes by mid-summer, and some easy climbs come fall."
As the summer progressed I added increasingly longer days, nursed the cankle that had become my lower leg by soaking it in cold rivers and lakes on the way in and the way out, went from walking for a few minutes to walking for an hour, to doing three-hour days, then six, and building-up the way you build-up with anything. But summer came and went with the fall solstice. See, dude, that's why it's best to not have goals.
And then, at the end of September, an incredible heat wave hit the Rocky Mountain Front Range.
Strategies drifted through my head: You should be happy to even go up there, so just do something you know you can do quickly. Plus, it's late season. Meat-locker cold. Then the other voice comes in: F*** that, try hard. You've fantasized about climbing Ariana. Why not? 13,000 feet seems like a great place to test yourself.
Try. Just try.
Around 8 a.m. Blake and I started simulclimbing the Crack of Delight to reach Broadway, from where Ariana rose already cold in the shade and far harder than anything I'd climbed on the Diamond.
We started up, cruising the first three pitches to the hard part.
It's strange how freeing it can feel to fall. At least when you fall going up. It means you tried, and tried your hardest. Like you do when pushing through rehab, like you do when you want to go up more than you want to go down. On the crux, the pump in my forearms mounted, I gasped thin air and strained and tried and willed myself to not even think of succumbing to the urge to downclimb and "take." But I blew a sequence and pitched cleanly into chilly alpine air until the rope slowed me to a dangle on its end, 2,000 feet above the talus.
Dammit.
We climbed through and finished the route, freezing our nuts off (Blake climbed the entire route in his down jacket, and I devoured all the beef jerky), and rapped back down.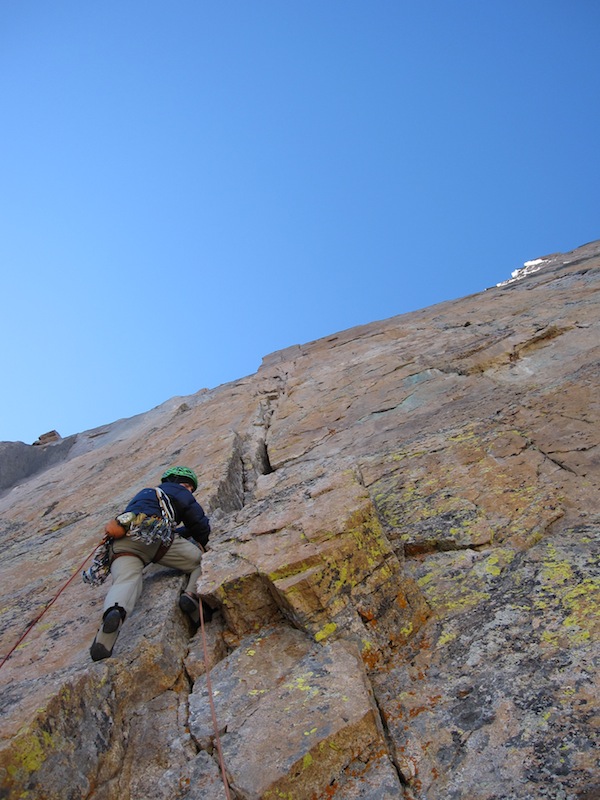 [Blake heading up an early pitch on Ariana. Photo: Kelly Cordes]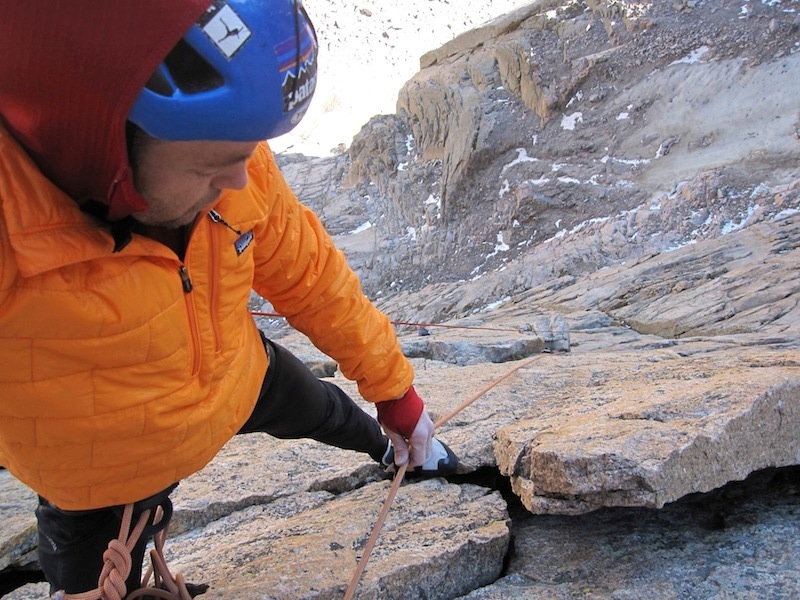 [Kelly belays high on Ariana. Photo: Kelly Cordes]
[Blake up-high and chilly on Ariana. Photo: Kelly Cordes]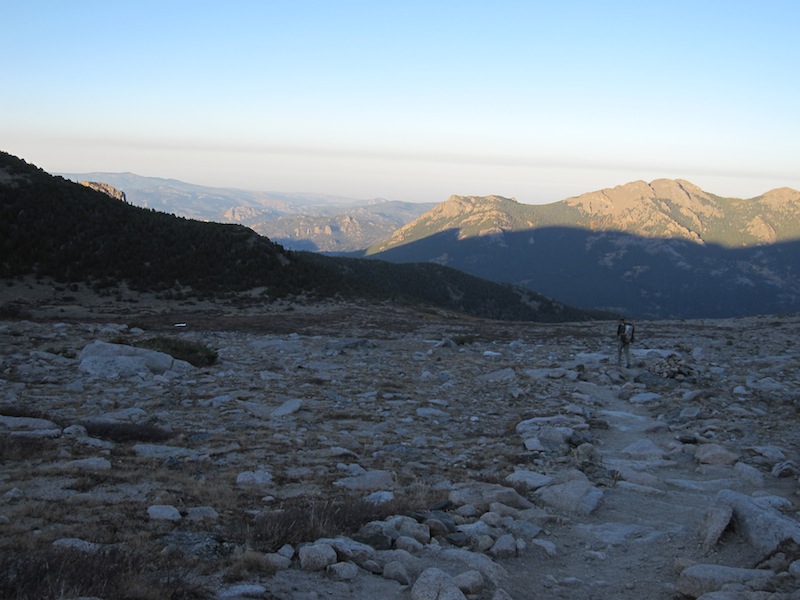 [Late-day light on the hike out from Longs Peak. Photo: Kelly Cordes]
On the hike out a slight limp caught me and, smiling, I fell behind as late-day rays graced and glanced off the rolling hills and crags spread along the horizon.
Blake and I reached our stream-chilled beers and toasted, even though I know it meant nothing – it was just a climb. And it wasn't even summer. But it felt like a pot of gold to me.
[Blake interviews a cankle-soaking Kelly on the hike out. Video: Blake Herrington]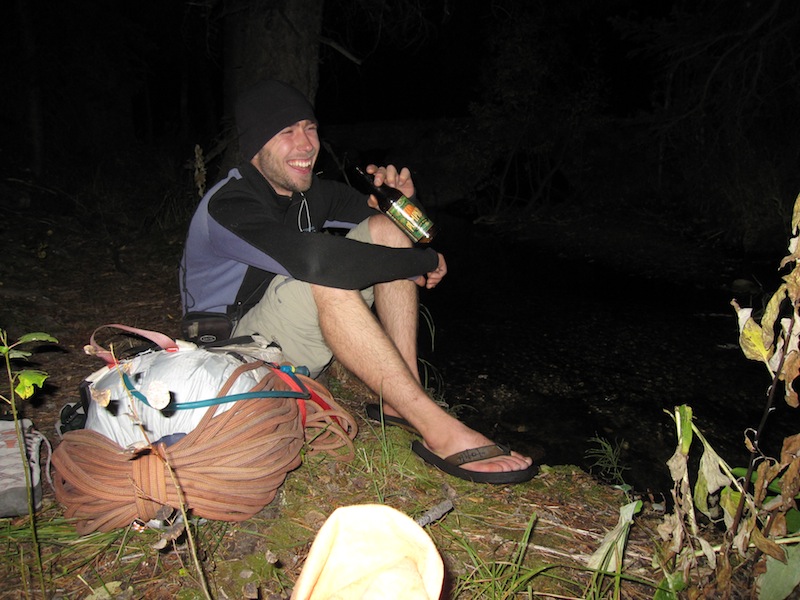 [We knew we liked climbing. Blake abides with a stream-chilled oat soda. Photo: Kelly Cordes]